If you are big movie fans like us, this list is for you! We've pulled together the top 15 rides that truly bring movies to life at Walt Disney World. You'll notice we aren't including Disney's incredible live shows such as Festival of the Lion King, Finding Nemo the Musical, Beauty and the Beast Live on Stage, Indiana Jones Stunt Spectacular, Voyage of the Little Mermaid, or Enchanted Tales with Belle. While these attractions do an incredible job bringing the movies to life, we are focusing on rides. So, please keep your arms, hands, feet, and legs inside your chair… and get ready to ride through the movies with us!
1 – Star Wars: Rise of the Resistance @ Hollywood Studios
The top two spots belong to the two Star Wars attractions inside Star Wars: Galaxy's Edge. This should not be a surprise since Star Wars: Galaxy's Edge was built to fully immerse you into your own Star Wars story. First up is Star Wars: Rise of the Resistance, one of the most ambitious attractions ever created for a Disney park. The thrilling action takes place in massive sets that give guests the feeling of stepping inside a Star Wars film as they elude the clutches of Kylo Ren and the First Order in a mad dash through a Star Destroyer. It's an unbelievable experience that has fans cheering at the end. This is an attraction you don't want to miss–even if you are not a Star Wars fan.
2 – Millennium Falcon: Smugglers Run
The other anchor attraction inside Star Wars: Galaxy's edge combines immersive storytelling with interactive gameplay to make guests the protagonists of their own Star Wars adventures in a way never before undertaken by Disney Parks. Lovingly described at various times as a "piece of junk" or "bucket of bolts," the Millennium Falcon is the most famous of all Star Wars starships. On Millennium Falcon: Smugglers Run, guests 38 inches or taller climb aboard the Falcon in all her glory. Again, it's as if you stepped inside the movie. You'll settle into the cockpit and operate "the fastest hunk of junk in the galaxy." No matter if you are a pilot, gunner, or flight engineer, you'll love the experience of being inside the Millennium Falcon.
3 – Avatar Flight of Passage @ Animal Kingdom
As popular as expected, Avatar Flight of Passage is one of the two attractions located in Pandora – The World of Avatar in Disney's Animal Kingdom. On this 3D ride, guests have the chance to ride on the back of a banshee just like the beautiful scene from the must-see film, Avatar. We highly recommend Na'vi River Journey as well to take in the sights and sounds of the amazing land of Pandora.
4 – Peter Pan's Flight @ Magic Kingdom
All it takes is a little bit of "faith, trust, and pixie dust" and you'll be flying! Soar with a pixie dust-covered ship above memorable scenes from the Peter Pan animated film. This ride incorporates all our favorite scenes of the movie and favorite characters like Peter Pan, Captain Hook, Wendy, and even Tick-Tock Croc.
5 – Star Tours – The Adventures Continue @ Hollywood Studios
Ready to speed off into a galaxy far away?! That's exactly what you can expect when jumping into one of the 3D, motion-simulated Starspeeder 1000 from the paramount film series, Star Wars. May the force be with you as quest into a galaxy full of the unexpected. With different adventures each time you ride, Star Tours is a perfect repeat attraction for Star Wars fans out there!
6 – Pirates of the Caribbean @ Magic Kingdom
"Yo-Ho, Yo-Ho, a Pirate's life for me!" is one of our favorite things to hear at Disney! Climb aboard a boat that will take you on an adventure through pillaging pirate scenes that seem so real… to the point of the smell of fire! Be on the lookout for Captain Jack Sparrow from The Pirates of the Caribbean film series.
7 – Under the Sea – Journey of the Little Mermaid @ Magic Kingdom
Reliving the movies doesn't get much better than this! Under the Sea – Journey of the Little Mermaid wonderfully depicts the very best scenes from Disney's animated film, The Little Mermaid. The animatronics throughout this ride are superb. Add in the incredible music and bright colors, and you have one amazing, movie-inspired, ride!
8 – The Seas with Nemo and Friends @ Epcot
What seems like a simple clamshell ride, turns into an incredible journey through Epcot's massive aquarium. Steadily move along in your clamshell while looking for Nemo just like the feature film, Finding Nemo. Help characters Marlin and Dory search for Nemo with the beautiful view of the big blue ocean behind them.
9 – Seven Dwarfs Mine Train @ Magic Kingdom
This coaster at Magic Kingdom has guests singing "Heigh-Ho!" as they cruise through a diamond mine featuring the Seven Dwarfs from Disney's Snow White and the Seven Dwarfs. Truly embrace the moment when you are inside the diamond mine as you catch a glimpse of the dwarfs at work. End your ride with the memorable scene where Snow White dances with the dwarfs in their cottage. But wait – keep an eye out for the Evil Queen!
10 – Toy Story Mania @ Hollywood Studios
The Toy Story films come to life as you have a chance to be a toy! When stepping into Toy Story Mania, you are stepping into Andy's room where you'll realize just how small toys must feel. Have a blast shooting at targets and gaining points on this 4D ride that we simply can't get enough of! We must also mention a similar ride at Magic Kingdom called Buzz Lightyear's Space Ranger Spin. This ride features Toy Story films where you must shoot targets to conquer the Evil Emperor Zurg.
 11 – Frozen Ever After @ Epcot
Take a Norwegian vessel through Arendelle where music, scenes, and characters make our hearts flutter back to the feature Disney film, Frozen. The animatronics of this Epcot ride are impressive, making Elsa, Anna, Kristoff, and Olaf look and sound like they are standing in front of you. Love it or hate it… you can count on the song "Let It Go" to be stuck in your head for the rest of the day!
 12 – Mickey's PhilharMagic @ Magic Kingdom
Mickey's name might be in the title, but Donald takes center stage in this concert seating 3D attraction. Watch with all your senses as Donald plunders through many of our favorite animated Disney classics such as Beauty and the Beast, The Little Mermaid, The Lion King, Peter Pan, and Aladdin. You'll truly feel like you are reliving the movies when you take a Magic Carpet ride through Aladdin's Agrabah.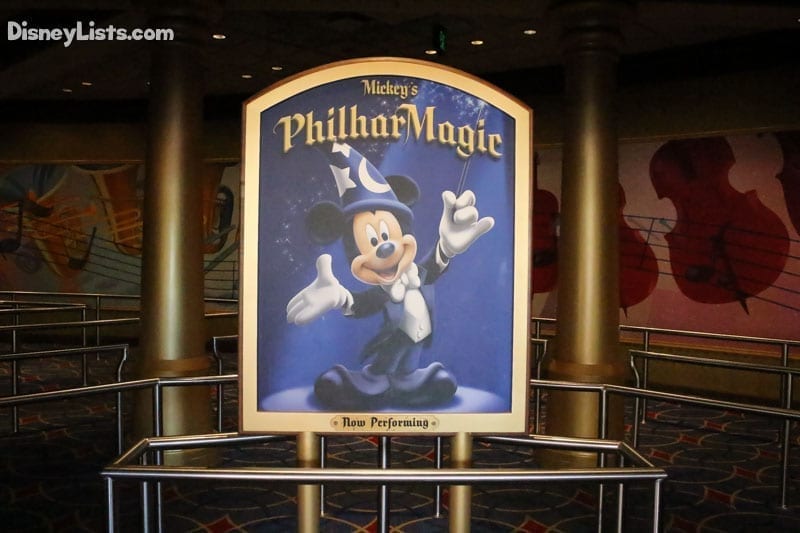 13 – It's Tough to be a Bug! @ Animal Kingdom
Located in the trunk of the iconic Tree of Life, you'll find a few bugs that are inviting you to experience just how tough it truly is to be a bug. Disney's A Bug's Life characters appear on the 3D screen and interact with guests in numerous, and sometimes surprising ways!
14 – The Many Adventures of Winnie the Pooh @ Magic Kingdom
The story of the beloved Winnie the Pooh storybooks and films unfold during this brief, yet fun ride. Pooh and his friends have a few challenges ahead of them but come together to solve the problem the best way they know how. Bounce like Tigger to this adorable ride and recall the fun memories from Winnie the Pooh.
These rides keep the movies alive! Which is your favorite and what rides would you add to this list?
For a no obligation, FREE Quote on a Disney vacation package, please contact our travel partner Magical Vacation Planner at 407-442-0227 (407-442-0215 for Spanish). You can also request a FREE quote online by Clicking HERE.