It's hard to believe that 2021 is just about two months away! Thank goodness, right! We're happy to leave 2020 behind. If you are looking to escape to Walt Disney World in early 2021, Disney has given us two great reasons to return: the dates of the Taste of EPCOT International Festival of the Arts and some early spring room sales. Catch all the details below.
Here are all the details from Disney Cast Member Jeremy Schoolfield:
A global celebration of the visual, culinary and performing arts is on its way to Walt Disney World Resort early next year, as the Taste of EPCOT International Festival of the Arts is set for January 8 – February 22, 2021. And even more good news: If you're planning to attend the festival, there is a special offer on stays at Disney Resort hotels in early 2021, inviting you to be fully immersed in The Most Magical Place on Earth!
The Taste of EPCOT International Festival of the Arts offers fun for the whole family. Here is just a sketch of what you can expect when the event debuts in January:
Indulge in over 15 Food Studios serving culinary art all around World Showcase
Explore and purchase the brilliant and diverse work of Disney and other invited artists on display in marketplaces encircling World Showcase Lagoon
Step into the scene at special photo locations scattered around the park
Participate in a paint-by-number mural that serves as a collaborative art project for all
Watch as visiting artists create magic right before your eyes
Catch performances by favorite EPCOT musical artists Mariachi Cobre and the JAMMitors.
Join an artful scavenger hunt as you search for Figment around World Showcase
Shop for festival-exclusive merchandise
Special Offers Available Now for Stays in 2021 at Select Disney Resort Hotels
If you're already looking forward to attending the festival, now is the perfect time to explore how you can complete your dream vacation at Walt Disney World Resort with a special offer for stays at Disney Resort hotels in early 2021. Click here to learn more!
We realize flexibility is important when planning any vacation right now, so we will continue to waive Disney-imposed change and cancellation fees up to the date of check-in for arrivals through April 30, 2021. And after you book, be sure to visit planDisney, the official source for Disney vacation planning tips and advice.
RELATED ARTICLE: Visiting EPCOT During the Phased Reopening – What You Need to Know
by Cindy E. Nykamp
Walt Disney World theme parks have now been open for more than a month after a four-month closure due to the COVID-19 pandemic. I had the chance to visit EPCOT on opening day in July and, more recently, in August to get a feel for what it is like to visit this park during the phased reopening. A visit to the theme parks may not be for everyone right now. You will need to decide when you're comfortable returning. For those guests visiting during the phased reopening, click here for our overview and what you need to know. In this article, I'll be focusing specifically on visiting EPCOT. Learn more below.
1 – Health & Safety Measures
When considering visiting Walt Disney World during the phased reopening and in our new reality, it's important to understand the new health and safety measure in place at the theme parks. As with other parks, you'll see health and safety signage in many locations that are hard to miss. There are hand-sanitizers and hand-washing stations for guests to use. There are markings on the ground to promote physical distancing where there could be a line or gathering of guests. In attraction queues where physical distancing is not possible, plastic barriers and screens have been put up. You'll also notice plenty of Cast Members cleaning high-traffic areas. Some attraction ride vehicles are filled at a lower capacity. Some, such as Soarin' Around the World, have plastic screens in place to separate groups. Disney cannot eliminate the risk of coronavirus, but they are doing everything they can to promote a safe environment, and we've heard nothing but praise for Disney on this point. Visiting the parks right now is a personal decision that you can make for your family but know that Disney is taking their role in this very seriously.
2 – You Need a Park Reservation
One of the most significant differences you'll notice when you return to the parks is that capacity is so much lower than what is considered "normal." Disney has created a new park reservation system that ensures that the parks will not be too crowded and to promote physical distancing. Because of this, you cannot simply just show up and get into the parks. You must obtain a park reservation with the new Disney Park Pass system. Disney Resort guests and regular theme park ticket holders generally have good availability options. Disney annual passholders have more limited availability. Learn more about making park reservations at the link below.
Click here for our guide to making park reservations with your Disney account.
3 – Face Coverings
All guests two years of age and older, and cast members, are required to wear an appropriate face covering while visiting the theme parks. Except when eating or drinking, (and doing that stationary-not walking around), they must be worn over the nose and mouth at all times.
We've seen Disney really step up in the face-covering department. They have modified their policy a few times to ensure guests and cast members are safe. There was concern about World Showcase and people just having a drink in their hand, walking around with no mask. Disney has now stated that you must be stationary while eating or drinking. You cannot walk around with your mask off while eating or drinking. When I returned to EPCOT in August, I saw Cast Members walking around World Showcase with signage reminding people to be stationary to eat or drink. While I did not see them speak to anyone, I would assume they are also there to enforce the rule if they see someone not following the guidelines.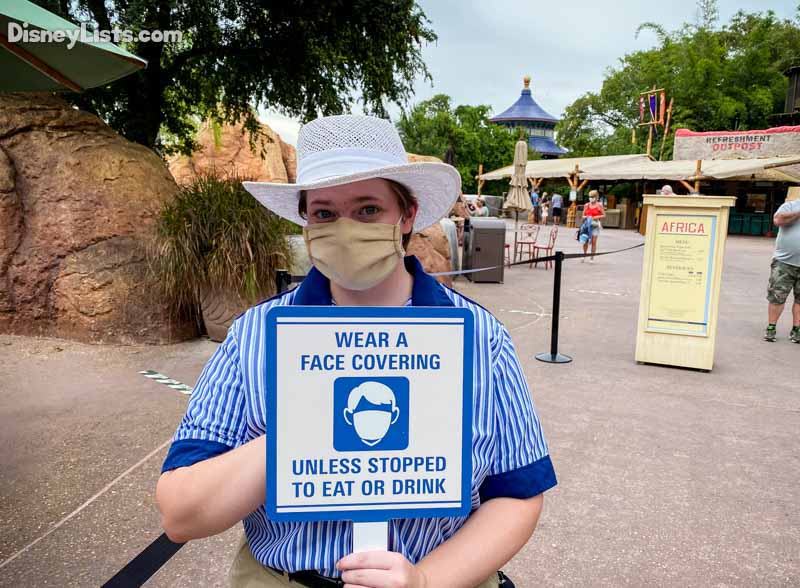 4 – Relaxation Stations
Like other parks, you'll find "Relaxation Stations," where guests can sit without their masks. These are spots in the parks where individuals are spread out with enough extra distance between guests that masks are not necessary.
Here are the three "Relaxation Stations" you'll find at EPCOT:
Eating area off of Yorkshire County Fish Shop (which is closed) in the United Kingdom pavilion.
Inside Akershus Royal Banquet Hall (which is not operating). This is the only spot with air-conditioning.
Table and chairs are near Test Track.
5 – Characters & Entertainment
Traditional character greetings and parades are on hiatus during the phased reopening. Because a trip to a Walt Disney World theme park wouldn't be the same without seeing the characters, Disney has introduced character cavalcades.
Here are the character cavalcades that you can expect in World Showcase:
"

Mickey and Friends World Tour

" – As guests travel around World Showcase, they may come upon Mickey Mouse, Minnie Mouse, Pluto, and Goofy all out sightseeing and waving to their friends.
"

Frozen Promenade

" – Queen Anna and Elsa venture into the unknown around World Showcase, journeying from country to country and waving hello to guests along the way.
"The Disney Princesses" – you'll see Belle, Aurora, Jasmine, and Snow White traveling in an open car throughout World Showcase.
The character cavalcades in World Showcase go clockwise—Mexico, Norway, all the way around to Canada. So, no matter where you are, you should spot one throughout the afternoon. There are no official times, but I did notice that two of them generally follow each other in the hour. For example, I caught Anna and Elsa on the promenade around 2:25 pm and then saw Mickey and friends in Japan around 2:40 pm. In the 4:00 hour, I saw the princesses around 4:13 in the United Kingdom Pavilion, and then Mickey and the gang followed about fifteen minutes later. There were no characters in the 3:00 hour on the day I visited. Also note that the characters will not be out if there is inclement weather.
You'll also be able to see Pooh Bear and Joy (from Inside Out) over in the lawn near the Imagination Pavilion! They are quite adorable and will pose for socially distant selfies! Again, while there is no official schedule, I've noticed that they usually take turns and alternate coming out each hour. They also seem to come out about 10 minutes past the hour. When I saw Pooh Bear, it was around 11:10 am. On another day, Joy came out around 2:10 pm. I can't guarantee they will follow this schedule when you visit, but if you want to make sure you see them, these times are the best I can suggest.
Live performances have throughout World Showcase have been temporarily suspended since the Cultural Representatives have not yet returned to EPCOT. However, you can find the Jamminators and Mariachi Cobre in the America Gardens Theatre. They perform multiple times throughout the afternoon.
6 – Open Attractions
Most attractions will be available at the park when visiting.
Here is the list of open attractions:
Awesome Planet
Canada Far and Wide
Disney & Pixar Short Film Festival
Friendship Lagoon Boats
Frozen Ever After
Gran Fiesta Tour Starring The Three Caballeros
Impressions de France
Journey Into Imagination with Figment
Kidcot (modified)
Living with the Land
Mission: SPACE
Reflections of China
Soarin' Around the World
Spaceship Earth
Test Track
The American Adventure
The Seas with Nemo & Friends
Walt Disney Imagineering presents the Epcot Experience
7 – Attraction Wait Times
As we mentioned earlier, because of the park's capacity limits, you'll find that wait times in the parks lower than a typical visit to Walt Disney World. However, the wait times for the attractions can vary widely. I've walked on to Soarin' Around the World and then also have seen wait times up to forty-five minutes. Test Track and Frozen Ever After will also have longer wait times because of the ride vehicles' lower capacity limits. Again, we've seen both of these have up to about a 45-minute wait. When you compare that with the typical 1-2 hour wait you would find in "normal" times, this is great. However, if you are expecting to walk on a 45-minute wait now seems really long. The best advice I can give you is to adjust your expectations. You will walk on to many rides, but the popular rides will still have a bit of a wait. No matter how long you wait, you'll still be able to ride multiple attractions throughout the day and enjoy your time at EPCOT.
8 – Dining
New health and safety measures are also in place at restaurants at EPCOT. These include enhanced cleaning procedures in seating, dining, and common areas, as well as changes to self-serve options. For instance, you can no longer get your beverages at Regal Eagle. While Disney has always promoted using Mobile Ordering, now they essentially require it at certain locations. They really want to minimize contact, and Mobile Ordering is a great way to do that. Also, for table-service restaurants, guests will need to use the new Mobile Dine Check-In.
9 – Taste of EPCOT Food & Wine Festival
A new version of the popular EPCOT International Food & Wine Festival debuted July 15 when the park reopened and is continuing into the fall. The Taste of EPCOT International Food & Wine Festival will be the longest festival in Walt Disney World history, blending floral fun from the park's annual flower and garden event with the global goodies of the food and wine festival.
This new event offers more than 20 signature global marketplaces, including Hawaii, Hops & Barley, and Islands of the Caribbean. Additional tables are in place throughout the park, where guests can stop and remove their face coverings to enjoy festival dishes while maintaining physical distancing. Guests can take photos in front of the park's newest Remy topiary in the France pavilion and purchase merchandise from the 2020 International EPCOT Flower & Garden Festival.
Click here to read our review of the 2020 Taste of EPCOT International Food & Wine Festival.
10 – Overall Thoughts & Recommendations
As with the other parks, visiting EPCOT is still magical but different. The biggest area you'll notice a difference is in character greetings. The park usually hosts many meet and greets, many of them unique and exclusive to the park. While the character cavalcades are great to see, they are somewhat difficult to catch, and many of our favorites are missing. We do love the addition of Pooh Bear and Joy over at Imagination! We'd love to see those special character sightings beyond the phased reopening. The Taste of EPCOT Food & Wine Festival is familiar, but many of its best offerings are not available right now. We're especially missing the cultural representatives in World Showcase. Interactions with Cast Members in their pavilions are always unique, and many are not the same without them.
That being said, a visit right now is still enjoyable. You'll enjoy lower than usual wait time and may even walk on to some attractions. While there are not as many attractions to enjoy at this park, you'll still have plenty of time to enjoy them multiple times throughout the day. Many people like to park hop over to EPCOT in the evenings, particularly during a festival, but park-hopping right now is not possible. When planning your vacation, you'll likely only need one day to visit the park. You should have plenty of time to get in everything you want.