So, you're headed to Disney World for your birthday? We think that is a brilliant idea as Disney World is definitely not just for the kiddos in the family, and either are birthdays! You deserve a magical birthday, and here are our top 8 ways we suggest adults celebrate their big day.
Editor's Note: We understand that with the phased reopening of Walt Disney World, some of the advice in this article may not apply if you visit while park hours are reduced, capacity limits and physical distancing are in place, and some of our favorite experiences—fireworks, parades, and character greetings—are temporarily suspended. (You can read everything you need to know about the phased reopening by clicking here). We will continue to share articles that give guidance on a "normal" vacation to Walt Disney World, along with any special changes or instructions you may need to be aware of during the phased reopening to provide the best tips we can regardless of when you are visiting. ~ Chad & Cindy
1 –  Birthday Basics
As you get wrapped up in the planning of your birthday, don't forget about some of the basic birthday must-dos that add a special touch to your celebration. First, stop by Guest Services and ask for a birthday button (it's free!). Wear this button everywhere, so Cast Members and other guests know you are celebrating. You simply never know what magical surprises (like free dessert) a Cast Member might provide. Plus, don't forget to add your birthday celebration to ALL your dining reservations and resort reservations. Like we said before, you just never know who will go out of their way to make your birthday extra special!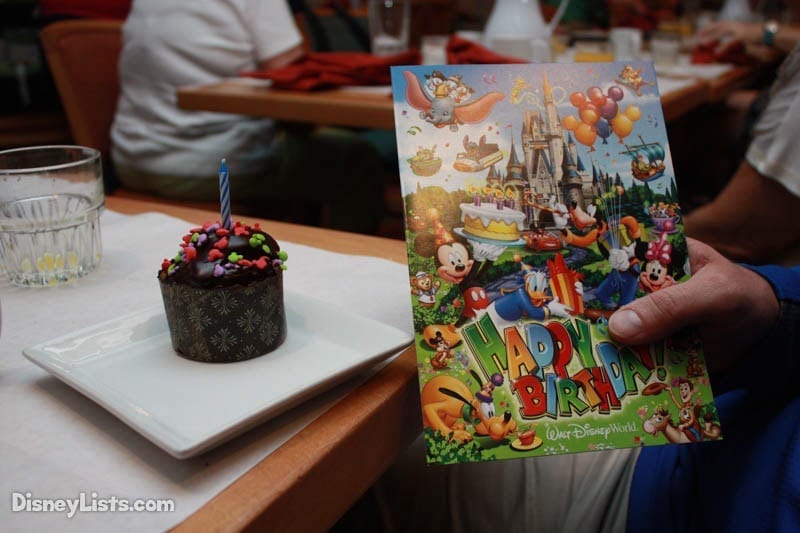 2 – Hit the Nightlife @ Disney Springs
Disney Springs is the place to be for fantastic nightlife! With a plethora of restaurants of all cuisines, multiple bars, and numerous activities and entertainment – you will have a night packed with birthday fun. Don't forget to shop for a birthday gift for yourself while you are there among the many retail stores. Before you set off on your Disney Springs birthday excursion, you might also check out times for the Cirque du Soleil performances or even look into reserving a lane for bowling at Splitsville.
Editor's Note: La Nuba has ended its long run at Disney Springs. That's the bad news. The good news is Disney and Cirque are collaborating on a brand new show called Drawn to Life, which will be coming to Disney Springs in the future. 
3 – Dance @ Boardwalk
Do you like to celebrate your birthday with a little bit of hip-swinging? If dancing is what you desire, head to the Boardwalk for a night full of dancing and drinks at the Atlantic Dance Hall. If you are looking for a different style of entertainment but still exciting, try Jellyrolls, which is near the Atlantic Dance Hall and has incredible dueling pianos!
 4 – Eat Desserts of Course!
Editor's Note: During the phased reopening of Walt Disney World, dessert parties are temporarily suspended. 
The best part about birthdays just has to be the desserts! Disney is the right place for finding the dessert(s) of your dreams. Whether you prefer to order a customized cake from Disney's Floral and Gifts or just snack along in the park, you can have your cake and eat it too! We especially recommend checking out a Dessert Party such as the Happily Ever After Dessert Party at Magic Kingdom, Epcot Forever Dessert Party at Epcot, or Star Wars Galactic Spectacular Dessert Party at Hollywood Studios. Forget the typical candles in a cake and go for the desserts your taste buds are really craving.
5 – Relax at the Spa
Editor's Note: During the phased reopening of Walt Disney World, the spas are closed.
Probably the best way to spoil yourself on your birthday is to visit one of Disney World's spas. Relax and unwind at Senses, which is located at either the Grand Floridian Resort or Saratoga Springs Resort. You don't even have to leave your room if you are staying at one of these locations and request an in-room massage! Don't just stop at a massage; ladies and gentlemen can enjoy manicures and pedicures, among other fantastic options.
6 – Watch the Game
If a spa treatment isn't your cup of tea, give yourself the birthday treat of enjoying ESPN's Wide World of Sports Complex on Disney property. Here you will find a great baseball field, soccer fields, and so much more. Check out their sporting activities in advance and purchase a ticket to go enjoy a game!
7 – Dinner and a Show
Editor's Note: During the phased reopening of Walt Disney World, dinner shows are temporarily suspended.
Disney World has two dinner shows – Spirit of Aloha and Hoop-De-Doo Musical Revue. Check out details and reviews of these fun dinner shows and see what entertainment and food sound the most interesting for you! They both have their perks, so it's tough to pick a favorite – but we'd probably lean towards Spirit of Aloha for our favorite food and Hoop-De-Doo Musical Revue for our favorite show. It's your birthday, so spend a little extra for a dinner worth the time and money!
8 – Tackle a Unique Experience
Editor's Note: During the phased reopening of Walt Disney World, certain experiences are temporarily suspended.
If you're tired of the same old birthday experience, Disney is the place to try something new! While many people think the theme parks and water parks are the only way to go – try celebrating with a unique experience, unlike any other, you've done before. Soar in the sky on Disney Springs' huge balloon; reserve a spot on one of the Disney World cruise boats and watch the fireworks from the Seven Seas Lagoon, or take a horse-drawn carriage ride around Port Orleans Resort. The unique experiences at Disney are endless, so find what appeals the most to you and go for it on your birthday!
We hope you have a fantastic birthday that makes all your dreams come true!
For a no obligation, FREE Quote on a Disney vacation package, please contact our travel partner Magical Vacation Planner at 407-442-0227 (407-442-0215 for Spanish). You can also request a FREE quote online by Clicking HERE.