The coronavirus pandemic has caused numerous changes to operations and offerings around Disney World. One of the things we miss most is the ability to hop between parks. So, we were thrilled to learn this morning that park hopping, with slight modifications from what we're used to, is returning to Disney World. Read all the details below on when park hopping will return and how it will work.
Disney Cast Member Avery Maehrer shares all the details below:
As the phased reopening of Walt Disney World Resort continues, we are nearing another exciting milestone we know many guests have been looking forward to: the return of the Park Hopper option! Starting Jan. 1, 2021, guests who purchased a ticket or annual pass with Park Hopper benefits will be able to visit more than one park per day, with some new modifications as part of our ongoing focus on health and safety.
With the updated Park Hopper experience, guests must make a Disney Park Pass reservation for the first park they plan to visit AND enter that first park prior to visiting another. At this time, a park reservation is not required after the first park, however, reservation requirements are subject to change.
Additionally, we will set specific Park Hopper hours during which this option will be available. Park Hopper hours will start at 2 p.m. each day and end at the park's scheduled close time. Guests will soon be able to check DisneyWorld.com/ParkHours and the My Disney Experience app for the most up-to-date Park Hopper hours, as they could start earlier at a later date, depending on the day and park.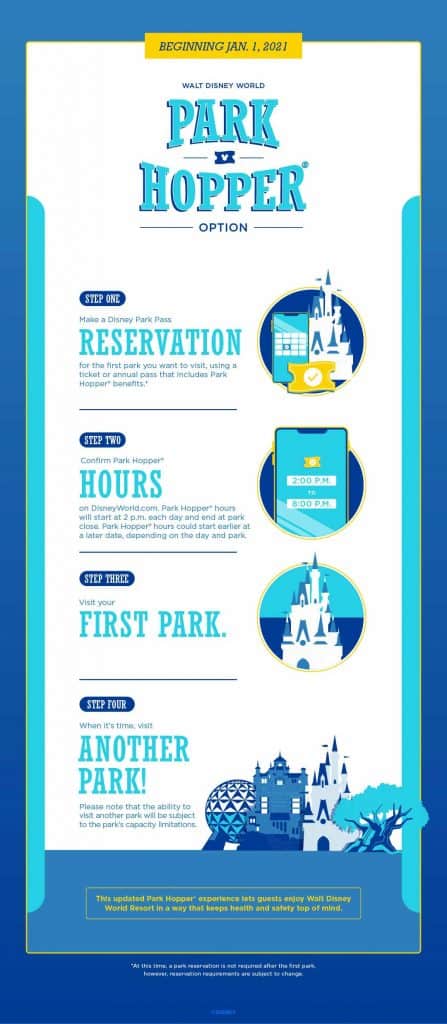 These modifications are designed to help us continue managing attendance in a way that fosters physical distancing. Additionally, other enhanced health and safety measures remain in effect, including face coverings required for all guests ages two and up.
As a reminder, guests with a ticket or pass that includes Park Hopper benefits get the chance to see and do more during their visit, which could mean a morning on the savanna at Disney's Animal Kingdom Theme Park and an evening stroll by Cinderella Castle at Magic Kingdom Park or starting the day living your Star Wars adventure at Disney's Hollywood Studios before an afternoon traveling around the world at EPCOT. Please note that the ability to visit another park will be subject to the park's capacity limitations.
Also, note our capacity limits are not changing due to the Park Hopper Option.
If you have any questions, you may visit our Know Before You Go page on DisneyWorld.com, call the Disney Reservation Center, contact your travel professional or reach out to planDisney to get helpful tips and information on your upcoming Disney vacation.
We look forward to starting the new year with the return of this guest favorite option!
RELATED ARTICLE: 8 Reasons the 2020 Winter Season is a Fantastic Time to Visit Disney World
Most travelers to Walt Disney World favor specific times of the year to visit. Some prefer waiting until school lets out to enjoy Florida's summertime fun; others can't wait for EPCOT's spring and autumn festivals. Though these seasons certainly offer many wonders to enjoy, we believe the winter season, from early-November to the end of January, is a fantastic time to visit Disney World. This winter season looks different for everyone, and only you can decide whether or not you are ready to visit Walt Disney World. If you are ready to visit, we offer you the 8 reasons why this 2020 winter season is a fantastic time to visit Walt Disney World.
1 – There is so Much to Be Glad About
Growing up a huge Disney fan, one of my favorite movies was Pollyanna. If you are familiar with the film (or book), then you know that one of the things that Pollyanna loved to do was play "The Glad Game." She would look at a bad situation and ask herself what she could be glad about? We encourage you to play the Glad Game when thinking about the modifications, cancellations, and temporary closures that are in place at Walt Disney World right now. Here's are some things that we can certainly be glad about:
I'm glad that Walt Disney World is open to guests. (Disneyland is still closed).
I'm glad that Disney Cast Members are working hard to create a safe and healthy environment for guests, even if it means guests might be inconvenienced.
I'm glad that while wait times are longer than when the park first opened in the summer, that they are still well below what is considered "normal."
I'm glad that Disney is still offering certain holiday entertainment and décor this holiday season.
I'm glad that even though I can't greet my favorite characters, I can see them multiple times a day in new ways that I actually enjoy more.
I think you get the idea. There is a lot to be glad about. Focusing on the positive aspects of a visit to Walt Disney World will certainly help you enjoy a trip during these crazy times.
2 – Crowd Capacity
Disney has stated publicly that the parks' capacity was capped at 25% when the parks reopened and that they were well below that number. Over the fall season, more and more guests have been returning to the parks. In fact, Disney just confirmed on November 12, 2020, that they recently increased park capacity to 35%. While it is undoubtedly busier now than it was this summer, it's important to remember that because of the capacity limits, the parks are still less busy than a typical visit. Usually, Christmas week is insanely busy. This year, it won't be as bad because they simply will not let the parks get overcrowded. If you have ever wanted to visit during the holiday season but were hesitant to come because of the crazy crowds, this year might just be the year to do it. Remember that a park reservation is needed for every day you visit the parks and that park hopping is not available.
3 – Promotions & Sales
For 2020, there are many sales and promotions going on right now that might make getting to Walt Disney World a bit easier. Guests can save up to 40% on rooms. Various restrictions apply. Want to get a vacation quote? We highly recommend booking with an Authorized Disney Vacation Planner to ensure you are well taken care of and get all the discounts available to you. We personally book all our Disney trips (and we do Disney a lot) with Magical Vacation Planners because they are the best, and we trust them. For more details and help booking your vacation, call (407) 442-0227. You can also get a no-obligation, FREE vacation quote by clicking here.  Their services are free to you, and they can answer any questions you may have.
4 – Mild Temperatures
The scorching heat of Florida spikes into the high 90s in the summer and temperatures hover in the mid-80s during spring and autumn. Add sweltering humidity to the mix, and the heat almost smothers you. On the other hand, you'll enjoy temperatures in the 70s as you stroll through your favorite theme park in the winter. Be certain to bring a jacket for evening activities, however, because nights can dip into the 40s and 50s. Those who love swimming at Disney Resorts shouldn't worry about these low temperatures since the pools maintain a comfortable 82 degrees.
5 – Dry Weather
Florida's dry season begins in late November and extends until May, making winter an ideal time to visit. The rest of the year features the national hurricane season and Florida's normal wet season. From June to October, 70% of the state's annual rainfall falls in a seemingly unpredictable fashion, keeping you dry for hours and then drenching you in a span of minutes. Also, Floridia storms often produce an incredible amount of lightning, which easily disrupts theme park operations. Winter travelers to Walt Disney World rarely have to worry about Expedition Everest being closed due to dangerous weather conditions.
6 – Holiday Décor
Christmas serves as one of the most beloved holidays of the year, and Walt Disney World remains the most popular vacation destination during that time. During the winter holidays, Disney Cast Members decorate the parks and resorts with garland, Christmas lights, bows, trees, and more. Even the Jungle Cruise undergoes a makeover, becoming "Jingle Cruise" to exhibit its holiday spirit. Intertwining Christmas and Disney magic provides the perfect occasion for feeling both holiday and vacation delight.
7 – 2020 Holiday Offerings
The holiday season at Walt Disney World is now underway. Even with the offerings being different or modified from previous years, there is still so much holiday magic to be enjoyed this holiday season. Through December 30, you can discover special merchandise, delectable treats, and new entertainment experiences all across The Most Magical Place on Earth that celebrate the spirit of the season. Holiday celebrations have begun at three Walt Disney World Resort theme parks, with Disney Springs, EPCOT, and Disney resort hotels joining the festive fun in late November. Learn more at the links below!
Click here to learn more about the holiday season at Walt Disney World.
Click here for a look at the treats available at Walt Disney World during the holiday season.
Click here to plan your trip around the world with the Taste of EPCOT International Festival of the Holidays, which runs from November 27-December 30.
Click here for the 2020 Holiday Offerings at Magic Kingdom – What You Need to Know.
Click here for where to find the Characters During the 2020 Holiday Season.
8 – January is One of the Best Months to Visit
While there are no plans for any New Year's celebrations at Walt Disney World, there are still reasons to visit in January. January is typically a great month to visit because of the lower crowds. Even with reduced capacity, many people don't travel after the holidays, so you may find the parks less crowded than in November and December. In January, EPCOT's youngest festival, the EPCOT International Festival of the Arts, runs this year from January 8-February 22, 2021. Learn more about the festival by clicking here.
DisneyLists.com author D.W. Noonan also contributed to this article.
For a no obligation, FREE Quote on a Disney vacation package, please contact our travel partner Magical Vacation Planner at 407-442-0227 (407-442-0215 for Spanish). You can also request a FREE quote online by Clicking HERE.