While we enjoy hitting snooze and sleeping in on vacation, our visits to Disney are the exception! It feels like Christmas morning as we are up, out our resort door, and on the Disney bus, boat or monorail in the wee hours of the morning. The reason for waking before the sun isn't just because we are overly excited, but more importantly – the BEST time to do Disney is in the early morning. The crowds are lower, and the Florida sun has yet to heat up. If you're at the park as it's opening, your chances of catching the very best attractions without too long of a wait are within that first hour. So, grab your coffee and Mickey ears, and let's spend the early hours tackling these very best attractions to hit in the early morning at Walt Disney World.
Editor's Note: During the phased reopening of Walt Disney World, FastPass+ is not available. Even though this article emphasizes FastPass+ tiers and options, the attractions listed in this article are the attractions we suggest your ride first, especially since FastPass+ is not available right now. Now more than ever, it is important to arrive at the park early if you want to try and enjoy these attractions with lower wait times.
Magic Kingdom Attractions
Editor's Note: During the phased reopening of Walt Disney World, Magic Kingdom does not open an hour early. Cast Members have told us they would like guests to arrive at park opening. However, they will open the gates early to avoid crowding, but it will not be at any set time. Also, FastPass+ is temporarily suspended. 
If Magic Kingdom officially opens at 9 am, chances are guests will be allowed in around 8 am to explore Main Street U.S.A and the Cinderella hub before the opening ceremony known as "Let The Magic Begin" takes place. Typically, we'd recommend heading away from the crowds into Adventureland then Frontierland. There are, however, three attractions we especially recommend hitting in the early morning hours if you aren't able to obtain a FastPass for them.
Seven Dwarfs Mine Train: 

While Seven Dwarfs Mine Train is one of the newer attractions at Magic Kingdom, it surprises us that five years after opening the lines are still incredibly long for this just under 3 minutes coaster. It's such a smooth and fun ride, however, that we understand all the attention! You'll definitely want to head here first if you aren't able to snag a FastPass in advance.

Space Mountain:

 Zoom along on this space coaster at a whopping 28 mph! Ok, that may not sound very fast, but trust us, when you're surrounded by darkness, it feels MUCH quicker. Sharp turns, and unexpected dips make Space Mountain an easy favorite for many. Plus, this one seems to break down more than others, meaning wait times later in the day get rather lengthy.

Peter Pan's Flight: 

The unexpected children's attraction that is surprisingly popular! We totally get its popularity too, as guests float away in a ship with pixie dust amidst the memorable scenes from the 

Peter Pan

 classic film. Since this ride doesn't seat several guests at once, it can be a tedious wait as the day goes on.
Epcot Attractions
Editor's Note: During the phased reopening of Walt Disney World, FastPass+ is temporarily suspended. 
The interest for many to visit Epcot may be the exceptional dining, beverages, and shopping – but the attractions here aren't forgotten! In fact, there are a few, in particular, that make us cringe when we aren't able to get a FastPass for them. Keep in mind, Epcot is on a FastPass Tier System which means only one attraction from Tier 1 and two attractions from Tier 2 can be selected for a FastPass in advance. It's a tricky act to balance! Best bet with or without FastPasses is to get to these three Tier 1 attractions in the very early morning.  
Soarin' Around the World 

(Tier 1)

: 

Do you ever dream of flying and traveling the world at the same time? Epcot has you covered with their most popular attraction known as Soarin'. Take flight as you soar above some of the most beautiful landmarks throughout the world. Land right back "home" in Epcot. It's a fascinating journey with sights and smells not to be missed. Since this attraction can seat multiple guests, the early morning line tends to move rather quickly but does fill up an hour or so after park opening.

Frozen Ever After 

(Tier 1)

: 

Frozen 

hit Disney by storm… a blizzard, actually! The popularity of the Frozen sisters, Anna and Elsa, and the sweet and silly Olaf has no signs of "letting go" anytime soon! The favorite boat ride in the Norway Pavilion remains a charmer as it takes guests of all ages through beautiful scenes with a memorable melody of all things 

Frozen

. Arrive here as early as possible to avoid long wait times for a brief ride.

Test Track 

(Tier 1)

:

 Step inside a virtual world in the art of car creations! After you complete your car design, it will be tested in a simulation vehicle as you ride along to check out your scores. Climb into your simulation car to experience some intense tests. This one ends with the wind in your hair, making Test Track one that leaves guests coming back for more. The weather can play a factor in this attraction, so take a ride early or expect a delay as the afternoon Florida storms blow through. Didn't arrive as early as you had hoped? Check out the Single Rider Line!

Hollywood Studios Attractions
Editor's Note: During the phased reopening of Walt Disney World, FastPass+ is temporarily suspended. 
Hollywood Studios used to be a reasonably easy list of attractions to tackle in the early morning. With Toy Story Land opens, the early morning list has changed! First and foremost, you definitely want to FastPass as many of these attractions as possible. Keep in mind, Hollywood Studios is on a FastPass Tier System just like Epcot and Animal Kingdom, so what you can't FastPass, you'll want to be heading to immediately as the park opens.
Millennium Falcon: Smugglers Run (Tier 1): After you've secured your boarding party for Star Wars: Rise of the Resistance, if this is your first visit to Star War: Galaxy's Edge, you'll want to head over to the land (through the Grand Avenue entrance) and go straight to Millennium Falcon: Smugglers Run. You'll see a shorter wait time in the morning than you will later in the day.

Slinky Dog Dash 

(Tier 1)

:

Slinky Dog Das is still as popular as ever! 

Everyone wants to take a ride on the Slinky Dog Dash, so this will need to be your first stop if you don't have a FastPass. While this attraction is known as a "family-friendly coaster," be sure your child measures up to the height requirement of 38 inches or taller. Lines will be long no matter what time you get there, but the earlier, the better!

Toy Story Mania 

(Tier 2)

: 

It's crazy to think Toy Story Mania isn't the main Toy Story attraction anymore! While it might not be the most popular attraction within Toy Story Land, it will surely still draw in the crowds. Toy Story Mania has to be one of the funniest attractions in all of Disney World with its 4-D target shooting game experience.

Rock' n' Roller Coaster 

(Tier 2)

: 

Rock' n' Roller Coaster might be a little quiet in the early morning, unlike times past! While the crowd is in Star Wars: Galaxy's Edge, enjoy a ride on the Rock' n' Roller Coaster, and you'll be singing Aerosmith for the rest of the day. Can't get here super early? Check out the wait times for the Single Rider Line. 

Editor's Note: During the phased reopening of Walt Disney World, single rider lines are not available. 

The Twilight Zone Tower of Terror 

(Tier 2)

: 

One of our absolute favorites in all of Disney World is Tower of Terror. It's such a thrilling yet stomach-turning fun attraction! This attraction may be the fifth attraction on this list of early morning rides at Hollywood Studios, but don't wait too long to ride the Tower in the morning as the line can get lengthy rather quickly. We may recommend this one for early morning, but try to ride it again at night for an extra creepy experience.
***  Star Wars: Rise of the Resistance (no FastPass): This one is a little different than everything else in the list in that you can't simply just get in line and ride the attraction. You must join the virtual queue so there is no way to know exactly when you'll be riding. However, if you want to experience Star Wars: Rise of the Resistance, you will need to plan for an early morning. The best way to secure a spot in the virtual queue is to get to the park before opening. Joining the virtual queue for the attraction is the first thing you need to do when visiting Disney's Hollywood Studios. We've put together a complete guide explaining the entire process and what you need to know. Click here to read our survival guide to Star Rise: Rise of the Resistance.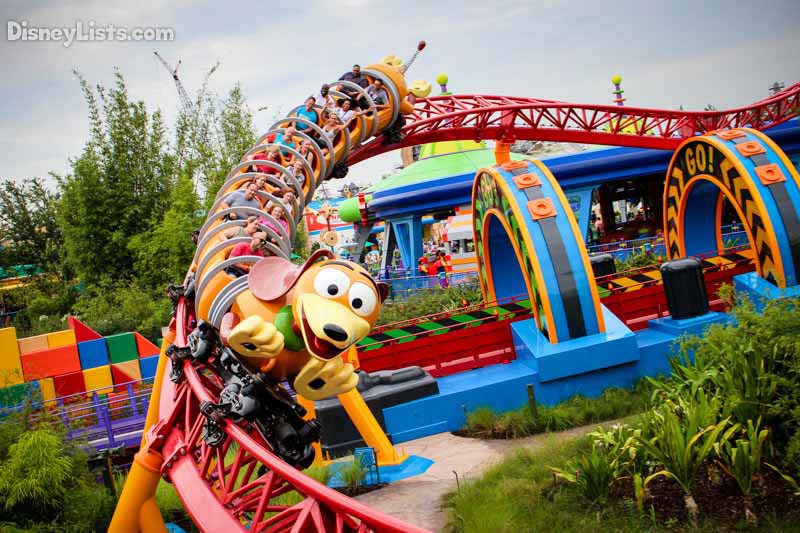 Animal Kingdom Attractions
Editor's Note: During the phased reopening of Walt Disney World, FastPass+ is temporarily suspended. 
Animal Kingdom is no longer a half-day park! If anything, one day at Animal Kingdom never seems like enough. Just like Epcot and Hollywood Studios, Animal Kingdom has the FastPass Tier System. The two Pandora – World of Avatar attractions are in Tier 1 while other FastPass attractions fall under Tier 2. This means that you really need to arrive well before park opening to beat the crowds to particularly the Pandora attractions. Here are our top five early morning attractions we'd recommend at Animal Kingdom.
Avatar Flight of Passage 

(Tier 1)

: 

Dare we say this is the best attraction on this list – or at least in the top three?! Avatar Flight of Passage masters the art of flying with incredible technology in the form of a Banshee. Taking flight has never felt so real – right down to feeling the Banshee breathing between your legs as you hold on for dear life! If you don't have a FastPass for Flight of Passage, you MUST ride this first thing in the morning, or plan to wait an easy 3-4+ hours.

Na'vi River Journey 

(Tier 1)

: 

Na'vi River Journey may be in the shadows of Flight of Passage, but it's definitely an Animal Kingdom must-do. This boat ride down the Na'vi River is extremely beautiful and relaxing with fantastic bioluminescent lighting and tranquil sights and sounds. Truly a stunning attraction that will start your day off right with an early morning arrival!

Kilimanjaro Safaris 

(Tier 2)

: 

Where else can you go on a safari and not be in Africa?! The gorgeous savanna is filled with active animals for a different experience each visit. Ride in a large, open-air vehicle and feel like you are almost too close for comfort to the real-life exotic animals. The morning is typically the best for this attraction because the animals seem to be more active before the heat of the day.

Expedition Everest – Legend of the Forbidden Mountain 

(Tier 2)

: 

We LOVE to ride this rollercoaster in the early morning before all the crowds arrive, but be ready for a quick wake up call as you plummet down a mountain all while running from the Yeti! We place this one last on our four Animal Kingdom attractions for early morning simply because it does offer a Single Rider Line, which can cut down on wait times if needed. Take another ride in the evening, if at all possible, to feel like you're going even faster on this incredible coaster!
For a no obligation, FREE Quote on a Disney vacation package, please contact our travel partner Magical Vacation Planner at 407-442-0227 (407-442-0215 for Spanish). You can also request a FREE quote online by Clicking HERE.