Dining
Top 20 Romantic Restaurants at Walt Disney World
Whether you're celebrating an anniversary or only looking for a lovely spot for a dinner date, Walt Disney World is full of restaurants that can give you a truly romantic dining experience. From the décor to the fine dining, there are plenty of options to choose from when planning a date with your significant other. To help you with your decision, we have put together a list of the top twenty romantic restaurants in all of Walt Disney World.
20 – Sci-Fi Dine-In
While the theming of the Sci-Fi restaurant in Hollywood Studios doesn't make for a private date, the fact that you dine at a drive-in movie can bring back memories of parking the car and snuggling up to enjoy a double feature. With tables and booths in the shape of classic cars and 50s movies about robots, aliens, and mummies on the screen, this makes for an enjoyable date.
19 – La Hacienda de San Angel 
This authentic Mexican restaurant combines a twist on classic Mexican cuisine with an incredible view of the World Showcase Lagoon. Entrees include 2 mixed grill dishes that are meant for sharing, plus you can enjoy a refreshing margarita with dinner. This is also a perfect spot to enjoy a late dinner overlooking Harmonious.
18 – Yachtsman Steakhouse
In a prominent New England style, the Yachtsman Steakhouse is a great restaurant to splurge on for a romantic fine-dining experience. At night, with the lights dimmed ever so slightly, it can make for a truly sentimental setting. Since steak is in the name, it's undoubtedly the best thing on the menu as you choose the perfect cut and pair it with your favorite side dish.
17 – Cítricos
Overlooking the meticulously kept grounds at the Grand Floridian Resort, Cítricos is a blend of American and Mediterranean flavors all within a relaxed and inviting setting. With a table for two by the windows, you can enjoy a bottle of wine from their extensive collection while waiting for your entrée. Main courses include options like the Guava Barbecued Short Ribs, Oak-grilled Filet Mingon, or the Tilefish, all of which beg you to sample from your partner's plate.
16 – Coral Reef 
For a quiet meal with an incredible view, the Coral Reef Restaurant in Epcot gives you a perfect opportunity to enjoy both. The intimate setting with dimmed lighting and a wave motif gives you the sense that you're underwater with a great view of the over 4000 sea creatures in the 5.7 million-gallon saltwater aquarium. The seafood dishes change seasonally, but it's hard to go wrong with anything on the menu, especially the Baileys and Jack Daniel's Mousse for dessert.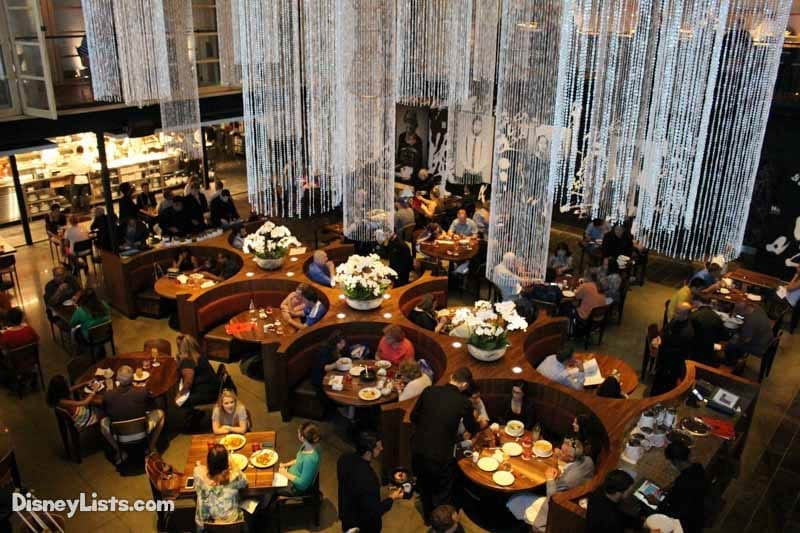 15 – Morimoto Asia 
Morimoto Asia combines an elegant atmosphere with Pan-Asian cuisine crafted by the iron chef himself, Masaharu Morimoto. With two stories of dining and 20-foot long dangling chandeliers, each table feels private, giving you the perfect opportunity to relax and enjoy the beautiful dishes on the menu in the company of your significant other.
14 – Paddlefish
With fresh seafood flown in daily, the fish and shellfish lovers will find that Paddlefish is a great way to enjoy a romantic evening together. Aboard a replica riverboat moored at Disney Springs, the restaurant offers incredible panoramic views of the lake and the Disney Marketplace. With appetizers and sides to share, there are lots of items to choose from to satisfy your palates, with lobster and crab leg dishes that are particularly delicious.
13 – Tutto Italia Ristorante 
Authentic Italian food in the elegant setting of Old Rome provides a wonderfully romantic experience in Epcot. Whether you're seated inside or outside, you are sure to enjoy the fine dining here with both the appetizers and entrées perfect for sampling from one another's plates. Over 200 Italian wines are available from the Tutto Gusto Wine Cellar and make for an ideal pair for your meal.
12 – Restaurant Marrakesh
Editor's Note: Restaurant Marrakesh is currently not operating. However, since it remains on the Walt Disney World website, we will continue to list it as an option. We hope the restaurant will reopen soon.
With stained-glass chandeliers providing cozy lighting and incredible tile mosaics, this Moroccan restaurant is a hidden gem when it comes to romantic restaurants. Several dishes on the menu are meant to be shared between two people, and with music playing in the background, the ambiance here is sure to make for a memorable meal.
11 – Jaleo by Jose Andres
One of the newer additions to Disney Springs, Jaleo by Jose Andres, brings the authentic flavors of Spain to Disney. Renowned for its award-winning assortment of tapas, the traditional small plates of Spain, as well as savory paellas, sangrias, and a fine selection of Spanish wines and sherries, Jaleo celebrates these flavors in a festive, inviting, and romantic atmosphere.
10 – Jiko – The Cooking Place
Taking you to the heart of Africa, Jiko at Disney's Animal Kingdom Lodge features twin wood-burning ovens that give the feel of sunset on the African savannah. It can be difficult not to fill up on the incredible array of appetizers and entrées, but you'll be rewarded with some wonderfully African-inspired unique desserts, including the Malva Pudding.
9 – San Angel Inn Restaurante 
In perpetual twilight, the restaurant is located within the pyramid of the Mexico Pavilion. The romance here comes from the ambient lighting and the setting within a 17th-century hacienda (estate). With the furthest tables overlooking the Gran Fiesta Tour, it's a great location to enjoy authentic Mexican cuisine in a quiet atmosphere.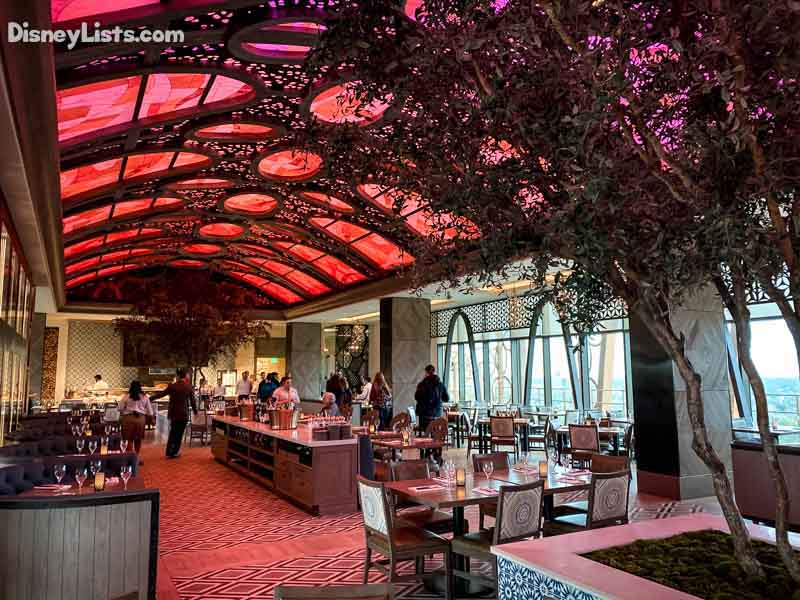 8 – Toledo – Tapas, Steak & Seafood
Gran Destino Tower at Disney's Coronado Springs Resort is home to an unforgettable dining experience, Tolédo – Tapas, Steak & Seafood, a unique rooftop table-service restaurant offering dishes and small plates inspired by the flavors of Spain. Featuring sweeping views of Walt Disney World Resort, this charming, surrealistic location invites guests to dine indoors under a pair of large olive trees nestled beneath an intricate vaulted ceiling with shimmering stained-glass accents. It's the perfect setting for a romantic evening!
7 – Narcoossee's
Along the waterfront at Disney's Grand Floridian Resort, Narcoossee's combines the elegance of fine dining with a casual atmosphere. The octagonal dining room is part Victorian gazebo, part New England beach house with an almost 360-degree view outside. You really can't go wrong with anything on the menu, and if you reserve a table for a late dinner, you'll have a perfect view of Disney Enchantment and the Electrical Water Pageant.
6 – Topolino's Terrace-Flavors of the Rivera
Stepping into Topolino's Terrace — Flavors of the Riviera at Disney's Rivera Resort, guests are surrounded by stunning visual aesthetics of modern interpretations of Italian and French textures, colors and carvings mingled with stonework that harkens to what can be found in ancient European villages along the coastline. And while dining, guests may step out onto the terrace for a grand view of the resort's stunning vistas where they might catch glimpses of the nighttime spectaculars from nearby Epcot or Disney's Hollywood Studios. A perfect end to a romantic evening!
5 – Le Cellier 
In the Canadian Pavilion, Le Cellier is styled like a wine cellar underneath a château. With dimmed mood lighting, Le Cellier is an excellent setting for intimate fine dining. From the Canadian Cheddar Cheese Soup to the Le Cellier Filet Mingon and all of the decadent poutines, you're sure to find something delicious to try on the menu.
4 – Be Our Guest 
The Be Our Guest Restaurant in the Magic Kingdom makes you feel like you're walking straight into the movie. Dining in the Grand Ballroom, the Castle Gallery, or the West Wing will immerse you in the décor of the Beast's Castle. Regardless of where you end up seated, the atmosphere is elegant and allows you to carry on a private conversation, enjoying the company of your significant other.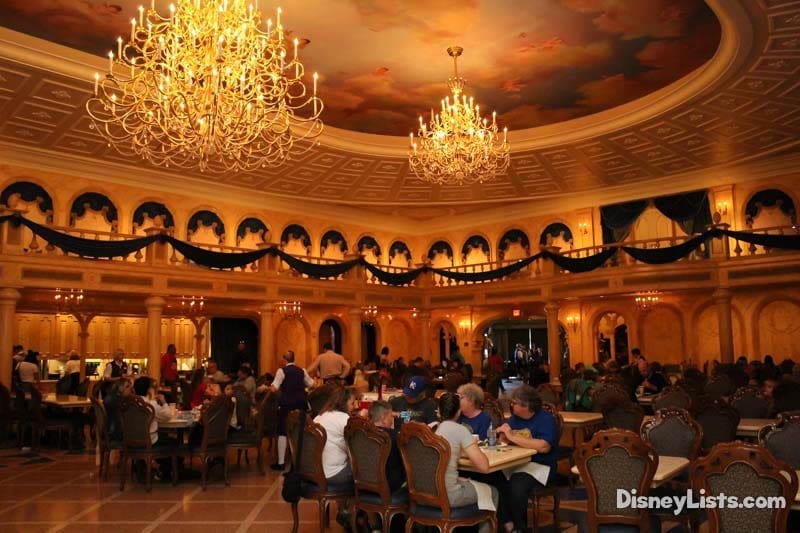 3 – California Grill
The California Grill is a truly romantic dining experience atop Disney's Contemporary Resort. Overlooking the Seven Seas Lagoon and the Magic Kingdom, the view is incredible and only improves as you share the sights with your partner. With many delicious dishes on the menu, including some decadent desserts, each meal must be tasted, shared, and enjoyed. Fifteen stories up, the restaurant is also one of the best places to see Disney Enchantment outside of the park.
2 – Victoria & Albert's 
For an exquisite and regal experience, it's hard to compete with Victoria & Albert's. Award-winning cuisine with fresh flowers on the tables and harp melodies playing in the background are just a few of the reasons why reservations are so highly sought after. It's sophisticated dining with a frequently changing menu and a choice of seven or ten courses. There's no better restaurant to enjoy celebrating an anniversary, wedding, or engagement.
1 – Monsieur Paul 
Monsieur Paul is a hidden gem in Epcot. Sitting directly above Les Chefs de France in the France Pavilion, there is a wonderful ambiance here without the pressure of high-society dining. The menu is full of well-crafted dishes that will stick in your memory long after you've returned home. For two people to enjoy a romantic meal together, Monsieur Paul is quiet, cozy, intimate, and an incredible all-around experience. 
For a no obligation, FREE Quote on a Disney vacation package, please contact our travel partner Magical Vacation Planner at 407-442-0227 (407-442-0215 for Spanish). You can also request a FREE quote online by Clicking HERE.