Disney's Polynesian Village Resort has been closed for some time for refurbishment. The rooms are being reimagined with a Moana theme. Disney has released photos of the reimagined rooms. Learn more below.
Disney Cast Member Jeremy Schoolfield shares more below:
Can you feel that Pacific breeze blowing? That's because we just stepped into Disney's Polynesian Village Resort here at Walt Disney World Resort! Have a look at these new photos we're sharing for the first time, taking you inside a newly reimagined guest room at the resort.
These reimagined spaces feature a new color palette inspired by the Pacific Ocean and its many islands, including details, patterns and textures from the hit Walt Disney Animation Studios film "Moana" – look closely and you might even spot some characters from the story!
You'll also see all-new furnishings and fixtures. In the bathrooms, for instance, Disney Imagineers took inspiration from the sandy ocean floor for the tiles and carved details in the vanity. The colorful patterns found throughout the room bring a whole new energy to the space, evoking undulating ocean waves and tropical flowers.
Disney's Polynesian Village Resort is now accepting bookings for late July 2021, and the next time you pull up to the Great Ceremonial House, you'll notice even more exciting changes we're currently working on. The porte cochere is in the midst of a dramatic overhaul that will feature a high-pitched, open-truss roof covered in a thatch style with pops of color. Above the porte cochere, the Monorail station is receiving new wooden screens with tropical colors, adding to the open and airy vibe befitting of the South Seas.
This popular locale joins the other Disney Resort hotels of Walt Disney World in creating the Disney Resorts Collection, where the magic you find in the theme parks extends to every moment of your vacation. Disney Resort hotels offer you a wide selection of fantastic settings to choose from, inspired by worlds both real and imagined. You're fully immersed in our legendary storytelling and guest service that extend beyond our theme parks to every moment of your stay, whether you're visiting an African savanna, strolling a seaside boardwalk, see a favorite Disney character or so much more – there's magic seemingly around every corner.
We'll have more to share about the developments happening at Disney's Polynesian Village Resort in the weeks and months to come. This exciting progress is part of the overall evolution of our Disney Resort hotels, as we infuse even more Disney touches across our collection – just in time for "The World's Most Magical Celebration," beginning Oct. 1, 2021, in honor of Walt Disney World's 50th anniversary.
You can click here to learn how the Disney Resorts Collection offers something for every family's need and budget. It's time to start dreaming up the story you want to experience on your next Walt Disney World vacation!
RELATED ARTICLE: 8 Reasons Polynesian Village Resort at Disney World is Incredible
by Christy Caby
The Polynesian Village Resort is the absolute favorite resort on property for my family and me. We can't get enough of this resort, even if it is to drop by, visit, and have a meal. We have always enjoyed every minute of our stays there and countdown to when we get to stay again. I can't say enough great things about the resort and true paradise that you get to stay in, but here are 8 reasons why you must consider a stay at the Polynesian Village Resort:
8 – You can't beat the location.
This lush, tropical paradise is located in one of the most ideal locations on property, in my opinion. It is a Magic Kingdom area resort and on the monorail track. This puts you in very close proximity to the Magic Kingdom and easy access to other resorts on property for dining and other experiences. The resort is also walking distance to the Ticket & Transportation Center, which allows you to take the Epcot monorail. The resort is right on the Seven Seas Lagoon, providing amazing views, including a view of Cinderella's Castle from the Magic Kingdom. It is so convenient, and the grounds are beautiful. It really is a fantastic place to be.
7 – Great amenities and recreation.
As soon as you enter the resort, you are greeted with a flower lei and a cheerful "aloha" from the cast there. As a guest, you have access to fantastic recreation activities including fun games at the pool, a stroll on the jogging trail, free hula lessons, musical entertainment, campfire on the beach, movies under the stars, and so much more. This resort really does have it all. There is so much to keep you entertained at the resort that you could spend your vacation there and be very happy!
6 – The pool is beyond amazing.
The pool here is so amazing that it has very strict restrictions that only allow resort guests of that particular resort to use the pool. It even must be accessed using a Magic Band, which would confirm that you are guest of the resort. The pool is a zero-entry pool, so really feel like you are at the beach. Not only that, but the Polynesian Beach is very close to the pool with views of the Magic Kingdom and Cinderella's Castle. There is a huge water playground and splash area for the kids. You will also notice a huge volcano right by the pool, which is actually an awesome water slide. There are guests that book a night at the resort to be able to spend the day playing in the pool! (We may be guilty of this!)
5 – Delicious dining and entertainment options.
Editor's Note: During the phased reopening of Walt Disney World, the Spirit of Aloha Dinner Show, Trader Sam's Grog Grotto, and O'hana are temporarily unavailable.
First and foremost, you can get the Dole Whip right from the resort. That is huge for those us crazy Dole Whip fanatics. You can also get the "adult" version for those of you who have an interest in trying that! Also at the resort are several delicious restaurants and menu options. O'hana is one of the fan-favorite resorts on property and is fantastic for breakfast and dinner. Breakfast is a character dining experience with Lilo, Stitch, Mickey, and Pluto, and the meal is all you care to enjoy served family-style. Dinner is also all you care to enjoy with delicious appetizers, meat on skewers, sides, and one of the most delicious desserts on property. You also have Kona Café, Captain's Cooks, Trader Sam's Grog Grotto (one of the most amazing lounges on property), and the Spirit of Aloha Dinner Show. There are only a few dinner shows spread across all of Disney World, and the luau and show is an enjoyable evening! You definitely won't go hungry! Plus, if you want to branch out, you are only a boat ride or monorail away from many other fantastic dining options, too!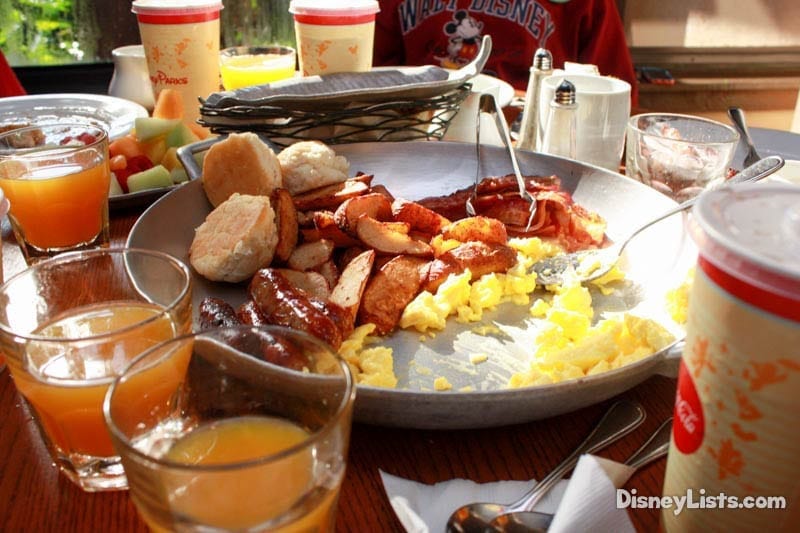 4 – Key transportation.
Editor's Note: During the refurbishment of Disney's Polynesian Village Resort now through summer 2021, the monorail station will be closed.
Transportation really does make a huge difference, especially for a more enjoyable experience and to see a different aspect of the resort than just the bus routes. From the resort, you do have bus transportation, which will take you to the various parks and locations around property. You also have the monorail, which will take you to the other monorail resorts and the Magic Kingdom. I also mentioned how you can walk to the Ticket and Transportation Center and take the Epcot monorail, which is also a huge time saver and one of my favorite monorail rides. Not only do you have these options, but you also have the boat transportation. The boat will take you to the Magic Kingdom and to other resorts around the Magic Kingdom resort area. The boats are so relaxing and a lot of fun to take from place to place.
3 – One of the first resorts at Walt Disney World.
Yep, the Polynesian was actually one for the two resorts that were the first to be built on Walt Disney World Resort property. (The other was the Contemporary Resort.) The resort opened on October 1, 1971, and many celebrities came out to be there for the resort opening. For this and many other reasons, the Polynesian has a lot of history and a lot of care that is put into it that you feel when you are there. It is really neat to be a part of that history.
2 – Views of Happily Ever After at the Magic Kingdom.
Editor's Note: During the phased reopening of Walt Disney World, Happily Ever After is temporarily suspended.
You can actually watch the Happily Ever After fireworks from the resort. You may even be able to watch from your room if you are in a theme park view room. There are three locations on property where the public can go to watch from the resort, and the music is also piped in so that you get the full experience. You can experience this at O'hana during dinner, from the beach at the Polynesian and from the King Kamehameha Club Lounge for Club Level guest. All of these viewing spots are amazing and allow you to see every aspect of the show except the castle projections, minus the crowds of guests that you would experience from inside the park.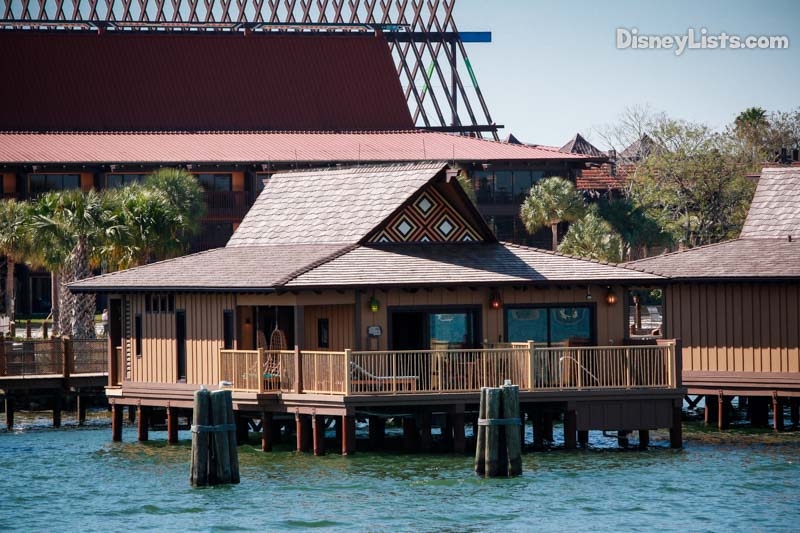 1 – One of a kind stays and deluxe accommodations.
We already mentioned that the resort has theme park views where you can watch the fireworks from your room. Well, the resort is also home to the Polynesian Bungalows. These bungalows are out on the water and offer fantastic views of fireworks and have tons of amenities, including a plunge pool on the deck! It is one of the most expensive stays that you can have at Walt Disney World, and one of the most desired. You could also decide to go Deluxe all the way and opt for a stay in one of the King Kamehameha Club rooms. With the club stay, you will have a room in the club building, plus access to the club-exclusive lobby where there are snacks, treats, and drinks (including alcoholic) served all day long for your enjoyment. There are also many other amenities that club level guests get that make their stay the most deluxe and pampered stay you can have. If you can work them in the budget, either of these stays would be worth your while!
For a no obligation, FREE Quote on a Disney vacation package, please contact our travel partner Magical Vacation Planner at 407-442-0227 (407-442-0215 for Spanish). You can also request a FREE quote online by Clicking HERE.