After being closed for nearly a year, Disney's Blizzard Beach water park has reopened to guests for some magical water fun. We were there to enjoy the slides and sun and to experience the modified operations inside the park. Catch what you need to know about visiting Disney's Blizzard Beach water park below.
1 – No Reservations Required
At this time, a park reservation is not required to visit the water park. However, reservation requirements may change in the future. The park is operating at reduced capacity (see #2). Opening day was a cool day in temperatures in the mid-sixties, so it was not busy. It will be interesting to see how busy the park gets on a hot day and if Disney feels they need to implement a reservation requirement to manage the demand.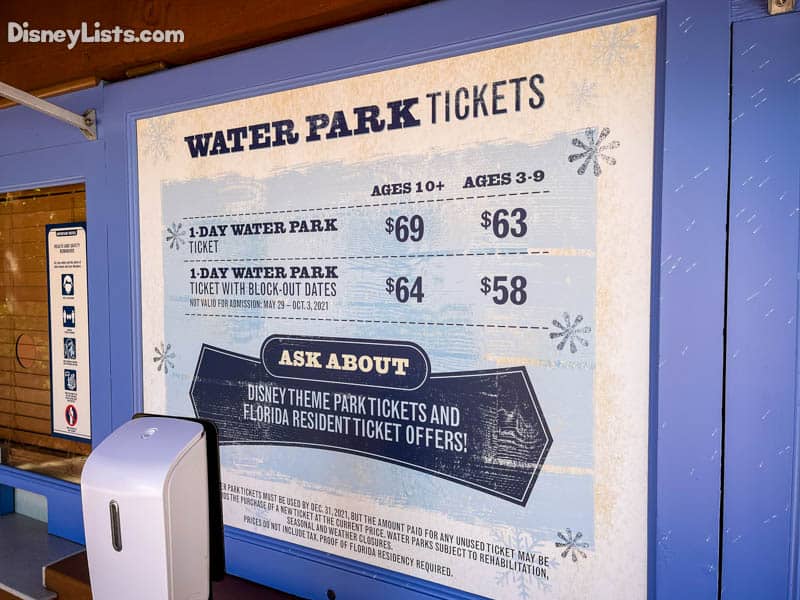 2 – Water Park Tickets
1-Day Disney Water Park tickets are available for purchase. Guests can also purchase new tickets that include the Park Hopper Plus Option or Water Park & Sports Option. Do be aware that the sale of new Water Park Annual Passes is temporarily paused at this time. I have a Platinum Plus annual pass that includes the water park, so I was able to enter on that pass. (Do note that if you have a renewal coming up, this annual pass option is not available).
Have an unused water park ticket or a water park annual pass that you didn't get to use because of the closure? Here is the ticket policy as stated on the Walt Disney World website:
Unused Tickets
We have automatically extended unused, unexpired 1-Day Disney Water Park tickets that were active at the time the water parks were closed through December 31, 2021. As an alternative, Guests may instead choose to cancel their ticket. To choose this option, please call the Disney Reservation Center. If you are unable to visit by December 31, 2021, you may apply the value of a wholly unused ticket toward the purchase of a ticket for a future date.
Water Park Annual Passes
Water Parks and Water Parks After 2 Annual Passes active at the time the Water Parks were closed will be automatically extended for the period both Water Parks were closed. As an alternative, water park Passholders may instead choose to cancel their pass. To choose this option, please call (407) 939-2732.
My sister has a water park annual pass that had about three months left on it, and the pass has not yet been added back into her My Disney Experience account. After many hours on the phone with Disney and talking with Cast Members at the gate yesterday, she was assured that the days she missed because of the closure will be added back. It will just take some time to get back. Hopefully, Disney works quickly to allow guests who have these passes to get back into the water park.
3 – Health and Safety Measures
As with all areas at Walt Disney World, you can expect health and safety measures at the water park. Disney's Blizzard Beach Water Park is operating in alignment with the health and safety protocols implemented throughout the Walt Disney World Resort, including reduced capacity, temperature screenings, physical distancing markings, and face coverings.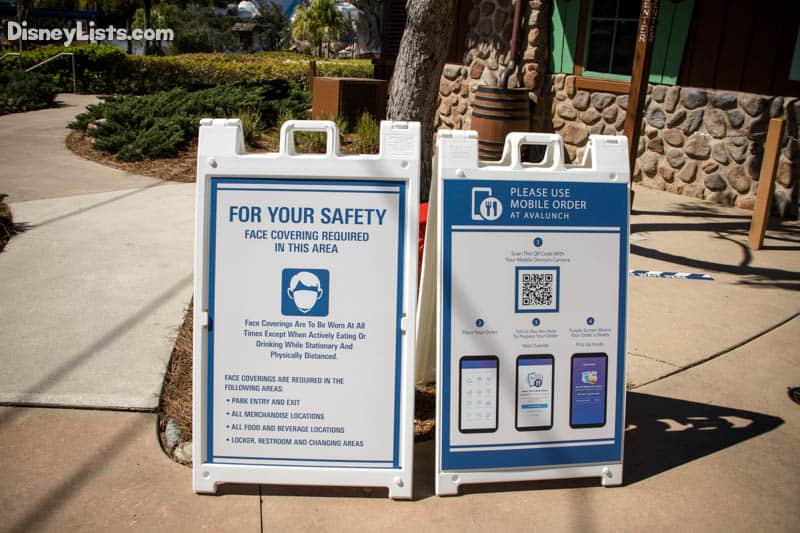 As in the parks, you'll see signage everywhere and markings, so you know where to stand in line. Chairs have been grouped together and spaced apart and are not allowed to be moved. If you've visited the theme parks during the phased reopening, the markings and signage are all very familiar. Cast Members are also stationed throughout the park to gently remind guests of the new policies.
On Cross Country Creek (the lazy river), you'll find fewer rafts. Before, many people would walk the river, but now you have to have a raft in hand at the very least. The park itself was not very busy when we went, and we felt comfortable on the lazy river, never getting too close to other parties.
When we attended the media preview, cones were set up along Melt-Away Bay to have a clear entrance and exit area for guests. However, when we visited on opening day, they were gone. The Cast Member I spoke to explained that they realized that the setup didn't really work on the Cast Member Family Preview Day, so they removed the cones. We appreciate Disney being willing to listen to feedback and adjust policies when they don't work as planned. The Cast Member did stress that they will continue to adjust, and new policies may spring up as the weather warms up and the crowds return.
Take a look at the photo gallery below with some of the signage you will find in the park. (Click on any image to enlarge).
4 – Face Coverings
Here is the face-covering policy for Disney's Blizzard Beach as stated on Walt Disney World's website:
Face coverings are required for each guest age two and up, including but not limited to, at the park entrance and exit, retail areas, and food and beverage ordering areas. Face coverings will not be permitted while experiencing water slides or in the water. You may also remove your face covering while actively eating or drinking, but you must be stationary and maintain appropriate physical distancing.
When we entered the water park, a Cast Member was there to explain the policy. If you are going from slide to slide, then you do not need to wear a mask. However, guests are encouraged to have them with them (we had ours in a Ziplock bag) to wear between slides. Sometimes we wore them when we had to walk quite a way and sometimes, we didn't. Face coverings are required for the restrooms, so if you don't carry one with you, you'll need to go back to your seat and get it before you can visit that area.
5 – Immersive Storytelling
Disney's Blizzard Beach is known for its immersive theming. As the story goes, a legendary snowstorm in Florida prompted local opportunists to build a ski resort. When Florida's climate returned to mild temperatures and the snow began to melt, Blizzard Beach was born. You'll find that theme throughout the water park in the form of snow, a warming hut, and you'll even hear some Christmas music!
6 – Blizzard Beach Attractions
There is no shortage of fun at Disney's Blizzard Beach. Here are a few of our favorites at the water park:
Chairlift: Enjoy a leisurely ride to the summit of Mount Gushmore on colorful wooden chairlifts with umbrella canopies.
Melt-Away Bay (Wave Pool): Feel the motion of the ocean and float at this one-acre wave pool. Note that on the day we visited, the inner tubes were not available on Melt-Away Bay.
Summit Plummet: Summit Plummet is a 120-foot-tall waterslide with a near-vertical drop. Disney enthusiasts can accelerate up to 65 mph on the slide, making it one of the fastest attractions at Walt Disney World. By comparison, Epcot's Test Track reaches an average top speed of 64.9 mph.
Cross Country Creek: Spanning 3,000 feet, Cross Country Creek ranks among the longest lazy rivers in the United States. It takes between 20 and 30 minutes to complete one journey around Cross Country Creek– depending of course on how lazy you want to be!
Teamboat Springs: At 1,400 feet, Teamboat Springs is one of the world's longest family whitewater raft rides. We always make time for this attraction, it's so long and so much fun.
Tike's Peak: Tike's Peak features miniature slides, snow chutes and an inner-tube ride for preschoolers under 48 inches tall. Tike's Peak also features plenty of lounge areas for families.
Ski Patrol Training Camp: Ski Patrol Training Camp was designed with older kids and tweens in mind. It features an obstacle course, zip line, body slides and inner-tube ride. This area was a must-do while my kids were in this age range. They loved playing in this area for hours.
7 – Food & Beverage Options
There's no need to pack a lunch at Disney's Blizzard Beach! From the plant-based Bratwurst Sandwich and White Cap Flatbread to the Shrimp Louie Lettuce Wrap and Sand Pail Sundae, Blizzard Beach offers a variety of savory and sweet menu items. To compliment Blizzard Beach's food offerings, Guests can choose from a curated menu of refreshing beverages including milkshakes, draft beers, ciders, cocktails, mocktails and soft drinks.
Disney's Blizzard Beach is home to seven food and beverage locations including Lottawatta Lodge, Arctic Expeditions, AvaLunch, Cooling Hut, IC Expeditions, Warming Hut and Polar Pub.
Lottawatta Lodge – As the largest dining location at Disney's Blizzard Beach, Lottawatta Lodge's menu features specialty burgers, salads, plant-based meals, adult beverages and sweet treats.
Artic Expeditions – Newly-reimagined for the park's reopening, Artic Expeditions serves draft beers, frozen cocktails and grab-and-go snack foods.
AvaLunch – Located near the base of Mt. Gushmore, Avalunch features a menu with draft beers, fully-loaded hot dogs and nachos.
Cooling Hut – Guests will find an assortment of draft beers ,hard ciders ,sweet treats and savory snacks at the Cooling Hut.
WarmingHut – The Warming Hut menu features wraps, snacks sandwiches,"Brrr"erverges and sweet treats- including Pineapple Dole Whip.
IC Expeditions – Home to the iconic Sand Pail Sundae, IC Expeditions offers a variety of refreshing desserts.
Polar Pub –Polar Pub is a full-service beach bar that offers specialty cocktails inspired by the park's unique theming.
Here are some of the food and beverage items we enjoyed at the media preview.
8 – Mobile Order
Mobile food ordering expanded to all three dining locations at Disney's Blizzard Beach water park: Lottawata Lodge, AvaLunch and Warming Hut. The mobile order service available in the My Disney Experience app makes it more convenient for guests to order, pay for and pick up their food when it's ready – right from their fingertips.
9 – Polar Patios
The Polar Patios at Disney's Blizzard Beach are ideal for guests seeking a deluxe water parks experience or for families that want to have a private space. Polar Patio rentals also include unlimited towels, a refillable drink mug, fruit-infused water, a universal phone charger, a locker and comfortable seating for 10 guests. Guests who rent a Polar Patio can order from exclusive menu and will be served by their patio attendant.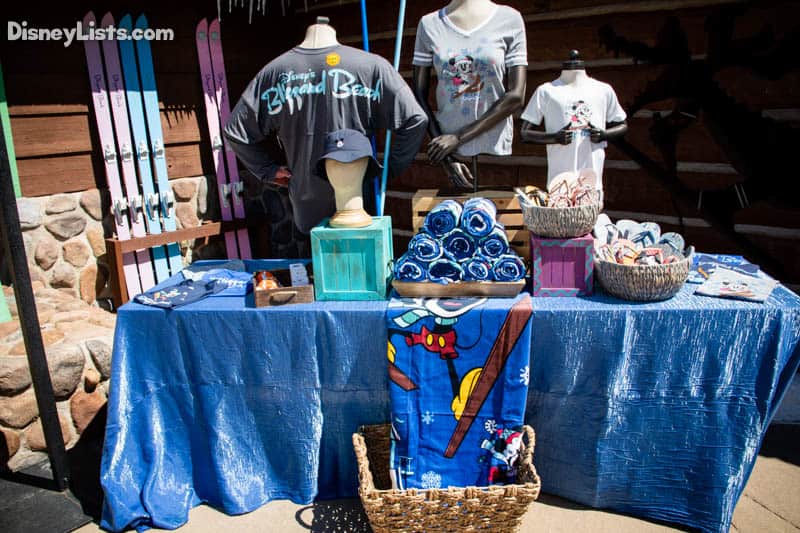 10 – Merchandise
There are two merchandise locations at Blizzard Beach: Beach Haus and Sand Breakers. From towels and swimwear to sunblock and sunglasses, Beach Haus is a one-stop shop for all the fun in the sun essentials water park guests need for their day at Disney's Blizzard Beach. You'll also find some pretty cool Blizzard Beach merchandise. Sand Breakers is Disney's Blizzard Beach's own one-stop-shop for Havianas footwear.
11 – Overall Thoughts
Despite the cool weather, we really enjoyed our visit to Blizzard Beach. It was nice to be back in the water parks after such a long closure. The Cast Members' excitement was clear—they were so happy to be back. The safety guidelines allow the park to be open and are in line with what we experience at the theme parks and resort pools. The fun is not lost at Blizzard Beach even with the health and safety guidelines. We'll be back to enjoy the park on a warmer day and look forward to spending more time there!
Click here for more photos and video from our preview visit to Blizzard Beach.
Click here for photos and video from opening day!