To put it simply, "life hacks" are the tools, advice, and wisdom that make efficiency possible and manage one's time all the better. Add "Disney" in front of life hacks, and it becomes the pixie dust that makes a magical place all the more magical! Check out what we feel are the best eight life hacks for your Disney World vacation and be prepared to strut your stuff through Disney World like you own the place… or well, at least feel like a VIP!
1 – Download and Use the My Disney Experience App
We repeat, download the My Disney Experience App. No, really… if you haven't already, we'll wait right here so you can do it now. Almost everything we mention below somehow links back to the My Disney Experience App, which is why we HIGHLY recommend it! With the My Disney Experience App on your phone, you'll have the ability to make and change dining reservations, purchase Genie+ or Lightning Lane access, see wait times for and locate attractions, check time guides for entertainment, order food, see your PhotoPass pictures, review your account and ticket information, and even view your Disney resort room number when it is ready. My Disney Experience App is like having your very own personal Disney Guest Services right in the palm of your hand.
2 – Know How to Book Lightning Lane Access
While it's not right for everyone, purchasing Lightning Lane access will let you "skip the line" and give you more time during your day. If you plan to use the new paid Lightning Lane service at the parks, you need to understand and be prepared so you know how and what attractions you want to book for the day.
There are two Lightning Lane paid options that include different attractions. First, you can purchase Disney Genie+ for the day of your visit. This costs anywhere from $15-$25 per day, per person. With Genie+, you can access the Lightning Lane at select attractions at each park. Much like the original FastPass system, you can only book one Lightning Lane attraction at a time. At 7 am on the day of your visit within the My Disney Experience App, you'll book your first return window at one of the attractions below. After that, you can make one selection at a time based on availability. Also, note that you can only use the Lightning Lane for each attraction on the list one time. You will not be allowed to book another return window for an attraction you've already used for Lightning Lane that day.

A second option for purchasing Lightning Lane is the a la carte method. Each park has attractions that are NOT included with your Genie+ purchase and must be purchased separately. Lightning Lane selections for the top-tier individual attractions will also be made on the same day of your visit and can be made across multiple theme parks (great for those who have the Park Hopper Option). Access to purchase Lightning Lane for the individual top-tier attractions will be available to all guests when the park that attraction is at opens. Guests staying on Disney World property will receive the benefit of early access to top-tier reservations and can make their purchases at 7:00 am on the day of their visit. Prices vary by date, attraction, and park but range from $7 to $29 per attraction.
For more details on Lightning Lane access, click here.
3 – Book Those Advanced Dining Reservations
Oh yes, the coveted ADRs (Advanced Dining Reservations). Look, we agree that sometimes it's a pain to plan so far in advance, but it's truly one of the best Disney life hacks we can recommend! ADRs can be made through your My Disney Experience account 60 days in advance for both Disney resort and non-Disney resort guests. If you are a Disney resort guest, you do, however, get the added benefit of booking dining reservations for the entire length of your stay – up to 10 days. This means you could technically have a 10-day jump on non-resort guests to snag those hard-to-get reservations. Reservations open at 6:00 am online and 7:00 am by phone. If you want to dine at popular table service restaurants like Space 220, Be Our Guest, or Cinderella's Royal Table, you'll need that ADR to make it happen.
4 – Take Advantage of Mobile Ordering
Our favorite life hack would have to be Disney's Mobile Ordering option. At quick-service restaurants throughout Disney World property, guests can order their food right from their phones on the My Disney Experience App. If Mobile Ordering is available at a select quick-service restaurant, you can simply press the mobile order button, add food items to your cart, and check out with payment right from your phone. Arrive at the restaurant, press a button saying you are there, and your food will be ready for you at a special mobile ordering window. The best part is you can order the food from anywhere – on the bus, in line for an attraction – whatever works. Then just let them know when you've arrived!
5 – MagicBands Make Life Easier
It's hard to remember Disney World before MagicBands! While you don't need one of these colorful wristbands to visit Disney World, it does make life much easier with one. Not only do they serve as a key to your room with a simple tap if staying on Disney property, but they can also be set up as a form of payment for resort guests, which makes purchasing souvenirs a breeze. They can also hold your park ticket information, Lightning Lane selections, and PhotoPass photos. MagicBands might not be a requirement, but we have a hard time doing Disney without one.
6 – Be A Disney Resort Guest
There have been times we've stayed off property at a hotel close to Disney World. While this has saved us money from time to time, we've learned that staying on Disney property and being a Disney Resort Guest can make all the difference in our trip experience. Simply put, Disney resort guests have the upper hand on non-resort guests with the ability to snag dining reservations and Individual Lightning Lane a la carte selections first. Complimentary transportation ultimately puts them in the park longer than non-resort guests. Even if we were to give up all the resort guest perks, we'd still miss Disney's unmatchable service and impeccable theming!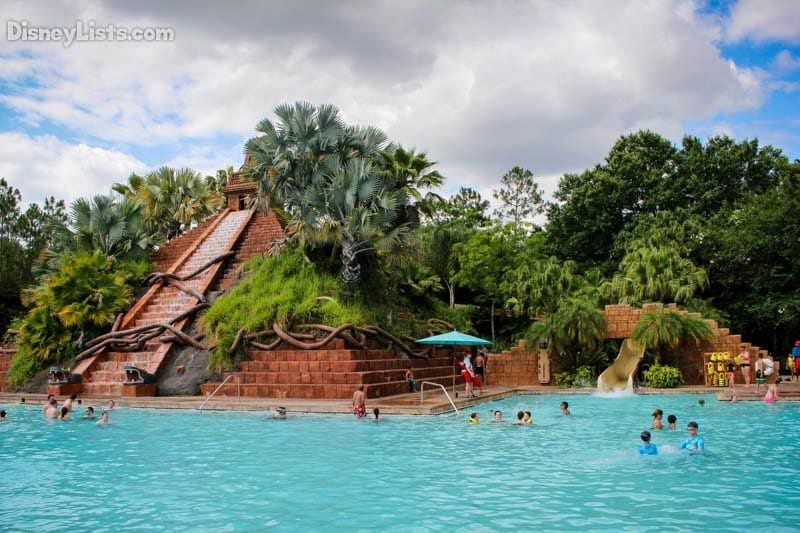 7 – Study and Plan in Advance
Studying and vacations don't usually go hand in hand, but this is one Disney life hack you'll be thankful you took advantage of! From reading blogs, articles, and guidebooks, you can have a better grasp of what to expect from your Disney World vacation. Get the most out of your experience by learning from other peoples' mistakes and checking out their opinions and reviews. Chart out your trip with your My Disney Experience App – all while being aware that flexibility is required because, let's face it, vacations never go as planned! A simple way to begin the planning is by making a realistic "must-do" list of the attractions and restaurants you just must experience. Make those must-dos possible, and count the rest as a bonus! Don't forget to walk through your plan with your traveling party so they can be involved and get the most out of the day.
8 – Pack Properly for Park
Florida's weather is interesting, and the best thing to remember is to expect the unexpected. Even if the forecast isn't calling for rain, don't be surprised to catch a brief afternoon spring/summer shower. Packing properly for the park is a life hack that will help you keep moving through the day without additional headaches. Pack necessities like rain gear, sunscreen, Tylenol, hand sanitizer, snacks, bottled water, and of course, your wallet. Almost everything is available in the park if you forget it, but having the right gear will ensure less stopping time and a happier traveling party.
These are our top 8 life hacks for Disney World. What are yours? We'd love to hear from you!
For a no obligation, FREE Quote on a Disney vacation package, please contact our travel partner Magical Vacation Planner at 407-442-0227 (407-442-0215 for Spanish). You can also request a FREE quote online by Clicking HERE.