As a staple of Main Street U.S.A. in the Magic Kingdom, Casey's Corner has been delighting guests with the joys of the ballpark since its opening in 1995. Since then, fans have been flocking to this quick-service restaurant to grab a bite to eat and enjoy a feeling of nostalgia. While many guests make it a regular must-do in the park, if you're considering trying it for the first time, we have put together a list of six reasons why we love Casey's Corner to convince you of why you definitely should make a stop here.
6 – History
Even though it opened in 1995, the theming of Casey's Corner is based on a poem from 1888 – a date referenced on Casey's sign overhanging the corner of Main Street and the Cinderella Castle courtyards. The poem is "Casey at The Bat" by Ernest Thayer, which consists of 13 stanzas referencing Casey's last at-bat for his team, trailing 4-2. While the poem doesn't end well for Casey, Walt Disney did turn the whimsical rhyme into an animated short film in 1946.
In keeping with the baseball theme, Casey's Corner was designed to have all of the vibrant colors, and fun of baseball in Walt's era, so bright red pinstripes decorate the walls as guests walk up to the counter, designed to look like a concession stand. With how efficiently guests can place and receive their orders, you get the feeling that you're in between innings, and the game could start again at any moment. However, in the Magic Kingdom, you can take your time at Casey's Corner to enjoy the atmosphere. Memorabilia and old photos adorn the walls, which includes a single modern photo that shows the Imagineers responsible for the design of Casey's Corner posing for a team photo in which they are all sporting mustaches (including the ladies).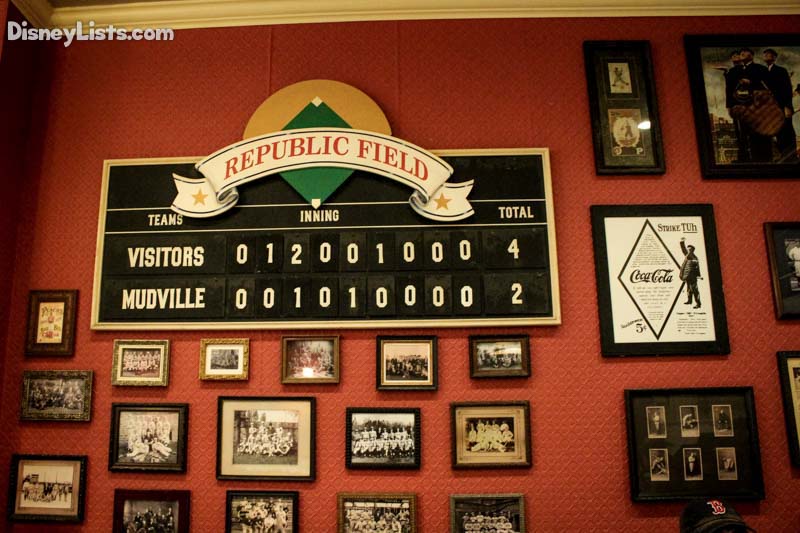 5 – Cost
Unlike an actual ballpark, the prices at Casey's Corner are incredibly reasonable and can make it the perfect place to dine for guests who are on a budget. The meals can range in price from $10.49 to $14.29, making it an affordable place to fill up. The higher-cost meals are for the specialty foot-long hot dogs, with everything else being under $13. Depending on the eating habits of your group, this can also be an excellent place to share a meal if you're just looking for something quick. If you'd prefer to have a meal for yourself, you'll find that you're more than full by the end of it.
4 – Snacks
Editor's Note: Disney Dining Plans are temporarily suspended. However, Disney has confirmed that they will return for vacation packages beginning January 9, 2024. Those packages are now on sale.
As with all quick-service restaurants, snacks are available, which count as desserts for guests using the Disney Dining Plan. Casey's offers brownies for guests who prefer a chocolatey treat. If you're looking for a more substantial snack, the Corn Dog Nugget meal is perfect for sharing but is so incredibly delicious that you may just need your own order.
3 – Entertainment
Outside of the restaurant sits an upright piano, where you can frequently find a pianist tickling away on the ivories. Dressed in the same red and white as Casey's Corner, the pianist typically plays a large selection of old-time melodies and ragtime songs from years gone by, but that doesn't mean they're not up for a challenge. Guests can offer up songs they'd like to hear, and you would be amazed by the extensive repertoire these talented musicians possess. With guests cheering them on, the music begins to fill the air, making for a relaxing dining experience.
2 – Location
While there is limited dining space inside, the seating outside the restaurant is what makes it such a great place to stop. At the corner of Main Street U.S.A., the outdoor seating gives guests an incredible view, through the hub, to Cinderella Castle. With umbrellas sitting above most tables, it's the perfect spot to rest and enjoy a meal with a great overlooking view. Combine the food with the music and the view, and you have a recipe for a great atmosphere, day or night.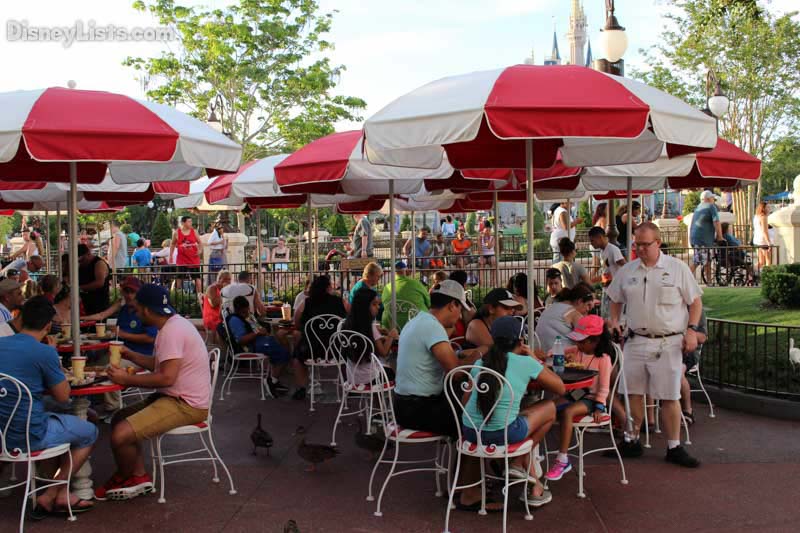 1 – Hot Dogs
It just wouldn't be Casey's Corner without ballpark franks. There are also different options for toppings in the Magic Kingdom if you'd like to try something other than a classic dog or foot-long. A fan favorite is the Chili-Cheese Dog, combining flavors for a hearty meal that might get a little messy, but is definitely worth it. Whether you prefer a fancier dog or the classic, where you can put your own toppings on top, Casey's is easily the best place in Walt Disney World to enjoy a hot dog, all in a fun and nostalgic atmosphere.
For a no obligation, FREE Quote on a Disney vacation package, please contact our travel partner Magical Vacation Planner at 407-442-0227 (407-442-0215 for Spanish). You can also request a FREE quote online by Clicking HERE.