Star Wars: Rise of the Resistance is now open inside Star Wars: Galaxy's Edge at Disney's Hollywood Studios in Florida and at Disneyland Park in California. After years of anticipation for this groundbreaking new attraction, guests will now become heroes of the Resistance in a climactic battle with the First Order. Learn more about this amazing attraction below.
1 – No More Boarding Groups and Virtual Queue (For Now)
Star Wars: Rise of the Resistance was the first attraction at Walt Disney World to utilize a Virtual Queue; however, at this time, the Virtual Queue has been "paused." If you do not want to pay to ride this attraction (see #2), you may now simply enter the stand-by queue and wait for the attraction. Wait times run anywhere from 1.5 – 3+ hours, depending on the time of day. It's still the most popular attraction at Walt Disney World, so be prepared to wait a long time for this one. We highly recommend that if get to the park as early and line up as possible. Also, be aware that Disney has and will close the regular stand-by queue in order to let those who paid for Lightning Lane access go through the line. These closures usually happen in the afternoon or evening, which is another reason we recommend lining up as early as possible.
2 – Individual Lightning Lane Purchase Option
Some attractions fall into the "Individual Lightning Lane" category at each theme park. These are the most popular attractions. These attractions are NOT included with your Genie+ purchase and must be purchased separately. Lightning Lane selections for the top-tier individual attractions are made on the same day of your visit and can be made across multiple theme parks (great for those who have the Park Hopper Option). Access to purchase Lightning Lane for the individual top-tier attractions are available to all guests when the park that attraction opens. Guests staying on Disney World property receive the benefit of early access to top-tier reservations and can make their purchases at 7:00 am on the day of their visit. Prices will vary by date, attraction, and park.
The price for Rise of the Resistance has been consistently high, ranging from $15-$25, depending on the date of purchase. It also has been the most popular and almost always "sells out" on any given day. If you are willing to pay for Lightning Lane access for this attraction, your best bet is to be a Disney resort guest and make your purchase right at 7:00 am. If you are not a resort guest, you need to make your purchase as soon as the park opens. 
3 – Timeline and Backstory
The time and backstory of the attraction place you shortly after Episode VIII – The Last Jedi. It is a dark time for the Resistance. Following the devastating Battle of Crait, the freedom fighters have fled with General Leia Organa to an undisclosed location. Meanwhile, hunted by the First Order and Supreme Leader Kylo Ren, a band of Resistance supporters have established a temporary outpost on Black Spire Outpost on the planet of Batuu (Galaxy's Edge), thanks to scouting by Resistance spy Vi Moradi.
Here on the Outer Rim, the Resistance is rebuilding and searching for recruits to join the cause and help save the galaxy from tyranny. When you enter the attraction, you are answering that call to join the Resistance and fight the First Order. Unfortunately, not everything goes to plan. You'll launch into space aboard a transport shuttle, only to be captured by a Star Destroyer and pursued by Supreme Leader Kylo Ren. On the attraction, you'll frantically search for a way to escape the clutches of the First Order.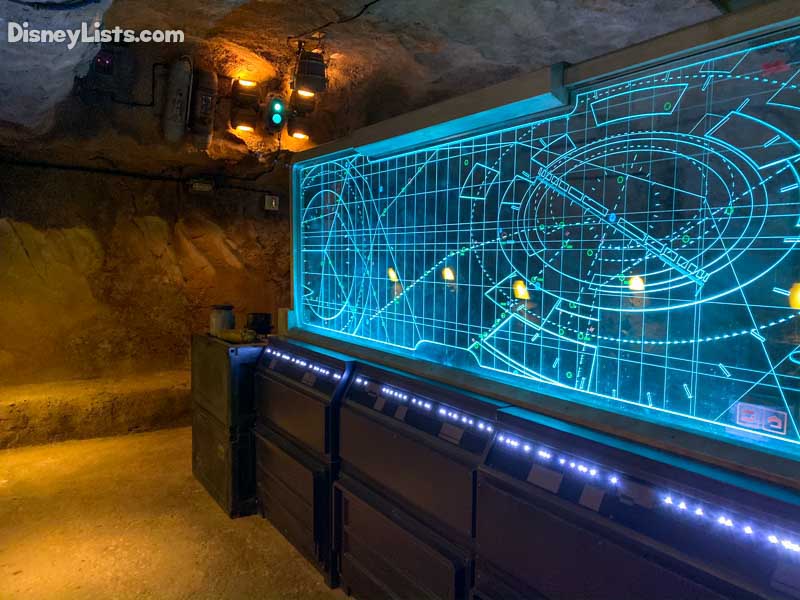 4 – Detailed Queue Area
You'll find the Resistance's temporary encampment in the forested area along the outskirts of Black Spire Outpost on Batuu. (When you arrive at Galaxy's Edge from Grand Avenue, you'll find the attraction to the left). The gateway to the encampment is marked by a large turret. From there, a pathway leads deeper into the forest toward towering cliffs and the crumbling remains of an ancient civilization. While some of the queue is outside, most of it is inside, which will be welcome in the hot summer months. You'll weave through low stone walls, timeworn pillars, and tight corridors as you progress farther into the base, hearing military communications chatter along the way. The first section of the queue is quite long, with many chambers. (I counted eight in all). I timed myself walking through from the front to BB8, and it was a five-minute walk—that was with an empty queue and walking at a normal pace. They clearly created a space for many, many people to wait for the attraction.
5 – A Briefing with BB8 and Rey
Disney has done a fantastic job creating a seamless, holistic experience full of rich details and excitement on a cinematic scale. The traditional ideas of "queue," "preshow," and "ride" have really been blurred as to when the "ride" begins. I feel it's safest to say that it starts with your briefing with BB8 and Rey. In a makeshift briefing room, Rey – a hero of the cause – appears via holo-transmission alongside the dutiful droid BB-8 to welcome you as a new Resistance recruit. Rey shares a plan to reunite with General Leia Organa at an off-planet location that must be kept a secret from the First Order.
6 – Intersystem Transport Ship
After the briefing with Rey, you are whisked away to a nearby Intersystem Transport Ship (I-TS) and have to make your rendezvous quickly to avoid a First Order Star Destroyer on its way to Batuu. When you board the I-TS, you'll feel as if you're lifting off the surface of Batuu and blasting into space alongside Poe Dameron in his signature black-painted X-wing starfighter, Black One. Before the I-TS can make the jump to lightspeed, it's caught in the tractor beam of a Star Destroyer and pulled into a massive hangar bay.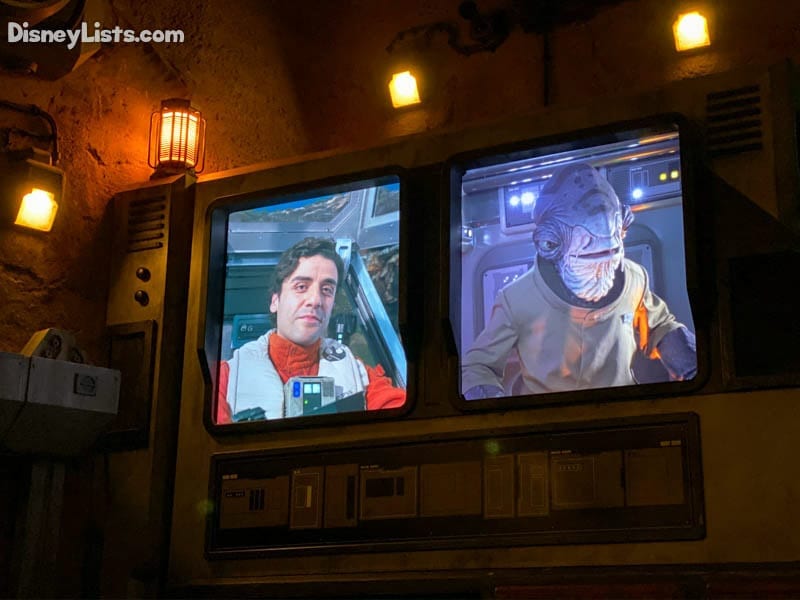 7 – First Order Hangar Bay
Stepping off the transport and walking into the hangar bay is unbelievable. It's like stepping into a Star Wars movie. You'll see ahead of you 50 menacing stormtroopers and a docked TIE fighter. The room is absolutely massive and awe-inspiring. I remember getting chills the first time I was in the room. The nice thing about this area is that you can take as long as you like here. You can take it all in, snap some photos, and look around before you move on to the next phase of the attraction. The first time you're in the room, be sure to really look around the room before you move on.
8 – First Order Detention
After the hangar bay and a bit of a wait (depending on how crowded it is), you'll be sorted into groups and put in a detention cell. You'll be threatened by General Hux and Kylo Ren. Don't be surprised if some Resistance friends get you out of the cell in a very cool way. You'll then make your escape from the Star Destroyer aboard eight-passenger First Order Fleet Transports piloted by reprogrammed R5-series astromech droids. You'll be buckled in here, and the "ride" portion begins.
9 – The Great Escape
The next portion of the attraction is where the real fun begins. At various points, you'll dodge blaster bolts from stormtroopers and AT-AT walkers, scurry past huge turbolaser cannons, and stumble into the Star Destroyer's bridge. Throughout your journey, you are hunted by Kylo Ren, who uses the Force in an attempt to pry from your mind the location of General Organa's secret base. You'll feel Ren's tremendous malevolent power as you narrowly avoid his attacks. This part of the attraction is the best yet and has so many twists, turns, and surprises. The more I rode it the more I noticed. There is so much to discover!
Get an idea of the attraction by riding along with me by watching the video below.
Click here to watch a short clip of the AT-ATs!
10 – Cutting-Edge Technology Powers Immersive Storytelling
Walt Disney Imagineering combined multiple ride systems to tell the story of Star Wars: Rise of the Resistance. In one sequence, a new simulator experience gives the sensation of falling from space to crash land on Batuu. The trackless ride vehicles in Star Wars: Rise of the Resistance are some of the most advanced ever used in a Disney attraction, with a sleek, low profile and the ability to move in all directions. Disney A-1000 Audio-Animatronics figures appearing in the attraction provide a deep level of immersive storytelling through their lifelike and dynamic movements. To fully realize this Star Wars story, Imagineers created thousands of special effects, from slashing lightsabers and whizzing blaster bolts to exploding walls and massive star fields – just to name a few.
11 – Authentically Star Wars
Star Wars: Rise of the Resistance is the latest chapter in the collaboration between Walt Disney Imagineering and Lucasfilm Ltd., a global leader in film, television, and digital entertainment production, including the Star Wars franchise. The work on Star Wars between these two creative powerhouses dates back to 1987 when the groundbreaking Star Tours attraction opened at Disneyland.
Actors from the current Star Wars film trilogy reprise their roles for new scenes and dialogue in Star Wars: Rise of the Resistance, including Daisy Ridley (Rey), Adam Driver (Kylo Ren), John Boyega (Finn), Oscar Isaac (Poe Dameron) and Domhnall Gleeson (General Hux). Many scenes were filmed at the same time "Star Wars: The Last Jedi" and "Star Wars: The Rise of Skywalker" were in production.
Poe Dameron's X-wing is one of several vehicles from the Star Wars galaxy appearing in the attraction.
Disney cast members adopt personalities of First Order and Resistance troops throughout the attraction to further deepen the immersive experience for guests.
Walt Disney Imagineering worked hand in hand with Lucasfilm in writing the attraction's script, ensuring characters and storylines were properly integrated into the broader Star Wars galaxy.
I had the chance to speak with Doug Chiang, Vice President and Executive Creative Director, Lucasfilm about how the amazing attraction was brought to life. Watch my short interview below:
12 – A Lengthy Experience
One of the best things about this attraction is the length of the experience. During the media preview, I timed how long the entire experience was. As I mentioned earlier, my uninterrupted walk from the start of the queue to BB8 was five minutes. Then from BB8 until the end was an entire 28 minutes. We only had a short 3-5-minute wait from the hangar bay to our detention cell. Waits for most guests will likely be longer due to more people being in the attraction. The time on the transports trying to flee Kylo Ren is nearly five minutes long! There is so much to see and experience. It's not rushed, and you really feel like you're connected to the Star Wars Universe, really living out your own Star Wars story.
13 – A Complete Star Wars Experience
When Star Wars: Galaxy's Edge opened in August, the land was a hit, but many felt like something was missing. There were complaints that it didn't quite feel Star Wars enough because of the lack of connection to a Star Wars film or location. Because Batuu and Black Spire Outpost were new, people had a hard time connecting. With the addition of Star Wars: Rise of the Resistance, that complaint goes out the window. We already mentioned the actors from Episodes 7-9 in the attraction. Their presence and the storyline bridge the gap between what we see on the big screen and what we experience on Batuu when we visit Star Wars: Galaxy's Edge. It's the perfect blend of new and familiar, and the rest of my time exploring Galaxy's Edge was heightened by the new connection.
14 – Motion Sickness and Height Requirements
I will admit I was very nervous about riding this attraction. I suffer from motion sickness and can't ride Flight of Passage, Star Tours, or Mission Space. My days of riding the Tower of Terror are very near an end as I am getting increasingly uncomfortable after riding it. I'm happy to report that not only was I able to enjoy this attraction, but I also found it to be gentler than Millennium Falcon: Smuggler's Run. The entire ride portion is smooth. There is a drop, but it's much milder than the Tower of Terror. I was so happy that I could enjoy this one because it's incredible. Keep in mind that everyone reacts to attractions differently. Still, as generally as possible, I think this ride is relatively safe for those that suffer from motion sickness on certain attractions. Also, note that there is a 40-inch height requirement for younglings.
15 – If You Build It, They Will Come
Whether you've visited Galaxy's Edge a number of times or have been waiting for Rise of the Resistance to open, you'll want to come and experience this attraction. After two years of operating, the attraction is still a huge hit. This attraction is unlike anything you've ever experienced at a Disney Park. They've taken it to the next level, and whether you're a Star Wars fan or not, this is an experience not to be missed. I keep saying "experience" because it's so much more than a ride. It's an all-immersive experience that I know guests will love and keep coming back for.
For a no obligation, FREE Quote on a Disney vacation package, please contact our travel partner Magical Vacation Planner at 407-442-0227 (407-442-0215 for Spanish). You can also request a FREE quote online by Clicking HERE.