Most of us appreciate all the amenities provided by Walt Disney World Resorts, but deciding which ones we love best may prove difficult. In addition, the amenities vary at each hotel, ranging from the basic services found at value resorts to the jam-packed benefits offered at deluxe resorts. Nevertheless, the universal amenities that we all love make up this top ten list.
10 – Magical Transportation
Every resort provides complimentary transportation to and from the theme parks, the water parks, and Disney Springs. Depending upon which resort you choose, you may end up riding the monorail, climbing aboard a ferry boat, hopping on a bus, or taking a ride on the amazing Disney Skyliner. Free transportation takes the pressure off parents tasked with hauling their kids all over the Disney property and removes the worry of driving after a few drinks at Epcot's World Showcase…or anywhere else.
9 – Merchandise Delivery and Pickup
Editor's Note: At this time, souvenir pick-up and resort hotel delivery are temporarily unavailable. They are still listed on the Walt Disney World website, so we hope these perks return soon!
If you don't want to lug around your child's plush toy collection or the R2D2 replica you purchased, then you'll love the merchandise delivery service for Walt Disney World Resort guests. Inform the cashier about your wishes to have your purchase shipped to your resort, fill out the paperwork, and with a Bibbidi-Bobbidi-Boo, the merchandise shows up the next day at your resort's local gift shop. No, the magic isn't instant, but it does help you to enjoy hands-free, theme-park fun. The service is complimentary, so don't worry about forking over more cash for a delivery fee.
8 – Rapid Refill Mugs
Editor's Note: At this time, the Disney Dining Plans are unavailable, but Disney has confirmed that the plans will return. 
Naturally, visiting the resorts and theme parks at Walt Disney World means that you'll experience theme park prices. Fountain drinks at quick-service locations will cost you over three dollars for a single fill-up. With thirsty children baking in the midday sun, you'll likely need to make several trips to a drink vendor. Rapid Refill Mugs are a great way to save money when they're used regularly.  Their prices vary based on the length of your stay, but they're complimentary if you purchase a dining plan. You can refill them as often as you want at any resort hotel, but unfortunately, you can't fill them in the theme parks. Some guests refill the mugs at their resort and then carry them into the parks. Later, they may use the mugs to split refreshments they purchase or refill them at water fountains. When the vacation is over, the whole family has a set of souvenir cups to take home and enjoy!
7 – Movies Under the Stars
After a long, hard day at the theme parks, you can relax with the family to watch a Disney movie at your resort. Even better than catching a flick on your room's flat-screen television is viewing it on the big screen outdoors. Imagine seeing your favorite movies while lying on the beach, floating in the pool, or reclining on your chair with the nearby woodlands serenading you. No matter which Disney Resort you choose, you'll love the daily movie screenings under the stars, so take one evening to try it out.
6 – Theming
Though the magical themes aren't listed as amenities for Walt Disney World Resorts, we come to think of them as such. Regular hotels can feel boring and uninteresting since they don't really attempt to engage guests. They may provide great service and a place to sleep, but not an experience. Disney resort hotels and villas deliver more than just great service. They create a space where guests may enter the story, feel the magic, and leave the mundane world behind, resulting in a vacation experience that they cherish for years to come.
5 – Pools
Theme parks may draw the most visitors to Walt Disney World, but taking a day off from attractions and shows to enjoy your resort will not disappoint your family. The pools of Walt Disney World Resorts are nothing short of phenomenal.  These expansive pools feature waterfalls, slides, children's play areas, hot tubs, and lazy rivers. Additionally, Disney Imagineers designed resort pools to delight the senses with excellent themes and artistic accents. Also, the technicians keep the pool clean and maintain a comfortable water temperature no matter what time of year you visit.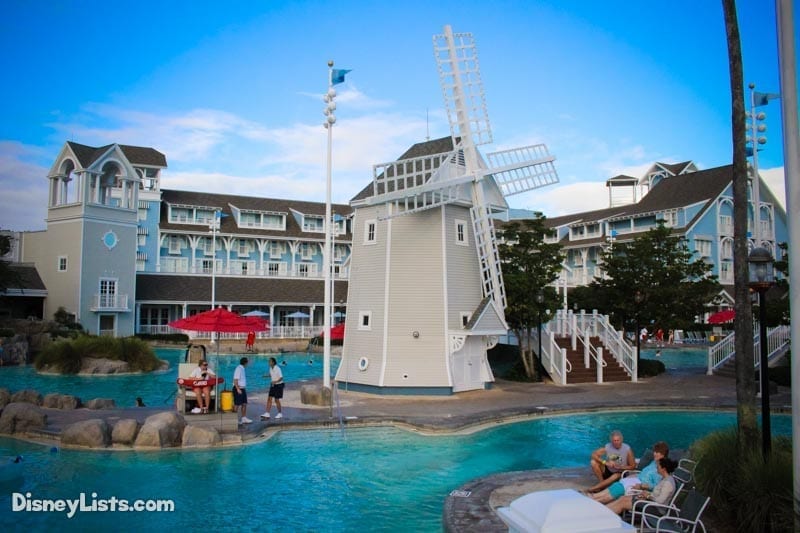 4 – MagicBands
One of the best improvements to operations at Walt Disney World Resorts over the past few years concerns MagicBands. Guests may wear a wristband to access almost everything at Walt Disney World. The MagicBand replaces your room key, park tickets, PhotoPass, and even your credit card if you so choose. The convenience of MagicBands cannot be understated since they simplify your vacation and make it more enjoyable. Also, artistic guests can customize their MagicBands by color, buy personalized bands in Tomorrowland, or create homemade decorations.
3 – Extended Evening Hours – Deluxe Resort Guests
In October 2021, two new benefits were launched for resort guests as part of the 50th-anniversary celebration. The first benefit, and somewhat controversial, is reserved for only guests staying at a Disney Deluxe or Disney Deluxe Villa resort. This benefit allows guests to enjoy extended evening hours (two extra hours) on select evenings in select theme parks when they stay at a Disney Deluxe Resort, Disney Deluxe Villa Resort, or other select hotels. Participating hotels and the nightly schedule can be found by clicking here. 
2 – Selecting A la Carte Individual Lightning Lane Attractions at 7:00 am
The new Lightning Lane at select attractions allows you to skip the line and offer shorter wait times than the regular stand-by queue. Some attractions are included in Disney Genie+, though some are considered "Individual Lightning Lane Attractions" and must be purchased separately. Access to these individual attractions is limited to two a day, with prices ranging from $7-$29 per person. All guests looking to purchase access to Lightning Lane for the individual top-tier attractions may do so at park opening in the My Disney Experience app. However, guests staying on Disney World property receive the benefit of early access to top-tier reservations and can make their purchases at 7:00 am on the day of their visit. Access to the Lightning Lane can hit capacity and will sell out, so we highly recommend you purchase access right at 7:00 am if you plan to purchase access. During really busy times, we've seen certain Individual Attractions (such as Star Wars: Rise of the Resistance and Guardians of the Galaxy: Cosmic Rewind) sell out before park opening, meaning that non-resort guests didn't even have a chance to purchase that day. This is a huge benefit if you plan to purchase access to Individual Lighting Lane attractions. 
1 – Early Theme Park Entry
The second new benefit, launched in October 2021, is for all Disney resort guests. Now guests can enter any theme park thirty minutes ahead of non-resort guests. Early theme park entry gives you a head start in the parks and has greatly impacted wait times at major attractions. Essentially, this early entry is the new "rope drop" and is the best (and really only) way to enjoy short wait times at the most popular attractions. You'll want to arrive at least 10-15 minutes before the early hours are set to begin so that you can position yourself ahead of the resort guests queuing up. So if early entry begins at 8:30, get there by 8:15! Then you can (safely) dash to your top attraction. Non-resort guests arriving at park opening are now being confronted with significant wait times (already 1-2 hours) at the most popular attractions. Being a resort guest really gives you a huge advantage in the morning! You just need to make sure you are up bright and early to take advantage of it!
For a no obligation, FREE Quote on a Disney vacation package, please contact our travel partner Magical Vacation Planner at 407-442-0227 (407-442-0215 for Spanish). You can also request a FREE quote online by Clicking HERE.