So you have booked your vacation to the most magical place on Earth, you have decided where you will stay, and you may have even figured out which parks you will visit on which day – now is an excellent time to look at making dining reservations for you and your group. When it comes to dining reservations, there are several factors to consider before you book. To help you in your planning process, we have put together a guide of six things to consider as you make your dining reservations.
1 – Experience
With a wide variety of restaurants available to guests, there is sure to be something for everyone in your group so that each guest can enjoy a memorable experience. The tricky part can be narrowing down what kind of experience you would like. Walt Disney World is home to restaurants in several different categories, such as Character Dining, Themed Dining, All You Care to Eat, and Fine Dining. What restaurant you choose will determine your experience. Maybe you would like the relaxed feel of a buffet or the fun atmosphere that comes with dining with some of your favorite Disney characters. You could also enjoy the more sophisticated cuisine found in the themed and fine dining restaurants scattered throughout Disney property.
2 – Menus
Once you have decided what kind of experience you would like, you can search for restaurants pertaining to that particular type on the Walt Disney World website and limit your search to the park you would be in, the resort you would like to visit, or anywhere else you'd like to try. The website will give you a general description of each restaurant (or you can check out our restaurant reviews here at DisneyLists.com).
The Walt Disney World website will also give you a look at the menu, where you can explore the kind of dishes served and see if there's anything that looks appetizing to you. It's best not to browse the menus on an empty stomach as you'll find your mouth watering just reading about the different dishes. A look at the menus can be helpful for guests who are looking for a certain kind of cuisine, whether it be International flavors or good old American cooking. With a look at the menu for each restaurant you're interested in, you can make a more informed choice when it comes to booking your reservation.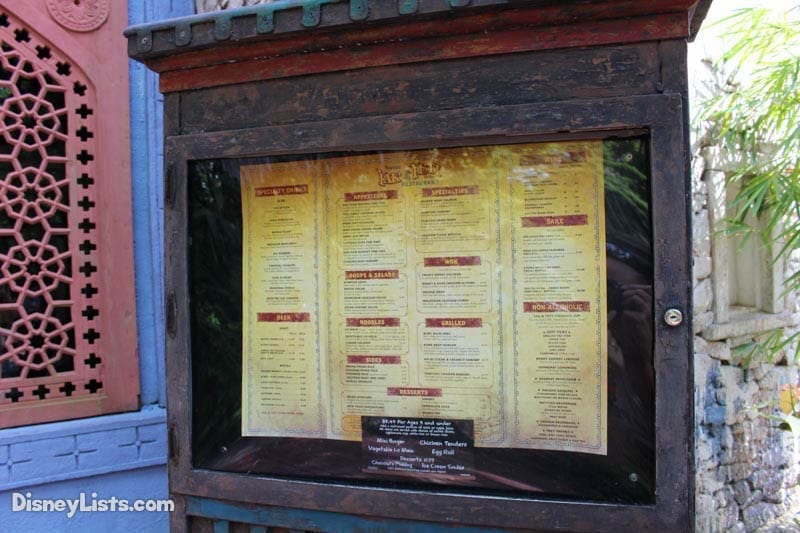 3 – Travel
If you are planning to dine at a location other than the park or a restaurant in a different park using the park hopper pass, make sure to leave enough travel time to make it in time for your reservation. This can depend on whether you travel by bus, boat, monorail, or Skyliner. If you want to dine at a resort, it might be a good idea to pick a day when you visit the park closest to the resort. An example would be dining at one of the Grand Floridian or Contemporary Resort restaurants if you're visiting the Magic Kingdom or dining at the Yacht Club Resort if you're visiting Epcot.
4 – Disney Dining Plan
Editor's Note: At this time, the Disney Dining plans are temporarily suspended, but Disney has confirmed they will return. 
For guests staying at a Walt Disney World Resort, you can purchase the Disney Dining Plan, with the most popular plan providing guests with one snack, one quick service meal, and one table service meal for each night of their stay. When booking the table service restaurants, it's essential to figure out how many credits are required at each restaurant, as not all Disney restaurants are created equal. Some of the signature or fine dining restaurants will require two of your table service credits instead of the usual one, leaving you to pay out of pocket for another meal if you choose to dine at a table service restaurant. Plan ahead and decide whether the dining plan is worth it for your group and then identify whether your preferred restaurants require one credit or two.
5 – Reservations
To actually book your dining reservation, there are two ways you can do this. The first option is to book your reservation through the website. To do this, you will need a My Disney Experience Account so that Disney can connect your reservation to any other plans you have booked. Go onto the Walt Disney World website and search/browse for the restaurant of your choice. You can then input which day you would like to book a reservation for and either a general time (breakfast, lunch, or dinner) or a specific time you prefer. When you run a search for that time, the website will show you a few options available (if there are any) where you can click on the time that best suits you and make your reservation.
The other way to make a reservation is to call a Disney representative at 407-WDW-DINE (407-939-3463) to speak to someone who can help you with all of your dining questions and then book your reservations for you. Phone lines open up at 7:00 am.
Once you have selected a time for your reservation, you will need to link a credit card to the reservation since, if you fail to show up, that card will be charged a $10 fee per person. This part of the reservation is also the time to identify how many will be dining and whether there are any dietary restrictions or allergies that the chefs should be aware of.
On the day of your reservation, it's a good idea to show up at least 15 minutes before your scheduled time to check in with the host/hostess, and they can begin the process of seating you.
Also, don't forget to make a park reservation for dining in the theme parks for the day you plan to dine there.
6 – Important Dates
Reservations to some of Disney's most popular restaurants can be hard to come by since they book up shortly after they become available. It's important to note that you can book a dining reservation up to 60 days before your dining date, or for resort guests, you can book for up to 10 days of reservations 60 days prior to the first day of your vacation. This gives resort guests an advantage towards the hard-to-get reservations later in their stay. For everyone else, the reservations become available 60 days before your dining date at 6 am Eastern Standard Time for online bookings and 7 am for phone reservations, which means an early morning for anyone on the east coast and a really early morning for those on the west coast. For the most popular restaurants, you can be sure that a large number of guests will be waking up that early to book reservations, so to have the best chance at getting one, you should plan on waking up then too.
If you don't get a reservation, there still may be a chance to dine at your restaurant of choice. Checking the website regularly can inform you of any guests who have canceled their reservations. Disney restaurants have a cancellation policy that allows guests to cancel their reservation without a penalty for up to two hours on the day of their reservation, so you can always check on the day of whether there are any reservations available. When you are at Walt Disney World, you can check on your phone (through the My Disney Experience App), ask the concierge at your resort, guest relations in the park, or at the restaurants themselves when they open. It never hurts to ask, and it's worth it if you have your heart set on a particular restaurant.
Good luck and happy bookings!
For a no obligation, FREE Quote on a Disney vacation package, please contact our travel partner Magical Vacation Planner at 407-442-0227 (407-442-0215 for Spanish). You can also request a FREE quote online by Clicking HERE.