Dining
Top 7 Best Steaks at Disney World
When it comes to dining on Disney Property, many guests are blown away by the creativity of the chefs, the diversity in the menus, and the overall incredible flavor of the food. While everyone has different tastes when it comes to steak (including those who wish not to taste it at all), many of the unique restaurants in Walt Disney World have their own take on a classic steak. If you're looking for some of the best steaks on Disney property, here's a list of what they are and where you can find them.
7 – Charred Strip Steak – Mama Melrose's Ristorante Italiano
As a surprise to some on this list, Mama Melrose in Hollywood Studios offers a single steak on the menu. What it lacks in diversity, it makes up for in execution. Many guests rave about this steak, and while it may have everything to do with how it's prepared (and who's preparing it), the dish as a whole can leave even the hungriest diner full and satisfied. The steak is cooked with an aged balsamic-shallot butter and a Chianti wine reduction. It's served with a four-cheese macaroni with pancetta and makes for a wonderful dish that feels like comfort food.
6 – Grilled Filet Mignon – Be Our Guest
When it comes to a classic steak, the Grilled Filet Mignon at Be Our Guest hits the mark. There's nothing overly fancy about it, as it is baked in garlic-herb butter and served with a baguette. But for guests who are craving a steak, it's definitely one that will please your palate. Dining inside the Beast's Castle, the simplicity of the well-executed steak, and the setting make for a wonderful dining experience.
5 – Prime New York Strip Steak – Narcoossee's
Sitting along the waterfront at Disney's Grand Floridian Resort, Narcoossee's offers a cozy coastal atmosphere and great food. The Prime New York Strip Steak comes with a buttery mash potato mash, roasted rainbow vegetables, and a red wine demi-glace reduction. The fact that the ingredients are all sourced so meticulously helps you see the amount of care and effort that went into creating this dish. For many guests, the red wine reduction brings all of the flavors in the dish together without being too overpowering.
4 – Oak-Grilled Filet Mignon – Jiko
At Jiko – The Cooking Place, you can expect an infusion of African flavors into each dish on the menu. While it's difficult to deviate too far from a classic steak, the filet mignon is surrounded by just the right amount of African twist on the plate. Served with jumbo asparagus and spoon bread, the filet is drizzled in a South African red wine sauce with a spice to it, adding to the overall flavor. While the portion size may seem small, it makes up for it in taste, creating a memorable meal.
3 – Oak-fired Filet of Beef – California Grill
Fifteen stories up in Disney's Contemporary Resort, the California Grill offers some of the most diverse and delicious dishes in all of Walt Disney World. If you're looking for a delicious steak, look no further than the oak-fired filet of beef. It comes with aged gouda macaroni and cheese, grilled sweet onion, sauteed ice spinach, and steak sauce. The dish is an indulgence of flavor while still feeling fresh and a little lighter.
2 – Center Cut Beef Tenderloin – Monsieur Paul
Don't let the French cuisine intimidate you as you order this wonderful dish from Monsieur Paul in Epcot. Here you'll enjoy center-cut grilled beef tenderloins served with mashed potatoes and Bordelaise sauce. If you have never experienced French cuisine before, this is one of the best introductions to the culture that you could ask for.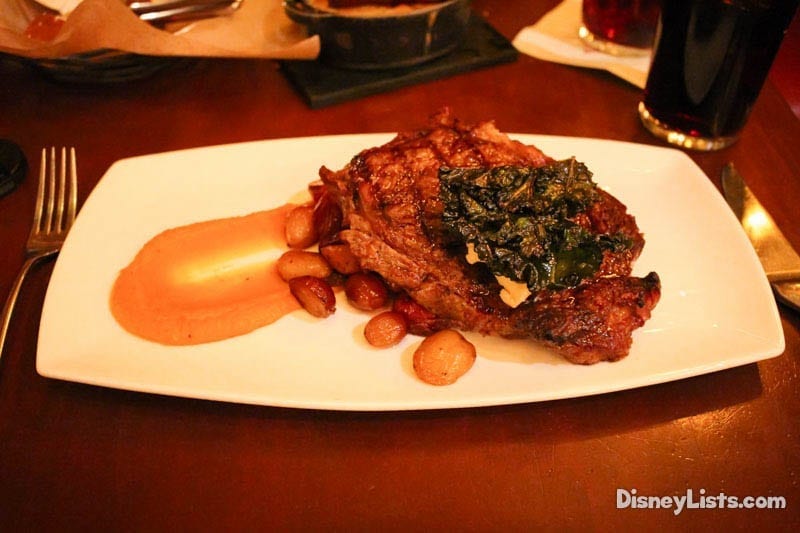 1 – Prime Rib-Eye – Le Cellier Steakhouse
It's hard to go wrong with any steak on the menu at Le Cellier in the Canada Pavilion at Epcot, but the Rib-Eye is definitely a stand-out dish. Grilled with a maple-sage butter, this prime cut of beef is delicious from the first bite to the last. Sitting on a bed of warm fingerling potatoes with caramelized onions and roasted shallot-whisky butter, there is a swarm of flavors on the plate that really captures the feeling of the outdoors. Hearty ingredients are coming together to make an unforgettable dish. The Rib-Eye consistently leaves guests incredibly satisfied, raving that it is the best steak they've ever had.
For a no obligation, FREE Quote on a Disney vacation package, please contact our travel partner Magical Vacation Planner at 407-442-0227 (407-442-0215 for Spanish). You can also request a FREE quote online by Clicking HERE.