There is more to Disney World than just four theme parks. In fact, there is so much more that you may not know exactly where to start when deciding what to do on your Disney vacation. A trip to Disney does require some planning, but doing that little bit of research will make a world of difference in your vacation. Here are just some of the many things there are to do on a Disney vacation.
8 – Dining
The food is one of the best things about Disney. Whether it's snacks, quick-service, or table service meals, they each have their place in a Disney vacation! Do a little research and check out the menus. Every food service location on Disney property has its menu listed on the Disney World website. Consider the tastes of your party and family, and make choices that will appeal to everyone. Some table-service restaurants even have character dining experiences or live entertainment. Don't just stick to the parks, but look at the resorts too. And remember, if you're thinking of dining at a table service location, always make a reservation, which you can do 60 days in advance.
7 – Water Parks
Disney has two absolutely fantastic water parks. If you and your family enjoy swimming, waterslides, and fantastic theming, plan to visit Typhoon Lagoon, Blizzard Beach, or both! It's easy to spend a whole day on the slides, in the waves, or relaxing in a cabana. You can purchase a one-day water park ticket and visit both parks in one day. Check ahead of time to make sure they are open when you plan to visit, as the water parks do close for refurbishment and due to weather.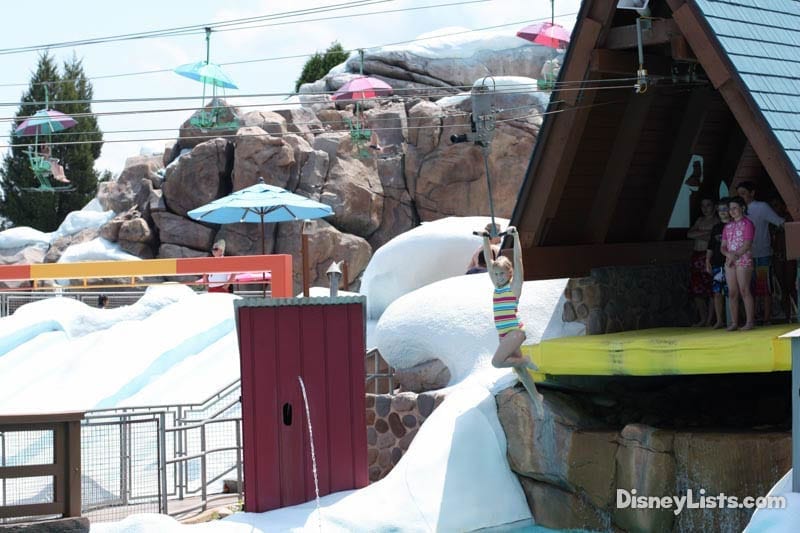 6 – Golf
If golf is your game, there are several courses to choose from, like Disney's Magnolia Golf Course, which is the longest course and designed in the classic Tour style. If you're traveling with your family, then perhaps miniature golf is a better fit. There are the Fantasia Gardens and Fairways Miniature Golf courses located at the Swan hotel or the Winter Summerland Miniature Golf courses by Blizzard Beach, which are two fun-themed courses, one with a summer theme and the other with a winter theme.
5 – Disney Springs
Disney Springs is the entertainment district at Disney. It is the perfect destination for unique dining options, entertainment, and shopping. Disney Springs offers more than just Disney-themed dining and shopping and is guaranteed to have something for everyone. It also boasts the world's biggest Disney Store, the World of Disney. There's a good mix of locations with both entertainment and dining, like bowling at Splitsville Luxury Lanes, music at the House of Blues, and the Irish pub Raglan Road, which features Irish dance performers. You'll also find restaurants from some of the top chefs in the country! Best of all, there is no entrance fee to Disney Springs.
4 – Tours
Disney has a number of tours available for guests. For animal lovers, there is the Wild Africa Trek Tour. There's also the five-hour walking tour of Magic Kingdom, Keys to the Kingdom, and many more. The price does vary, depending on the tour. Disney tours are a fantastic option for guests who have been to Disney before and want to experience the magic in a new and exciting way.
3 – Meet Characters
If meeting characters is something you'd like to do on your vacation, it can take a little planning. The characters don't just simply walk around the parks. It takes a little effort to find them. For example, if you want to meet Rapunzel, you must visit her at Fairytale Hall in Fantasyland, but if you want to meet Moana, you'll have to find her at Animal Kingdom. Characters have designated spots and appearance times. Check the schedule at each park to see when and where your favorite characters will appear so you don't miss out on meeting them.
2 – Special Events
Depending on the time of year, there may be a special event going on at Disney while you're there. If you're visiting around Halloween, Magic Kingdom hosts a Halloween-themed event, which starts in August and runs until the end of October. A Christmas-themed event begins in November and runs at the Magic Kingdom well into December. These special ticketed events only happen on certain days, but they are definitely worth attending. Epcot also has four festivals: the Epcot Festival of the Arts in early winter, the International Flower and Garden Festival in the spring, the International Food and Wine Festival in the fall, and the Epcot Festival of the Holidays during the holiday season. Special events include special snack items, entertainment, parades, and much more. It's always a magical time to visit Disney during a special celebration.
1 – Nighttime Shows
All four theme parks now have nighttime entertainment. Magic Kingdom has a show, "Happily Ever After." The show is fantastic. You don't want to miss it! At Epcot, guests can see Epcot Forever. Over at Hollywood Studios, guests can enjoy Fantasmic. I would strongly recommend seeing all the shows. They really are some of the most magical experiences to have at the parks.
Do a little research ahead of time and find out what appeals to you most. Look at what there is to do at each park, but also look beyond the parks because fun and magic is waiting for you everywhere you go on Disney property.
For a no obligation, FREE Quote on a Disney vacation package, please contact our travel partner Magical Vacation Planner at 407-442-0227 (407-442-0215 for Spanish). You can also request a FREE quote online by Clicking HERE.