The holiday season is my absolute favorite time at Walt Disney World.  I am a Christmas fiend and no one does quite as well as Disney does.  If you are considering traveling to Disney during this time, then this list is definitely for you.  Here are ten tips and tricks for celebrating the holiday season at Disney World:
10 – Check out other parks besides the Magic Kingdom.
So many guests think of the Magic Kingdom first when it comes to holiday fun, but really all of the parks decorate and go all out for the holidays.  Each park will have its own Christmas decorations, events, and activities.  You won't want to miss all of the holiday fun to be had at each park.
9 – Plan your visit during non-peak dates.
If you visit in early December (and even early November in most cases), you get to experience all of the fun Christmas activities, attractions, and events without as many of the crowds.  The closer to the Thanksgiving, Christmas and New Year's holidays that you get, you will notice that the crowds start to get pretty insane.
8 – Prepare to be extremely patient if you plan to visit the week of Christmas.
There is nothing like being at Walt Disney World for Christmas Eve and Christmas Day.  Some folks assume that because it is a theme park that it will be slow, but that couldn't be further from the truth.  These are two of the busiest days of the entire year for Walt Disney World.  Park reservations will go quick will be wall-to-wall guests.  You can still have a great time; you just should set your expectations and go in with a lot of patience.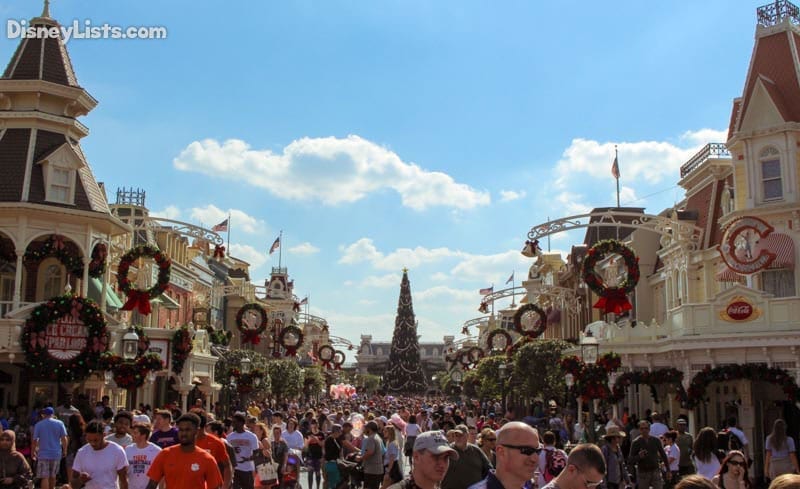 7 – Consider the Candlelight Processional Dining Package.
If you know you want to see the Candlelight Processional, and especially if there is a particular time or narrator that you want to see, you should consider booking the dining package.  The dining package will guarantee seating at a certain time for a certain show so you don't have to wait in the standby line.  The standby line can sometimes mean that you still end up standing for the show and/or don't get your desired seating.  We find the dining package to work so much better for us.
6 – The holiday fun isn't limited to the theme parks.
You will definitely want to tour the resorts and Disney Springs.  The resorts are also decorated and go all out for Christmas.  Many of the resorts will have extra activities, character interactions, cookies, and more.  Disney Springs has really stepped up its Christmas game.  You can meet Santa, take a walk, see Disney-themed trees, and much more.  You definitely won't want to miss all of these new events; they are free and don't require any special admission!
5 – Buy tickets to Mickey's Very Merry Christmas Party early.
Editor's Note: All 2022 Party dates are now sold out!
If you aren't visiting the week of Christmas, then you will want to try to work Mickey's Very Merry Christmas Party into your budget.  At the event, you get to see the holiday parade, the holiday fireworks show, the snow falling on Main Street USA, unlimited cookies and cocoa, and a ton of holiday magic that only Disney can provide.  The tickets are extra outside of regular park admission for the day, but we find that they are well worth it!
4 – Don't miss out on limited character experiences.
The characters get into the holidays, too.  Many of the characters change over to their winter or holiday attire so that they have on festive scarfs, hats, coats, etc., when you meet and greet with them.  There are also characters that come out for limited times and for special events that you don't get to see very often throughout the year. Of course, don't forget to make time to meet Santa Claus! The characters vary from year to year, but you'll definitely want to check who is doing meet and greets!
3 – Be sure to wear layers and pack a hoodie or light jacket.
The weather can vary a lot this time of year.  Sometimes it will be warm, and sometimes it may be a little chilly.  Usually, as the sun sets and it gets dark out, it will be cooler than in the daytime.  It is a good idea to wear layers or come prepared with a hoodie or jacket so that you aren't cold as the sun goes down.  This will make you much more comfortable as you are enjoying the parks!
2 – Decorate your stroller, windows, room, door, etc.
The parks and resorts will be decorated, but that doesn't mean that you can't add your own flare.  Many guests will decorate a tree in their rooms.  You can also add battery-operated Christmas lights to your stroller.  It makes your stroller festive and makes it easier to see and find it, too.  Many guests like to also decorate their doors and/or windows at their resort, too.  It can be a lot of fun for the whole family!
1 – Check out holiday dining options.
There is also special holiday dining that you can enjoy.  Hollywood & Vine restaurant at Disney's Hollywood Studios changes its dining theme for the season.  During November and December, it is a Christmas theme with a themed Christmas dinner for the meal and the characters in their holiday best.  There are many restaurants that are decorated and extremely cozy for Christmas with holiday offerings on their menus.  Be sure to look around and see which themes will help get you into the holiday spirit.
For a no obligation, FREE Quote on a Disney vacation package, please contact our travel partner Magical Vacation Planner at 407-442-0227 (407-442-0215 for Spanish). You can also request a FREE quote online by Clicking HERE.