News
BREAKING NEWS: Disney Making Park Ticketing More Complicated (Again) & More Huge Price Increases On the Way (Again)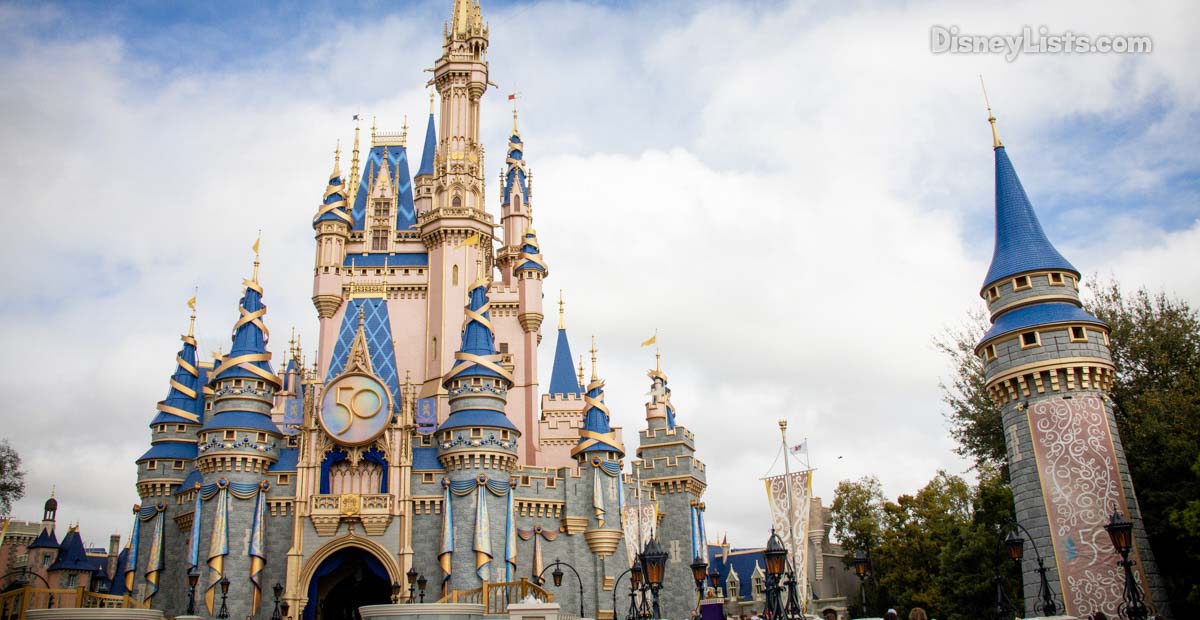 Walt Disney World has announced ticket price increases for their theme park tickets, annual pass renewals, and park hopper add-ons. They are moving to a more complicated system where each theme park has different pricing based on crowds and demand. These changes will make it more difficult for guests because the flexibility of changing park reservations will be complicated by the fact that pricing is different for all of the parks. We're not thrilled about the upcoming changes that will take effect on December 8. Learn more below.
Here is the statement from Disney:
In August, Walt Disney World rolled out updates to the Disney Park Pass system which allows guests to modify their theme park reservations and book with different admission types. As we continue to focus on providing guests with the best, most memorable Disney Experience, we wanted to share an update about what's ahead, beginning with some changes coming on Dec. 8.
BEGINNING DEC. 8:
1-Day, 1-Park Tickets
Beginning Dec. 8, Walt Disney World will introduce park-specific pricing on 1-day, 1-park tickets.Moving forward, guests will select a date and theme park before purchasing their ticket. When you purchase a 1-Day ticket for a specific date and theme park, a theme park reservation will automatically be made at the time of purchase.
This change is only for those who purchase 1-day tickets for a specific date and park. Most guests will continue to make theme park reservations.  
With the new park-specific pricing, Magic Kingdom Park will be priced at or above our other theme parks due to the incredible demand, as it remains the most-visited theme park in the world. A 1-day ticket for a specific date and park will range from:

Disney's Animal Kingdom: $109-$159 (same range as today)
Disney's Hollywood Studios: $124-$179
EPCOT: $114-$179
Magic Kingdom Park: $124-$189

Note: The $189 price point is specifically for the week of Christmas to New Year's.
Park Hopper Add-on
On Dec. 8, we will update pricing on select add-on options, including the Park Hopper Option and Park Hopper Plus Option.
Annual Passes 
On Dec. 8, Annual Pass pricing for the Incredi-, Sorcerer and Pirate Annual Passes will increase between $43-100. The Disney Pixie Dust Pass will remain at its current price.
The Disney Pixie Dust Pass remains available for purchase, as our other three Annual Passes remain unavailable for new sales for the time being as we stay focused on our current Passholders. As a reminder, All Annual Passes continue to be available for renewal.
We will continue to evaluate what these changes mean for guests when the changes take place on December 8, 2022.
RELATED ARTICLE: Disney Genie, Disney Genie+, and Lightning Lane – One Year Later – An Overview of the Services at Disney World
by Chad and Cindy Nykamp
"Disney Genie," a digital planning tool that promises to enhance the way you plan for and experience a trip to Walt Disney World Resort, was announced in 2019. Originally set to debut in late 2020, the service launched in late October 2021. It's been one year since the service has been around, and overall, guests still are not happy with the service, though many guests reluctantly pay for Genie+ and Individual Lightning Lane in order to skip the line. Keep reading to learn more about these services below.
1 – Disney Genie – Complimentary Planning Tools
Disney Genie is a digital planning service that is available to guests at Walt Disney World and Disneyland Resort within the My Disney Experience and Disneyland apps. Disney Genie is complimentary (not to be confused with Genie+, which is a paid service) and is designed to give guests more "flexibility" and give guests tools to "help you make the most of your visit." Tools include giving guests customized itineraries and suggestions based on interests and top picks. Other features include forecasted wait times, an experience tip board, and a dining tip board, and guests can ask the app questions to get information.
We've used Disney Genie, and we have to say, with this part, we're impressed. We do believe these complementary tools improve the average guest's experience and make for a better vacation. We encourage all guests to check out the tools and use the recommendations as it makes sense for your family. Locals and annual passholders may find they don't need the suggestions since, generally, they are very informed on what they can and want to do while visiting Disney. Still, these tools are fantastic for first-timers or guests who have not visited in a few years and may be overwhelmed by the sheer number of available options.
Tip: Be sure to update your My Disney Experience app to the latest version. You'll likely need to do this before you see the Disney Genie tools.
Credit: Disney
2 – Disney Genie+ – Add-On Available for Purchase
Disney Genie+ is a paid upgrade that includes everything in Disney Genie along with additional services and benefits. The biggest benefit of Disney Gennie+ is access to Lightning Lane (formerly the Fast Pass line, more on this later) on select attractions, allowing guests to (theoretically) save time by skipping the standby line. Please note that not all attractions are available for this service. Other benefits of Genie+ include Disney parks-themed audio experiences and photo features to capture your memories – augmented reality lenses for those visiting Walt Disney World Resort.
In the first year, pricing at Walt Disney World was fixed at $15 a day. In October 2022, Disney announced that pricing would be variable and based on demand. Now pricing is anywhere from $15-$22 per ticket per day. Prices may be lower on less busy days and higher during peak periods. For a family of five, that would be an additional $75 and up to $110 per day. A seven-day vacation is an additional $525-$770 for the week if purchased daily. Unfortunately, guests cannot plan ahead and look at pricing. Since you can only purchase Genie+ on the day you want to use it (see #3), you'll find out the price the day you go to purchase it.
3 – Purchasing Genie+ 
Genie+ can be added daily and purchased only on the day of the visit, which would be for a single day. You can purchase Genie+ right in the My Disney Experience app.
Note that at this time, Genie+ is not included as an annual pass benefit for annual passholders. Disney has also confirmed that annual passholders will not receive any discount on the Genie+. Passholders can choose to pay for Genie+ at $15-$22 a day per person.
4 – Lightning Lane with Genie+ 
The biggest benefit of Genie+ is the access to the Lightning Lane, another service offered at Walt Disney World. It's basically the replacement for the FastPass entrance, except now it requires guests to purchase access. There are two ways to purchase access to the Lightning Lane: Genie+ and/or Individual Lightning Lane Selections. We'll take a look at how Lightning Lane works with Genie+ first.
Lightning Lane replaces FastPass+ and, in many ways, functions just like the original FastPass, with guests being given a specific one-hour time window to experience the attraction. You are not able to choose a time–you are given the next available window, just like the old original paper FastPass.
Also, please note that guests who purchase Lighting Lane access will not have unlimited access to Lightning Lane lines. Guests must book-specific return windows within the app, one attraction at a time. Finally, note that access to the Lightning Lane is limited to one time per attraction per day. So, once you've ridden the Tower of Terror, you will not be able to book that attraction again that day. You must use the regular stand-by line if you want to ride Tower again.
Access to Lightning Lane for the majority of available attractions is included in Genie+. Lightning Lane access at Disney's most popular top-tier attractions (such as Guardians of the Galaxy: Cosmic Rewind, Flight of Passage, Seven Dwarfs Mine Train, etc.) are NOT included in Genie+. Lightning Lane access for Disney's most popular attractions can be purchased on a per-ride basis for an additional fee by guests using either Disney Genie or Genie+ (more on this later).
In the past, FastPass was a fantastic benefit that allowed guests to choose three attractions each day to skip the line. This option was free to all guests and a huge selling point for Disney in how they differentiated themselves from other parks. Guests wanting to skip the line no longer have the option to do so without paying an extra fee.
5 – Making Your Genie+ Lightning Lane Selections
Guests can no longer plan their vacations 30-60 days in advance as they did with FastPass+. With the new system, all guests can make their first Lightning Lane selection (for non-top-tier attractions, more on this later) at 7 am on the day of their visit within the My Disney Experience App. Afterward, guests can make one selection at a time based on availability. With FastPass, guests staying at Disney World hotels got early access to FastPass selections. It was a major benefit to staying on property.
6 – Lightning Lane Attractions Included with Genie+
Here are the Lightning Lane attractions that are included with Genie+:
Magic Kingdom
Big Thunder Mountain Railroad
Buzz Lightyear's Space Ranger Spin
Disney Festival of Fantasy Parade
Dumbo the Flying Elephant
Haunted Mansion
"it's a small world"
Jungle Cruise
Mad Tea Party
Mickey's PhilharMagic
Monsters Inc. Laugh Floor
Peter Pan's Flight
Pirates of the Caribbean
See Mickey at Town Square Theater
See Princess Tiana and a Visiting Princess at Princess Fairytale Hall
See Cinderella and a Visiting Princess at Princess Fairytale Hall
Space Mountain
Splash Mountain
The Barnstormer
The Magic Carpets of Aladdin
The Many Adventures of Winnie the Pooh
Tomorrowland Speedway
Under the Sea ~ Journey of The Little Mermaid
EPCOT
Disney and Pixar Short Film Festival
Frozen Ever After
Journey Into Imagination with Figment
Living with the Land
Mission Space – Green and Orange
Remy's Ratatouille Adventure
Soarin' Around the World
Spaceship Earth
Test Track
The Seas with Nemo & Friends
Turtle Talk with Crush
Disney's Hollywood Studios
Alien Swirling Saucers
Beauty and the Beast Live on Stage
Disney Junior Play & Dance!
For the First Time in Forever: A Frozen Sing-Along Celebration
Mickey and Minnie's Runaway Railway
Indiana Jones Epic Stunt Spectacular
Millennium Falcon: Smugglers Run
Muppet*Vision 3D
Rock 'n' Roller Coaster Starring Aerosmith
See Disney Stars at Red Carpet Dreams
See Olaf at Celebrity Spotlight
Slinky Dog Dash
Star Tours – The Adventures Continue
The Twilight Zone Tower of Terror™
Toy Story Mania!
Disney's Animal Kingdom
Festival of the Lion King
Expedition Everest
Dinosaur
Finding Nemo: The Big Blue… and Beyond!
It's Tough to be a Bug!
Kali River Rapids
Kilimanjaro Safaris
Na'vi River Journey
The Animation Experience
Feathered Friends in Flight!
Meet Disney Pals at Adventurers Outpost
7 – How Many Genie+ Selections Will I Receive a Day?
After you enjoy your first Lightning Lane experience, you can make another selection. In this way, it is similar to the original FastPass system when guests would receive one ticket at a time at the entrance to an attraction and get another after that FastPass was used. After using a Lighting Lane pass for an attraction, guests can check available boarding times for other attractions in the app and make their next selection.
Do note that you will be assigned the next available window to come back to that attraction. If your wait time is over two hours, a Disney spokesman shared with us that the system will let you make another Lightning Lane reservation after two hours. So, if it's 12 noon and you are assigned an attraction at 4:00 pm. At 2:00 pm, you'll be able to reserve another attraction. You don't have to wait until after the 4:00 pm attraction to make another selection. In another scenario, if your first return window is, say, 12 noon and the park opens at 9:00 am, at 11:00 am, you would be able to make another Lightning Lane reservation. To put it another way, you may make another Lightning Lane selection after using the one you have or two hours after making your last reservation, whichever comes first.
Note there is no guarantee of a certain number of attractions, such as three with the old FastPass+ system. Like FastPass and FastPass+, the number of Lightning Lane attractions guests can fit into a day will vary wildly depending on crowd levels and the number of guests purchasing the service. Disney advertises that guests can expect to use the Lightning Lane with Genie+ with two to three attractions. On one day we tested, we could book four return times. Since the service launched, one of the biggest complaints we've heard is that the return windows are very spread out and that guests have to wait a long time to get their next window. This, of course, reduces the overall number of attractions you can visit with Lightning Lane during the day. Guests purchasing Genie+/Lighting Lane access should not expect to run from ride to ride all day. That is not how this works.
8 – Lightning Lane: Individual A la Carte Selections
The second way to access the Lighting Lane is to purchase individual a la carte selections for certain attractions. For top-tier (most popular) attractions such as Guardians of the Galaxy: Cosmic Rewind, Star War: Rise of the Resistance, Flight of Passage, Seven Dwarfs Mine Train, etc., guests can schedule a time to arrive at up to two attractions each day using the Lightning Lane entrance for an additional fee. These attractions are subject to limited availability and are NOTincluded with Disney Genie+. Do note that you can select a specific time for your individual Lightning Lane attractions.
Prices will vary by date, attraction, and park; at this time, are in the $7-$22 range. Disney has stated that throughout the year, prices may be lower on some days and higher on others based on demand. This is no different than how resort prices and even ticket prices fluctuate. Again, this offering is per person. So if you have a family of five, you'll pay an additional $110 to secure the Lightning Lane for Star Wars: Rise of the Resistance.
9 – Purchasing Individual A la Carte Lightning Lane Selections
Lightning Lane selections for the top-tier individual attractions will also be made on the same day of your visit and can be made across multiple theme parks (great for those who have the Park Hopper Option). Access to purchase Lightning Lane for the individual top-tier attractions will be available to all guests when the park opens. For non-resort guests, you do not need to be in the park to make your a la carte selections at park opening.
Guests staying on Disney World property receive the benefit of early access to top-tier reservations and can make their purchases at 7:00 am on the day of their visit. This early jump can make a huge difference. We've seen some Lightning Lane attractions fill up and sell out even before the park opens. So, being a resort guest can be a huge advantage to snag an Individual Lightning Lane selection.
Tip: Star Wars: Rise of the Resistance and Guardians of the Galaxy: Cosmic Rewind are both extremely popular A la Carte Individual Attractions. They both almost always fill up to capacity and sell out, and they usually sell out before non-resort guests can even purchase them. If you want to purchase Lighting Lane access to either attraction, plan on securing them right at 7:00 am if you are a resort guest or right at the park opening for non-resort guests.
10 – Individual A la Carte Lightning Lane Attractions
Individual A la Carte Lightning Lane Attractions:
Magic Kingdom
EPCOT
Guardians of the Galaxy: Cosmic Rewind
Disney's Hollywood Studios
Star Wars: Rise of the Resistance
Disney's Animal Kingdom
11 – Remember Genie+ and Individual Lightning Lane Attractions are Different Paid Offerings That Give Lighting Lane Access to Different Attractions
To offer guests "flexibility" (Disney's words, not ours), these two services are separate and give access to different attractions. We know it's confusing. We've heard so many people complain that it's unnecessarily confusing. Many guests may think that purchasing Genie+ gives them access to all Lightning Lane attractions when they do not. Four attractions must be purchased separately to access the Lighting Lanes. Individual Lightning Lane passes for the top-tier individual attractions can be purchased by any guest using either Disney Genie or Genie+. In fact, most guests may simply prefer to use the Individual Lightning Lane selections and skip Genie+.
12 – Not Paying is Still an Option!
Disney is still offering the standby queue for most attractions, and you do not need to pay extra. Simply get in line and wait. Do note that certain attractions will not have traditional standby queues from time to time and will offer Virtual Queues. At this time, Guardians of the Galaxy: Cosmic Rewind is the only attraction currently offering a Virtual Queue. You'll need to join that to ride the attraction if you don't want to pay for Lightning Lane access.
In the first year, regular standby wait times have gone up. One thing to note, because Rise of the Resistance closes down quite a bit, they will close the regular stand-by queue to get the Lightning Lane guests on the ride. So there is a chance that if you don't make any purchases, the stand-by queue will close for Lightning Lane guests if necessary.
Tip: If you want to enjoy Rise of the Resistance without purchasing access to the Lightning Lane, head straight for the attraction at Early Entry for resort guests or park opening for non-resort guests, to give you the best possible chance to ride it since it does experience technical problems somewhat regularly, and does go down. As the day continues, there is a greater chance they will close the standby queue to allow Lightning Lane guests to ride the attraction if there are multiple closures. 
13 – This All Sound Really Complicated!
Yeah, it sounds that way because it is. In our opinion, Disney has made this way more complicated than it needs to be. Charging extra for FastPass was always going to be a very controversial change that would enrage the majority of Disney guests. Making the system complicated and charging extra on top of charging extra for the popular attractions will make the situation exponentially worse. Our hearts go out to the cast members that have to explain a thousand times a day to angry guests, "Yes, you paid $15 extra per person for Lightning Lane but not for the popular rides. That's only for the low to medium-popularity rides that usually don't have that bad of a wait anyway. You have to pay even more if you want to use the Lightning Lane for rides where it's really important."
14 – Some People Love It
Even though there have been problems, we've heard from many people thrilled with the offerings and love every minute. When they consider that they are already paying thousands to visit, they don't mind paying a bit more if it means reducing the amount of time they wait in line or guaranteeing they get to ride the top-tier attractions. While this group of people who love paying for a service that was free before is small, we acknowledge that if you have no problem paying for the service, it has some terrific benefits. Our problem is the fact that this was something that was a free benefit created to improve the overall guest experience for everyone that made visiting even during the busiest times seem like not that big a deal. Now, only those willing to pay extra receive that benefit.
15 – Most People Dislike It, But Pay Anyway
Overwhelmingly, we've heard that most guests dislike the system. They find it confusing, overly complicated, and too expensive, especially now with the price increases that took place in mid-October 2022. With the old FastPass system, you could usually get FastPases for quite a few attractions in a day. Now getting four Lightning Lane passes is like hitting the lottery. Most get passes for two to three experiences a day. Disney executives love to brag about how much guests love Disney Genie+ because they are paying for it. They seem to be missing the point. Guests pay for it because they want to improve their chances of riding more attractions a day. They pay for it because without it, you're going to waste so much time in line or miss out on the latest attraction. They pay for it because they feel like they have to, not because guests love it. My guess is that if you gave people the choice of paying $20 or being kicked in the face most people will pay the $20. That doesn't mean you're a guest service guru!
For a no obligation, FREE Quote on a Disney vacation package, please contact our travel partner Magical Vacation Planner at 407-442-0227 (407-442-0215 for Spanish). You can also request a FREE quote online by Clicking HERE.