Harambe Market is a fantastic dining option in the Animal Kingdom and is located in the African Village of Harambe. I'm not going to lie when details and pictures of the food were released my pupils fully dilated, and I did a spot-on impression of Bruce catching a whiff of blood. But would it live up to expectations? Before you try Harambe Market here are the five things you need to know.
5 – It's a Little Out of the Way
First of all, it's a little off the beaten path. Don't feel bad if you wander around a little bit trying to find it. The natural flow of Harambe Village pulls you either left toward Festival of the Lion King or up toward Kilimanjaro Safari. Head in either of these directions and you're likely to get confused. Coming from Discovery Island, hang a right before you pass Tusker House and it will be on your left roughly across from the drums. Coming from Asia, hang a right when you see swarms of kids (and a few adults) beating on the drums with no apparent goal other than to burn calories. If you miss these turns and find yourself up by the Safari head towards the path to Gorilla Falls Exploration Trail. It's just to the right of that pathway.
4 – No Cafeteria Seating Here
Adding to the pleasant atmosphere, Disney has managed to provide a lot of seating without making it feel like a cafeteria (think American Adventure). Tables, chairs, and benches are mismatched and haphazardly arrange. The effect is perfect. Be aware; the seating is outdoors. However, with a plethora of umbrellas and some fixed picnic shelters, there is plenty of protection from the sun. The seating area still isn't nearly as large as some other locations in Animal Kingdom so seating may be a challenge at peak dining times.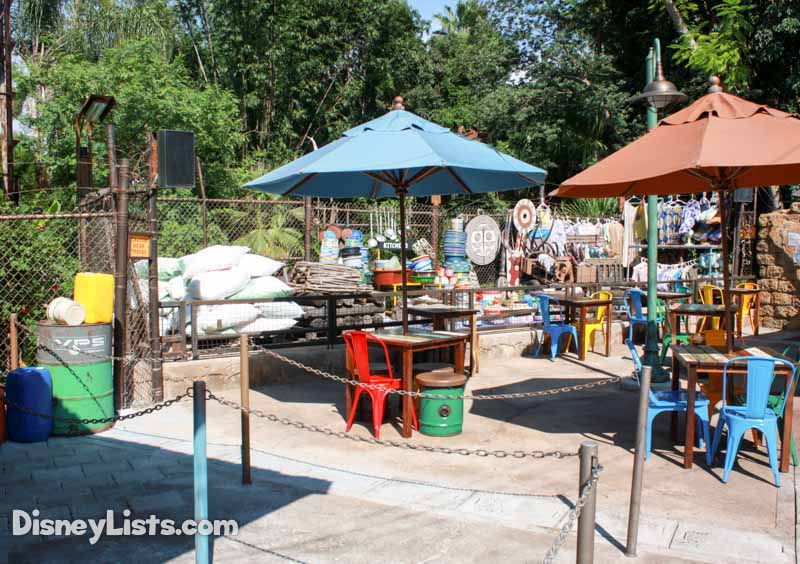 3 – The Food is Good
Most importantly, the food is good. The menu has undergone some recent changes and now serves a selection of bowls: Ribs Bowl, Grilled Chicken Bowl, and a Ribs & Chicken Bowl. There are also two salads to choose from along with a plant-based bowl. You can also get a side of just rice and French Fries.
2 – Beverages and Dessert
There is a pretty decent beverage menu to choose from. Often guests flock to the Dawa Bar, but Harambe Market is a great choice since it will often be less busy. You'll get mostly the same beverage options as you get over the parks at different locations so you can still grab your favorite drink. You can also pick up the latest dessert here, which at the moment is a Simba Cupcake.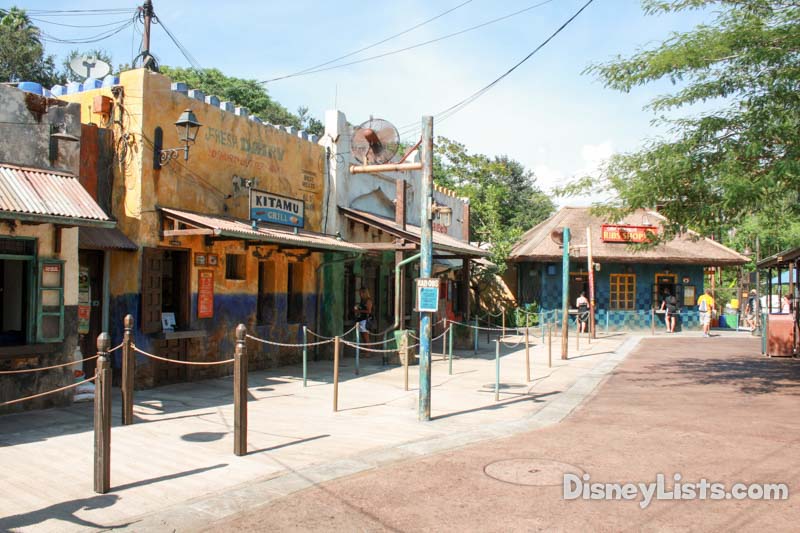 1 – Good Alternative
We feel Harambe Market is a good choice for families and because it's off the beaten path, it's often not as busy or loud. While we miss the original menu options, the bowls are nice options that are different enough from Satu'li Canteen. It also beats the typical theme park fare of burgers and hot dogs. There are a lot of fantastic quick-service dining options at Disney's Animal Kingdom and we feel this one should be on your list to try!
For a no obligation, FREE Quote on a Disney vacation package, please contact our travel partner Magical Vacation Planner at 407-442-0227 (407-442-0215 for Spanish). You can also request a FREE quote online by Clicking HERE.