Disney has shared some of our favorite park eats like the Mickey beignets and churros. Fans of the Canada pavilion and of the famous Canadian cheddar cheese soup recipe served at Le Cellier Steakhouse and the Food and Wine Festival can now enjoy this delicious dish at home. Find the recipe below.
Here are all the details from Disney Cast Member Alex Dunlap:
You won't have to travel around World Showcase to try the famous Canadian Cheddar Cheese Soup from EPCOT – you can now make it at HOME!
Although featured in many Disney cookbooks, we're releasing the recipe for this classic soup you'll find on the menu at Le Cellier Steakhouse in the Canada pavilion. It's one of our most popular recipes and also a favorite of mine (of course, I love anything that involves cheese!) It serves as a great appetizer or even a warm dish for a cozy afternoon and you can pair it with pretzel bread for dipping for a magical meal!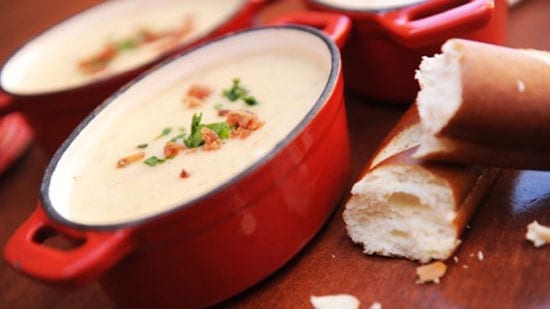 Canadian Cheddar Cheese Soup from Le Cellier Steakhouse at EPCOT
Serves 10
Ingredients:
1/2 pound of bacon, cut into 1/2-inch pieces
1 medium red onion, cut into 1/4-inch pieces
3 celery ribs, cut into 1/4-inch pieces
4 tablespoons butter
1 cup all-purpose flour
3 cups chicken stock
4 cups milk
1 pound white cheddar cheese, grated
1 tablespoon Tabasco sauce
1 tablespoon Worcestershire sauce
Coarse salt, freshly ground pepper to taste
1/2 cup warm Canadian golden lager or any pale lager-style beer
Chopped scallions or chives, for garnish
Directions:
In a 4- or 5-quart Dutch oven, cook bacon, stirring, over medium heat for about 5 minutes, or until lightly browned.
Add red onion, celery, and butter and sauté until onion has softened, about 5 minutes.
Add flour and cook, stirring constantly, for about 4 minutes over medium heat.  Whisk in chicken stock and bring to boil for 1 minute. Reduce heat to simmer and cook for 15 minutes, stirring occasionally.
Add milk and continue to simmer for 15 minutes. Do not boil after milk is added.
Remove from heat and add cheese, Tabasco sauce, Worcestershire sauce, salt, and pepper. Blend with immersion blender until cheese is melted and soup is smooth. Stir in warm beer.  If the soup is too thick, thin with some warm milk.
Serve the soup hot, garnished with chopped scallions or chives.
Click here for a print-at-home version of this recipe!
Note: This recipe has been converted from a larger quantity in the restaurant kitchens. The flavor profile may vary from the restaurant's version. As a reminder, while preparing this recipe, please supervise children who are helping or nearby.
From our Disney family to yours, we hope you enjoy this popular Disney recipe! And be sure to share the fun with Disney fans all over the world using the hashtag #DisneyMagicMoments. Happy snacking, Disney fans!
RELATED ARTICLE: 7 Best Things About the Canada Pavilion in Disney's Epcot
By Katy
Many guests who visit Walt Disney World love to spend lots of time in Epcot. The rear of the park is home to World Showcase, which features eleven different pavilions, each focusing on a different country from around the world to celebrate the global community. Guests simply love to spend hours in Epcot wandering through World Showcase enjoying fantastic dining, shopping, entertainment, culture, attractions, architecture, and scenery, and one of the most popular pavilions there is the Canada Pavilion. The Canada Pavilion warmly invites guests to enjoy a unique attraction, delicious dining, exciting shopping, and wonderful architectural and cultural touches. With so much to see and enjoy in the Canada Pavilion, it is no wonder why guests spend so much time there, and there are definitely specific experiences that can't be missed. Here are the seven best things about the Canada Pavilion in Epcot's World Showcase.
1 – Le Cellier Steakhouse
Guests who find themselves in the Canada Pavilion and are looking to enjoy a full-service meal are in luck as the location is home to one of the most popular restaurants in all of Walt Disney World. Le Cellier Steakhouse is a full-service dining location that is open daily for lunch and dinner and invites guests to dine in a cozy room themed to feel like a cellar. With low vaulted ceilings and dim lighting, Le Cellier Steakhouse is extremely cozy and inviting, and guests who dine there can enjoy delicious menu options like the Le Cellier Filet Mignon, Black Angus Boneless Rib-Eye, Chicken Cassoulet, Seared Canadian Bison Strip Loin, and Potato and Parsnip Agnolotti. In addition to the amazing entrée options, guests definitely need to try the Canadian Cheddar Cheese Soup, complimentary Pretzel Bread, and Maple Crème Brulee.
2 – Canada: Far and Wide in Circle-Vision 360
"Canada Far and Wide in Circle-Vision 360" in the Canada pavilion is an update to the previous "O Canada!" film with new scenes, a new musical score by Canadian composer Andrew Lockington and new narration by award-winning actors Catherine O'Hara and Eugene Levy. For the project, Disney imagineers built a new digital Circle-Vision 360 cameras and the results are stunning. You'll enjoy new scenes and some familiar favorites! This film tells the story of the five regions of Canada and you don't want to miss it!
3 – Northwest Mercantile
Guests who spend time in the Canada Pavilion can enjoy several different shopping locations, including Northwest Mercantile. The store has a distinctive rustic feel with plenty of wooden details and exposed beams. Guests who wander through the shop can purchase authentic items from Canada like clothing, candy, accessories, toys, and glassware. Guests are sure to find a wonderful souvenir in Northwest Mercantile.
4 – Popcorn in Canada
Nestled in the Canada Pavilion is a small cart that serves up both delicious drinks and snacks. Popcorn in Canada serves up freshly popped popcorn in both paper and souvenir buckets, which guests are sure to love snacking on while wandering through the Canada Pavilion. Guests who visit the stand can also order up a cold and refreshing beer in either a glass or a souvenir mug and choose from options like Labatt Blue Draft, Moosehead Beer, and La Fin Du Monde Draft as well as Crown Royal Maple Whiskey.
5 – Waterfall
The rear of the Canada Pavilion features a massive rockwork formation with a mighty waterfall flowing down it. With several platforms and small staircases winding down next to the waterfall to a babbling stream below, there are several fantastic photo opportunities for guests to enjoy while wandering through the area.
6 – Totem Poles
The front of the Canada Pavilion is home to a large staircase that features several beautiful totem poles at the top. Guests who climb up the stairs can then marvel at the intricately carved and painted totem poles that showcase the culture and artwork that is native to portions of Canada. Guests who look closely at one of the totem poles can even spot a Hidden Mickey near the top.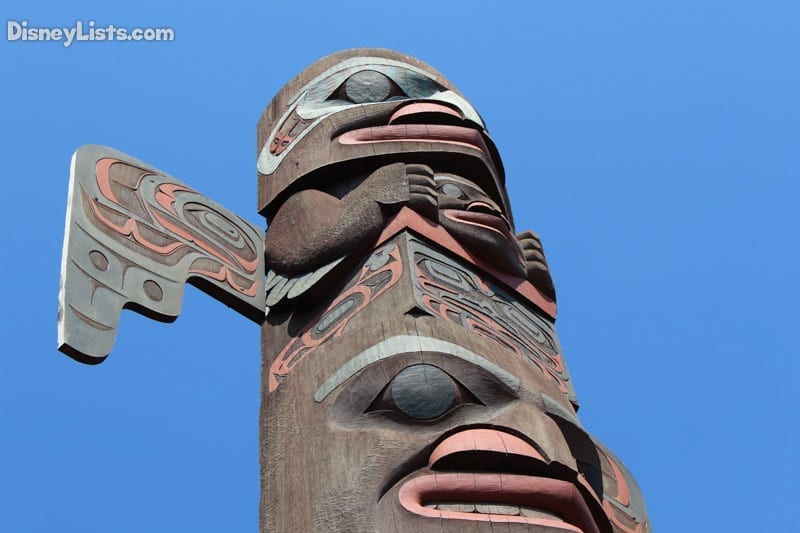 7 – Gardens
One of the highlights of visiting the Canada Pavilion in Epcot's World Showcase is strolling through the gardens, which are found near the front of the pavilion. The gardens are meant to represent Butchart Gardens outside of Victoria, British Columbia, and feature a small pond, quaint cabin, and beautiful flowers. The area becomes even more gorgeous during the Epcot Flower and Garden Festival when hundreds of vibrant flowers are added to the garden. No visit to the Canada Pavilion is complete without a stroll through these beautiful gardens!
For a no obligation, FREE Quote on a Disney vacation package, please contact our travel partner Magical Vacation Planner at 407-442-0227 (407-442-0215 for Spanish). You can also request a FREE quote online by Clicking HERE.