Let's celebrate the United States of America – Disney World style! If you find yourself at the Disney World parks for the 4th of July festivities, here are eleven ways to keep the patriotism flowing!
1 – Fireworks and Special Nighttime Events
The 4th of July doesn't feel complete without fireworks! If you are looking for a great display of fireworks, Disney World is the place to be. Here are the details for this year's activities:
Magic Kingdom Park
Park Hours: July 3, 8 a.m.-12 midnight.; July 4, 8 a.m.-1 a.m.
"Disney's Celebrate America! A Fourth of July Concert in the Sky" – a nighttime spectacular with booming fireworks lighting up the sky and orchestrated to patriotic melodies. Shows will take place on July 3 and July 4 at 9:20 p.m. Guests can also dance the night away with DJs mixing tunes throughout the park.
EPCOT
Park Hours: July 4, 9 a.m.-9 p.m.
"EPCOT Forever," the limited-time spectacle of fireworks, lasers, lighting, and special effects, will include a patriotic Fourth of July grand finale – "Heartbeat of Freedom." The show will take place at 9 p.m.
2 – The American Adventure
Among the other festivities taking place at the American Adventure Pavilion in Epcot, don't forget to go into the American Adventure attraction. The dramatic production includes 35 Audio-Animatronics figures that retell pivotal moments and events throughout the country's history. From the landing of the Mayflower to Valley Forge, the Civil War to the Great Depression, Benjamin Franklin and Mark Twain guide guests on this trip through time.
Also, the A cappella vocal group Voices of Liberty will perform numbers from the American songbook beneath the rotunda in The American Adventure. Finally, some of your favorite Disney pals will don their "Spirit of '76" attire and meet with guests throughout the day also at The American Adventure.
3 – Flag Retreat
One of our favorites! The Flag Retreat is a daily experience at 5:00 pm at Magic Kingdom in Town Square on Main Street U.S.A. The American flag retires for the night with a special tribute to thank veterans for their service. The pledge of allegiance is said, followed by a trumpet fanfare. The American flag is lowered as Magic Kingdom's philharmonic band plays the "Star-Spangled Banner." The most amazing touch is when a guest veteran is handed the flag. It doesn't get much more patriotic than this special moment!
4 – Walt Disney Presents: One Man's Dream
It's no secret that Walt Disney was dedicated to his brilliant dreams and making them become a reality for all of us to enjoy. Some, however, don't know that Walt Disney was a very patriotic person! Some of Walt's most famous quotes speak of his love for America…
"Laughter is America's most important export."
"Tomorrow will be better as long as America keeps alive the ideals of freedom and a better life."
"Actually, if you could see close in my eyes, the American flag is waving in both of them, and up my spine is glowing this red, white, and blue stripe."
Visit the attraction Walt Disney Presents: One Man's Dream at Hollywood Studios and take a walk in Walt's footsteps.
5 – Liberty Tree Tavern
Dine on the excellent American flavors offered at Liberty Tree Tavern in Magic Kingdom. This table-service restaurant pays great tribute to our founding fathers. With a catchphrase of "Life, Liberty, and Pursuit of Deliciousness," there is no questioning that this is a great place to eat while celebrating American patriotism! 
6 – American Food Snacking
We may have mentioned Liberty Tree Tavern above, but let's not forget about some of the most famous and best American foods and snacks that can be found throughout the Disney parks. Enjoy a hot dog from Casey's Corner, fill up on delicious funnel cakes at any of the parks, and taste the amazing flavors of the barbeque being sold at the American Pavilion.
You can also find limited-edition 4th of July treats at some of the parks and resorts. Click here for the 2023 Foodie Guide for the 4th of July. 
7 – American Disney Merchandise
Special red, white, and blue Disney-style apparel is available to celebrate the holiday throughout the parks. New selections come out every year, so look around at the offerings.
8 – The Dapper Dans
Magic Kingdom's barbershop quartet, known as The Dapper Dans, sing in beautiful harmony while sporting their pinstripe outfits. While listening to the Dapper Dans anytime is a joy, it is especially fun with the 4th of July holiday because they key in on some of the oldie but goodies American tune favorites. Check performance times and listen out for "Yankee Doodle Dandy" being sung on Main Street U.S.A., for a musical patriotic moment.
9 – Snap a Selfie
Show off your patriotic side with a quick and simple selfie while posing next to one of Disney's patriotic locations. The Liberty Bell, Liberty Tree, or Flag Pole at Magic Kingdom make for the perfect selfie spot. You could also stand in front of the American Adventure Pavilion sign at Epcot with the golden eagle in the shot. Get creative and have fun with it!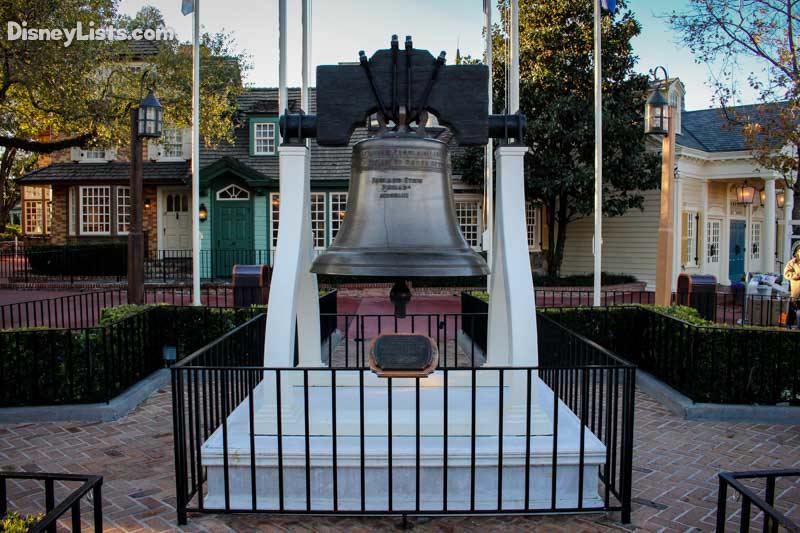 10 – Face Painting
If you've been to Disney World before, chances are you've spotted the face painters located in each of the parks. They are very talented and can provide a range of art. Have a seat and ask to get your patriotism on… literally ON your face with some red, white, and blue colors.
11 – Celebration Button
Last but not least, snag a celebration button from any Guest Relations location. Simply ask for a free celebration button and write on it "Independence," "Freedom," "U.S.A," or whatever you want to celebrate for the 4th of July occasion!
From our DisneyLists family to yours… have a happy, safe, and magical Fourth of July! Thank you to all the brave who served in the past and serve now to ensure we always remain the land of the free!
For a no obligation, FREE Quote on a Disney vacation package, please contact our travel partner Magical Vacation Planner at 407-442-0227 (407-442-0215 for Spanish). You can also request a FREE quote online by Clicking HERE.