Dining
10 Best Table Service Restaurants at Disney World Parks
Guests who visit Walt Disney World better be ready to eat since there are virtually endless dining options to enjoy once on vacation. Guests who spend time in the four theme parks, two water parks, Disney Springs, and Disney Resorts can enjoy dining options from snack carts and quick service locations to exceptional dining experiences and character meals. With so many options to choose from, it can be hard to decide which dining locations to try while enjoying a Walt Disney World vacation. One of the easiest ways to make the most of each moment in Disney is to enjoy a table service meal while visiting one of the theme parks. This allows guests to relax for a while and enjoy fantastic food without ever having to leave the park. From fairytale dining halls and traditional villages to movies under the stars and Authentic Asian art, there are some unforgettable restaurants to enjoy while in the theme parks. Here are the ten best table service restaurants to enjoy in the parks in Walt Disney World!

1 – Be Our Guest Restaurant
The Magic Kingdom is a favorite park to many guests and features beautifully themed lands. Fantasyland features a unique restaurant that brings guests directly into a beloved Disney classic animated film. The Be Our Guest Restaurant invites guests to dine on classic French cuisine inside the Beast's Castle from Beauty and the Beast. Guests can dine in the Grand Ballroom, West Wing, or Castle Gallery and feel as though they have stepped directly into the movie. Be Our Guest Restaurant is unique in that it is a quick-service location for breakfast and lunch but transforms into a full-service affair for dinner. Guests who are lucky enough to score a reservation can enjoy menu options like Center-cut Filet Mignon, Herb-salted Pork Tenderloin, Sustainable Market Fresh Fish, and Vadouvan Spiced Vegetables.
2 – Space 220
EPCOT's newest restaurant is an absolute hit and it's nearly impossible to get a reservation here. At Space 220, guests feel as if they are transported 220 miles above Earth to the Centauri Space Station – they will see EPCOT drop away under their feet and look up to see the rapidly approaching station. The scenic journey is fun for the whole family and phase one of Space 220's immersive dining experience, providing guests with stellar views of Earth by day and night. Phase two begins once they step off the space elevator, walking past a Grow Zone of spinning produce representing the fresh ingredients on the menu, while they're guided to their table by a Space 220 crew member. Once seated, all guests will have panoramic views of Earth as the backdrop to an out-of-this-world dining experience. The restaurant serves upscale, contemporary fare, featuring a two-course prix fixe menu for lunch and a three-course prix fixe menu for dinner. Guests enjoy a selection of lift-off appetizers, star course main entrees, and a choice of supernova sweets for dessert. Satellite sides will also be available a la carte, and visitors can expect unique beverages with a colorful lineup of atmospheric spirits, zero-proof (non-alcoholic) cocktails, big dipper brews, and worldly wines.
3 – Sci-Fi Dine-In Theater Restaurant
Disney's Hollywood Studios is home to a full-service dining location, which brings guests directly to a classic drive-in movie theater. The Sci-Fi Dine-In Theater Restaurant features a big screen that plays old science fiction clips surrounded by classic cars retrofitted to features tables at which guests can dine while enjoying the show. The unique atmosphere and entertainment at this restaurant are sure to thrill guests! Those who stop to enjoy lunch or dinner at the Sci-Fi Dine-In Theater Restaurant can order up meal options that include Drive-in BBQ Burger, Grilled Chicken Citrus Salad, Pan-Seared Salmon Pasta, and the Flying Saucer Impossible Burger.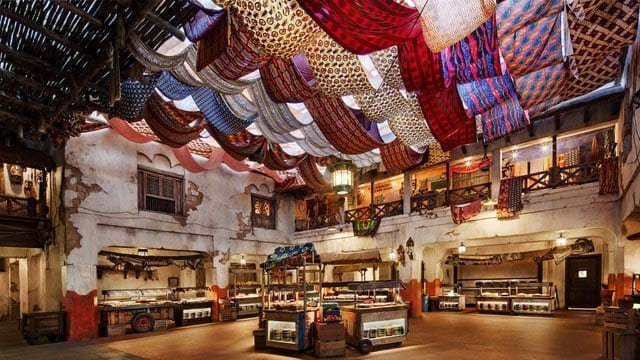 4 – Tusker House Restaurant
Disney's Animal Kingdom invites guests to tap into their wild sides and enjoy several full-service restaurants, which are absolutely delicious. The Tusker House Restaurant can be found in the Africa section of the park and serves up buffet-style breakfast, lunch, and dinner daily. Guests can enjoy both African delicacies and traditional American favorites while meeting Mickey and his friends who are decked out in their safari gear. With beautiful details and delicious menu options, including Moroccan-spiced beef, Spit-roasted Herb Chicken, and Berbere-marinated Pork, it is no wonder why so many guests love Tusker House Restaurant!
5 – Le Cellier Steakhouse
There are plenty of options to choose from when looking to enjoy a meal in Epcot's World Showcase, but one of the most popular picks can be found in the Canada Pavilion. Le Cellier Steakhouse is open for lunch and dinner and invites guests to dine in what feels like a cozy wine cellar complete with low vaulted ceilings and dim lighting. The menu at Le Cellier Steakhouse features mouthwatering options like the Le Cellier Filet Mignon, Bison Strip Loin, Rib-Eye Steak, and Sustainable Fish. Guests should also be sure to try the popular Canadian Cheddar Cheese Soup.
6 – Shiki-Sai: Sushi 
The Japan Pavilion's newest restaurant, Shiki-Sai: Sushi Izakaya, is a great addition to not only EPCOT but also Walt Disney World. We loved the atmosphere, and the food was outstanding. There is a wide variety of dishes for every taste and budget. We highly recommend this restaurant and can't wait to go back! Read our review below.
Click here for "BRAND NEW! 10 Reasons Why You Need to Visit Shiki-Sai: Sushi Izakaya – the Japan Pavilion's Newest Restaurant in EPCOT."
7 – Biergarten Restaurant
Another fantastic full-service location in Epcot is the Biergarten Restaurant in the Germany Pavilion. The location invites guests to dine in a quaint German village that is always lit by moonlight. With traditional architecture and an entertaining oompah band, guests are sure to love dining family-style at large picnic-like tables with other guests. The Biergarten Restaurant is open daily for lunch and dinner. It features a wonderful buffet that serves up options including potatoes, Spatzle, Schnitzel, Traditional Sausage, Nudel Gratin, Roasted Chicken, and Seasonal Salads.
8 – Garden Grill 
While there are tons of dining options in World Showcase, Future World in Epcot also features some fantastic full-service locations. A favorite of many guests is the Garden Grill Restaurant, which is found in The Land Pavilion. The restaurant is unique in that it gently spins throughout each meal so that guests can enjoy an array of views, including a beautiful floral mural and scenes from Living with the Land below. While meeting characters like Mickey, Pluto, Chip, and Dale, guests can enjoy family-style meals for lunch and dinner, including options, All Natural Sliced Turkey Breast, Grilled Beef with Chimichurri, and Creamy Mashed Potatoes. Guests are sure to love their meals at the Garden Grill Restaurant as many of the vegetables and fruits were grown right there inside The Land!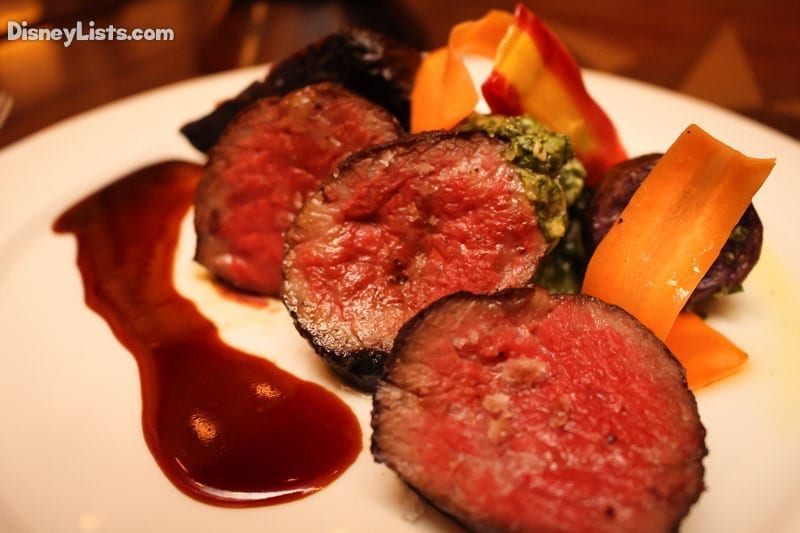 9 – Tiffins
Tiffins restaurant added a much-needed table service option to Animal Kingdom. The restaurant and adjoining, Nomad Lounge can be found behind Pizzafari on the path that takes guests towards Pandora – The World of Avatar. "Tiffin" is the Indian word for lunchbox used for travelers (also a mid-day meal). Tiffins has the distinction of being a "Signature Dining Experience," a classification reserved for Disney's best and more expensive restaurants. The theming of Tiffins is that of an adventurer's club and the theme of travel is everywhere. There are three distinct dining rooms designed to resemble art galleries honoring the continents of Africa and Asia and one celebrating some of the world's exotic animals. The food is delicious and perfectly prepared and presented. The service was flawless. Make no mistake, this isn't a park restaurant pretending to be fine dining. This is absolutely fine dining and can hold its own against some of the best/very expensive restaurants I've enjoyed in places such as Paris, New York or Las Vegas.
10 – Mamma Melrose's Ristorante Italiano
Also found in Disney's Hollywood Studios is a location that combines a cozy but eccentric atmosphere with authentic Italian cuisine. Mama Melrose's Ristorante Italiano allows guests to enjoy lunch and dinner in a warm dining room that features charming curtains, hanging string lights, and plenty of cured meat and cheese! The unique menu is sure to please even the pickiest of eaters with options like the Margherita Flatbread, Charred Strip Steak, Oven-baked Chicken alla Parmigiana, and Spaghetti and Meatballs.
For a no obligation, FREE Quote on a Disney vacation package, please contact our travel partner Magical Vacation Planner at 407-442-0227 (407-442-0215 for Spanish). You can also request a FREE quote online by Clicking HERE.