Fan of the mega-hit Frozen have been waiting (not so) patiently for the transformation of the Norway pavilion in Disney World's Epcot theme park in Frozen central. The wait is over! Disney has officially announced the opening date for the Frozen Ever After ride and the new Anna & Elsa meet and greet.
Both Frozen Ever After and the Anna & Elsa meet and greet will debut on June 21, 2016. FastPass+, will be available for Frozen Ever After. Guests can begin booking FastPass+ for this experience on Saturday, May 21. Please be aware that FastPass+ will not be available for the meet and greet at the Royal Sommerhus, at least not in the near future.
Frozen Ever After
Located in the Norway Pavilion in Epcot, Frozen Ever After has replaced the fan favorite Maelstrom. Note that guest can be "any height."
Details of the ride from Disney:
Come and celebrate a very special "Summer Snow Day" with Queen Elsa, Anna, Olaf, Kristoff and friends.
Welcome to Frozen Ever After, an unforgettable adventure where you'll be whisked away for an on-the-water journey through Arendelle—one set to the tune of your favorite songs from Frozen!
The adventure begins on the docks of Arendelle, as seen in the classic animated film. After finding a seat aboard your boat, feel an Olaf-inspired smile frost across your face when the lapping waters take you right into the frozen willow forest.
Soon, you'll be rubbing shoulders with some "boulders"—a.k.a. Kristoff's family from Troll Valley—before bracing for the cold. High up in the icy blue world of the North Mountain, Queen Elsa's enchanting ice palace awaits! Behold the wonder… and keep an eye out for a few more Frozen friends too.
Finally, hang on tight as you glide back down into the Bay of Arendelle and conclude this "Summer Snow Day" celebration in style—complete with many of your favorite Frozen tunes!
Meet Anna and Elsa in the Royal Sommerhus
Next to Frozen Ever After, guests will be able to meet the highly popular Anna and Elsa in their very own Royal Summerhus.
Details from Disney:
Retreat to a cozy destination nestled in the countryside of the Norway Pavilion in Epcot. There, you'll find a charming cabin fit for your royal welcome from Queen Elsa and Princess Anna. Pose for a photo and share a warm embrace before setting off on your merry way!
RELATED ARTICLE
7 Reasons We Love Epcot at Disney World
by Mike & Jamie Sylvester
It's no secret that Epcot is a theme park like no other. Incomparable to any of the other Disney parks or outside parks, Epcot is an excellent choice if you are looking for a unique experience. Here are 7 reasons why falling in love with Epcot is unavoidable!
1 – You Don't Need a Passport to Travel the World
Number one, hands down, our favorite part about Epcot is the World Showcase. 11 countries surrounding the World Showcase Lagoon make up roughly a 1.2 mile walk of beautiful scenery, shopping, and dining. Where else can you have a margarita in Mexico, shop for a cuckoo clock in Germany, dine in Italy, and check out the entertainment at the United Kingdom all within the same day! The atmosphere and scenery changes with every country, as do the Cast Members accents and uniforms. If you haven't experienced the World Showcase, you'll be absolutely amazed at the detail Disney Imagineers put into it!
2 – Taste Bud's Euphoria
Epcot's dining options are endless! Whatever your dining cuisine preference or craving may be, you'll be able to find it at Disney. Not only does each country in the World Showcase have their own incredible flavor to match the country, but the quick service locations and other restaurants in Future World are also delicious. We feel it's safe to say the dining options at Epcot are the most unique, with the best variety and taste, then you will find anywhere on Disney property.
3 – One of A Kind Attractions
Create your own car and go for a test ride on Test Track or design and ride your own rollercoaster on The Sum of All Thrills – tech nerds, we have found our haven! Epcot holds some one of a kind attractions that are often overlooked. Let's not forget about the awesome logistics that go into creating an experience as wonderful as Soarin! Plus, Epcot has their own 5.7-million-gallon saltwater aquarium located inside The Seas with Nemo and Friends attraction. It's easy to fall in love with these incredibly unique attractions!
4 – A Gardener's Paradise
We may not have a green thumb, but thankfully we get to experience a masterpiece garden paradise at Epcot. Epcot landscape is impeccable. Not to say other parks don't offer beautiful sceneries but based on what we've seen, Epcot holds the key when it comes to landscaping and gardening. Green grass, always in bloom flowers, lush greenery, and our favorite – character designed shrubs and flower patterns. Just about everywhere you look at Epcot, you'll find something you just have to take a picture of. Let's not forget about Living with the Land attraction. Take this calming boat ride as a miniature tour of what Disney is up to behind the scenes that makes Epcot and the other parks' scenery unsurpassed. No wonder Epcot is home to the Flower and Garden Festival!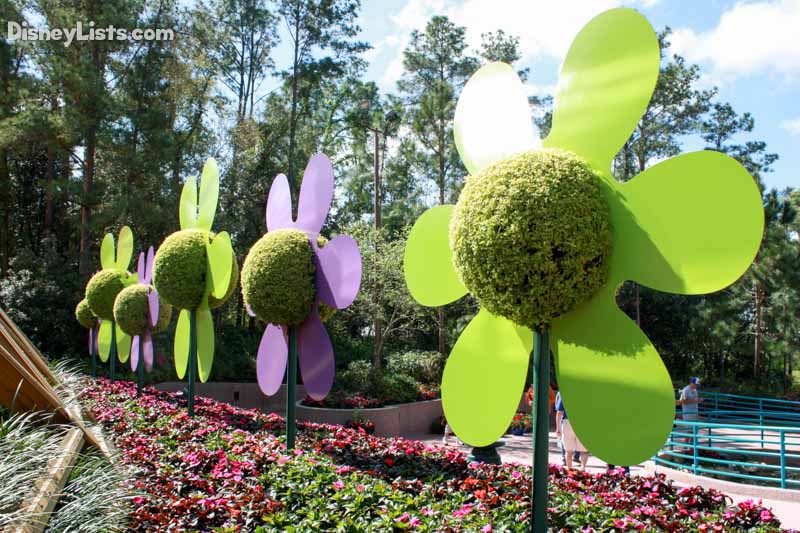 5 – Nighttime Glow
Of course, we must mention the spectacular night show – IllumiNations: Reflections of Earth on the World Showcase Lagoon. IllumiNations is not like any other fireworks show Disney has. Projections, lasers, beautiful music, and the fireworks display make this show something special. We enjoy that IllumiNations provides a show with a message that we are one World, one "spirit of humanity". We also must mention our love for the huge Fountain of Nations located just behind the Epcot ball (Spaceship Earth). You can't miss this stunning masterpiece glowing at night. We hope you have a chance to experience these moments that make Epcot seem to glow at night! Be sure to read our article on the 5 best Illuminations viewing spots so you have the best view possible!
 6 – Easy Access
Simply put, Epcot is one of the easier parks to gain access to. With two convenient entrance locations (main gate and Epcot Resorts gate), it's easy access and feels less crowded for guests to enter the park. Those staying on site at one of the Epcot Resorts can easily come and go as they please. Plus, jumping on and off the monorail is a breeze! Let's not forget about the boating option, bus transportation, or the excellent parking lot. Excellent parking lot you say? Yes! Compared to the other theme parks, we find Epcot's parking lot to typically be the one that can place you closest to the entrance. Fewer trams are needed simply because it's not too far of a walk from the car to the park gate. Easy in and easy out – we love it!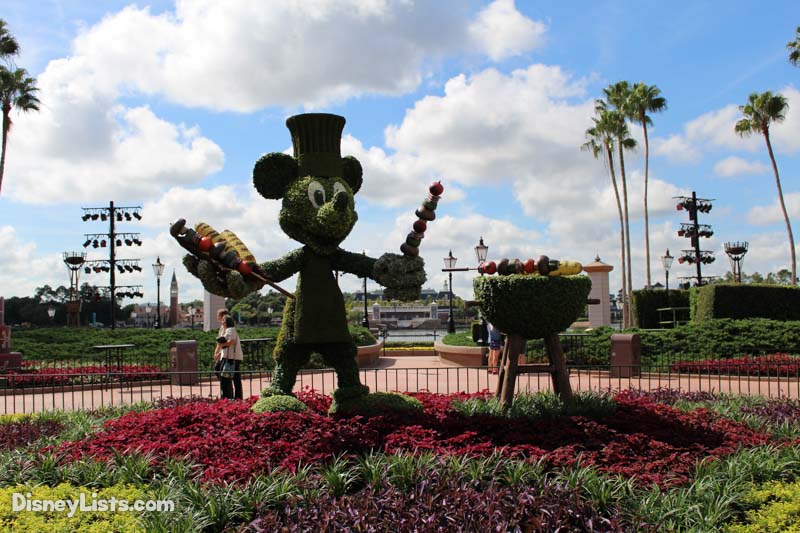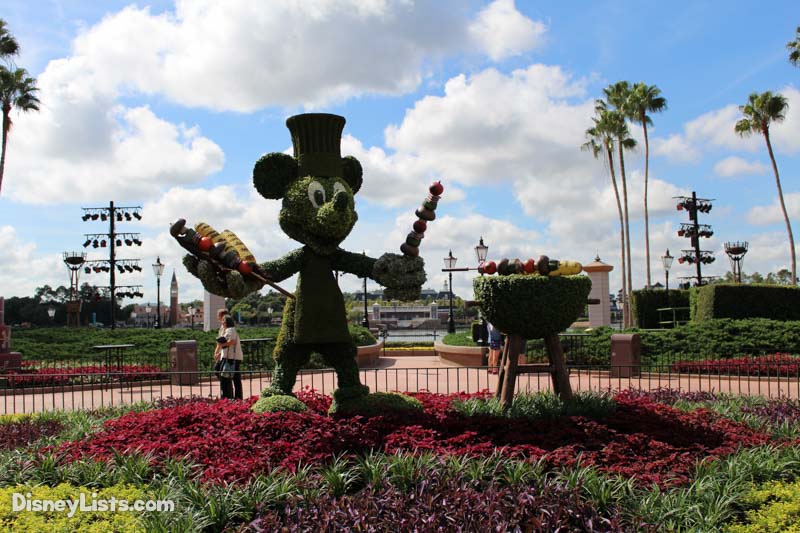 7 – Special Events
Epcot has some pretty amazing special events! Of course, the awesome Food and Wine Festival is probably the most popular and one of our personal favorites. Only at Epcot could an event like this be held, embracing the international flavors of food and wine. Cooking demonstrations, taste testing, food competitions and challenges – it's a fun event to attend! As we mentioned briefly above, Epcot also has the Flower and Garden Festival which embraces the beauty of home gardens by providing great ideas and fascinating displays. This is our favorite time to walk around the park. The Candlelight Processional is a memorable special event that takes place around the holidays and walks guests through the story of Christmas with music and celebrity guest appearances. Let's not forget about the America Gardens Theater. This outdoor concert area seems to always have special presentations with musicians, vocalists, and performers. Take a seat and enjoy.
There are so many reasons to love Epcot! What makes your Epcot love list?