Beginning May 25, 2018, Walt Disney World Resort will launch an incredible summer for 2018 with guests being immersed in their favorite Disney films, entering the worlds of their beloved characters and experiencing exciting new attractions and entertainment. It's looking like it will be an amazing summer. Read below for all of the details.
New at Magic Kingdom Park
At Magic Kingdom, favorite Disney•Pixar superheroes will take over Tomorrowland – celebrating all things super. The Incredible Tomorrowland Expo will run from May 25 – September 3. Guests will party with Mr. Incredible, Elastigirl, and Frozone from Disney•Pixar's "The Incredibles" and upcoming "Incredibles 2." And, for the first time ever, guests will get to see Edna Mode, the greatest superhero costume designer. The superheroes will interact with guests throughout the land. And the festivities culminate with a "SUPER" dance party on the Rocket Tower Stage. "Incredibles 2" opens in theaters nationwide June 15, 2018.
New at Epcot
Super Heroes take over the America Gardens Theatre at Epcot with the new show, The Guardians of the Galaxy – Awesome Mix Live!. Star-Lord and Gamora from the Guardians of the Galaxy will join an alien band, taking guests on a journey through the cosmos. The party will feature hits from Awesome Mix Tapes 1 and 2 – fun and favorite tunes from the two movies' soundtracks – building the anticipation for a new Epcot Guardians of the Galaxy attraction. The group will take the stage five times daily, June 9 through Aug. 19.
New at Animal Kingdom
This summer, Disney's Animal Kingdom is celebrating its 20th Anniversary with two super new experiences: A "dino-tastic" celebration where Donald Duck takes over Dinoland U.S.A. with prehistoric elements in a new and exciting character celebration; and UP! A Great Bird Adventure, where Senior Wilderness Explorer Russell and his furry friend Dug, from the Disney•Pixar hit film "Up," discover species of birds from around the world. This new show is now running daily.
Donald's Dino-Bash!, beginning May 25, is a "dino-tastic" celebration where Donald Duck takes over Dinoland, U.S.A. to celebrate his recent discovery that ducks are descendants of dinosaurs. Feathered friends Scrooge McDuck and Launchpad McQuack and other friends of Donald will be on hand to meet guests. In addition to bringing his own decorating touch to the land, Donald will throw a nightly dance party where everyone is welcome to "shake their tail feathers." Donald's Dino-Bash is a new permanent feature to Dinoland U.S.A. that will continue even after the summer concludes.
New at Disney's Typhoon Lagoon
Disney's Typhoon Lagoon will join in on the Incredible Summer fun starting June 21, with new Disney H2O Glow Nights. The water park will transform on select evenings June 21-Aug. 11, when a glow party takes over the park from 8 p.m.-11 p.m. Tickets go sale March 19 and are $55 per person plus tax for adults and $50 per person plus tax for children ages 3-9. For more information and to purchase tickets, call (407) 939-1872.
New at Disney's Hollywood Studios – Toy Story Land Opens 
As summer gets into full swing, the capstone of Incredible Summer at Walt Disney World opens at Disney's Hollywood Studios on June 30. The ongoing reimagining of the park takes guests to infinity and beyond, allowing them to step into the worlds of their favorite films, starting with Toy Story Land.
This new 11-acre land will transport guests into the adventurous outdoors of Andy's backyard. Guests will experience two new attractions, including Slinky Dog Dash, a family-friendly coaster which will send riders dipping, dodging and dashing around turns and drops that Andy has created to stretch Slinky and his coils to the max. "Toy Story" pals also come to life in another fresh-from-the-box themed attraction — Alien Swirling Saucers. This Pizza Planet toy playset is loaded with aliens circling about in their flying saucers pulling along rocket ships full of guests. The new land also will encompass – Toy Story Mania! – which has been expanded to add a third track to the existing popular attraction. Woody's Lunch Box will be a new quick-service kiosk serving tasty meals and old-fashioned soda floats inside Toy Story Land.
Also, if you're a Star Wars fan, don't miss the special ticketed event Star Wars Galactic Nights on Sunday, May 27.
New at Disney Springs
Summer 2018 also marks the first summer for new offerings at Disney Springs including "Star Wars: Secrets of the Empire," a Hyper-Reality Experience from Lucasfilm, ILMxLAB and The VOID; and a host of new restaurants and bars have popped up to tempt any appetite. These include The Edison, a lavish "Industrial Gothic" restaurant and bar; Maria & Enzo's, an open and airy Italian trattoria featuring family-friendly dishes inspired by Sicily; Terralina Crafted Italian, a new concept from James Beard award winner and "Top Chef Master" Chef Tony Mantuano; and Wine Bar George, the only Master Sommelier-led wine bar in Florida, brought to Disney Springs by former California Grill manager and Master Sommelier George Miliotes (opening this spring).
RELATED ARTICLE: 12 Tips & Tricks to Having the Best Summer Vacation at Disney World
by Mike & Jamie Sylvester
Whether your workload has lightened, you've saved up enough vacation days, the kids are out of school, or you simply need a little Vitamin D – a Disney World summer vacation is calling! Chances are you've heard that summer is the most popular time to visit Disney World (besides Christmas break). Plus, Florida summers are HOT… an easy 100 degrees in the shade! So, let's get to planning. Check out our top tips and tricks to having the best summer vacation EVER at Disney World!
1 – Book A Summer Deal
Time to save some money! Disney World always offers summer discounts and savings. Typically, these summer packages include at least a four-night stay along with theme park tickets. In the long run, you'll save hundreds by booking a package deal if one is available during the vacation dates you are seeking.
2 – Make Dining Reservations
If you've heard this and thought, nah – we'll just wing it, well, be prepared to fight the crowds big time! Having table service reservations can make a huge difference in your summer vacation at Disney. Not only will you have a place to sit to enjoy a meal, but you will also have an air-conditioned space. If you don't have reservations, chances are you won't be able to get a table at a table service restaurant. If you plan to go to quick service spots, a great tip we like to use is to eat at off-times. For example, eat lunch at 11 am instead of the noon rush hour. This will give you a better chance of beating the crowds to lunch and finding a table to sit at.
 3 – Book Your FastPass+ In Advance
You can book your initial 3 FastPasses in advance (60-days resort guests, 30-days in advance for non-resort guests). We highly recommend you book your FastPasses in advance so you can map out your day, and obtain more FastPasses when your initial three are used. This not only saves you time but also the heat exhaustion from standing in long standby lines.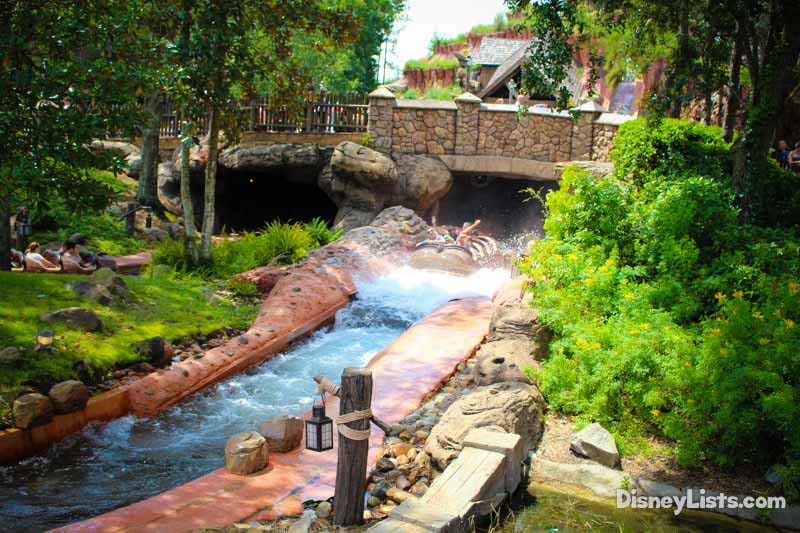 4 – Dress Cool
We don't mean the kind of "cool" such as awesome… but COOL as in light clothing. Although, if you can combine both cool (awesome) and cool (light wear) – then more power to you! Seriously though, we suggest a wardrobe that consists of the Dri-FIT type clothing such as breathable shorts, shirts, socks, and hats. Think light colors as well, as dark colors absorb the sun's rays rather than reflect it. When it's so hot you can't tell the difference in body sweat and Splash Mountain water, you'll be thankful you are wearing light clothing to cool down and dry off faster.
 5 – Know Where to Go
If at all possible, avoid zig-zagging from one side of the park to the other. Having a plan in place before you arrive can alleviate the "theme park dance" as we like to call it. We've learned the hard way that when going from one side of the park to the other time and time again over the summer is an easy way to ruin a vacation at Disney. It's exhausting trying to move through the crowd and the heat factor just triggers meltdowns!
6 – Take Advantage of Early Morning & Late Night Hours
Arriving at park opening is an absolute must in our opinion over the summer. You get the fresh start of the day, crowds are less than they will be later, and the sun in just waking! Same goes for late night hours. We suggest the early arrival, a midday break if possible at the resort, then a late night which is especially great once the sun goes down.
7 – Schedule Resort Time
Yes, it's tempting to hit a theme park everyday/all day, but remember this is a vacation after all! Cool off in the resort pool, hang out in your room with your family while watching a Disney movie, or take a cool middle of the day shower. Whether you schedule a full resort day or just some resort time, you'll appreciate this much needed break from the summer crowds and heat.
8 – Enjoy Indoor Attractions
Seek out attractions that are maybe a little less popular and that are indoors with blasting AC! Some of our favorite "hideaway" attractions from crowds and heat are Muppet Vision 3D at Hollywood Studios, Carousel of Progress at Magic Kingdom, Journey Into Imagination With Figment at Epcot, and It's Tough To Be A Bug at Animal Kingdom.
 9 – Visit A Water Park
Summer crowds do flock to Disney's two incredible water parks, Blizzard Beach and Typhoon Lagoon. With this being said, don't expect to avoid crowds at the water parks, but rather plan for a day of cooling off in the water with fun attractions to go along with it!
10 – Pack (and USE) Sunscreen
Seems simple enough, right?! Well, we've made the mistakes plenty of times thinking that it's not too bad, only to end up with a sunburn on our very first day of vacation. Once you have that sunburn, it really puts a damper on the rest of the vacation. Don't forget to reapply when needed!
11 – Drink Water
Soda and alcohol can be special treats while on your Disney vacation, but be aware of how much water intake you've had. This is especially important if you have great plans to drink around the World Showcase at Epcot for example. Keep in mind that you should constantly be chugging water to keep yourself hydrated in the Florida heat.
12 – Chill Out
Take notes from Baloo the Bear in Jungle Book when vacationing at Disney over the summer! He's one, no stress… chilled out bear! With massive crowds and 100+ degrees all around, there will come a time when you need to step back and chill out both in temper and temperature. Find opportunities to chill, even if it's for a simple 10 minutes away from the crowds and heat. Magic Kingdom has a fun water play area in Fantasyland known as Casey Jr. Splash 'N' Soak. This is a great spot for kids to run free and cool down in the water while you take a breather. We also suggest looking for hidden areas that might not offer a bench or table, but a shady floor to sit on! Whatever it takes – just find time to chill out. Trust us, you'll avoid both children and adult meltdowns this way!
For a no obligation, FREE Quote on a Disney vacation package, please contact our travel partner Magical Vacation Planner at 407-442-0227 (407-442-0215 for Spanish). You can also request a FREE quote online by Clicking HERE.