In celebration of the 20th Anniversary of Disney's Animal Kingdom, Adventures by Disney announced a special once in a lifetime, adult-exclusive Safari to South Africa departure for Nov. 30, 2018 with a special twist. Check out all the details below:
Here are all the details from Disney Cast Member Amanda Adler:
On this unique trip, you can explore Africa with special hosts Joe Rohde, Portfolio Creative Executive for Walt Disney Imagineering, and Dr. Mark Penning, Vice President, Animals, Science and Environment, who will share their expertise on storytelling, wildlife and conservation.
Throughout the trip, Joe will share his insight on this magnificent country through the lens of an artist. Learn from Joe as he leads sketching sessions (no prior art experience required!) at iconic locations in South Africa. He'll also share the experiences in Africa that inspired him to create Disney's Animal Kingdom Theme Park.
Meanwhile, Mark, a native of South Africa, will share his expertise on South African natural history. Learn about the unique species that live in the areas visited on the trip, including the birds at Cape Point; the elephants, birds and monkeys in Knysna; and the abundant wildlife found during the game drives at Kapama Private Game Reserve.
Take a sneak peek at what's in store in this video!
Bookings are open for South Africa: Disney's Animal Kingdom Park's 20th Anniversary Safari as follows:
Monday, April 23, 2018: Disney Vacation Club Members, D23 Members, and previous Adventures by Disney Guests
Wednesday, April 25, 2018: General public
Learn more and book the one-time Adult-Exclusive South Africa: Disney's Animal Kingdom Park's 20th Anniversary Safari by calling (800) 543-0865 or contact your travel agent. We highly recommend booking with an Authorized Disney Vacation Planner to ensure you are well taken care of and get all the discounts available to you. We personally book all our Disney trips (and we do Disney a lot) with Magical Vacation Planners because they are the best and we trust them. For more details and help booking your vacation, call (407) 442-0027. You can also get a no obligation, FREE vacation quote by clicking here. Their services are free to you and they can answer any questions you may have.
Read all the details about the 20th Anniversary celebration on April 22, 2018 by clicking here.
Read all about the Party for the Planet 2018 celebration at Disney's Animal Kingdom by clicking here.
RELATED ARTICLE: Top 10 Q & A about Animal Kingdom in Walt Disney World
By Christy Caby
Disney's Animal Kingdom is the newest of the 4 major theme parks at Walt Disney World.  It is a completely unique park and has a lot to offer.  Many guests wonder if this park is just another "zoo", and it is definitely much more than that.  Here is our top Q&A for newbies visiting Animal Kingdom:
10 – What are the typical park hours?
The usual opening time for the park each day is 9AM.  This park used to only be open during daylight hours, so it would regularly close between 5 – 7PM each day depending on whether it is peak or slow season.  Now the park is offering longer hours so guests can enjoy the many nighttime experiences.  There are also Extra Magic Hours options, typically an extra hour in the mornings, which are available only for guests staying at a Walt Disney World resort.
9 – Is there a nighttime fireworks show at the park?
No, but there is now a nighttime show.  Fireworks would be too disruptive for the animals that live in the park, so fireworks are not allowed there.  The park just recently opened a new nighttime show called Rivers of Light.  This show features water technology, lighting, water floats and more to create a fantastic show on the water.  Guests are seated during the show, making it a nice break at the end of the day after guests have been walking and on their feet most of the day.  This show is extremely popular, so it is a good idea to get their early or enjoy the second show, when available.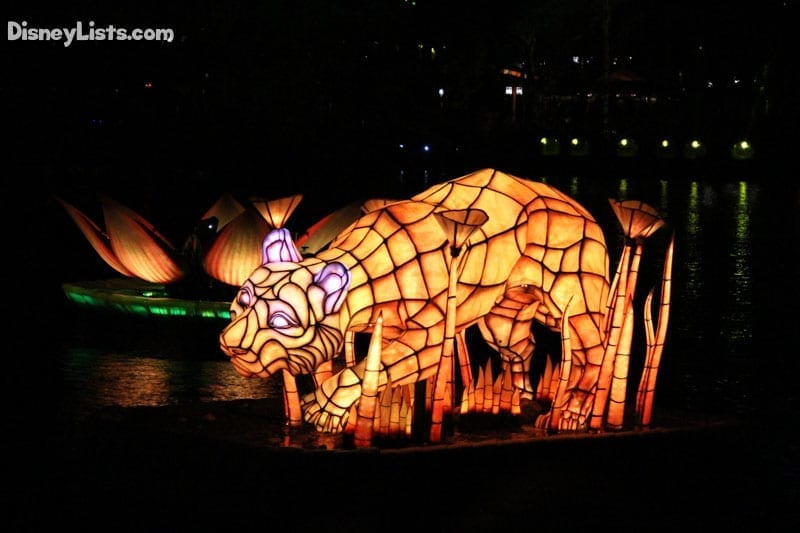 8 – Are the animals roaming around the park?
Not really.  There are some animals and wildlife that are in open exhibits, so that you get great view of them, but they aren't completely roaming freely. There are natural birds and wildlife (like squirrels, etc.) that are roaming freely around the park, which is to be expected.  There is a petting zoo area at Rafiki's Planet Watch where guests can brush goats.  There are also other shows and exhibits where you may get closer looks at some of the animals, like Kilimanjaro Safaris where you take a safari ride through the savanna where some animals are free roaming, but you do not leave your ride vehicle on this attraction for any reason.
7 – Are any special events at the park?
There aren't regularly scheduled festivals at the park, but there are occasionally special events that occur.  Earth Day, April 22nd, is typically a huge day for the park.  Disney puts a lot of care into conservation efforts and does a lot of education about conservation at Disney's Animal Kingdom.  April 22nd is also the anniversary date for when the park first opened, so there are typically special limited events around that time each year.
6 – Why are there no balloons available for sale?
This is to protect the animals that reside in the park.  You will notice that you will not be allowed to bring any balloons into the park, nor are they available for purchase.  If the balloons were to get away and land in animal areas, it could be very dangerous to the animals.  You will also notice that plastic, disposable straws are not given with any beverages in the park. There are paper, biodegradable straws available in order to ensure that the dangerous plastic straws don't make it into waterways or other animal exhibits that could cause them a lot of harm.
5 – What types of attractions are there besides animal encounters?
There are actually a couple amazing shows like Festival of the Lion King and Finding Nemo The Musical.  These shows are based on their respective movies and are amazing Broadway caliber shows.   There is even a Bug's Life show that is shown in 3D with other special effects in the theater.  You will also find a few great rides at the park like DINOSAUR, Expedition: Everest, Kali River Rapids, Primeval Whirl, and TriceraTop Spin.  The new land, Pandora – The World of Avatar, is an out of this world experience that is not to be missed.  This park is definitely not just a "zoo" as some guests assume before they visit the park.
4 – Will I need a whole a day at the park?
You can always cut things out and make a visit shorter, but in order to experience everything you will definitely at least need a full day, probably even two days.  There are so many experiences, animal trails, attractions and more that you would find it extremely difficult to fit everything in without a full day.  This park is a lot of fun, so I definitely recommend that you plan in at least a full day so that you can enjoy everything that you want to and take in how beautiful the park is. Be sure you also extend your visit to the evening hours to see a whole new side of the park. It's simply beautiful at night.
3 – What food options are available?
There are options to meet all of your tastes and budgets.  There are quick service locations, including an African market style location.  These are locations where you can order from the counter and find a place to enjoy a quick meal so you can get back to enjoying the day.  The new Satu'li Canteen in Pandora is a top notch quick service restaurant with delicious food. There are also multiple table service locations where you can dine inside the restaurant and a server will tend your needs.  I highly recommend making reservations in advance for these table service locations as many of them are quite popular.  You can also bring in your own food, if you wish to do so.  Your bag will be checked by the security staff as you enter the park.
2 – What transportation options are available at the park?
The only transportation options to get to Disney's Animal Kingdom are to take on of the Disney buses (or another shuttle from neighboring resorts) or to drive your car to the park.  There currently isn't any water or monorail transportation to Disney's Animal Kingdom.  The parking lot is quite large, so we typically like to take one of the Disney buses to get there and then we don't have to worry about driving.
1 – Are alcoholic beverages allowed in the park?
Yes.  Alcoholic beverages are served at most of the restaurants, as well as many walk up stands and locations.  You are allowed to roam through the park with alcoholic beverages as long as you aren't disruptive to other guests.  You are not allowed to bring in your own alcoholic beverages.  They must be purchased from Disney, and only consumed by individuals who are 21 or older.  Disney is very strict on their alcohol policies and preserving the magic.
For a no obligation, FREE Quote on a Disney vacation package, please contact our travel partner Magical Vacation Planner at 407-442-0227 (407-442-0215 for Spanish). You can also request a FREE quote online by Clicking HERE.