Magic Kingdom is a true fantasyland. Hollywood Studios is action-packed. And Animal Kingdom is stunning. But, for some reason – if we ever have a situation where we're passing by Walt Disney World and only plan to drop into one park… Epcot is our pick. In our opinion, Epcot has that perfect dose of fantasy, action, and that stunning factor. Before you go to Epcot however, you'll want to understand a few things we feel are important in planning your big Epcot day!
Editor's Note: We understand that with the phased reopening of Walt Disney World, some of the advice in this article may not apply if you visit while park hours are reduced, capacity limits and physical distancing are in place, and some of our favorite experiences—fireworks, parades, and character greetings—are temporarily suspended. (You can read everything you need to know about the phased reopening by clicking here). We will continue to share articles that give guidance on a "normal" vacation to Walt Disney World, along with any special changes or instructions you may need to be aware of during the phased reopening to provide the best tips we can regardless of when you are visiting. ~ Chad & Cindy
1 – How To Get There & Best Resorts
Editor's Note: During the phased reopening of Walt Disney World, the monorail is not running from the Transportation and Ticket Center to and from EPCOT.
Epcot is the easiest park to get to! There are plenty of transportation options that make your arrival an easy one. If you're driving, the parking lot and trams are well structured and easy to follow. If you're staying at a Disney Resort, jump on one of the many complimentary transportation options, including buses from all resorts, Monorail from the Transportation and Ticket Center, boats from surrounding resorts, and Disney Skyliner transportation. If you're looking to take a leisurely walk to and from Epcot, stay at one of the Epcot resorts, including Disney's Boardwalk Inn, Disney's Yacht Club, and Disney's Beach Club. You can also walk from The Swan and Dolphin Hotels, but this can be a trek.
2 – Expect Construction and Certain Closures
Editor's Note: It is unclear how certain construction timelines have been affected by the coronavirus closure period in 2020. We will update this article with adjusted dates when Disney provides official updates.
Epcot is undergoing an epic transformation that was planned to be completed when Walt Disney World celebrates its 50th Anniversary on October 1, 2021. Work has already begun and some closures along with it. Construction walls are up around much of Future World. Many stores have been relocated to temporary locations. Even with all the construction, there is still so much to enjoy at Epcot. Your best bet is to use your My Disney Experience App for the current location of characters and stores. More closures are on the way, but knowing this before your vacation will help set proper expectations. We are so excited about the finished project! It's going to be amazing! Click here for everything we know about the transformation of Epcot. 
3 – Two Lands (for Now)
Wear those comfortable walking shoes because if you've checked out a map of Epcot, you'll notice it's a rather large park. Despite its large size, Epcot is easy to navigate as it is divided into two different "lands" with each land offering different theming and experiences. Future World is where Spaceship Earth (the big Epcot ball) is located. Here you'll find popular attractions like Soarin' and Test Track. There are a couple of restaurants in this area and shopping venues. The World Showcase is the second land that provides guests an opportunity to stroll "around the world" with 11 countries/pavilions to explore. The World Showcase is where you'll find the best dining, "streetmosphere," and shopping. Both are unique in their own way and well worth spending time taking in all the details they have to offer!
4 – FastPass Tiers
Editor's Note: During the phased reopening of Walt Disney World, FastPass+ is temporarily suspended.
Oh yes – FastPasses are a MUST at Epcot! FastPasses can be selected via your My Disney Experience account 60-days in advance for Disney Resort guests or 30-days in advance for non-resort guests. Some of the most popular attractions at Epcot include Soarin', Test Track, and Frozen Ever After. Unfortunately, Epcot's FastPasses are on a Tiered System, meaning guests can reserve one Tier 1 FastPass and two Tier 2 FastPasses in advance for a single day. Of course, the three most popular attractions we mentioned are Tier 1. Here's just one plan that we typically roll with: FastPass Soarin' early afternoon (11:00ish). Arrive at park opening and head directly to Frozen Ever After. After Frozen Ever After, go to Test Track. If the Standby line is long, use the Single-Rider line. Then, you'll have plenty of time left to hit your Soarin' FastPass. Great Tier 2 selections include Spaceship Earth and Mission: SPACE.
5 – Be Prepared to Mobile Order
Have you downloaded your MyDisneyExperience mobile app yet? If not, go ahead and do that right now! This app will make your life much easier in all of the Disney World parks. Several quick-service restaurants in Epcot offer Mobile Ordering. This means you can select your food and pay right from your phone. When your food is ready – you'll get a text telling you to come to the mobile window. You just pick up your food, wave to everyone in line (well, maybe not), then enjoy your meal! It's too simple and easy not to take advantage of.
6 – Lots of Characters… and Many Unique
Editor's Note: During the phased reopening of Walt Disney World, character greetings are unavailable. 
Yes! One of our favorite things about Epcot is their hefty list of characters. And while we absolutely love seeing Mickey, Minnie, and Goofy – sometimes it's nice to visit with a character you can't find at any of the other parks. Be sure to visit with characters that only offer a meet and greet at Epcot, such as Anna and Elsa, Baymax, Joy, Ralph and Vanellope, and even Mulan. Character dining is also available in Epcot at the Garden Grill (Chip & Dale and Friends) and Akershus Royal Banquet Hall (Disney Princesses).
7 – Plan to Keep The Kids Occupied
You may have heard Epcot is not for kids. Wrong! Epcot is totally for kids… just ask our kiddos who love the park! Outside of the kid-friendly attractions like Frozen Ever After, The Seas with Nemo and Friends, Journey Into Imagination with Figment, and more – check out the scavenger hunt options around the World Showcase. Collect stamps (stickers really) at Kidcot spots in each Pavilion. Epcot may not be as kid-friendly as Magic Kingdom, but it's definitely a fun park for kids to explore!
8 – Be Wise about "Drinking Around The World"
Yes, Epcot's World Showcase is well known to guests as the perfect place to "Drink Around the World." We get it – there are 11 Pavilions, and each one offers unique and delicious adult beverages! Vacation is all about relaxing after all, right? Well, this is all fine and well, but let's not forget that families are present. If you're going to drink around the world, be sure you're eating around the world as well. Lots of water in between drinks will help too.
9 – Almost Always a Festival
Epcot is almost always having a festival to match the season! At the start of the year (January – February), Epcot holds its Festival of Arts. Festivities to celebrate the arts in sight, touch, and even taste are just about everywhere. Once spring rolls around (March – June), the Flower and Garden Festival is in full bloom… literally! If you want to see Epcot at its most colorful, check it out at this time. Fall is the very popular International Food and Wine Festival (late August – November). Taste your way through numerous food and beverage kiosks. It's really a foodies heaven! Last but not least, the year ends with Epcot's International Festival of Holidays (late November – December). Bring in the holiday season with storytellers throughout the World Showcase Pavilions, traditional Holiday food, and of course – stunning decorations. Check out the festival schedule when planning your visit to Epcot to make the most of all the events and entertainment offered!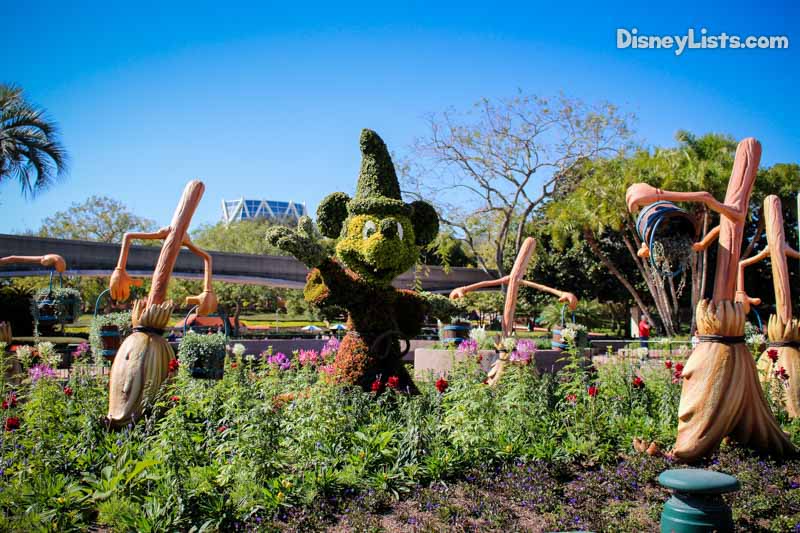 10 – Dinner Reservations Around The Fireworks
Editor's Note: During the phased reopening of Walt Disney World, nighttime spectaculars are temporarily suspended.
There are so many table-service restaurants in Epcot that it's almost impossible to pick just one! With the nighttime spectacular taking place on the water, why not take advantage of the magnificent views you can catch from a few of the Epcot restaurants? We'd highly recommend booking a dinner reservation 45-minutes or so before the fireworks show takes place at restaurants that boast magnificent views such as Rose and Crown Pub & Restaurant, La Hacienda de San Angel, and Spice Road Table. This way, you can dine, have dessert, and a few drinks with great views to the nighttime spectacular!
11 – After Fireworks Stroll
Editor's Note: During the phased reopening of Walt Disney World, nighttime spectaculars are temporarily suspended.
Epcot Forever, Epcot's nightly fireworks and projection spectacular, is a beautiful sight! As mentioned above, this goes perfectly with a dinner reservation. While the park is technically closed after the fireworks, there really is no reason to rush out of the park with the rest of the crowd. Take a nice, slow stroll and let the crowd clear out in front of you. You can do a little shopping and take in how beautiful Epcot is at night. Beats fighting the crowds!
Get ready to have an exceptional Epcot visit!
For a no obligation, FREE Quote on a Disney vacation package, please contact our travel partner Magical Vacation Planner at 407-442-0227 (407-442-0215 for Spanish). You can also request a FREE quote online by Clicking HERE.