After being closed to guest following a malfunction on October 5 (more information here), the Disney Skyliner has reopened to guests. We couldn't be more excited and can't wait to ride the Syliner again. Get the full update from Disney below.
Here is an update from Disney cast member Thomas Smith:
We know many of you have been looking for an update on Disney Skyliner and are glad to share that it has reopened to guests today. Following a complete review with the manufacturer, we've made adjustments to our processes and training, and we are improving how we communicate with guests during their flight with Disney Skyliner.  We again offer our deepest apologies to the guests impacted by the malfunction that resulted in extended operating delays on Oct. 5.
Beginning today, guests may travel aboard Disney Skyliner from 8 a.m. to 10:30 p.m.  However, system updates later this week will result in the following modified operating hours for Oct. 16-18:
Oct. 16:  The Disney Hollywood Studios line will be closed while the other two lines will be available from 1 p.m. – 10:30 p.m.
Oct. 17-18: All lines will be open from 1 p.m. – 10:30 p.m.
Similar to ski lift systems, Disney Skyliner may slow or come to some stops during the ride, particularly when we need to accommodate guests who require additional time to load their cabin.  We want to assure you that the comfort of every guest is important to us.
As a reminder, Disney Skyliner connects Epcot and Disney's Hollywood Studios to four Disney resort hotels: Disney's Art of Animation Resort, Disney's Pop Century Resort, Disney's Caribbean Beach Resort (and the forthcoming Disney's Riviera Resort, a Disney Vacation Club resort set to open Dec. 16, 2019).
We greatly appreciate your ongoing patience and understanding, and we look forward to welcoming you back aboard Disney Skyliner.
RELATED ARTICLE: Disney Skyliner – Our Review & 15 Things You Need to Know
by Cindy E. Nykamp
After two years of waiting, The Disney Skyliner, Walt Disney World's latest form of transportation, is now available to guests giving them a whole new way to travel around the resort. We had a chance to get a preview of the Disney Skyliner and enjoy the dedication ceremony. The Disney Skyliner opened to guests on Sunday, September 29. Here's everything you need to know about the Disney Skyliner.
The Disney Skyliner Dedication
The dedication ceremony for the Disney Skyliner was held on September 27, 2019, at Disney's Caribbean Beach Resort. Senior Vice President of Walt Disney World Resort, Thomas Mazloum, shared that the Skyliner was about improving the guest experience and joins other recent expansions such as Gran Destino Tower at Disney's Coronado Springs Resort, NBA Experience, and Star Wars: Galaxy's Edge at Disney's Hollywood Studios.
Vice President of Transportation, Alison Armor, shared that they know how important transportation is at Walt Disney World, and they try to make each experience "as magical and as 'Disney' as possible." She added, "I can assure you, the Skyliner achieves both."
The ceremony ended with many Disney characters joining Disney transportation cast members, to dedicate the opening of the Skyliner. The ceremony ended the appropriate song, "Touch the Sky," from the Disney animated film, Brave. Learn all about the Disney Skyliner below!
Click here to see our Instagram Story of the day's event including the Dedication Ceremony and lots of photos and video of our time on the Disney Skyliner!
Click here to see our Instagram Story of Opening Day-Sunday, September 30!
1 – Disney's Latest Form of Transportation – A Most Magical Flight
The Disney Skyliner joins the network of complimentary Walt Disney World transportation options for resort hotel guests allowing them to travel effortlessly around Walt Disney World with a touch of Disney magic. The gondolas join other favorite options such as the world-famous Walt Disney World monorail system along with ferry boats and water taxis and one-of-a-kind motor coaches.
One thing that struck us as we rode was just how different this option is from the other forms of transportation available. Disney could have chosen to just add more buses to the fleet, but they were specifically looking to give guests a whole new way to experience the resort. We had a chance to speak with Dean Huspen, Principle Architect at Walt Disney Imagineering, and he expanded this idea about the Skyliner. Check out the video below.
This "most magical flight on Earth" connects Epcot and Disney's Hollywood Studios to Disney's Art of Animation Resort, Disney's Pop Century Resort, Disney's Caribbean Beach Resort and the new Disney's Riviera Resort, a Disney Vacation Club resort that will open December 16, 2019. But the whole experience is so much more than just a way to get from point A to point B. The Disney Skyliner is an attraction on its own, one that is not only a whole lot of fun, but comfortable, and even peaceful.
2 – Disney Skyliner Stations
There are five Skyliner stations and three Skyiner lines. Note that when traveling from point to point, you will be required to exit the gondola and then get in the queue again to keep going on your trip. You cannot, for safety reasons, just stay on. For instance, if you get on at Art of Animation, you'll need to get off at Disney's Caribbean Beach and then get in the queue for either the Disney's Hollywood Studios line or the Epcot line. Disney's Caribbean Beach is the central hub, and you can easily access all points from this station. There are well-marked signs to ensure that you are in the right queue, but if you're not sure, simply ask a Cast Member to point you in the right direction.
It shouldn't be a surprise that the design of these stations are all unique and fit in perfectly with their locations.
The Epcot International Gateway station is inspired by the nearby European pavilions in the park. Covered metal and glass canopies, hand-painted murals themed to flight and ornate metal detailing are all in the Art Nouveau style.
The Disney's Riviera Resort station incorporates influences from the Mediterranean coast to produce an elegant portal for guests.
The station at Disney's Caribbean Beach Resort connects all three routes and extends the architectural details and bright island colors associated with the Caribbean.
The Disney's Hollywood Studios station reflects the Art Decostyle of the park's main entrance area. Guests arriving on Disney Skyliner will be awestruck as a panoramic view of the park unfolds.
Disney's Pop Century Resort and Disney's Art of Animation Resort share a Disney Skyliner station at Hourglass Lake. Colorful structural forms create a space that feels whimsical and contextual with both resorts. Departing the station, guests will glide above Hourglass Lake and ascend to thrilling views of both resort hotels. 
3 – Gondolas Design
As you might expect, the outside of the gondolas have been designed with a bit of Disney magic. Nearly half of the approximately 300 Disney Skyliner cabins are wrapped in whimsical Disney scenes – with beloved characters, fan-favorite movies, attractions and more – giving the appearance that Disney pals are riding along with guests. The other cabins are one of eight vibrant colors and feature sleek curved lines. Keep in mind that wrapped gondolas are harder to see out of because of the wraps; however, you can see clearly out of the doors. You might not get a choice of which kind of gondola you ride in, but at least you'll know what to expect as far as your view goes.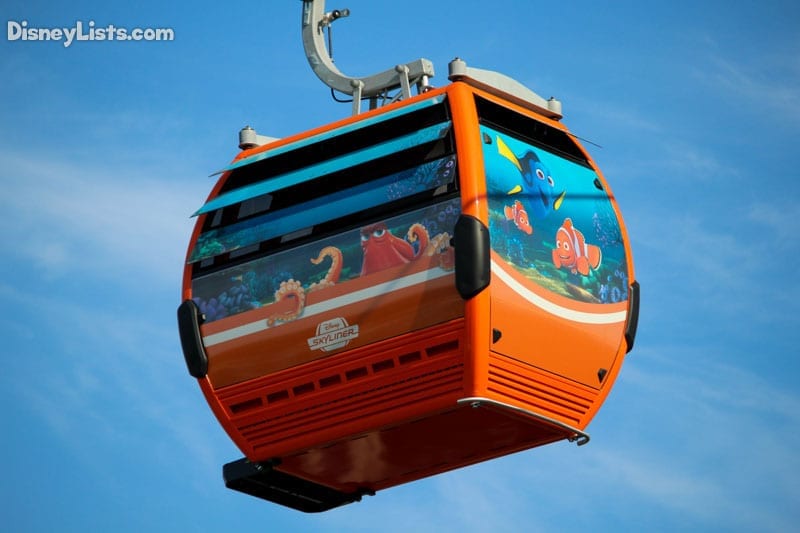 4 – Inside the Gondolas – Temperature
Let's talk about the inside of the gondolas. One bit of information that was released ahead of time that shocked most people was the fact that there is no air conditioning inside the cabins. Knowing the hot Florida sun will be beating down on these gondolas most of the year, the number one question we received ahead of time, and what everyone wants to know, is how hot it is inside. I was pleasantly surprised at just how comfortable our rides were. Our last ride of the morning was about 12 noon, and the temperature was a very warm 90 degrees with bright sun the usual high humidity that we experience in Central Florida. We couldn't tell inside. What makes all the difference is the fact that there are vented openings which give strong breezes inside the gondola (see photo below). Many in our party had their hair noticeably being blown about. When compared to the other forms of transportation, this ride isn't any worse when considering temperature. For instance, the air-conditioned monorail is usually very warm because the doors are open so much and when it's crowded it can be very stuffy inside. The Disney Skyliner experience was so much more comfortable than those warm rides on the monorail! While many were concerned about the temperatures in the gondolas, we're happy to report that guests need not be concerned!
5 – Inside the Gondolas – Roominess
The other aspect that makes the ride inside the gondola so comfortable is it's not crowded. The gondolas fit up to 10 people. While we never had more than six adults in our cabins, there was plenty of room for more. There are benches on both sides of the gondola, and you must remain seated during your flight. This ensures that you'll be able to sit back, relax, and enjoy the ride. You won't be crammed in like the bus or monorail. It makes for a really lovely ride experience.
6 – Wheelchair, ECV, and Stroller Friendly Cabins
Note that wheelchairs, ECVs, and strollers are allowed inside. Children do NOT need to get out of their strollers to ride unless the stroller is too wide to fit through the door. The space between the benches is not as wide as some double strollers may be, so parents, be prepared to break down your stroller if needed.
There is also a separate line for guests needing additional time to board. These cabins are set apart so that guests with wheelchairs or strollers can board safely without the gondola moving. It also means that the other gondolas will not be starting and stopping repeatedly. Disney Cast members will operate the system to allow these gondolas to easily re-join the main line. It's a fantastic system that was very well thought out.
7 – Amazing Views
The Disney Skyliner soars above waterways and wooded areas alike on its way to theme parks and Disney resort hotels, and guests are treated to views never before seen. On the Disney Skyliner, guests will discover bird's-eye views of Disney's Hollywood Studios, including the Hollywood Tower Hotel. Approaches to Epcot are equally eye-catching, as the countries around World Showcase Lagoon come into view with iconic Spaceship Earth in the distance. You'll also be treated to great views of the France Pavilion and get a good look at the construction progress for Remy's Ratatouille Adventure, which is set to open next year.
Click here to watch a video of some views from the Disney Skyliner! 
8 – A Quiet Way to Travel
The other aspect of the ride experience that was surprising to me was just how peaceful the ride was. While riding up in the sky, it's so quiet and tranquil. You get a chance to sit and relax and take in the beautiful views. We expect that the Disney Skyliner will be a very popular way to travel around the Walt Disney World Resort.
9 – Quick and Efficient Travel Option
What's also amazing about the Disney Skyliner is how fast it is. From the Art of Animation/Pop Century station to Disney's Caribbean Beach station is a short three-minute ride. From Caribbean Beach to Hollywood Studios is also a few short minutes. From Caribbean Beach to Epcot is under ten minutes. You don't have to worry about traffic, stop lights, etc. slowing the trip down. We previously mentioned that gondolas are pulled off the main line for boarding wheelchairs and strollers, so stops while traveling should be minimal. While we were riding on Opening Day during normal operating hours, the monorail did stop a few times. The stops were usually very short and it was never really too bad. As time goes on, we expect these stops to be minimal.
10 – A New Easy Way to Resort Hop
In addition to convenient theme park access, guests staying at Disney resort hotels accessible by Disney Skyliner will have quick-and-easy transportation to a world of other dining and entertainment options. These include all the fun of Disney's Boardwalk entertainment district, access to Epcot through the International Gateway station, and restaurants and recreation found at the resort hotels serviced by Disney Skyliner.
This is a huge benefit that shouldn't be overlooked. Before the Disney Skyliner, it was challenging to travel from resort to resort. You had to travel to a park or Disney Springs and then transfer to a bus for the resort. You could get a taxi, Uber, or Minnie Van, but those are not free. The Disney Skyliner changes all that. Want an evening at Disney's Boardwalk? Then simply travel to Epcot on the Skyliner and walk over. This also works for character dining at Cape May Café at Disney's Beach Club Resort or seeing the Gingerbread display at Disney's Yacht Club Resort. Want to try that latest Disney cupcake at Art of Animation? Just hop on the Skyliner and make a visit. Disney's Riviera Resort, opening December 16, 2019, also has a station and will offer a character breakfast and signature dining with amazing views at Topolino's Terrace. It will be so nice to easily access this resort from the Skyliner as well!
11 – Disney's Caribbean Beach – The Place to Be
We think it's worth mentioning that if you're not sure where to stay at your next Walt Disney World vacation, you'll want to seriously consider Disney's Caribbean Beach Resort. Not only is it a fantastic moderate resort, but as the hub of the Disney Skyliner, you'll be in a terrific location to easily access Disney's Hollywood Studios and Epcot. Need a little bit more sleep in the morning? Want to head back to the room for an afternoon nap or a swim without it taking up too much time? When the time to travel is under five minutes to Disney's Hollywood Studios, it makes that option so much easier and practical to do. Also, dropping into Epcot for an evening at World Showcase is also that much easier.
12 – Disney Skyliner Merchandise
Disney has a released a line of Disney Skyliner merchandise that is a whole lot of fun and inspired by the Skyliner itself. The new collection offers something for every member of the family, including t-shirts, hoodies, mugs, pins, MagicBands, Christmas ornaments, toys and more, while Disney annual passholders and DVC members have some amazing options just for them.
Merchandise is available at these locations:
International Gateway at Epcot
Mickey's of Hollywood at Disney's Hollywood Studios
Disney's Pop Century Resort
Disney's Art of Animation Resort
Disney's Caribbean Beach Resort
Merchandise will also be available at the new Disney's Riviera Resort when it opens later this year!
Click here see a video of some of the merchandise available on our Instagram page!
13 – Joffrey's Coffee & Tea Co
Joffrey's Coffee & Tea Co.®, the official specialty coffee of Walt Disney World Resort, Disneyland Resort and Disney Vacation Club, welcomes guests with a quick-service location adjacent to the station at Disney's Caribbean Beach Resort. The menu of coffees, pastries and specialty items will include the new "Toffee Flight Latte" found initially only at the station. The latte blends sea salt caramel toffee and dark chocolate, topped with toffee and chocolate crumbles and a cloud of whipped cream.
14 – Fun Facts: Disney Skyliner
Project Announced: July 2017
Launch Date: September 29, 2019
Miles of Cable: 6
Number of Lines: 3
Loading Stations: 5
Number of Gondolas: Nearly 300
Maximum Seating Capacity per Gondola: 10
Resort Hotels Connected: 4
Theme Parks Connected: 2
15 – Overall Thoughts
We can't say enough about the Disney Skyliner. Our expectations were high, and Disney exceeded them. The ride experience is comfortable, relaxing, and offers a really unique way to see and experience Walt Disney World. We really think Disney has hit a home-run with the Disney Skyliner and has brought guests a fun, efficient, and magical way to travel throughout the resort! Next time you're visiting, be sure to take a ride on the Disney Skyliner!
For a no obligation, FREE Quote on a Disney vacation package, please contact our travel partner Magical Vacation Planner at 407-442-0227 (407-442-0215 for Spanish). You can also request a FREE quote online by Clicking HERE.