Sadly, the last day of our cruise had arrived. However, we had so much to look forward to, we knew we would make the most of it! We enjoyed learning more about the Disney Dream including some of her secrets on a very informative tour, enjoyed a fantastic brunch at Palo, had fun on the pool deck, loved meeting characters in their holiday outfits, cried at the end of "Disney's Believe," enjoyed dinner at Royal Palace, and said goodbye with "See Ya Real Soon" holiday edition. It was a jam-packed day and so much fun! Learn more below!
1 – Art of the Theme Ship Tour
We kicked off the day with a tour offered to everyone called 'Art of the Theme Ship Tour.' This tour is given by a trained cast member who takes guests through an in-depth look at the design intricacies that make Disney Cruise Line ships so amazing. On our tour, we started in the Meridian Lounge where every design element from the sextant shaped bar, to the steamer trunk cushions, to the passport stamp wallpaper evoked the spirit of classical nautical voyages. When exploring Remy, the French specialty dining restaurant inspired by the Oscar-winning animated feature film Ratatouille, our guide Harlequin pointed out the attention to detail including the availability of a 1961 Chateau Latour and a 1947 Chateau Cheval Blanc on the wine list, the two wines featured in the film and widely considered some of the best ever produced. Both are available to enjoy for $13,000 and $25,000 respectively.
As we moved throughout other areas of the ship, we learned about how and why the imaginers chose the names, materials, colors, art, and more. We also learned some fascinating facts about the architecture of the ship such as how the midship of deck five leading is a bit shorter in height to create forced perspective in the grand central atrium, giving it the feeling that the space is much larger than it actually is. We learned so much, and if you ever get the chance to sail on any of the Disney ships we highly recommend this tour.
2 – Palo Brunch
One of the experiences we were looking forward to all week was brunch at Palo, an adult-only restaurant named after the colorful poles that line the canals of Venice. At Palo, Disney Cruise Line passengers experience excellent dining in an intimate atmosphere. We had enjoyed dinner at Palo on our last Disney cruise, so we were very excited to enjoy a champagne brunch with unsurpassed service and inspired modern Italian cuisine.
Palo offers an adult-only champagne brunch on sea days and select port days. The brunch features breakfast items, Palo's signature pizzas, made-to-order entrées, seafood, a selection of international cheeses, fresh bread and pastries, desserts, champagne, and mimosas. The selection was so impressive! There was so much to eat, and everything we tasted was delicious. As usual, the food was perfect, as was matched only by the level of service received.
Reservations are required for all Palo dining experiences. There is a $40 charge for dinner and brunch, plus the cost of alcoholic beverages. It is worth every single penny. At only $40, this dining experience is a steal. The food quantity and quality, along with the superior service you will receive, make this one a no-brainer. We feel that dining at Palo is an absolute must on any Disney cruise.
3 – Meeting Disney Characters
A highlight for many during a Disney cruise is the opportunity to meet your favorite Disney characters. Throughout the cruise, the characters will appear in different outfits. On embarkation day, you'll usually find Mickey and the gang in their cruising outfits. On Castaway Cay, you'll find them in island attire. Since our cruise was a holiday-themed cruise, we were able to meet them in holiday outfits as well! It was so much fun going around the ship to meet them and get pictures.
Click here to see the characters in their holiday outfits!
We mentioned in our packing article that our friends over at Main Street Buttons sent us their Jumbo Very Merrytime Cruise button so that the characters would have a fun, unique item to sign. Getting the signatures was a lot of fun, and now we have a fantastic souvenir from our cruise! We can't say enough about Main Street Buttons Co. We highly recommend their shop if you're looking for buttons for your next vacation!
4 – Storytime with Mrs. Claus
Late in the afternoon, we were able to enjoy Storytime with Mrs. Claus. There was a great turnout. Many children were eager to hear from Mrs. Claus, who was sitting in her rocking chair in front of the Christmas tree in the lobby atrium. She read-aloud two stories, "Rudolph the Red-Nosed Reindeer," and "The Night Before Christmas." At the end of the storytime, Mrs. Claus was joined by some surprise guests: Mickey, Minnie, Donald, Daisy, and Goofy! There was a brief time of mixing and mingling with the characters for photos, including Mrs. Claus herself. It's a lovely holiday offering, especially for young children.
5 – Vanellope's Sweets and Treats
We didn't want to end our cruise without a visit to Vanellope's Sweets and Treats. Here you'll find handmade gelato and ice cream, an assortment of candy, and novelty treats available for purchase.  Vanellope's Sweets and Treat is inspired by the whimsical candy land of the Sugar Rush race car game in "Wreck-It Ralph." New flavors of gelato and ice cream are offered daily, along with a wide selection of toppings. Our ice cream treats were so delicious! For fun, I created an off the menu ice cream sandwich by purchasing their jumbo Mickey chocolate cookies and getting two scoops of French vanilla ice cream. I then simply made my own ice cream sandwich! It was so good!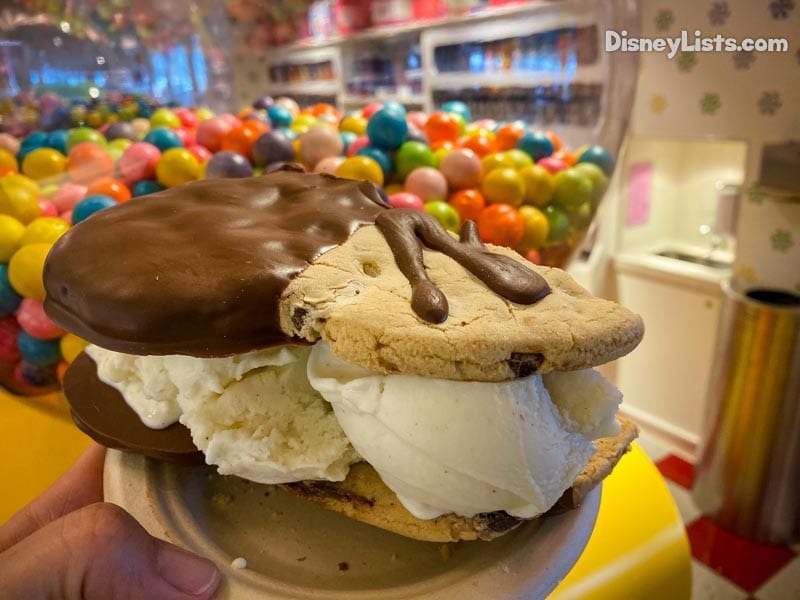 6 – Believe
The last production of our cruise was "Disney's Believe," a stage spectacular that combines a heartfelt story with a captivating musical score. The lavish production tells the story of a distracted father who, through the power of Disney magic, reconnects with his daughter and learns a valuable lesson about what is important in life.
"Disney's Believe" takes guests to the garden of Dr. Cornelius Greenaway, a brilliant botanist obsessed with cultivating his precious plants. Dr. Greenaway is so preoccupied with his garden that he overlooks the birthday of his daughter, Sophia. Saddened, Sophia makes a special birthday wish, and the impossible happens: Genie from Disney's "Aladdin" appears to make her wish come true.
Joined by a host of characters, Genie takes Dr. Greenaway on an enchanting journey into the world of Disney stories. Through spirited production numbers, Dr. Greenaway learns that magic is real and is embodied in his beloved daughter.
More than 20 of Disney's most beloved characters take the stage during "Disney's Believe," including Cinderella, Peter Pan, Mary Poppins, Belle ("Beauty and The Beast"), Rafiki ("The Lion King") and Princess Tiana ("The Princess and the Frog").
The show was so good. We have never been disappointed with a production on the Disney Cruise Line. They always are the highlight of our night. You don't want to miss this one!
7 – Dinner at Royal Palace
Our last dinner for the cruise was at Royal Palace, which is inspired by Disney classics "Cinderella," "Snow White and the Seven Dwarfs," "Beauty and the Beast" and "Sleeping Beauty." The décor features ornate details and custom furnishings and fixtures that incorporate iconic symbols from the films: glass slippers, apples, roses, and tiaras.
At Royal Palace, the feast isn't just for the eyes. Guests enjoy world-class continental French cuisine. The menu includes dishes fit for a monarch, including lobster and jumbo shrimp, escargot, Dijon-roasted rack of lamb, and beef tenderloin with garlic shrimp. The wine list features an excellent selection of Old-World wines. Breakfast, lunch, and dinner are served at this restaurant. We really enjoyed our final dinner at the Royal Palace.
8 – See Ya Real Soon
On the final night of every Disney cruise, you can enjoy a short farewell show, 'See Ya Real Soon,' in the lobby atrium. We enjoyed a special holiday edition of the cheerful farewell celebration with beloved Disney characters and the ship's crew in a musical finale led by Mickey Mouse. The end of a Disney cruise is always so sad, but the final show makes it a bit easier to say goodbye!
For lots of photos and video from our final day, be sure to check out our Instagram Story highlight at the link below.
See lots of photos and video from Day 4 by clicking here for our Instagram Story highlight.
More Cruise Coverage:
Packing for Our Very Merrytime Cruise on the Disney Dream
Click here for our Day 1 Travel Log from Our Very Merrytime Cruise on the Disney Dream.
For a ton of photos and videos from Day 1, check out our Instagram Story highlight by clicking here.
Click here for our Day 2 Travel Log from Our Very Merrytime Cruise on the Disney Dream.
For lots of photos and videos from Day 2, click here for our Instagram Story highlight.
Click here for our Day 3 Travel Log from Our Very Merrytime Cruise on the Disney Dream.
Check out our Day 3 Instagram Story highlight for lots of photos and videos from our day!
Editor's Note: Walt Disney Parks & Resorts provided us a complimentary Very Merrytime Cruise and special media-specific events during the cruise. However, as always, the thoughts and opinions contained in this article are entirely our own.
For a no obligation, FREE Quote on a Disney vacation package, please contact our travel partner Magical Vacation Planner at 407-442-0227 (407-442-0215 for Spanish). You can also request a FREE quote online by Clicking HERE.