Spaceship Earth is closing for a complete reimagining. We knew it was coming. We finally know when, and we finally have some information about how the story will change. Details below.
Spaceship Earth is more than just the physical icon of EPCOT – it's a symbol of how the park continues to evolve. The attraction is a crucial piece of the historic transformation already underway at EPCOT, and the team at Walt Disney Imagineering is excited to start implementing a new vision for Spaceship Earth beginning May 26.
This means Spaceship Earth in its current form will close for a time starting that day, and the ideas WDI are working on inside that geosphere will be well worth the wait. The next iteration of Spaceship Earth will focus on the story of humanity, following our long journey from prehistoric humans to today brought to life with magic and depth that only Disney can deliver. Many of the moments you know and love will be updated in amazing ways, blended with brand-new scenes to tell a story about our human experience.
Today we're excited to share a few additional details of what guests can expect when this icon returns. Guests will visit Egypt, which is part of the current version of the attraction, but it will be an Egypt like you've never seen before, transformed through the power of light.
Throughout the attraction, guests will hear new narration and see how light plays a central role in our shared human journey, coming to life in dynamic ways in a celebration of the magic that's possible when we all come together.
Walt Disney once said EPCOT "would always be in a state of becoming," and Spaceship Earth has lived up to that vision for generations. This will be the attraction's fourth – and most ambitious – update since the park's grand opening on October 1, 1982.
RELATED ARTICLE: The NEW Epcot – Everything You Need to Know About the Transformation of Epcot
by Mike and Jamie Sylvester and Cindy E. Nykamp
The change has begun Disney fans! The foundation of Epcot as we know it is slowly transforming into a new generation of "immersive storytelling." A massive overhaul of many areas in the park is currently underway and will last through Walt Disney World Resort's 50th Anniversary in 2021. Disney has announced several new experiences and enhancements for the reimagined Epcot which we are excited to share here! Here's what you need to know about the transformation of Epcot along with more than 20 new experiences!
Epcot Transformation
Walt Disney once said Epcot "would always be in a state of becoming" – it is a place that changes with the times. Over the next several years, the Walt Disney World theme park will live up to that promise in a whole new way as it continues the biggest transformation of any Disney park in history, bringing the next generation of immersive storytelling to life through a plethora of new attractions and experiences.
Epcot will be unified with four neighborhoods that each speak to important aspects of the world and its people: World Showcase, World Celebration, World Nature and World Discovery. These neighborhoods will be filled with new experiences rooted in authenticity and innovation that take guests to new destinations, where "the real is made fantastic in a celebration of curiosity, hands-on wonder and the magic of possibility."
Closures Ahead of Change
Before we share all the exciting things to come, we must first talk about closures and changes you can expect to find currently or in the very soon. As part of any major redevelopment, change is necessary to bring the great things that are to come!
On September 8, 2019, The Fountains of Nations, Colortopia, Innoventions East, Nanooze Break, Club Cool, and Fountain View (Starbucks) closed. Club Cool will reopen in a new capacity at a future merchandise location. Starbucks has reopened at a location near World Showcase.
IllumiNations: Reflections of Earth's last show was September 30, 2019.
The Art of Disney is currently at the American Adventure pavilion, while the original location is being refurbished.
On January 5, 2020, Mouse Gear closed and is now operating at a temporary location at Innoventions East behind Electric Umbrella. The original location is being refurbished and is expected to open sometime in 2022.
Spaceship Earth will close for refurbishment on Tuesday, May 26, 2020. No word on when exactly it will reopen.
Recent Closures – February 2020
Electric Umbrella, as well as the rest of the center of Future World, closed on February 15, 2020. You'll find burgers at Sunshine Seasons and chicken nuggets at The Epcot Experience. A Taste Track kiosk will open soon near Test Track and will also have burgers and fries.
When entering the park guests are now directed to two newly created walkways on each side of Spaceship Earth. The right-hand path leads to The Seas, The Land, and Imagination!. The left side path leads to Guest Relations and then back to Mission: Space, Test Track, and the temporary Mouse Gear.
Click here to see a video of the recent changes from the monorail.
Four "Neighborhoods"
Epcot has had two defined sections for many years now including Future World and World Showcase. Disney's reimagined Epcot will now have four "neighborhoods"! The "World Showcase" will remain as one of the neighborhoods. Future World will become three separate neighborhoods, including "World Celebration," "World Nature," and "World Discovery." These neighborhoods are said to unify the park's theme and experiences. Here are the neighborhood descriptions according to Disney:
World Celebration will offer new experiences that connect guests to one another and the world around them.
World Discovery features stories about science, technology, and intergalactic adventure coming to life.
World Nature is dedicated to understanding and preserving the beauty, awe, and balance of the natural world. It will include The Land and The Seas with Nemo & Friends pavilions.
World Showcase will continue to be a celebration of culture, cuisine, architecture, and traditions – infused with new magic.
We've collected the new experiences that are on their way to Epcot. There are more than 20 new experiences! We've listed them in order by opening date!
1 – "Epcot Forever," World Showcase (now open)
Epcot's long-standing nighttime spectacular, IllumiNations: Reflections of Earth, ended its long run on September 30, 2019. Without missing a beat, Disney launched a temporary nighttime spectacular called "Epcot Forever" on October 1, 2019. This limited-time show will be a celebration of the past, present, and future of Epcot, built around the magical soundtrack guests have come to know and love at the park. Epcot Forever features fireworks, lighting, lasers, choreographed special effects, kites, accompanied by a stirring collection of songs that paints a colorful picture of Epcot.
Disney Parks Live Entertainment collaborated with noted conductor and composer Don Harper, who produced all-new arrangements of classic Epcot tunes to weave into the soundtrack of Epcot Forever. "'Epcot Forever' is a celebration of what Epcot has been and what Epcot is going to become," said Alan Bruun, show director for Disney Parks Live Entertainment. "Music is the star of the show, and we use songs going back to the very beginnings of Epcot to music in the park today – from attractions, spectaculars, and other shows – and put them into a fireworks spectacular on the lagoon every night. Guests hear music they know and love but in a whole new way."
Click here to watch the finale of "Epcot Forever."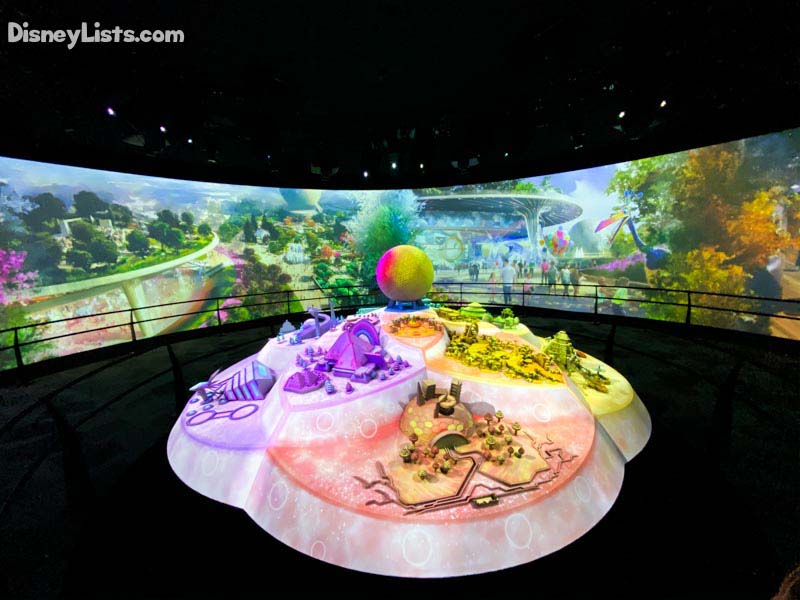 2 – Epcot Experience, Odyssey Events Pavilion (now open)
The Epcot Experience provides the first in-depth look at the park's transformation, blending cutting-edge technology and fun with personal moments to create an environment that honors everything guests love about Epcot. Located inside the Odyssey Events Pavilion – between Test Track and the Mexico pavilion – the Epcot Experience invites guests into a multi-faceted celebration of the past, present, and future of the park. Here you'll enjoy a 360-Degree film presentation, photo opportunities, and see special items on display. This is a fantastic introduction to everything that's coming to the park. Click here to learn more.
Click here for a video of the 'Journey of Water' segment from the film.
3 – New Character Greeting Areas (now open)
On September 8, 2019, the first half of Epcot Character Spot closed and Mickey, Minnie, and Goofy went to a temporary greeting spot across the way in Innoventions. That area and the other side of Epcot Character Spot (where Baymax and Joy and Sadness greeted) closed on January 4, 2020.
On January 5, 2020, Mickey Mouse moved to a new location at the Imagination! pavilion, as part of the Disney & Pixar Short Film Festival. Just inside the entrance, you'll discover Mickey greeting his fans and celebrating his on-screen stardom. Check out the photos below of Mickey's new greeting area. (Click to enlarge any photo).
Joy is now greeting guests inside the Imagination! Pavilion across the way from Wreck-it Ralph and Venellope. Baymax and Sadness are no longer greeting guests. There is no word on whether or not they will return.
When we visited, Goofy was greeting guests in Future World. Minnie Mouse was at the World Showcase Gazebo, and Daisy was seen outside of the temporary Mouse Gear. However, those locations are subject to change. For those three characters, you're best bet is to check the Times Guide or your My Disney Experience App for their current location since the greeting locations are subject to change.
4 – 3 New Films Throughout Epcot (now open)
Awesome Planet, World Nature, The Land
It is an "awesome planet," isn't it?! A new film called Awesome Planet is now open in The Land pavilion. The film showcasse the spectacular beauty, diversity, and dynamic story of our earth. Industrial Light & Magic (which provided the cinematic foundation for the Star Wars franchise) is creating "spectacular nature photography, immersive in-theater effects, and space sequences." The film also has an original musical score from Academy Award-winning® composer Steven Price.
"Beauty and the Beast Sing-Along," World Showcase, France Pavilion 
This new film in the France pavilion is directed and produced by Don Hahn, producer of the animated and live-action "Beauty and the Beast" films, and invites guests to participate in a twist on a tale as old as time. It also features narration from Angela Lansbury, who played Mrs. Potts in the original film. The new sing-along runs in rotation with "Impressions de France," which received an upgrade to 4K projection.
"Canada Far and Wide in Circle-Vision 360," World Showcase, Canada Pavilion
"Canada Far and Wide in Circle-Vision 360" replaces "O Canada" in the Canada Pavilion. The new film includes new scenes, a new musical score by Canadian composer Andrew Lockington and new narration by award-winning actors Catherine O'Hara and Eugene Levy.
Click here to learn more about these three new films that are now open at Epcot!
5 – Regal Eagle Smokehouse: Craft Drafts & Barbecue, World Showcase, American Adventure (now open)
Are you a fan of barbecue? Well, then you should be making plans to visit the American Adventure Pavilion around Epcot's World Showcase. A quick-service restaurant called Regal Eagle Smokehouse opened on February 19, in the former Liberty Inn location. This modern barbecue smokehouse features American barbecue and brews. The restaurant has a large smoker for food prep which we are sure will make the yummy smell pour out into the pavilion. Take a look at some of the menu items by clicking here!
6 – Space 220, World Discover (early 2020)
Get ready for an out-of-this-world experience! We're talking space, and now we get to eat there! An expansion of the Mission: SPACE pavilion, Space 220 is a set to be a table-service restaurant featuring a dining experience from "space" … 220 miles from Earth to be exact. Guests will board a special shuttle (aka elevator) that will make it feel like they are genuinely leaving Earth in anticipation of an atmosphere and cuisine set to match the experience. This high-tech restaurant will feature daytime and nighttime views of Earth outside of the massive "windows" that look upon the stars. An astronaut may even float by! The restaurant is expected to be two levels and offer 376 seats. It will be operated by the Patina Restaurant Group, which we can thank for restaurants like Morimoto Asia and Maria & Enzo's. Opening in "early 2020″, we expect reservations to be available very soon for Space 220!
7 – Disney's DuckTales World Showcase Adventure (2020)
Disney's DuckTales World Showcase Adventure invites guests to join Scrooge McDuck, Donald, nephews Huey, Dewey and Louie, Launchpad and Webby in search of priceless treasure. Using the Play Disney Parks mobile app, guests take a trip around World Showcase discovering exotic destinations, exciting mysteries, and maybe even a few thieves, villains and supernatural guardians of ancient artifacts. This will be the next iteration of a popular interactive scavenger hunt around World Showcase guests have enjoyed for years as they experience the magic of possibility at Epcot.
8 – Remy's Ratatouille Adventure, World Showcase, France Pavilion (summer 2020)
Remy's Ratatouille Adventure, opening summer 2020 in the France pavilion at Epcot, brings guests on a super-sized adventure with Chef Remy through Gusteau's restaurant.
9 – La Crêperie de Paris, World Showcase, France Pavilion (summer 2020)
Summer 2020 will also see the debut of a delicious new restaurant in the France pavilion, La Crêperie de Paris, offering both table- and quick-service options featuring a menu from celebrity chef Jérôme Bocuse. We're looking forward to checking out these new options in the expanded France pavilion!
10 – Wondrous China, World Showcase, China Pavilion (2020)
Keeping up with technology, Disney has announced they are working on updating the China Pavilion. Currently, "Reflections of China," feature a roughly 14-minute film in Circle-Vision 360. These upgrades are said to include new, seamless 360-degree Circle-Vision along with new scenery images. "Wondrous China" will replace the current film.
11 – "HarmonioUS" (2020)
Epcot Forever will continue into 2020 when it then makes way for the debut of the next epic Epcot nighttime spectacular called "HarmonioUS," as part of the park's multi-year transformation. Disney has shared that HarmonioUS will be the "LARGEST nighttime spectacular ever created for a Disney park!" As if that doesn't get us excited enough, HarmonioUS is said to use familiar Disney tunes that have been reinterpreted by artists from around the globe. Much like Rivers of Light in Animal Kingdom, we can expect massive floating pieces and choreographed moving fountains. On top of that, Disney has shared HarmonioUS will have custom-build LED panel, pyrotechnics, lasers, and more!
12 – New Entrance Plaza, World Celebration (2021 – Walt Disney World Resort's 50th Anniversary)
First impressions are everything, right? Well, Disney has decided to make a shift right from the start with a new entrance plaza to Epcot. The former stone displays of the "Leave a Legacy" program have already been moved to a location outside of the park entrance. This program that previously allowed guests to leave their legacy by including a photo and names or just their name on metal plaques, closed in 2007. The "Leave a Legacy" plaques have been promised to remain on display until 2027. The removal of these stones will allow for a new first impression into the "World Celebration" neighborhood of Epcot. The new entrance will be a refreshing sight as art renderings feature lush greenery, natural shade, and a reimagined fountain. We believe the new entrance will be a much warmer and welcoming "hello" as guests step foot into Epcot.
13 – Spaceship Earth Stays (but with changes), World Celebration (2021 – Walt Disney World Resort's 50th Anniversary)
We are happy to report our beloved Spaceship Earth (the big Epcot ball) will remain as part of Epcot's transformation! There will however be changes to the Spaceship Earth attraction (inside the ball). The changes to this attraction are said to keep some of the current scenes with new ones making their way in for a focus on storytelling instead of the current communication development. With new narration and music, we are excited to see the changes! According to Disney:
"Guests will follow a magical "story light" that brings the entire experience to life in dynamic ways, giving each scene energy and beauty that ties the entire journey together."
We're fine with these changes and are simply thankful this beautiful icon will remain as the park's focal point.
Editor's Note: Spaceship Earth will close for refurbishment on Tuesday, May 26, 2020. No word on when exactly it will reopen.
14 – Dreamers Point, World Celebration (2021 – Walt Disney World Resort's 50th Anniversary)
Continuing right along with Spaceship Earth, there will be a new experience as you exit this attraction! Dreamers Point will be an area for, well, dreamers of course! There will be views of the World Showcase, a new statue featuring the greatest dreamer we know – Walt Disney, a wishing tree, and a story fountain. This area truly sounds like a dreamer's delight!
15 – A Three-Level Pavilion (2021 – Walt Disney World Resort's 50th Anniversary)
As mentioned in the closures listed above, several changes are coming to this area of Epcot. Disney has shared the space between Spaceship Earth and the World Showcase will feature a new pavilion for live events to be held for the many Epcot festivals. It will provide a stunning elevated view of the entire park and an ideal spot to witness Epcot's nighttime spectacular, including the new HarmonioUS we mention below. This beautiful three-level structure will have one of the most remarkable architectural designs at any Disney park, featuring a plaza level, a middle expo level, and a park that sits in the sky on the top level.
16 – Guardians of the Galaxy: Cosmic Rewind (2021 – Walt Disney World Resort's 50th Anniversary)
We are most excited about this attraction! Ellen's Energy Adventure moved out in 2017 (sorry Ellen!), and Epcot revealed a massive Guardians of the Galaxy-themed coaster in its place called Guardians of the Galaxy: Cosmic Rewind. By massive – we mean four Spaceship Earth attractions could fit inside of this one building! Construction started quickly, and the structure is noticeable the moment you come near the park entrance. This isn't just any roller coaster, but one of the longest indoor roller coasters in the world. It's said to be a unique coaster experience too, as it tells a story in which your ride vehicle shifts to follow the storyline. Disney announced guests will:
"Start in the "Galaxarium," a planetarium-like exhibition that explores the similarities and mysteries of the formation of Earth's galaxy and Xandar. Guests will be invited to learn more about the treasures Xandar has to share – until the moment when the Guardians of the Galaxy arrive, and adventures across the cosmos ensue."
And get this! This coaster will rotate 360 degrees and be the first reverse launch Disney coaster. Mind-blown! We'll be the first in line for this one.
17 – PLAY! Pavilion (2021 – Walt Disney World Resort's 50th Anniversary)
Have you ever noticed the large golden-dome in Future World, located near Mission: SPACE? It was formerly known as the Wonders of Life Pavilion and home to attractions including Body Wars and Cranium Command between 1989 and 2006. After it closed on January 1, 2007, this pavilion has been used as the Festival Center for Epcot's seasonal festivals. Disney has decided to breathe new life into the golden-dome by making it a "PLAY! Pavilion". So, what exactly is a Play Pavilion? Disney calls this PLAY! Pavilion the first of its kind in the form of an innovative and interactive metropolis. "Play" is the keyword we keep seeing, with promises such as "interactive games, activities, and experiences." We know Edna Mode from The Incredibles will have a presence in the pavilion to help with uninspired style. We also know the four rambunctious DuckTales characters, Huey, Dewey, Louie, and Webby are involved in making a splash with a water-balloon fight. We are super curious and excited to see this one unfold!
18 – Journey of Water, Inspired by "Moana" (2021 – Walt Disney World Resort's 50th Anniversary)
Make way, make way! A Moana-inspired attraction is on its' way into Epcot's World Nature neighborhood! Much like Moana took her journey to the water, we expect this one to be a popular destination for all Epcot guests. Here's what we know so far about this attraction from Disney:
This lush exploration trail will invite guests to meet and play with magical, living water. The water will have a life of its own – just like Moana's friend, the ocean – and guests will learn about the importance of the natural water cycle.
Very little is known about this attraction, leaving us as curious as Moana was when she began her adventure!
19 – Cherry Tree Lane & Mary Poppins Attraction (2021 – Walt Disney World Resort's 50th Anniversary)
What a Supercalifragilisticexpialidocious idea! Disney has announced the United Kingdom pavilion will welcome a new "neighbor" within the pavilion featuring Cherry Tree Lane – the icon street where Mary Poppins visits the Banks family. Enter the Banks home at Number 17 and be prepared to experience the first Mary Poppins-inspired attraction. Want to know more about this attraction? We do too! Unfortunately, very few details have been released on this experience. A few rumors are swirling, but yes, they are just rumors at this point.
Whew – that's a LOT to take in! It's no joke that this is set to be the "biggest transformation of any Disney park in history." We'll keep you posted as Disney continues to release more news of what's to come for the reimagined Epcot!
For a no obligation, FREE Quote on a Disney vacation package, please contact our travel partner Magical Vacation Planner at 407-442-0227 (407-442-0215 for Spanish). You can also request a FREE quote online by Clicking HERE.