FastPass+ is a wonderful feature that is included with all park admissions. You manage your FastPass+ selections from your My Disney Experience account for the park you will be attending on a particular day. It can be overwhelming trying to determine how to use FastPass+ to your advantage and make sure you use them on the most popular attractions. Here are the top 13 attractions that we recommend that you always try to get a FastPass+ reservation for.
13 – Splash Mountain @ Magic Kingdom
While it's easier to walk onto Splash Mountain during the colder winter months, once the Florida heat begins to rise, Splash Mountain becomes the place to be for guests looking to cool off. Standby wait times can vary depending on the time of day as well since not as many guests would like the possibility of getting soaked first thing in the morning or late at night as the temperature goes down. But during the midday, when a refreshing plunge into the Briar Patch would be the perfect thing to counter the heat, many guests would covet a FastPass in the afternoon.
12 – Soarin' Around the World @ Epcot
This fantastic attraction at Epcot utilizes all of your senses, even your sense of smell. You get to travel over beautiful areas, well you at least get the sensation of flying without actually leaving the theater. The ride seats are elevated to hover in front of the huge, amazing theater screen so that you are entirely immersed in the experience from start to finish. Don't forget to look for hidden Mickey's, too! The ride is extremely popular. With the addition of a third concourse, the standby wait is not as bad as it has been in the past. If you cannot get the coveted FastPass for our #4 pick, you still will definitely want to try to snag this one as early as possible.
11 – Rock' n' Roller Coaster @ Hollywood Studios
Amazing Aerosmith music, loops, corkscrews, and 0 to 60 speeds… well, this coaster has them all. Plus, the coaster is entirely indoors in the dark, with the lighting perfectly placed at the moment that the Imagineers wanted you to see certain signs and features. With so few rides in Disney's Hollywood Studios and one of the few coasters across all of Walt Disney World, this one is quite popular. The FastPass will definitely help you save a lot of time that you can spend enjoying the rest of the park. Note that Hollywood Studios utilizes a Tiered system with its FastPass choices. Rock' n' Roller Coaster has moved back to Tier 2 (beginning February 19, 2020), which means you'll have a lot of different attractions to choose from. Which one you choose may be based on availability, but if you have thrill seekers in your group, this one is a great attraction to select for your FastPass.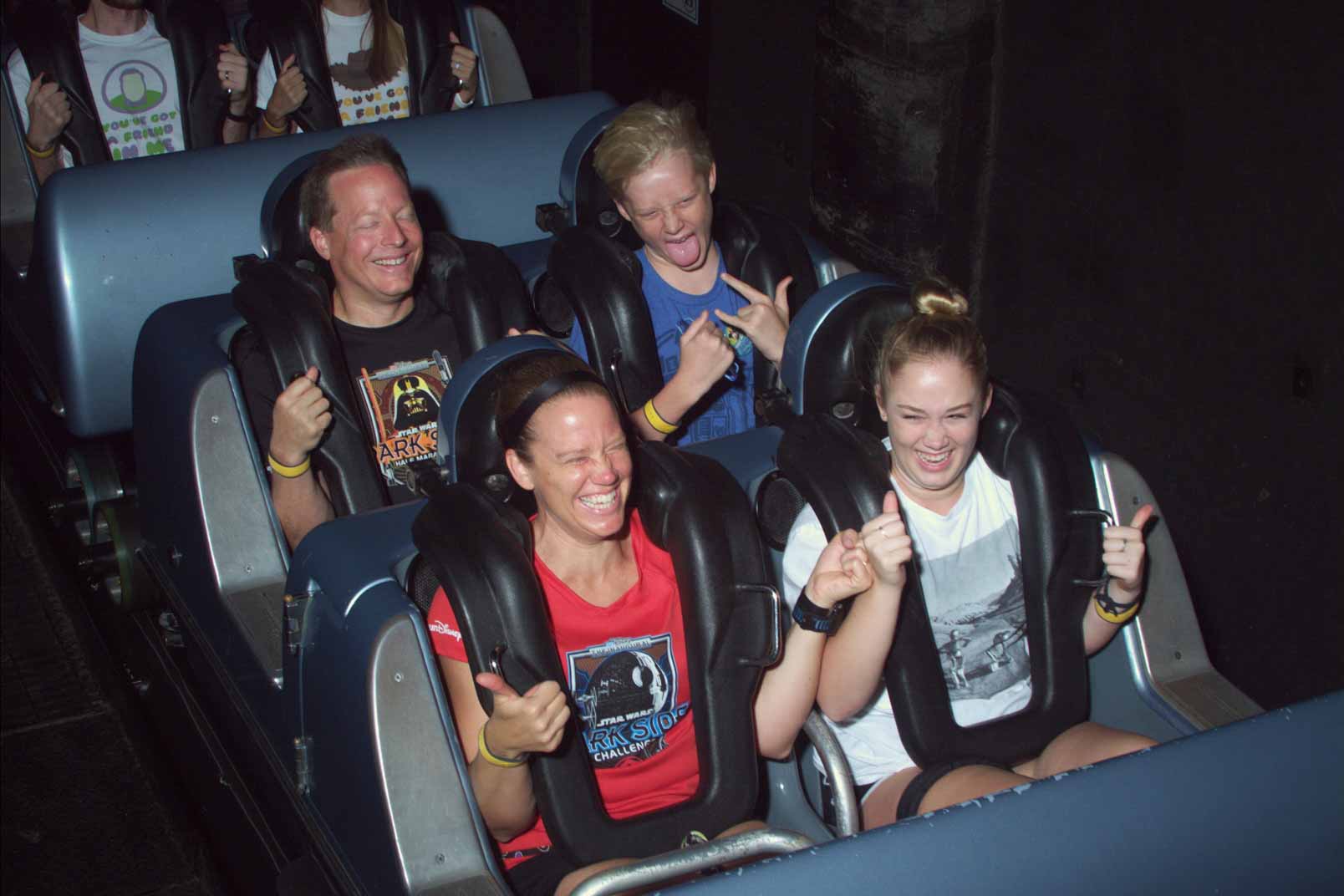 10 – Test Track @ Epcot
This is a fast-paced and fun thrill ride in Future World at Epcot. You get to create your own virtual vehicle and then get out on the "road" to see how it will perform. Your car reaches high speeds over 60 miles per hour and is a fun adventure for the whole family. The lines are almost always around 60+ minutes, so it is a great option to save the wait and FastPass instead.
9 – Expedition Everest @ Animal Kingdom
Hands down, this is the best thrill ride that Disney World has to offer. The overall theming and ride experience is terrific. The lines can get quite long. This is one of Disney's most expensive attractions that they have ever created, and is the most expensive roller coaster ever built in the world! It is easy to see why once you experience Expedition Everest for yourself. This attraction does have a single rider option, but those not wanting to ride solo (groups will be split up) should secure a FastPass for this attraction.
8 – Space Mountain @ Magic Kingdom
This is a classic attraction that guests have been visiting and enjoying year after year. Even though this attraction has been around for over 45 years, the popularity hasn't wavered. This trip through space is definitely an attraction that you want a FastPass for so you can use that time to enjoy all the many, many amazing attractions at the Magic Kingdom.
7 – Kilimanjaro Safaris @ Animal Kingdom
This is an attraction that you CANNOT miss when you visit Walt Disney World. The views of the savanna are breathtaking, and there is nothing like experiencing rhinos, giraffes, zebras, and many other animals roaming the savanna with nothing between you and them. There are also many other animals to be seen, even lions, crocodiles, and elephants, oh my! The FastPasses go quick, and the lines get very long, so definitely add this to the "must FastPass" list. 
6 – Seven Dwarfs Mine Train @ Magic Kingdom
The lovable world of Sleepy, Doc, Grumpy, Bashful, Sneezy, Happy and Dopey comes excitingly to life on the Seven Dwarfs Mine Train takes guests on a rollicking, musical adventure into the mine "where a million diamonds shine." The attraction features first-of-its-kind ride vehicles that swing back and forth during the ride. The journey accompanied by music from the film classic and scenes filled with Snow White, the Seven Dwarfs and playful forest critters. This attraction at the Magic Kingdom is arguably still one of the most popular rides in all of Walt Disney World with waits that rarely go below an hour. FastPasses for this attraction are still really difficult to get and is our number one pick for Magic Kingdom Park.
5 – Frozen Ever After @ Epcot
With two movies and a popular sing-a-long at Disney's Hollywood Studios, Frozen Fever is still here to stay. Over at Epcot, the attraction inspired by the blockbuster hit Frozen celebrates a "Summer Snow Day" in a family-friendly adventure. Frozen Ever After is now a few years old, but it is still really difficult to snag a FastPass for this attraction. Average wait times range anywhere from 60-90 minutes on most days, with a possible bump to 120 minutes on a weekend day. With Disney's tiered choices for Epcot, this means you'll have to forgo a FastPass for Test Track and Soarin' Around the World, but this attraction will have the longest wait; therefore, it is the best use of your Tier 1 attraction option.
4 – Slinky Dog Dash @ Hollywood Studios
Slinky Dog Dash, a fun, multi-launch, family-friendly roller coaster has been a huge hit with guests since it opened inside Toy Story Land in June 2018. Slinky Dog Dash has consistently been one of the hardest FastPass to get at Disney's Hollywood Studios because of its popularity. Generally, waits for this attraction range between 1-3 hours depending on when during the year you visit. Millennium Falcon: Smugglers Run, Slinky Dog Dash, and the upcoming Mickey and Minnie's Runaway Railway are in Tier One at the park. This means you'll need to choose one of them for your Tier One selection. Millennium Falcon: Smuggler's Run's standby line can often be longer than Slinky Dog Dash, which is why Slinky Dog Dash gets this spot in the lineup.
3 – Millenium Falcon: Smugglers Run @ Hollywood Studios
Millennium Falcon: Smugglers Run is an anchor attraction inside the new Star Wars: Galaxy's Edge. Guests can live out the dream of sitting in the cockpit to operate "the fastest hunk of junk in the galaxy" by taking the role of pilot, gunner, or flight engineer. You are on a mission to get some much-needed replacement parts immersing you into your own Star Wars story. The first six months of operation left Millenium Falcon: Smugglers Run out of the FastPass options at Disney's Hollywood Studios but is now an option. Be aware that this FastPass is extremely difficult to obtain for guests not staying at a Walt Disney World resort. Resort guests can choose their selections 60 days out, while the rest choose at 30 days. Early FastPass selection is one of the best benefits of staying at a Walt Disney World resort.
2 – Mickey & Minnie's Runaway Railway @ Hollywood Studios
Mickey & Minnie's Runaway Railway is now open at Disney's Hollywood Studios. This is the first Disney ride-through attraction featuring Mickey Mouse and Minnie Mouse, inviting guests inside a Mickey cartoon for a fun-filled adventure where "Mouse rules apply," and anything can happen! Guests may choose this attraction for Tier One at Disney's Hollywood Studios. Because it is new and Mickey themed, this attraction typically has standby wait times anywhere from 1.5 to 3 hours long, making it the first choice of a Tier One FastPass at Disney's Hollywood Studios.
1 – Avatar Flight of Passage @ Animal Kingdom
Avatar Flight of Passage inside Pandora – The World of Avatar was considered the best attraction on Disney property until it was recently bumped from the top spot by Star Wars: Rise of the Resistance. After nearly three years, the attraction is still immensely popular with guests and can still see wait times of over three hours on busy days. On Easter weekend in 2019, the attraction had a six-hour wait! It is still the hardest FastPasses to get at Disney's Animal Kingdom. The technology and Imagineering that went into the attraction has made Flight of Passage an amazing experience that keeps people coming back again and again. For more on what to expect be sure to read our article about Pandora – The World of Avatar.
Editors Note: At this time, Star Wars: Rise of the Resistance is not included in the FastPass options at Disney's Hollywood Studios.
Christy Caby also contributed to this article.
For a no obligation, FREE Quote on a Disney vacation package, please contact our travel partner Magical Vacation Planner at 407-442-0227 (407-442-0215 for Spanish). You can also request a FREE quote online by Clicking HERE.