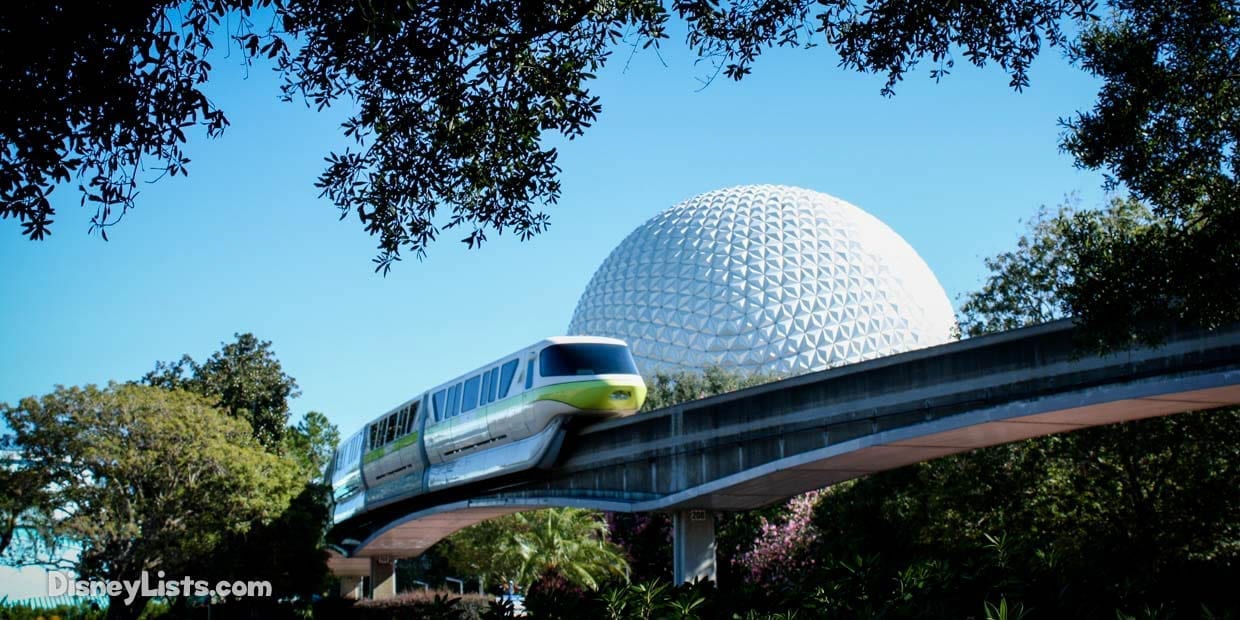 If you are as much of a Disney fanatic as we are, chances are you would be willing to skip… run… even leap-frog your way to Disney World's magical property! While that might sound like fun, thankfully there is a very broad array of options when it comes to navigating your way to, from, and through Disney World. Check out these points to better understanding Disney World's transportation options.
Getting TO Walt Disney World
 1 – FLYING:
Have you decided to channel your inner Peter Pan and take to the air to reach Disney World? Perfect! Booking a ticket from the Orlando International Airport (MCO) is your first step in transportation. We recommend booking your ticket as early as possible, as ticket prices into MCO do increase the closer you get to your arrival date.
Editor's Note: Disney will no longer offer Disney's Magical Express service for airport transportation, starting with arrivals January 1, 2022. Disney will continue to operate the service for new and existing reservations made at Disney Resort hotels for arrivals throughout 2021.
If you are a Disney Resort guest, you are welcome to take advantage of Disney's Magical Express – a complimentary motor coach transportation that will take you and your luggage to and from MCO and select Disney World Resorts. Simply reserve Disney's Magical Express when making your Disney Resort hotel reservation online or over the phone. Once your reservation is made, Disney will mail Magical Express information to you within 2-3 weeks prior to your arrival. This information will include luggage tags that need to be attached to each bag you plan on checking that you would like delivered to your Resort room.
For non-Disney Resort guests or for anyone preferring not to use the Magical Express, car rentals, cabs, and Uber are available from the Orlando International Airport. Multiple off-site hotels offer airport shuttles, so be sure to check with your hotel on transportation options they may have available for you.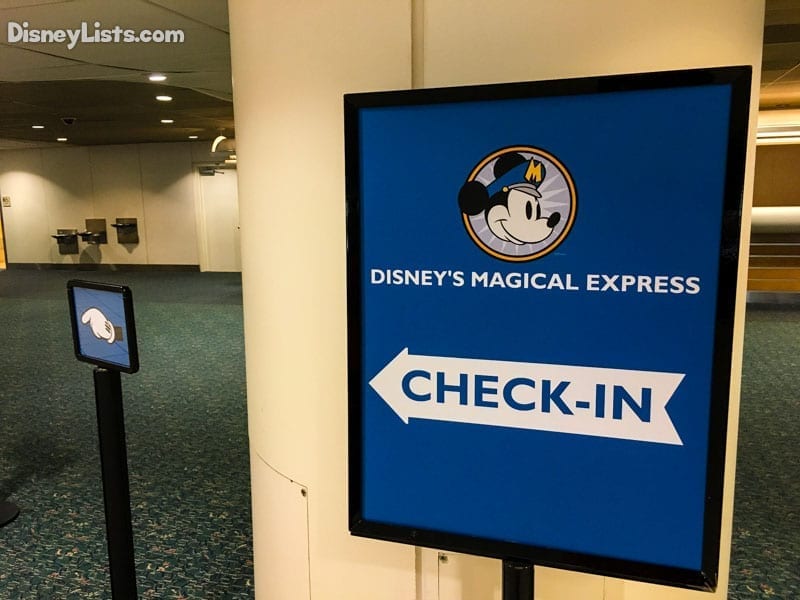 2 – DRIVING:
"Are we there yet?" has never sounded so wonderful when as Disney trip is involved!
Disney World is situated on the southwest side of Orlando off Interstate 4 which has multiple Walt Disney World Resort exits. Depending on where you are driving from, I-95 to I-4 is a popular route, as is taking I-75 to Florida's Turnpike to I-4.
Unfortunately, there is a major I-4 construction project known as the "I-4 Ultimate" currently underway that will affect traffic getting in and out of Disney World for several years. This project includes a stretch of 21-miles of I-4, just north of the Disney World property. We recommend keeping this in mind and if you can find ways to avoid parts of the construction take advantage of them!
Getting AROUND Disney World
1 – BUS Transportation:
Probably one of the most popular ways to get around Disney World is by taking their complimentary bus transportation. Anyone can use Disney bus transportation as no bus cards, no money, and no tickets are needed to climb aboard a Disney bus.
Bus transportation is especially helpful for guests staying at Disney Resorts, as buses are on routine schedules to go to and from multiple bus stops within each Disney Resort. Timetables are now conveniently available at resorts so you know when the next bus is coming. Buses from resorts go to theme parks, water parks, and Disney Springs.
Disney Resort buses don't go directly from one resort to another. You would have to go to a park or Disney Springs then catch another bus from that location to the resort you are seeking.
If you are visiting Disney Springs, don't expect to park there and take a bus to one of the theme parks, as Disney Springs buses only go to Disney resorts.
If you are presently at a Theme Park, bus transportation is available to other theme parks, Disney Resorts, and now to Disney Springs in the afternoon and evening. Taking a bus from one theme park to another is especially helpful for those with park hopping tickets. If you are interested, Disney now has an "Express Transportation Option" that is an additional fee for those looking for a faster option when park hopping.
2 – MONORAIL Transportation:
Editor's Note: During the phased reopening of Walt Disney World, the monorail line from TTC to Epcot is not operating. 
The beloved "highway in the sky" – the Disney Monorail, is not just convenient but an incredibly fun Disney transportation option! Just like bus transportation, the monorail can be used by anyone. The Monorail has three separate lines to navigate guests through Disney World.
The Resort Monorail makes stops at the Magic Kingdom park, Disney's Contemporary Resort, Disney's Grand Floridian Resort & Spa, Disney's Polynesian Village Resort, and the Transportation and Ticket Center (TTC). More about the TTC below! **

Something to note when using the Resort Monorail is the path it takes. It goes in the following order making a stop at each location – from the TTC to the Polynesian, to Grand Floridian, to Magic Kingdom, to Contemporary, then back to the TTC. This means that if you are staying at the Contemporary Resort, you might want to look at using the walking path from the Contemporary to Magic Kingdom instead of taking the Monorail – likely saving you 20 to 25 minutes from having to do the full Resort Monorail loop.

The Epcot Monorail originates at the TTC and goes back and forth from the TTC to Epcot.
The Express Monorail originates at the TTC as well and goes back and forth from the TTC to Magic Kingdom.
**So, what exactly is the Transportation Ticket Center (TTC)? The TTC is the most popular parking lot at Disney World! If you are driving to Magic Kingdom, this is the main Magic Kingdom parking lot. From the TTC you park then take a tram from your parking spot to the TTC hub. Here you can catch the Monorail as mentioned above, a ferry as mentioned below, and sometimes they even run buses from the TTC to Magic Kingdom depending on crowd size. Even if you aren't parking for Magic Kingdom, you can still reach Epcot and the Magic Kingdom Resorts (Contemporary, Grand Floridian, and Polynesian) from the TTC.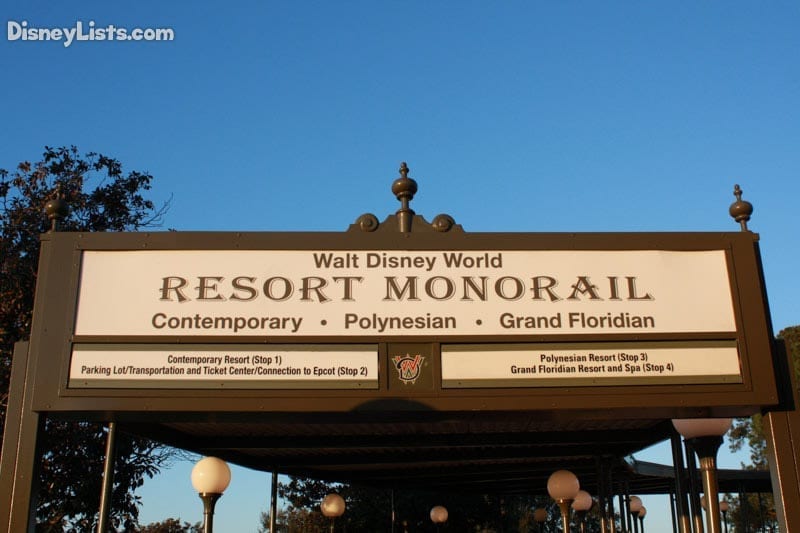 3 – WATER Transportation:
Whether it's a large ferryboat or smaller watercraft – transportation by water is another key to getting the most out of your transportation experience. Once again, water transportation is open to anyone wanting a ride and it's free!
Water transportation to and from the Magic Kingdom is available from the Transportation Ticket Center (TTC) as well as from some of the surrounding resorts. The TTC has a couple of beautiful, and very large Ferryboats that transport guests to and from the TTC and Magic Kingdom. There are also multiple smaller watercrafts that go from the Polynesian Resort, Grand Floridian, Wilderness Lodge, and Fort Wilderness.

Please note that water transportation at resorts begins 30 minutes before park opening. This means that if you would like to make it to Magic Kingdom before the opening show, you need to look at another transportation option instead of planning on boat travel. The time it takes to travel and get through security will likely have you missing the show!

Epcot and Hollywood Studios are accessible by boat for the Boardwalk and BoardWalk Inn, Beach Club Resort, Yacht Club, and Swan and Dolphin Hotels. We will say the Hollywood Studios water transportation seems almost always be super busy! There is a walking path that will take you to and from Hollywood Studios to the Boardwalk where you can access the above resorts and Epcot.
Disney Springs Resorts also offers water transportation to and from the Port Orleans Resort (both French Quarter and Riverside), Old Key West Resort, and Saratoga Springs – directly to Disney Springs.
4 – SKYLINER Transportation:
The Disney Skyliner soars along waterways and wooded areas alike on its way to theme parks and Disney resort hotels, while wide-eyed guests are treated to views never before seen. The Disney Skyliner is open to everyone and is free, just like other Disney transportation.
This "most magical flight on Earth" connects Epcot and Disney's Hollywood Studios to Disney's Art of Animation Resort, Disney's Pop Century Resort, Disney's Caribbean Beach Resort and the new Disney's Riviera Resort. Each of these places has its own dedicated Skyliner Station.
In addition to convenient theme park access, guests staying at Disney resort hotels accessible by Disney Skyliner have quick-and-easy transportation to a world of other dining and entertainment options. These include all the fun of Disney's BoardWalk entertainment district, access to Epcot through the International Gateway station, and restaurants and recreation found at the resort hotels serviced by Disney Skyliner.
Disney Skyliner hours vary by location. Check the MyDisneyExperience app for operation hours during your vacation.
5 – WALKING:
We've discovered that sometimes the fastest and easiest way to reach specific areas is by walking! While we enjoy a good walk, remember that your legs are in constant use at Disney World, so don't hesitate to wait for a bus, monorail, or water transportation option.
We mentioned above that it's a brief walk from the Contemporary to Magic Kingdom.
A new walkway between Disney's Grand Floridian Resort and Magic Kingdom is now open!
We also suggested above walking to and from the BoardWalk, Beach Club, Yacht Club, and Swan and Dolphin to Epcot or Hollywood Studios.
Saratoga Springs has a relaxing walk to Disney Springs!
6 – FOR HIRE Transportation:
The best way to beat the crowds is by hiring an Uber driver or Cab/Taxi driver. Of course, this isn't complimentary through Disney, but it is rather tempting from time to time to spend the money to travel without the crowds!
Uber is becoming increasingly popular at Disney along with the usual popularity of cab/taxi drivers which is helpful when arranging a pick up and drop off destination. May we suggest that if you are going to Magic Kingdom, you have your driver drop you off at the Contemporary Resort so you can walk. Otherwise, Uber and Cab/Taxi drivers will take you to the TTC.
7 – SELF-DRIVING Transportation:
You have a rental car or your own vehicle so you've decided to explore the roads of Disney World on your own! Sounds like a plan. Don't forget wherever you may decide to park your car, take a picture of the category and row number/letter. Disney parking lots are HUGE and it's easy to forget where your car is located.
The cost of parking a standard car at one of the theme parks is $25 per day. This $25 allows you to come and go as you please as well as park hop to another theme park without additional charges. There is a preferred parking option that gets you closer to the park entrance that goes for $50 per day if that is something you prefer to splurge on. Catch a tram from your car to the park entrance if you need to save your legs!
Parking at any of the theme parks is free for Disney Resort guests and Annual Passholders.
The water parks (Typhoon Lagoon and Blizzard Beach) have free parking.
There is a resort parking fee for overnight resort guests. Standard Overnight Parking charges per Resort Category: Disney Value Resorts – $15 per night, Disney Moderate Resorts – $20 per night, Disney Deluxe and Deluxe Villa Resorts – $25 per night. Complimentary standard parking is available to Guests staying at the Campsites at Disney's Fort Wilderness Resort. Each campsite provides parking space for one (1) motorized vehicle.
Disability Parking lots are available at all theme parks, as well as handicap parking at the water parks, resorts, and Disney Springs.
Disney Springs is booming with popularity and Disney planned on that with their multiple parking now available which includes two massive parking garages (Lime and Orange) and three surface parking areas (Grapefruit, Watermelon, and Strawberry). The Lime and Orange parking garages give the best access to the Disney Springs action in our opinion. Valet Parking is available for $20 if you prefer to splurge for even easier parking.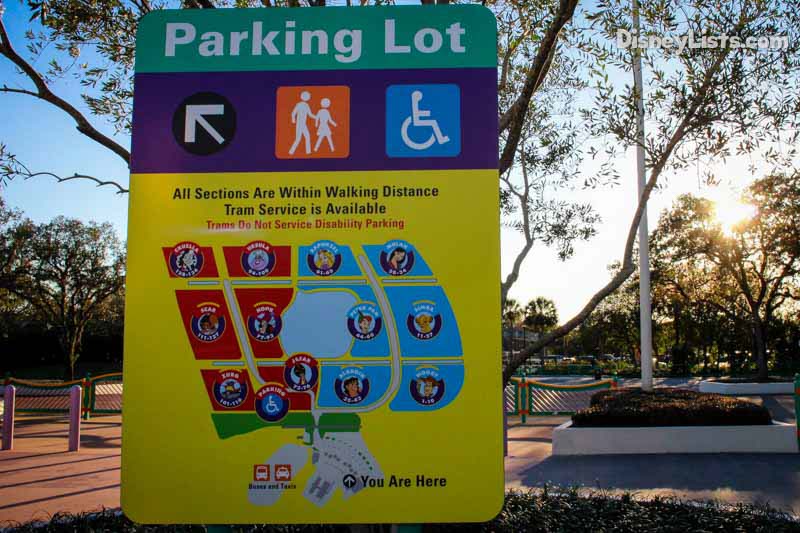 8 – TOP TIPS
A few top tips about getting around Disney World that you can learn from our blunders!
Have a transportation game plan in mind the day before – if not earlier.
Don't hesitate to ask Cast Members and Guest Services which transportation route they would recommend, especially if you are fighting the crowds.
Stay smart about getting to Magic Kingdom as it's the trickiest and most time consuming because you can't just drive right up to the park. Almost all transportation options are faster than having to drive in and park at the TTC.
Keep park-hopping simple by knowing what transportation reaches your destination best. For example, the monorail is super easy to catch from Magic Kingdom to Epcot with one simple transfer at the TTC. It's also easy and fun to take the Skyliner from Epcot to Disney's Hollywood Studios.
Check transportation schedules for operating hours. This is especially important if you are arriving early for dining or a tour, or staying very late in a park and needing to know when the transportation stops.
If driving, follow the road signs as Disney is no different than driving around a city at home!
Visiting Epcot Food and Wine Festival for example? Plan alternatives for arriving back to your resort safely if you plan to drink.
Take a picture of where you parked!
Going HOME from Disney World
It's a sad day when your Disney vacation ends and it's time to head home.
 1 – FLYING:
Editor's Note: Disney will no longer offer Disney's Magical Express service for airport transportation, starting with arrivals January 1, 2022. Disney will continue to operate the service for new and existing reservations made at Disney Resort hotels for arrivals throughout 2021.
If you are a Disney Resort guest, Disney's Magical Express complimentary motorcoach transportation will take you and your luggage back to the Orlando International Airport (MCO) from select Disney World Resorts. Follow the Magical Express reservation instructions you received before arriving at Disney for departure details and time information.
For non-Disney Resort guests or for anyone preferring not to use the Magical Express, you can return your rental car to MCO, take an off-site hotel shuttle if offered or call for Uber or a taxi/cab.
2 – DRIVING:
Typically, traffic isn't as busy when leaving Disney World as it is getting into the property. With that being said, sit back and expect some congestion and traffic. Hopefully, you've stocked up on fun souvenirs and tasty Mickey treats for yourself and the family to make the trip home a little less melancholy.
For a no obligation, FREE Quote on a Disney vacation package, please contact our travel partner Magical Vacation Planner at 407-442-0227 (407-442-0215 for Spanish). You can also request a FREE quote online by Clicking HERE.