Are you looking for some educational activities for your children during this time that many of us are teaching our children from home? We're excited that Disney is creating lots of ways to bring magic into your days at home with #DisneyMagicalMoments. We've already shared some posts such as the Imagineering in a Box, learning how to draw the true original Mickey Mouse, learning about the amazing animals at Disney's Animal Kingdom, a virtual view of the all-new "Magic Happens" parade at Disneyland, free Disney content to enjoy, and a virtual tour of Walt Disney Imagineering. Now Disney is sharing more free educational activities. Catch all the details below!
Here are all the details from Disney Cast Member Allison Citino:
Calling all parents, teachers and newly appointed teachers! Looking for ways to ensure your kids' minds stay active? Check out this series of Learning & Activity Sheets from Disney, Pixar and National Geographic. These make reading fun, and teaching easy! Crafted to use alongside your favorite books, the worksheets and guides engage kids in ways that are fun and enriching.
From coloring, to crafts and quizzes, the guides provide helpful instruction that take the excitement from the stories beyond the page.
There's something for every age and skillset.
National Geographic First Board Books are great for reads with little ones. With sturdy pages, and bold photos that highlight everything from dinosaurs to racecars and wild-animals, there's enough to keep babies, toddlers and grown-ups engaged by every page!
This worksheet of fun activities tests kids smarts as they read, and after! It includes finding animals and objects in the books, and other accompanying fun facts. Find it here.
Elephant & Piggie: The Complete Collection, chronicles 25 different adventures featuring the dynamic duo, and their friendship, in a compelling, comic book style.
This teaching guide for Mo Willems' Elephant and Piggie book directs aspiring storytellers ages 4-8 on ways to address their narratives, and identify the importance of character, respect and fairness. The guide also includes print-out crafts to make puppets! Get it here
For a mid-day school break, let's make a craft! Print out Disney's Frozen II Stick Puppets of Anna, Elsa and Olaf and inspire your next Drama class. Find it here.
Coco: A Story About Music, Shoes and Family is perfect for the Middle grade student in your life. This story retells the film and features original content about Miguel and his family expanding upon a rich, vibrant world and characters.
After reading all about the music, and Miguel's stunning and colorful journey through the Land of the Dead, use this free accompanying guide to engage in discussions and innovative activities that include creating a family tree! See it here.
In another Middle Grade favorite, Tristan Strong Punches a Hole in the Sky, seventh-grader Tristan is transported to a world populated by African-American folk heroes and West-African Gods. In order to get back home, Tristan must ally with the likes of John Henry and Brer Rabbit.
The Tristan Strong Punches a Hole in the Sky Activity Kit comes with a "Fact or Fiction" quiz, activities including crafts and creative writing exercises, and a special certificate of recognition for your reader. Get it here.
For more content from Disney Publishing Worldwide, follow @DisneyBooks on Instagram.
RELATED ARTICLE: Top 10 Educational Attractions in Disney World Parks
by Mike and Jamie Sylvester
When we think of Disney World, we don't necessarily think of education. But, guess what – there are several educational attractions in the Disney Parks! Plus, it's our favorite kind of education for young and old alike, as Disney proves learning a thing or two can be fun. Countdown with us through our list of the top 10 educational attractions in the Disney Parks.
[google_ad_Btf]
10 and 9 – Gorilla Falls Exploration Trail and Maharaja Jungle Trek @ Animal Kingdom
Disney's Animal Kingdom offers two self-guided walking tours through beautiful scenery and wildlife. The Gorilla Falls Exploration Trail (formerly called the Pangani Forest Exploration Trail) can be found near the exit of Kilimanjaro Safaris which is located in the Africa section of the park in the village of Harambe. The highlight of the Exploration Trail is the gorilla habitat which offers guests the opportunity to enjoy the beautiful creates in their natural habitat of grassy hills and waterfalls. Maharajah Jungle Trek can be found in the Asia section of the park near the exit of Kali River Rapids. This trail brings guests into the Royal Anandapur Forest where they can check out beautiful temple ruins, exotic landscaping, and beautiful Asian Tigers. Both trails offer a serene place for guests to get in touch with nature and enjoy all the beauty that it has to offer as well as an opportunity for many learning opportunities.
8 – Walt Disney Presents: One Man's Dream @ Hollywood Studios
So maybe this attraction won't teach you about world history or science technology – but we still feel it's educational importance in the fact that it provides the opportunity to learn about Walt Disney and the very place you are vacationing – Walt Disney World! Walkthrough Walt's childhood, browse through the start of his dreams and finish the exhibit with an understanding of how all of this Disney magic came to be.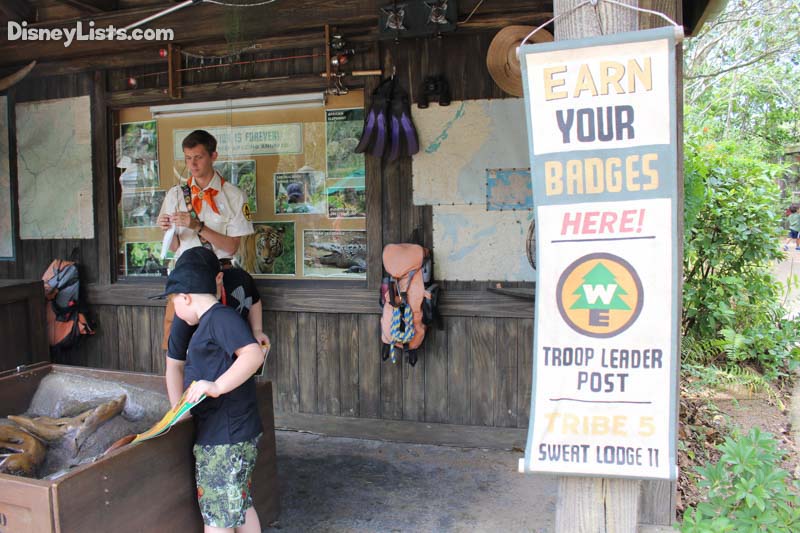 7 – Wilderness Explorers @ Animal Kingdom
The Wilderness Explorers is a program at Disney's Animal Kingdom to engage guests of all ages in learning about animals and the Wilderness. Russell from the Pixar movie, UP, was a Wilderness Explorer and loved earning his badges, so now guests at Animal Kingdom get to also be a part of the Wilderness Explorer crew. Search for animals, learn a little along the way, and earn badges, which are stickers that are placed within their Wilderness Explorers Guide. Add this program to your plans, and the kids will be having so much fun, they will have no idea they are learning along the way!
6 – The American Adventure @ Epcot
The American Adventure in Epcot is the perfect spot to take a rest in the air conditioning and learn a thing or two. This centerpiece pavilion, as the name implies, chronicles and celebrates the great adventure that has been the founding and evolution of the United States of American. The main attraction of the pavilion is a 30-minutes show featuring film, music, and appearances by some significant Americans. The show is not only educational, but it's also moving and inspirational. But to take your time at this pavilion from an A to an A+, don't miss the many displays of historical artifacts from America's past. As you enter the building, head to the right to explore a small museum area that is tucked away and missed by many.
5 – Spaceship Earth @ Epcot
Communication is key! Enjoy a slow-moving ride through the Epcot ball, Spaceship Earth, as the history of communication is unfolded. Step by step scenes with animatronics presents each stage of communication development from the Stone Age to the invention of the computer.
Editor's Note: Spaceship Earth is scheduled to close for refurbishment on May 26, 2020, as part of the transformation of Epcot. 
4 – Sea Base @ Epcot
Go under the sea at Epcot's Sea Base, located as you exit the clamshell attraction The Seas with Nemo and Friends. The 5.7-million-gallon Caribbean Coral Reef Aquarium is one of the largest man-made ocean environments in the world. With over 4,000 sea creatures, guests find themselves enthralled with the beauty of the creatures and water! Multiple exhibits and feeding times with divers are present at various times providing information about the variety of species and their natural habitat.
3 – Test Track @ Epcot
No, we didn't sneak this one on to the list just because it's one of our favorite attractions! Many may not agree that this is an educational attraction but if you have anyone in your family that wants to better understand and experience the latest technology and science that goes into designing transportation, this is the ride for them. Virtually design a car with careful planning in regards to capability (handling), responsiveness (maneuverability), efficiency (fuel-saving and environmentally friendly), and power (speed) in mind. Once your design is complete, you'll be able to test out your ride in comparison to other guests' designs.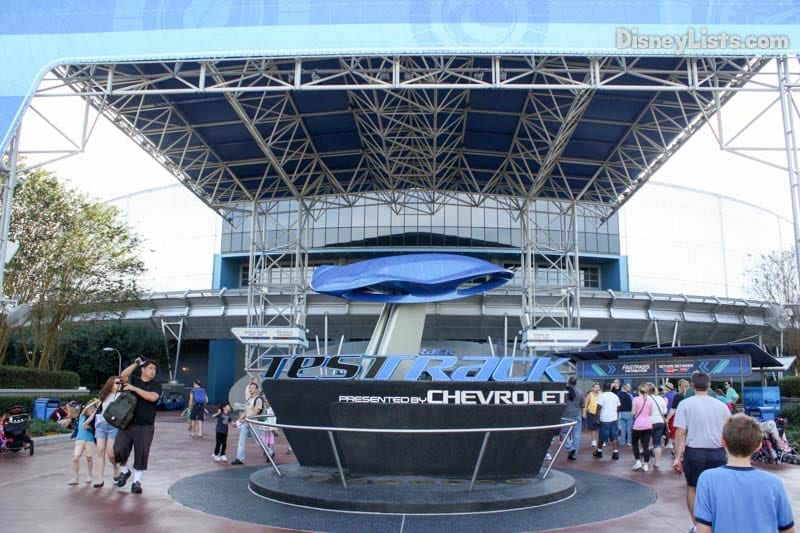 2 – The Hall of Presidents @ Magic Kingdom
Who better to walk through the history of the United States with than the 43 United States Presidents? Audio-Animatronic Presidents take the stage as history unfolds. From the detailed and educational gathering space before entering the attraction, through the full film and presentation of the Presidents, guests have the opportunity to appreciate the history of the U.S. and gather a sense of patriotism.
1 – Kilimanjaro Safaris @ Animal Kingdom
Kilimanjaro Safaris takes number one on our top educational attractions at Disney! Located at Animal Kingdom, guests have the opportunity to explore the closest experience to a true African safari in Florida. This 18-minute cruise in your expedition vehicle while on the look for the 34 different species is an incredible adventure for all ages! The Cast Member Safari Guide while it provides guests with a little lesson along the way. The scenery, animals, bumpy ride, and informative guide make Kilimanjaro our hands down top educational attraction must-do!
What's your favorite educational attraction? Let us hear from you!
DisneyLists author Caitlin Corsello also contributed to this article.
For a no obligation, FREE Quote on a Disney vacation package, please contact our travel partner Magical Vacation Planner at 407-442-0227 (407-442-0215 for Spanish). You can also request a FREE quote online by Clicking HERE.