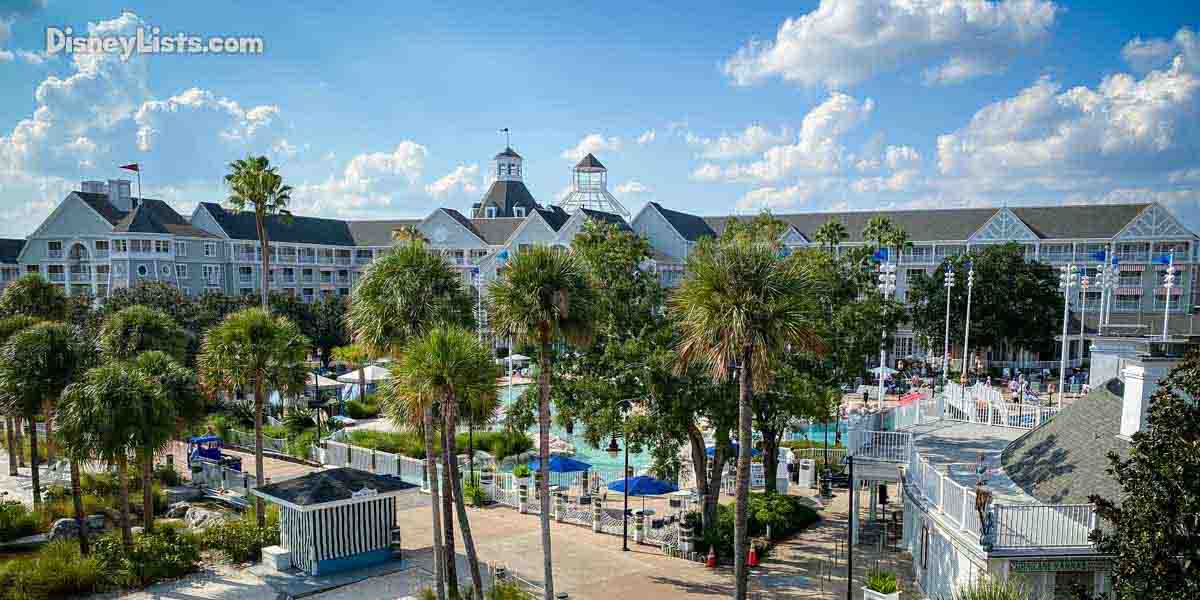 One of the most spectacular moments – you've arrived at your Disney Resort! It's official, your Disney vacation has begun. But maybe it's the middle of the day and you don't want to use up a park ticket for just a few hours? Don't fret! Here's are 10 things to start your vacation off right after checking in to your Disney Resort.
1 – Resort Exploring
You've been in the car all day or on a plane, and you'd really like to just stay back at the resort for the rest of the day. No worries! There are plenty of activities your family can take part in at your resort. Look into renting a bike to browse your resort's scenery. Maybe there are waterways around your resort, and you can rent a boat and go exploring! Of course, you can always go with the kids to check out the pool, playground, or arcade. Or maybe you are looking for some adult time – head to the lounge or bar located at your resort and let the vacation begin!
2 – Go Swimming
Disney's Imaginers have yet to disappoint us with their fantastic resort pools! Whether you are flying solo or with the family, the pool has something for everyone. Kiddie areas, splash zones, awesome water slides, comfortable lounge chairs, and snacks/beverages always close by. This is one of our favorite ways to unwind when we've reached our resort destination. Plus, keep in mind – it's not going to cost you anything!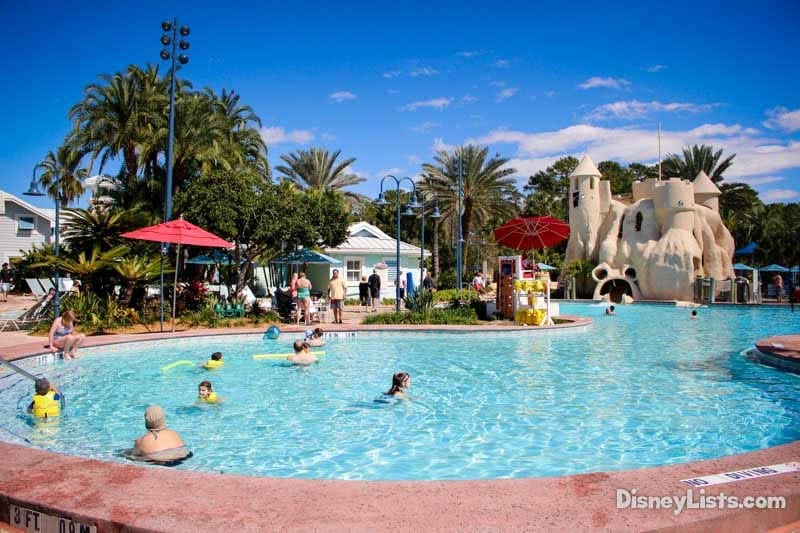 3 – Dinner Show
Editor's Note: During the phased reopening of Walt Disney World, dinner shows are temporarily suspended.
Our absolute favorite thing to do personally once we have arrived at our resort is to head off to a dinner show. Whether you are interested in the Hoop Dee Doo Musical Revue at Fort Wilderness Resort or Spirit of Aloha at the Polynesian Resort, you are in for a treat! We love this option because it seems to set the tone right away with fantastic food, Disney's exceptional service, and entertainment that's hard to put into words. These two shows are very different, so do your research beforehand and see which one appeals more to you and which one is available on your arrival date.
4 – Disney Springs Shops
No ticket needed! Catch a boat or bus from your Disney Resort and head over to Disney Springs for some shopping! With more shops than you can imagine, everyone will be able to find something that they just have to have. You can purchase just about any kind of merchandise you may need or want – extra pair of shoes for the week, sunglasses, hats, Disney gear, toys, snacks, and much more! Disney Springs is one of those shop till you drop locations that seem endless. Construction is currently underway at Disney Springs, but that won't stop you from spending several hours if you'd like shopping until your heart is content.
5 – Cirque du Soleil
Editor's Note: La Nuba has ended its long run at Disney Springs. That's the bad news. The good news is Disney and Cirque are collaborating on a brand new show that will be coming to Disney Springs. 
We're so excited for the new Cirque du Soleil show at Disney Springs! Depending on showtimes and days available, this could be a great start to your vacation. With odd and unbelievable talents, you'll be amazed and rather speechless throughout this 1 hour, 30-minute show. All ages are welcome! While you are at Disney Springs, you might as well make a dinner reservation there or plan on visiting one of the many bars/lounges for a continued evening of fun!
6 – Miniature Golf or Golf
Once you've checked-in, head out for some family time! Disney has two miniature golf courses, including Winter Summerland Miniature Golf and Fantasia Garden & Fairways Miniature Golf. This is the perfect option for a family of all ages to have a good time trying to sink their putt! Or maybe you aren't the miniature golf type – Disney has a great selection of golf courses where you could surely squeeze in a good 9 holes on your arrival day.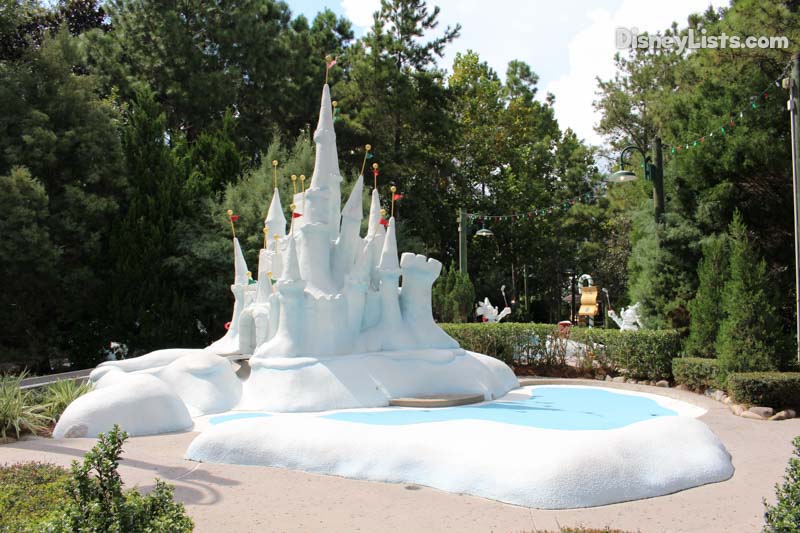 7 – Splitsville
Also located at Disney Springs, Splitsville makes our list for a great place to visit once you've checked-in. Splitsville has a wonderful menu with an excellent variety of food, perfect for different taste preferences and even picky eaters. We aren't simply mentioning Splitsville for its' delicious food but also because you can go bowling! Bowling lanes can be reserved in advance, so be sure to look into making a reservation if you are interested in this option. Food, fun, and bowling – sounds like the perfect first night of vacation!
8 – The BoardWalk
All this talk about Disney Springs, we just have to mention the BoardWalk! Located behind Disney's BoardWalk Resort, the BoardWalk is an excellent choice if you are looking for a casual, less crowded, stroll next to the beautiful water. Boutique style shops, restaurants, lounges, dancing, dueling pianos, street entertainment, sweet treats – an all-around great place to be. You can walk the Coney Island-style Boardwalk for the quarter-mile or keep right on strolling past the Yacht and Beach Club Resorts, or even towards the Swan and Dolphin.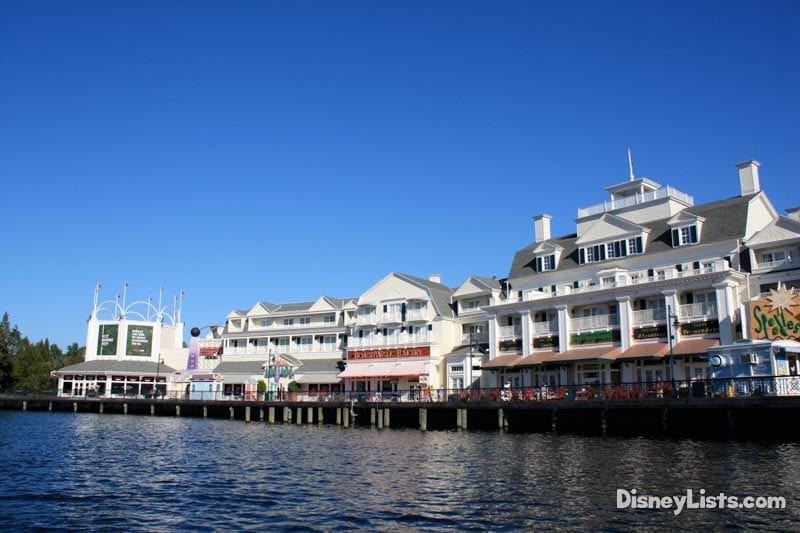 9 – Campfire and Movie under Stars
Editor's Note: During the phased reopening of Walt Disney World, campfires are temporarily suspended.
Almost every night (depending on weather), Disney Resorts offer a Campfire typically followed by a Movie Under the Stars. Snuggle up and roast some marshmallows with the family then stick around to enjoy a Disney movie under the stars. This is an excellent option if you have arrived for a late evening check-in. You might not have time to do some of the items mentioned above, but you'll likely be in time for the campfire and movie. Sit back and relax as it sinks in – you are on vacation!
10 – Resort Hop
Let's say you are a regular at your resort, or maybe there is just another Disney resort you really want to go explore… by all means – go exploring! With Disney transportation available, you can get to any resort with a little planning. Most bus transportation will take you to a theme park or to Disney Springs. You can catch a bus to a theme park close to the resort you'd like to visit and then catch another bus to the resort from the theme park. For example, let's say you are staying at Old Key West but really want to check out the Contemporary Resort. Take a bus from Old Key West to Magic Kingdom. Once you arrive at Magic Kingdom, you can either catch another bus to the Contemporary, take the walking path, or even ride the monorail! Check with a Cast Member at your resort, Guest Services, if you need guidance at getting to a specific location. The Disney Skyliner is also a great option to visit the many resorts on the Skyliner lines. Click here to learn more about the Skyliner. 
We hope one or more of these options will work for you and your family once you've checked-in to your resort. Keep in mind you have your whole vacation to run around, so don't overdo it on your first day. Do what works best for your family and start off your vacation with the perfect dose of magic!
For a no obligation, FREE Quote on a Disney vacation package, please contact our travel partner Magical Vacation Planner at 407-442-0227 (407-442-0215 for Spanish). You can also request a FREE quote online by Clicking HERE.