Disney World continues the gradual reopening of parks and resorts this week with two more parks coming online. However, more big changes were announced to current and future attraction lineups with announcements that one of the major nighttime spectaculars and two attractions are permanently closed as well as the announcement that two new projects are postponed indefinitely. We got a look and a review of a new hybrid festival and annual passholders got some good news. Also, happy birthday to the park that started it all. All this and more below in this week's Disney news roundup.
1 – Disney Announces Closure of Nighttime Spectacular and Two Attractions
This week Disney notified Cast Members that two attractions and one of the nighttime spectaculars that did not be reopen with the parks will actually be closing permanently. Rivers of Light and Primeval Whirl at Disney's Animal Kingdom and Stitch's Great Escape at Magic Kingdom will not be returning and are closed. Learn more at the link below.
Click here to learn more about the closure of three attractions at Walt Disney World.
2 – Two EPCOT Transformation Projects Postponed Indefinitely
Last year at D23, Disney announced an ambitious reimagining of EPCOT, with a number of new projects. We now know that two of those projects are now postponed indefinitely. The reimagining of Spaceship Earth and the Mary Poppins inspired Cherry Tree Lane attraction have been shelved for now. Learn more at the link below.
Click here to learn more about two EPCOT projects postponed indefinitely.
3 – Disney Updates Face Covering Policy to Include Guidance on Eating and Drinking
Disney has updated its face covering policy to include more guidance on eating and drinking. Here is the updated policy from the Walt Disney World website:
Face coverings are required for all Guests (ages 2 and up) and Cast Members. Please bring your own face coverings and wear them at all times, except when dining or swimming. You may remove your face covering while actively eating or drinking, but you should be stationary and maintain appropriate physical distancing.
All face coverings (whether disposable or reusable) must:
Be made with at least two layers of breathable material
Fully cover the nose and mouth and secure under the chin
Fit snugly but comfortably against the side of the face
Be secured with ties or ear loops and allow the Guest to remain hands-free
At this time, based on guidance from health authorities, neck gaiters and open-chin triangle bandanas are not acceptable face coverings.
Costume masks are also not considered appropriate and are prohibited from being worn, in alignment with our existing rules.
The use of face coverings is not a substitute for physical distancing.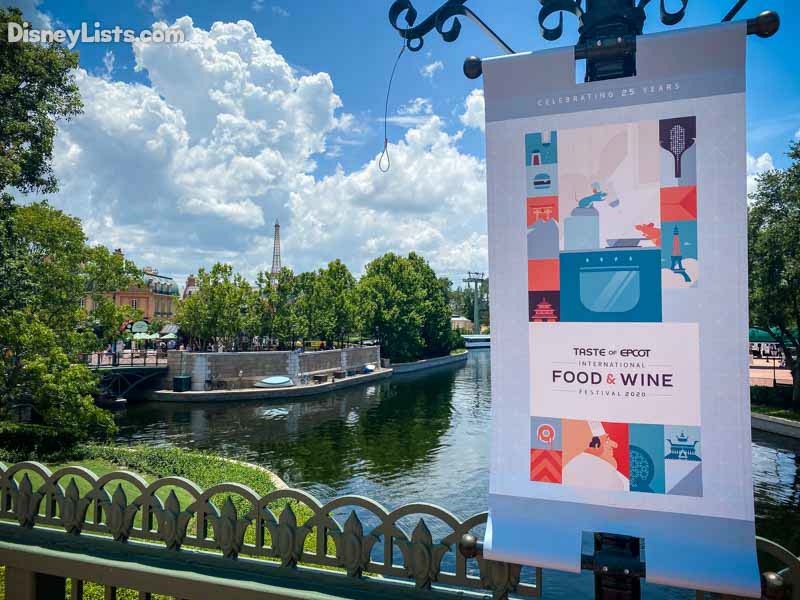 4 – Our Review of the Taste of EPCOT International Food & Wine Festival – Now Open
A new version of the popular EPCOT International Food & Wine Festival debuted July 15 when it reopened. Usually, the Food and Wine Festival begins in late August, but because the Flower and Garden was cut short, Disney decided to modify the Food and Wine and blend it with the Flower and Garden Festival. We were there on opening day and had a chance to check out the modified festival. Learn more at the link below.
Click here for our review of the 2020 Taste of EPCOT International Food & Wine Festival.
5 – Disney's Hollywood Studios & EPCOT Reopened on July 15
This week the last two Walt Disney World theme parks reopened. On July 15, EPCOT and Disney's Hollywood Studios reopened after being closed for just about four months. All four theme parks are now reopened. In addition to limits on attendance and controlled guest density, new procedures are in place for park entry, attractions, dining, retail, transportation, and more. Disney's Hollywood Studios had some hiccups on opening day with guests reporting issues with the Rise of the Resistance Virtual Queue and some crowding in Star Wars: Galaxy's Edge. Disney addressed these issues quickly, and when Cindy visited two days later, she had no problems and felt that the park was less crowded than EPCOT on its opening day. Disney has dramatically reduced the capacity of the parks, and you'll notice when you visit. While wait times vary widely by park and by attraction, those with longer wait times are impacted more by limited capacity in the ride vehicles than by the size of the crowd. We feel Disney is making the effort to do what they can to promote health and safety in the parks. We understand visiting during this time is a personal decision and not right for everyone. We present our information in the hopes that it helps you make an informed decision on whether you want to visit Disney World during the phased reopening.
Click here for the 17 important details you need to know about the Walt Disney World phased reopening.
6 – Visiting the Theme Parks During the Phased Reopening
This week we visited Disney's Animal Kingdom, and we've put together a guide for everything you need to know about visiting the park during the phased reopening period. Check out the link below for more information on Animal Kingdom and Magic Kingdom. Be on the lookout for guides EPCOT and Disney's Hollywood Studios next week.
Click here for our guide to visiting Disney's Animal Kingdom during the phased reopening and what you need to know.
Click here for our guide to visiting Magic Kingdom during the phased reopening and what you need to know.
7 – Disney Annual Passholders Receive More Park Availability
This week Disney added more Disney Park Pass reservation availability to Annual Passholders on select dates in July and August at Magic Kingdom, Epcot, and Disney's Animal Kingdom theme park. Please note that this additional Disney Park Pass reservation availability does not reflect an increase in park attendance, which remains limited during this reopening period. The additional availability was shifted from unused slots previously allocated for resort and day guests.
This added availability was really needed. Before the adjustment, availability for any park was about three to four weeks out for those parks. Now, passholders can generally find next day availability to Magic Kingdom, Epcot, and Disney's Animal Kingdom, except for weekends. Disney's Hollywood Studios is another story. The very popular park is still seeing availability for passholders more than five weeks out, and weekends are full through the end of September.
8 – Disney Annual Passholders Get 30% Merchandise Discount for Limited Time
Passholders can receive 30% off select merchandise purchases at Walt Disney World Resort owned and operated merchandise locations now through August 14, 2020.
9 – Disney Annual Passholders Receive Pass Cancelation Details
This week Disney released details for annual passholder to cancel their passes if they wish to do so. Here is the information from the Walt Disney World website:
If you prefer, and in lieu of the additional one-month extension, you may choose to cancel your annual pass(es). If you choose this option, monthly payments will be stopped starting August 12, 2020. Your pass(es) will remain valid through August 11, 2020, and will be canceled effective August 12, 2020. Any payments made between July 11, 2020, and August 11, 2020, will be retroactively refunded. If you made a payment between March 14, 2020, through April 4, 2020, that was not already refunded, that payment will also be retroactively refunded. Refunds to the original form of payment can be expected by mid- to late September. Refunds may take up to an additional month to receive if the original form of payment is not available. To request this option, contact V.I.PASSHOLDER Support at (407) 939-7277.
Now through August 11, 2020, call V.I.PASSHOLDER Support at 407-939-7277 to cancel your pass or for assistance on any individual concerns. Please note that once submitted, selections cannot be changed.
10 – Disneyland Celebrates 65 Magical Years
On July 17, Disneyland celebrated its 65th Anniversary. Learn more about that special day, July 17, 1955, from Disney Cast Member Michael Ramierez.
65 years ago, a new form of entertainment came into the world. Successful movie producer and animation pioneer, Walt Disney, had long dreamt of a place where family members of all ages could have fun together. Drawing on his own vivid imagination, as well as those of his talented colleagues, Walt created a magical place that has been beloved since opening day.
A star-studded television special broadcasted the inaugural day to the world. 18 attractions were unveiled, many of which still thrill guests, including the Disneyland Railroad, Jungle Cruise and Fantasyland favorites King Arthur Carrousel, Peter Pan's Flight and Mr. Toad's Wild Ride.
Disneyland quickly generated a loyal following with more guests arriving enthusiastically in the days that followed, as well as carrying word of this magical place to others. Soon it was the de rigueur place to be seen by celebrities, dignitaries and even heads of state.
Over the years, the park has evolved, with the first major expansion in 1959, which included three new state-of-the-art attractions (including the world's first tubular steel roller coaster). Other notable expansions included 1966 with New Orleans Square, Mickey's Toontown in 1993, and most recently, the successful opening of Star Wars: Galaxy's Edge in 2019. Today, the Disneyland Resort encompasses two theme parks, three resort hotels and the Downtown Disney District.
But beyond the attractions, the sparkling façade of Sleeping Beauty Castle and the iconic snacks of corn dogs, popcorn and churros, or perhaps embedded in them, many guests find a treasured nostalgia, and this love of Disneyland is handed down from generation to generation as a beloved gift.
To commemorate the occasion, "A Pre-Opening Report from Disneyland" is now available on Disney+. Originally aired on July 13, 1955, Walt provides a final look at the many details necessary to ensure that the park will be ready. He begins by showing the audience a large map of the site, then introduces Winston Hibler, who provides a behind-the-scenes tour of how Studio technicians went about designing and building the unusual rides and shows about to open.
With the eternal optimism that is the heart of Disneyland, we look forward to welcoming you back and celebrating this milestone together soon.
For a no obligation, FREE Quote on a Disney vacation package, please contact our travel partner Magical Vacation Planner at 407-442-0227 (407-442-0215 for Spanish). You can also request a FREE quote online by Clicking HERE.