The news from Disney this week was heavy on holiday magic. We have a rundown of many of the new offerings and holiday treats. Also, Disney World has officially raised its capacity limits. We were thrilled to hear some good news about our favorite Epcot entertainment, and we can't wait for the upcoming virtual D23 event. This week brought a list of opportunities to partner with Disney in bringing some holiday magic to others, as well as some great feel-good stories that are sure to bring a tear to your eye. All this and more below in this week's news roundup.
1 – Disney Confirms Raised Capacity at Walt Disney World
Disney has confirmed they have raised park capacity to 35% at Walt Disney World, up from 25% when the parks reopened this summer. We've already seen a difference in park availability. Previously full dates now have availability. It certainly has been more crowded at the parks lately. However, keep in mind that the parks are still not as busy as during "normal" times. The biggest complaint that we've heard is the wait times are now consistently over one hour or even two for many attractions. FastPass+ is still not available, and Disney has given no indication on when it might return. If you are headed to Walt Disney World in the next few months, be prepared for longer wait times than were reported this summer and early fall. Many attractions are still being loaded with limited capacity to allow for physical distancing, which causes longer wait times even though fewer people are in the parks.
2 – Holiday Offerings at Magic Kingdom
When you think of the holiday season at Walt Disney World, celebrating at Magic Kingdom is usually at the top of most people's to-do list. The holiday offerings this year have been modified, but there are still so many fantastic reasons to visit! Check out the link below for what you can expect when visiting Magic Kingdom during the 2020 holiday season.
Click here for information on the holiday offerings at Magic Kingdom and what you need to know.
3 – Holiday Offerings at Disney Springs
The entire Walt Disney World Resort is celebrating the holidays, and Disney Springs is offering a lot of activities and festive treats with no ticket or reservation required! You'll want to set aside time to visit Disney Springs, and we've got all the information you'll need at the links below!
Click here for more information on the holiday offerings at Disney Springs.
Click here for details on the holiday food items available at Disney Springs.
4 – Voices of Liberty Return to EPCOT in 2021
The Voices of Liberty will take to the stage at America Gardens Theatre with a brand-new showcase, the Disney Songbook. The popular act will perform a variety of favorite Disney songs and celebrating the artistry of Disney composers and lyricists during the 2021 Taste of EPCOT Festival of the Arts, which runs January 8-February 22, 2021. Learn more about the festival by clicking the clink below.
Click here for details on the 2021 Taste of EPCOT Festival of the Arts.
5 – D23 Fantastic Worlds Celebration Virtual Event This Week
This week, d23, the Disney fan club, will be hosting a virtual event, "Fantastic Worlds Celebration," which will feature many panels relating to Disney Parks. We're most excited about the EPCOT panel. Learn more, including schedules and links, at the link below.
Click here for information on the Fantastic Worlds Celebration D23 Virtual Event.
6 – Park Reservation Hits Capacity for Passholders for October 1, 2021 – 50th Anniversary
Last month, Disney opened up resort and park reservations for late fall, which includes dates for the Disney World 50th Anniversary as well as the 2021 holiday season. Park reservations availability for annual passholders is already full for October 1. The day is still green and offers availability for theme park ticket holders and Disney resort guests. If you want to visit during the anniversary, we highly recommend you book as soon as possible. While Disney may continue to increase park capacity (therefore opening more reservations), if you want to ensure you will be in Magic Kingdom on October 1, 2021, you'll want to purchase a ticket and make your park reservation sooner rather than later!
For resort stays, we highly recommend booking with an Authorized Disney Vacation Planner to ensure you are well taken care of and get all the discounts available to you. Future discounts and the Disney Dining Plan may be announced at a later date, and if you book with a travel agent, they will be able to apply these offers to your reservation. This frees you up from spending hours on the phone with Disney trying to get the deals.
For more details and help booking your vacation, call our travel partners Magical Vacation Planners at (407) 442-0227. You can also get a no-obligation, FREE vacation quote by clicking here. Their services are free to you, and they can answer any questions you may have.
7 – Disney Parks Salute and Honor Veteran Cast Members on Veterans Day
Disney has a long tradition of honoring our veterans, and this Veterans Day was no different. A special ceremony took place at Magic Kingdom early on Veterans Day. Learn more at the link below.
Click here to learn more about the special ceremony on Veterans Day at Magic Kingdom.
8 – Give Back This Holiday Season with Disney's Toys for Tots Campaign
The holiday season is also the giving season, and Disney has teamed up with Toys for Tots! Learn how you can support Toys for Tots at the link below.
Click here for more details on how you can give back this holiday season with Disney's Toys for Tots Campaign.
9 – The Celebration of 40 Years of Disney and Make-A-Wish Continues with New Animated Short and Mickey Mouse Plush
The Make-A-Wish Foundation and Disney's partnership is celebrating 40 years! In celebration, Disney released a new animated short and Mickey Mouse plush. Disney Cast Member Anthony Armenia shares the details below:
Following the debut of the popular Wishes Come True Blue color collection, we continue to celebrate the 40-year anniversary of Disney and Make-A-Wish® with a lovable Mickey Mouse plush– which unlocks yet another donation to Make-A-Wish – along with a brand-new animated short!
The holidays are the perfect time for giving and of course, giving back. This holiday season, Disney Parks, Experiences and Products is launching a three-minute animated short entitled "From Our Family to Yours." This animated short highlights festive traditions and shared experiences that connect generations and make lifelong memories. It features two new lovable characters, Lola and her granddaughter, alongside a familiar friend – Mickey Mouse.
Check out this touching animated short and be sure to have tissues at the ready:
Love the soundtrack as much as I do? It's the new "Love Is A Compass" single performed by Griff, a 19-year-old British singer-songwriter whose powerful vocals support the moving animation. Griff has recently been nominated for a prestigious Ivor Novello award for Rising Star. You can listen to the heart-warming single on all digital provider services – wherever you stream music!
Want your own adorable Mickey Mouse plush seen in the animated short? It's available now online at shopDisney.com and across the pond at Disney stores in Europe and online at shopDisney.co.uk. The best part? For every Mickey Mouse Vintage Holiday Plush sold through Jan. 31, 2021, shopDisney will donate 25% of the purchase price to Make-A-Wish to help grant wishes.
The Wishes Come True Blue color collection and Mickey Mouse vintage holiday plush are just part of our anniversary celebration.
10 – Make-A-Wish and Disney Grant a Royal Wish in Spanish – With a Little Help from Princess Belle!
A very special wish was recently granted to a young girl who dreamed of becoming a princess. Disney Cast Member Thomas Smith has all the details below:
On behalf of all of us at Disney, we would like to give a warm "Bienvenida" to Princesa María!
Just last week, six-year-old María, who is being treated for leukemia, had her wish to be a princess come true. As a native Spanish speaker from Phoenix, Maria received a virtual royal visit – all in Spanish – from Princess Belle. Check out a heartwarming video of this first of its kind Disney wish in the United States to see how we were able to make María an honorary princess – creating a day of laughter and hope.
"María was fascinated and asked me, "mom did you see that Belle is like me? That we are the same, that she speaks Spanish like me?" said wish mom Brenda. "She loved the video and we thought it was truly beautiful. Their words, everything they said, it was exactly how María is."
Like many children around the world, María grew up watching Disney movies in her native language. So when it came time for her wish, we wanted to create a magical meeting with Belle, who read a personalized story to María and taught her how to become a Disney Princess entirely in Spanish.
"Just as Disney stories are shared in dozens of languages around the world, Make-A-Wish grants wishes for children of all backgrounds," said Richard K. Davis, president and CEO of Make-A-Wish America. "This wish is the perfect example of how we strive to creatively grant wishes that also resonate culturally and authentically with wish kids and their families."
Since 1980, Disney and Make-A-Wish have been making wishes come true for children with critical illnesses around the world. We are so proud to celebrate this 40-year milestone with them, just as we were proud to help grant the very first official wish at Disneyland Resort back in 1980. And while 2020 has been a challenging year for everyone - wish granters included – it has also created opportunities to grant wishes in a whole new way. Disney and Make-A-Wish have had to think outside the box to continue to make life-changing wishes come true and provide hope and inspiration to children around the world.
Pre-pandemic, one out of every two wishes granted in the U.S. was a Disney wish, and together, Disney has worked with Make-A-Wish to make more than 140,000 wishes come true, including their recently granted 500,000th wish. Granting these inspiring Disney wishes creates magical memories for children and their families, and we will continue to do our part to make children's wishes come true in a meaningful way. A global pandemic may be enough to put some aspects of life on hold, but monumental moments and wishes like these are far too important to be missed! Felicidades a la Princesa María y a to-dos los niños y niñas con enfermedades graves que quieren cumplir sus deseos.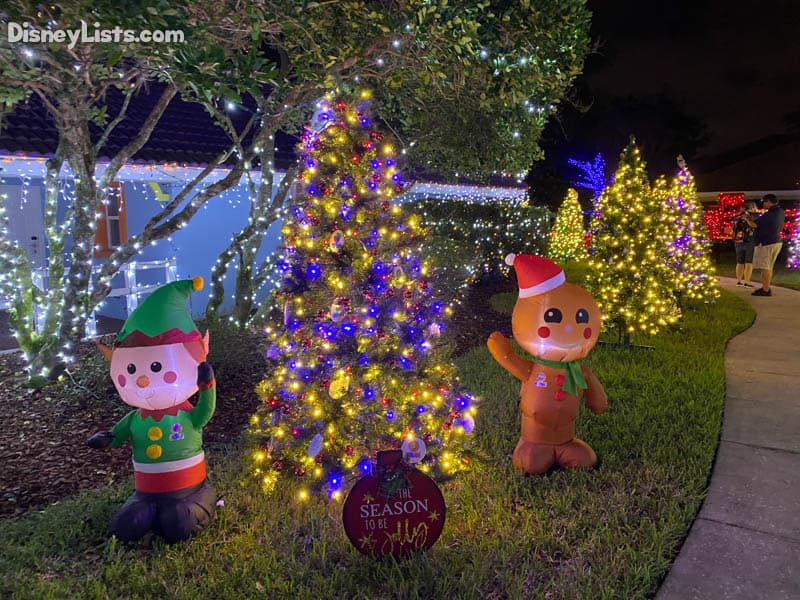 11 – Night of A Million Lights
This summer, Walt Disney World Resort, donated more than three million sparkling lights to Give Kids The World Village in Kissimmee, Florida. The lights have transformed the village into a bright and merry wonderland during Night of a Million Lights – a walk-through, socially distanced holiday light spectacular. Now through January 3, the event provides the public a rare glimpse into the magical, whimsical non-profit resort that fulfills the wishes of critically ill children from around the world. I attended a media preview of the holiday lights and thoroughly enjoyed my time exploring the village. Learn more about the event at the link below.
Click here to learn more about Night of a Million Lights and why you don't want to miss this event!
12 – Disney Channel Adds Magical Holiday Special from Walt Disney World Resort with 'Disney Holiday Magic Quest'
Calling all Disney Channel fans! This December, a new special will air featuring some of your favorite Disney Channel stars. Disney Cast Member Emily Amato shares more below:
Disney Channel is celebrating the holidays for kids and families in some special ways this year, including bringing more holiday magic to Walt Disney World Resort! Disney Channel's first of three holiday specials is "Disney Holiday Magic Quest," a high-stakes challenge that navigates Magic Kingdom Park.
Raven-Symoné virtually hosts the challenge, which features "ZOMBIES 2" stars Milo Manheim, Kylee Russell, Ariel Martin, and Pearce Joza competing in a holiday adventure through Magic Kingdom Park. After iconic Disney villains Maleficent and Evil Queen steal holiday magic, the stars must overcome obstacles and complete challenges to restore the joy of the season. The challenges take place throughout Magic Kingdom Park and include iconic attractions and locations like Haunted Mansion and Cinderella Castle. The four stars are also competing for a grand prize that will benefit Toys for Tots, a nonprofit organization that delivers hope and the magic of the holidays to less fortunate children.
Tune in for the premiere of "Disney Holiday Magic Quest" on Disney Channel, Friday, Dec. 4 at 8:00 p.m. ET/PT to see if the stars successfully restore the holiday magic throughout their Magic Kingdom Park adventure!
For a no obligation, FREE Quote on a Disney vacation package, please contact our travel partner Magical Vacation Planner at 407-442-0227 (407-442-0215 for Spanish). You can also request a FREE quote online by Clicking HERE.