Dining
Top 8 All You Care to Eat Meals at Disney World
I know what you may be thinking. You may be having awful flashbacks to maybe meals at Golden Corral where the buffet isn't as well kept, and the options aren't that fresh. You won't find that to be the case when you are at Disney property. The chefs take pride in the food that they prepare, and there are many different kinds of all you care to eat meals to enjoy when while you are on property. Many times these meals can be a great way to get the most bang for your buck and help you skip other meals throughout the day so that you can spend more time enjoying all that Disney World has to offer. Here are my top eight all you care to eat meals at Disney:
8 – Trails End Restaurant (Breakfast or Dinner) – Fort Wilderness Resort and Campground
Trails End Restaurant at Fort Wilderness Resort and Campground is a hidden gem. The restaurant features home-style American cooking. Usually a buffet, the restaurant currently features all you care to eat family skillets, much like the #2 restaurant on this list! While the food is just above average, the reason Trails End makes this list is the value. Breakfast here costs only $20 per person and dinner costs $30 per person. Considering that the cost of breakfast is less than half of what a character dining experience costs and you get all the Mickey waffles you want to eat–that's a big deal. For dinner, you're paying around the same price as a plated meal at other sit-down restaurants, and you get dessert included! Also, these meals are an even greater value when you consider non-alcoholic beverages are included in the total cost. The food is great and the value is exceptional. While we admit that getting to Fort Wilderness Resort and Campground is not the easiest thing to do, it's worth a trip over to the Fort to dine there. And if you're staying at the campground, it's a no-brainer. It's one of the reasons why it's so popular among Fort Wilderness campers!
7 – Liberty Tree Tavern (Dinner) – Magic Kingdom, Liberty Square
Liberty Tree Tavern at dinner is an All You Care to Enjoy meal that is served family-style right to your table. The restaurant itself is a classic colonial style that fits in perfectly with Liberty Square. The patriotic décor and classic feel make this a very popular location for holiday meals and special occasions. There are 6 rooms throughout the restaurant and designed to pay homage to American heroes: Benjamin Franklin, Thomas Jefferson, John Paul Jones, Paul Revere, Betsy Ross, and George Washington. The menu consists of a salad, and then turkey, pot roast, and with delicious sides. You also end the meal with Ooey Gooey Toffee Cake, which is exceptionally tasty. It is a classic American-inspired menu and the epitome of comfort food!
6 – The Garden Grill (Lunch or Dinner) – Epcot, The Land Pavilion
When you find yourself in Epcot, you will have to give this excellent spot a try. The Garden Grill is in The Land pavilion on the 2nd floor. This restaurant is the only restaurant on property that actually rotates while you dine. Not only does it rotate, but you get to see different scenes that you can also see on the Living With the Land boat ride below the restaurant. This is also a character dining location where you can meet Chip, Dale, Mickey, and Pluto in their farmer/harvest attire. The meal is served family-style and includes a salad made from produce grown at the pavilion and delicious bread with fresh churned butter. The main course consists of turkey, grilled beef, along with stuffing, mashed potatoes, and more. The dessert is a shortcake with fresh berries, topped with whipped cream. There are a couple of differences between what is served at lunch versus dinner, but the meals are mostly the same. The meal tastes very fresh, especially with the freshest of ingredients grown right there from the pavilion.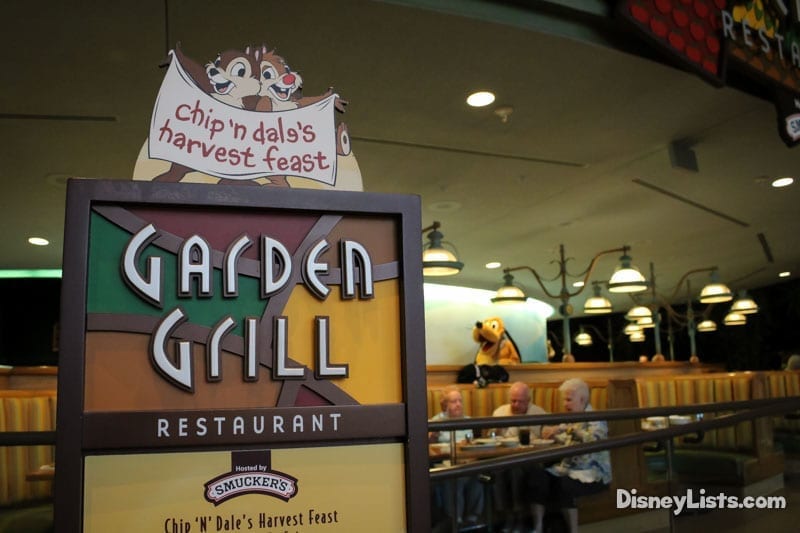 5- Boma – Flavors of Africa (Dinner) – Animal Kingdom Lodge, Jambo House
Boma is a hidden gem over at Animal Kingdom Lodge. The décor for the restaurant is all African-inspired and beautifully done. The ambiance is dark and romantic, so it also serves well as a restaurant to enjoy a little quiet time away from the hustle and bustle of the parks. The menu is one of the most unique on property with all African-inspired dishes. The meal is buffet style, so there are TONS of options and every kind of meat you can imagine prepared in a traditional African styles with African flavors. You can expect lots of entrees, sides, different African salads and vegetable offerings, and a whole slew of decadent desserts. If you have ever wanted to sample African fare, this is a fantastic way to do so and experience all of the delicious flavors.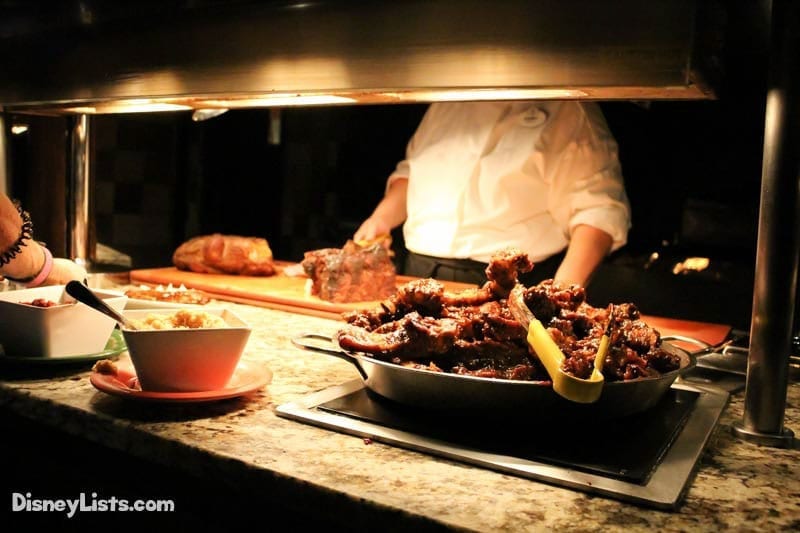 4 – Cape May Cafe (Dinner) – Beach Club Resort
The Beach Club and the area surrounding this resort area are fantastic to tour and visit for many reasons. There are tons of restaurants and entertainment to enjoy on the Boardwalk, which is only a walk or a boat ride away from the resort. Cape May Cafe is well worth the travel over to this beautiful resort and area. The restaurant is decorated in a beach-like theme with bright, airy colors that make you feel like you really are dining on the beach. If seafood is your thing, this is definitely the restaurant for you. The meal is served buffet-style so you can go up as many times as you to enjoy as much as you want. The offerings include salads and various cold offerings, soups, and other meats, including crab legs, clams, shrimp, and more. Don't forget about the dessert assortment, too! This is one meal that you definitely want to make sure you come hungry for!
3 – Biergarten Restaurant (Lunch or Dinner) – Epcot, German Pavilion
I come from a German heritage, so it is no surprise that this restaurant would make my list. The restaurant is perfectly themed to depict an authentic German restaurant. The tables are large wooden banquet-style tables with bench seating, so you are dining with other guests. There is German musical entertainment that keeps the energy level extremely high for an incredibly unique dining experience. The meal is served buffet-style with all authentic German offerings. You can expect traditional German entrees, sausages, potato dishes, and salads. The food is delicious and an excellent sampling of all the best parts of German cuisine!
2 – Whispering Canyon Café (Lunch or Dinner) – Wilderness Lodge
This dining location nestled in the beautiful Wilderness Lodge is very different from many of the other dining locations on property. The restaurant has a bit of a western feel with lots of interesting traditions throughout the restaurant. Many of the restaurant's famous antics are on pause for health and safety reasons, so dining here now is less noisy than it has been in the past. For the meal, you can actually choose the All You Care to Enjoy option, or you can order from the menu. I would definitely pick the All You Care to Enjoy skillet, as you won't be sorry. There are four skillets to choose from: The Traditional, The Land and Sea, The Pig, and Plant-based. They are absolutely amazing and one of our favorite meals to enjoy!
1 – O'hana (Dinner) – Polynesian Village Resort
Now, O'hana for dinner is probably our absolute favorite meal on property. We try to go for this one as often as we can and definitely for most special occasions and events! The restaurant is on the 2nd floor of the Great Ceremonial House at the Polynesian. The restaurant overlooks the amazing Volcano pool at the resort, along with a beautiful view of Cinderella Castle. You can even watch the fireworks at the Magic Kingdom right from the restaurant! The meal is served family-style to your table and starts with bread and salad. Then you are served potstickers and glazed wings. The main course includes various meats brought around on skewers served with noodles and vegetables for the side. Make sure you save room for dessert, especially since it is one of the best desserts on property. It is a delicious bread pudding with vanilla bean ice cream and a caramel banana sauce over the top. You can order more of anything you want, including dessert (I'm thoroughly impressed if you can do two desserts!)! We try to plan our meals where we can see the fireworks, making it the perfect meal for us! Don't miss this one! It is stunning and delicious.
For a no obligation, FREE Quote on a Disney vacation package, please contact our travel partner Magical Vacation Planner at 407-442-0227 (407-442-0215 for Spanish). You can also request a FREE quote online by Clicking HERE.