News
NEWS: Disney Announces Closure of Failed Disney Resort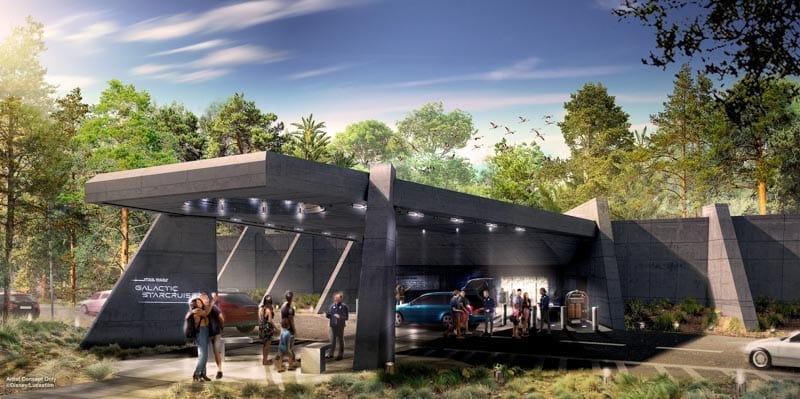 It's official. In a move we've been expecting from some time, Disney has announced the shuttering Disney World's newest resort that combines lodging and a fully immersive entertainment experience that was so ambitious it was probably doomed from the start. Star Wars: Galactic Starcruiser, the very expensive Star Wars hotel, will close its doors on September 30. Whether is was because of the price tag which was truly out of this world or something else, this announcement won't surprise anyone who has been paying attention. With the exception of the "maiden voyage," Disney has struggled from the beginning to fill rooms. Catch all the details below.
Here is the statement from Disney:
The final voyage for Star Wars: Galactic Starcruiser will take place September 28-30, 2023.
Star Wars: Galactic Starcruiser is one of our most creative projects ever and has been praised by our Guests and recognized for setting a new bar for innovation and immersive entertainment. This premium experience gave us the opportunity to try new things on a smaller scale of 100 rooms, and we will take what we've learned to create future experiences that can reach more of our Guests and fans.
We will be contacting Guests booked for voyages departing on or after September 30 to discuss their options and modify their plans. To prioritize these Guests, we are pausing new bookings until May 26.
We are so proud of all of the Cast Members and Imagineers who brought Star Wars: Galactic Starcruiser to life and look forward to delivering an excellent experience for Guests during the remaining voyages over the coming months.
RELATED ARTICLE: 12 Ways to Have a Star Wars Day at Disney World
by Matt and Kim
If you're reading this, we instantly like you. There's just something about a person that wants to have a Star Wars Day at Walt Disney World that makes us genuinely happy and slightly relieved that we aren't the only ones! Below you'll find fourteen ways to make this day happen. Are you up for the challenge? In the words of Yoda, "Do. Or do not. There is no try."
1 – Line Up Early for Star Wars: Rise of the Resistance
The newest land at Disney's Hollywood Studios, Star Wars: Galaxy's Edge, is the place to be for any Star Wars fan. The best way to jump hyperspeed into your Star Wars Day is by visiting the park bright and early! In fact, arriving well before park opening is the best way to experience Star Wars: Rise of the Resistance for free. The attraction is an absolute out-of-this-world attraction that has everyone–including non-Star Wars fans–praising Disney. The virtual queue is gone, and now guests have two options: line up and ride or pay for Individual Attraction Lightning Lane access, which will cost you anywhere from $7-25 per person to ride. Availability for the LL for this attraction fills up quickly, so if you miss purchasing access or simply don't want to pay to ride, getting there early is the best way to experience the attraction!
2 – Millennium Falcon: Smuggler's Run
After you've enjoyed Star Wars: Rise of the Resistance, you'll want to head directly to the "fastest hunk of junk in the galaxy" … the Millennium Falcon! Millennium Falcon: Smuggler's Run is a fantastic attraction that will put you directly into the action as a pilot, gunner, or engineer. Get ready to act fast to fly out of the trouble you'll find around every curve. Party of one? Jump in the Single Rider line for an even shorter wait.
3 – Grab Breakfast in Star Wars: Galaxy's Edge
After your flight around the galaxy, put your feet back on the ground with some quick-service breakfast – Star Wars style! You have two choices in Star Wars: Galaxy's Edge. First, you can drop by Ronto Roasters, where you'll find great breakfast options, including a Ronto Morning Wrap and Rising Moon's Overnight Oats. The Milk Stand also has some quick-service breakfast options. You'll be in and out in no time – ready for your next mission!
4 – Build a Droid at Droid Depot
Next stop… the Droid Depot! We all need a Star Wars sidekick, so why not take this time to build your very own custom droid? You'll pick the parts and assemble your droid, bringing him or her to life! After you've completed your droid, you'll find a mat outside where guests are welcome to test out their new sidekick. We highly recommend making reservations for the Droid Depot 60 days in advance. Some walk-ins may be accepted, but it's never guaranteed, and the wait can be long. Learn more about the Droid Depot below:
5 – Pose for Photos while Exploring Galaxy's Edge
As you take the time to explore the planet known as Batuu at Galaxy's Edge, this is the perfect time to check out the many photo ops available throughout the land. Disney's PhotoPass offers several Magic Spots that will make for memorable photos for years to come. If you don't want to go the PhotoPass route, snap your photos and share them to make all your Star Wars friends jealous! (insert Jabba laugh here)
6 – Ride Star Tours – The Adventures Continue
Yes, Star Wars: Rise of the Resistance and Millennium Falcon are getting all the attention, but that doesn't mean Star Tours – The Adventures Continue should be forgotten! Experience the Galaxy in a Starspeeder 1000 with C-3PO as your not-so-trained pilot. However, the First Order doesn't make your space journey easy, as they seek to capture the Repel Spy among the crew. This 3D space flight has several scenarios, meaning the scenes and experiences vary from ride to ride. If the wait isn't long, ride once and jump on a second time for what will likely be a whole new experience.
7 – Visit Star Wars Characters
Chances are, if you've seen Star Wars, you've thought about how soft and fluffy it would feel to hug a Wookiee! Well, here's your chance! The beloved Chewbacca is ready for a big squeeze at his meet and greet in Star Wars Launch Bay. After Chewy, stop by for a hello and photo op with BB-8. Lastly, if you dare, visit one of the most villainous Star Wars characters around… Darth Vader. This guy doesn't mess around, so be prepared for those creeped-out goosebumps for this meet and greet.
8 – Shop the Launch Bay
After your meet and greets, check out the Star Wars Launch Bay merchandise. You'll find a great variety of items, from artwork to models and even actual movie props. If you're an avid Star Wars collector, THIS is the place to add to your collection. While many of the items here can be on the more expensive side, some pieces are priceless to the Star Wars fan!
9 – Shop the Black Spire Outpost
You've ventured outside of the Planet Batuu long enough! Time to head back to Star Wars: Galaxy's Edge to continue the exploration of the 14-acre land. Check out the Black Spire Outpost, where adventurers come to stock up on items for their next galactic journey. You, too, have a chance to purchase a variety of Star Wars merchandise, from plush toys to clothing and so much more.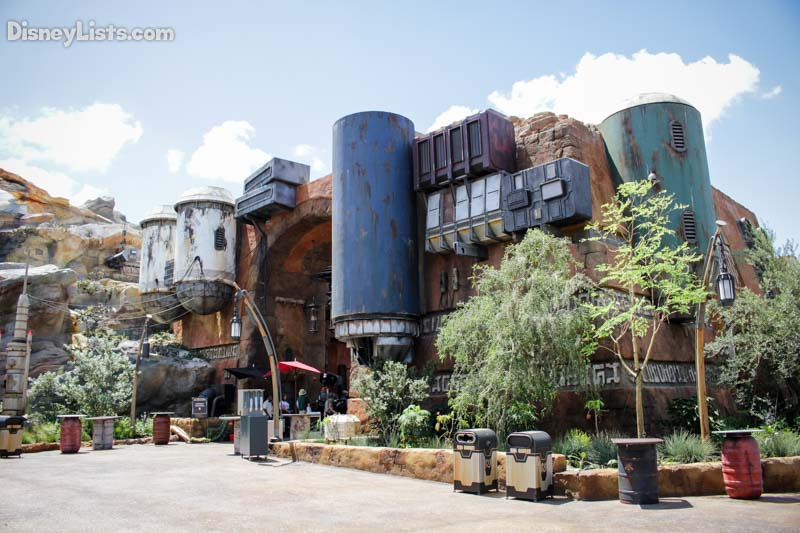 10 – Create a Lightsaber at Savi's
Even more so than the Droid Depot, you'll want to be sure you have a reservation for Savi's Workshop because it's just that popular! At Savi's, you'll create your very own lightsaber! This shop is super-secret from the First Order, and the Cast Members here play a part in keeping the location and experience top secret, which adds to the fun. When inside, you'll construct your very own lightsaber for a once-in-a-lifetime souvenir that comes right along with an excellent experience.
11 – Drinks at Oga's Cantina
What a day thus far! Relax and unwind at Oga's Cantina, where drinks are plentiful and good times abound. The alcoholic and non-alcoholic drinks here are seriously out of this world in their almost alien-looking appearance. Plus, if you haven't hit up the Milk Stand yet, you can always try Blue Milk here at Oga's. While you sip away, enjoy DJ Rex setting the scene with lively, upbeat music. Reservations are accepted for this lounge. While you can wait as a walk-in, you'll find a reservation is a must-have as lines to get in get rather lengthy for this small but impressive lounge.
12 – More Shopping at Disney Springs
The day is coming to a close, as is Disney Springs at this point. Most shops stay open until 11:00 pm at Disney Springs, which means you may still have a chance to do some Star Wars shopping. Star Wars Trading Post is located in the Marketplace. You can also find the Star Wars Galactic Outpost on the West Side of Disney Springs. Both shops are great, with plenty of Star Wars merch!
Whew! That's a full day! Are you still up to the challenge? As Qui-Gon Jinn would say, "Your focus determines your reality." Stay focused, fellow Star Wars fan, and trust the force is with you.
Editor's Note: We did not include Star Wars: Galactic Starcruiser because that is a multi-day experience that is beyond the reach of most guests visiting Walt Disney World. 
For a no obligation, FREE Quote on a Disney vacation package, please contact our travel partner Magical Vacation Planner at 407-442-0227 (407-442-0215 for Spanish). You can also request a FREE quote online by Clicking HERE.