Disney Cruise Line
Marvel Day at Sea on the Disney Magic – Our Review And What You Need to Know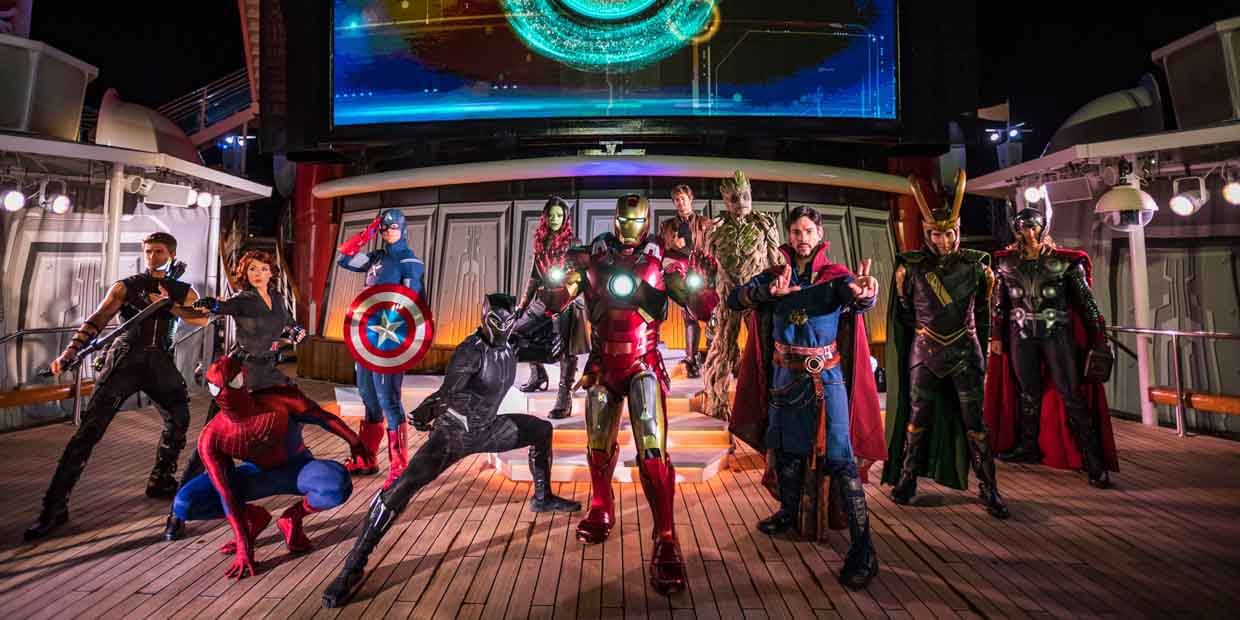 Every Disney Cruise Line offers guests an amazing vacation experience filled with all the Disney magic you'd expect. However, Disney Cruise Line also offers some very special themed voyages that take an already fantastic vacation to the next level. From January to early March, special five-night Disney Magic sailings include a Marvel Day at Sea featuring encounters with most of the Marvel heroes, several Marvel-themed shows, and more Marvel-themed activities than you can count.
In January 2019, we enjoyed a Marvel Day at Sea Cruise on the Disney Magic. At the time, I considered myself an average Marvel fan. I've seen most of the movies, but not all of them. Chad had only seen a few of the movies. We didn't know what to expect but were absolutely blown away by the events, character encounters, and entertainment throughout the day. So much so that we both left eager to watch all the movies in the Marvel Universe. We actually watched the first movie the night we got home and completely rearranged our Netflix queue. If you have Marvel fans in your family, prepare to lose your mind. Read on for all the details.
1 – Marvel Day at Sea
Marvel Day at Sea combines the thrills of renowned Marvel comics, films, and animated series with the excitement of a Disney Cruise to summon everyone's inner Super Hero for the adventures that lie ahead during this unforgettable day at sea. To be clear, the entire cruise is not Marvel-themed. The Marvel activities happen on one action-packed day during each of the special Disney sailings. The event features all-day entertainment, including encounters with some of the mightiest Marvel Super Heroes and the menacing foes who oppose them, an extraordinary deck-show spectacular, Marvel-themed youth activities, special merchandise, and unique food and beverage offerings.
2 – Marvel Costumes
Like Pirate night, guests are encouraged to dress as elaborately as they like or not at all. We saw most guests, including ourselves, wore Marvel-themed T-shirts. Some went all out and dressed in full costumes. Many landed somewhere in between with some terrific Etsy-worthy outfits. A Marvel Costume Celebration was held in the Atrium to showcase guests in their costumes, and guests could show off their outfits.
3 – Heroic Encounters
There are three different character interactions that you can plan to have during your Marvel Day at Sea. First are the scheduled and ticketed Heroic Encounters, which (like the Disney Princesses) can and should be booked ahead of time. You'll receive a ticket with a specific time to visit. We started our day with both of these booked encounters. For our first scheduled encounter, we met Spiderman, Black Panther, and Ironman one right after each other. Our second scheduled encounter was and meeting with Groot in a separate area. Each of these interactions was terrific. Spiderman was particularly perfect. He was so spot on. If we didn't know any better, we would have thought that it really was Tom Holland in the suit!
The second option is similar to character encounters guests are likely familiar with from visiting the parks. Throughout the day, other characters were stationed in specific spots throughout the ship allowing guests to line up for pictures and autographs with their favorites. Greeting times were listed in the Personal Navigator (the cruise planner), with most characters available several times throughout the day. For instance, Thor was scheduled for 9:15 am, 11:15 am, 2:00 pm, and 4:00 pm on Deck 4. Loki, Captain America, and Captain Marvel were also scheduled for the day. Captain Marvel debuted on our voyage, and we were the first ones to be able to meet her! She was perfect. These character greetings were very popular, and the lines were very long.
Lines for characters open at their scheduled times and remain open for 15 minutes. Please note we saw a number of guests confused about how this worked. The following was the policy for our cruise; it may have changed, so be sure to ask a Cast Member for your particular cruise. If the character you'd like to meet is scheduled for 2:00 pm, you must be in line by 2:15 pm. As long as you enter the line within that 15-minute window, you are guaranteed to meet the character regardless of how long the line is. However, if you arrive after the 15-minute window, you will not be allowed to meet the character.  To clear the area for the next scheduled character and ensure cast members are able to take breaks, this is strictly enforced.
We waited almost an hour and a half to meet Captain America. Captain America's posted time was 10:45 am, 12:45 pm, and 3:30 pm. We arrived at 12:18 pm to get in line early. However, because Captain America and Captain Marvel were sharing the same greeting area, the line was crazy long. I had already met Captain Marvel, so I wanted to ensure I could meet Captain America. I spoke with a very helpful Cast Member, and he said they were keeping track of where the Captain America greeting time began and ended. (He knew which family was first for Captain America and which family was last). I was assured that I was in the right spot and would meet him. Sure enough, we did meet him.
The Cast Members did a fantastic job handling the crowds, answering questions, and keeping the line together and moving. The guests that we interacted with were also great and understanding. We all get that lines are a part of the Disney experience, particularly for rare characters. We, unfortunately, did not have the opportunity to meet Loki and Thor. There was so much amazing programming for the day, we simply could not do all the activities that were available! Another reason for us to come back!
Another way you may meet characters is simply by bumping into them around the ship. Doctor Strange, Black Widow, Hawkeye, Star-Lord, and Gamora were randomly walking the atrium decks for quick photos and a chat. These lines were much shorter because you couldn't plan on when to meet them. We were able to run into each of these characters. As we expected, all of them were terrific!
4 – Heroes in Training!
If you read any of our cruise recaps, you'll know that Disney's youth clubs are amazing. During Marvel Day at Sea, kids in the club get special Marvel programming that will make any adult jealous. Kids were treated to the Marvel Super Hero Academy inside Disney's Oceaneer Club. Super Heroes like Spider-Man, Black Widow, Thor, and Hawkeye teach kids the true qualities of being a hero. Kids can participate in special secret agent training, learn the path to becoming worthy with the help of Thor, and hone their reflexes, speed, and intellect with Spider-Man. If only I were a kid again!
5 – Getting to Know the Marvel Cinematic Universe (MCU)
After we meet with the Marvel characters, we headed to Marvel Origins. This was a fun and interactive presentation where we learned the basics of Marvel history and the origins of some of its most popular characters. It was very informative and helpful for a not-so-versed Marvel fan!
There were three chances to catch a "Meet the Masters" presentations that were also a great way to learn more about MCU. The first in the morning was with Walt Disney Imagineering (WDI) Portfolio Executive Producer John Mauro. In the afternoon, Marvel Creative Director, Brian Crosby, was the presenter at two different times. Both John and Brian shared how Marvel and WDI are bringing the Marvel stories and characters to life. Both gave an in-depth talk on the process and challenges of transforming the Tower of Terror at California Adventure into the Guardians of the Galaxy ride. It was a fascinating look into what it takes to bring an amazing attraction from idea to opening day and the care that goes into every aspect of the guest experience. We were also treated to some peeks at upcoming Marvel-based attractions coming to Disney parks around the world.
These were very interesting presentations where we learned how Disney is bringing the MCU to life in Disney Parks around the world. Cindy attended John's presentation, and Chad attended Brian's. Both presenters brought their own enthusiasm and knowledge to their presentations, making them a bit different than the other. We both left with a greater understanding of Disney's commitment to offering experiences that are full of fun, humor, and adventure. Their goal is for all guests, from first-timers to life-timers, to be pulled into the Marvel Universe in an engaging way. It really is an exciting time for the Disney-Marvel partnership!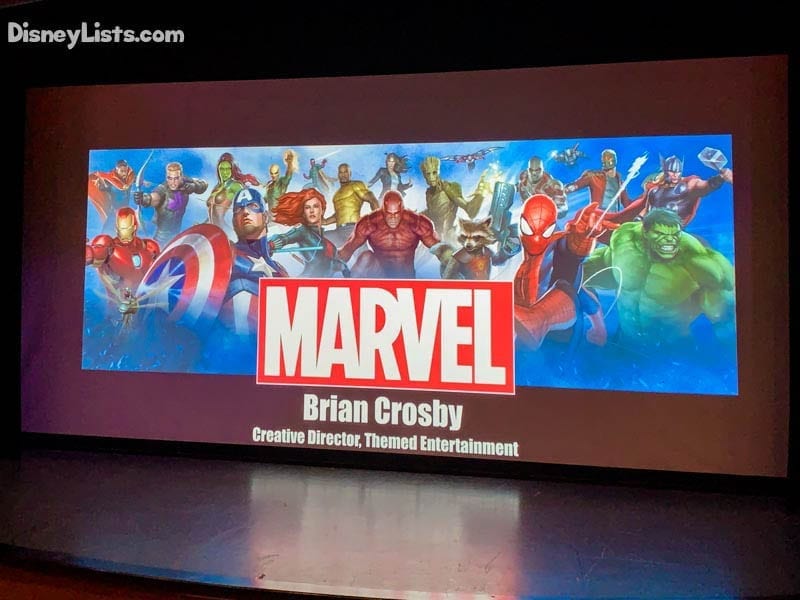 6 – Marvel Trivia and Animation Academy
For master Marvel fans, there were challenging games designed to test the knowledge of Marvel's heroes and foes. There was also an opportunity to learn how to draw popular Marvel Super Heroes—like Spider-Man, Captain America, Iron Man, and Groot. There was also a quiz to determine the perfect Marvel comic for you.
7 – Journey Into the Mystic Arts with Doctor Strange
Offered multiple times in the afternoon, we were able to see Doctor Strange and set forth on a journey of discovery with the sorcerer supreme himself in an interactive new show, "Doctor Strange: Journey into the Mystic Arts," in the Walt Disney Theatre. In addition to honing their skills in the mystic arts, children played a unique role in the experience as Doctor Strange calls upon young apprentices to put their skills to the test in an epic battle against the Dark Dimension. This one was definitely geared toward the younger crowd, but the show was well done, and everyone seemed to enjoy themselves.
8 – Fan Favorite Marvel Movies
Also offered throughout the day were exclusive at-sea screenings of fan-favorite films from the Marvel Cinematic Universe. The movies during our cruise on Marvel Day at Sea were: Avengers: Infinity War, Venom, and Captain: America Civil War. Marvel films were also shown other days as well including Guardians of the Galaxy Vol. 2 in 3D, Doctor Strange, Black Panther, Thor: Ragnarok, The Avengers, and Avengers: Age of Ultron. There were also viewings of the Disney XD show Marvel's Avengers Assemble, Marvel's Ultimate Spider-Man and Marvel's Guardians of the Galaxy on Funnel Vision, the screen over the family pool. Seeing a movie at sea may not be at the top of your to-do list, but I do want to say that the fact that Disney offers these movies at all is another terrific benefit of Disney Cruise Line. On the non-Marvel days, both Ralph Breaks the Internet and Mary Poppins Returns were playing. Being able to see current Disney movies while at sea is a very nice perk.
9 – Mickey and the Gang
The character greetings didn't end with Marvel characters. Mickey, Minnie, Donald, Daisy, Goofy, Pluto, and even Chip and Dale joined in the fun as they dressed up to honor their favorite Marvel Super Heroes. There were two times to catch these characters: in the later afternoon before the first dinner and then after the second dinner. Mickey was dressed up as Captain America, Minnie as Spiderman, Donald as the Hulk, Goofy as Ironman, Daisy as Black Widow, Chip and Dale as Thor and Loki, and Pluto with an Avengers scarf! It was a bit of a challenge to meet all of these characters, but we were able to do it!
Character meeting tip reminder: The characters are scheduled at separate times and share greeting locations. The line is closed after 15 minutes, regardless of how long it is. So, if the posted time to meet Minnie Mouse is 5:45 pm, as long as you are in line by 6:00 pm, you will be able to meet her. This was really helpful to know because a lot of times the line, particularly for Mickey, was very long and we wanted to be sure we met him. Again, the Cast Members were so helpful in helping us understand the queuing process for meeting the characters.
10 – Marvelous Snacks and Dinner
As you might expect, there were plenty of Marvel snacks, drinks, and beverage souvenirs to be found. Dinner was also hero-themed with out-of-this-world dishes and desserts. The entrees were grouped by Marvel Characters. For instance, Hawkeye's choices were baked buttermilk corn-fed chicken and roasted pork tenderloin "Huntsman."
11 – Mickey & Friends Super Show
Dressed up as their favorite Marvel Super Heros, Mickey and friends kick off a dance party on deck in "Mickey and Friends Super Hero Celebration." This was a cute family-friendly deck show that focused on how each character had a value of the hero they were dressed as. Mickey has the value of honor, just like Captain America. Minnie Mouse has the value of responsibility, Donald has strength, Daisy has determination, Goofy has the future, Chip has worthiness, Dale has cleverness, and Pluto has teamwork. The show encouraged kids that anyone can be a superhero by knowing right from wrong, helping out around the house, helping a friend in need—that makes you super too. It was a fun show that was great for all ages.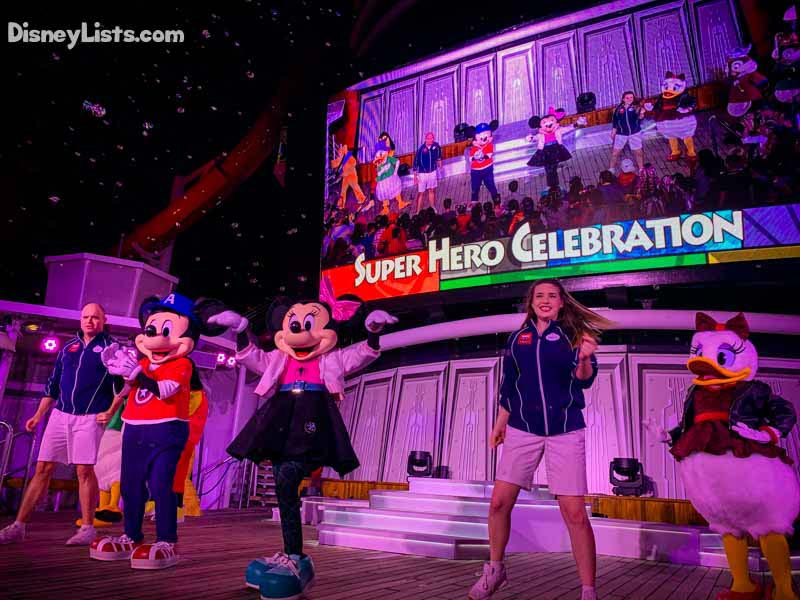 12 – Marvel Heroes Unite Deck Show
Later that evening there was a second deck show, "Heroes Unite." This action-packed show brings the largest collection of Marvel Super Heroes and Villains together. They face off in an exciting battle at sea creating one epic finale. The spectacular features incredible stunts, special effects, pyrotechnics and music taking over the upper decks of the ship. The show was fantastic and ended with another round of fireworks! Our cruise got two fireworks at sea, and it was awesome to experience.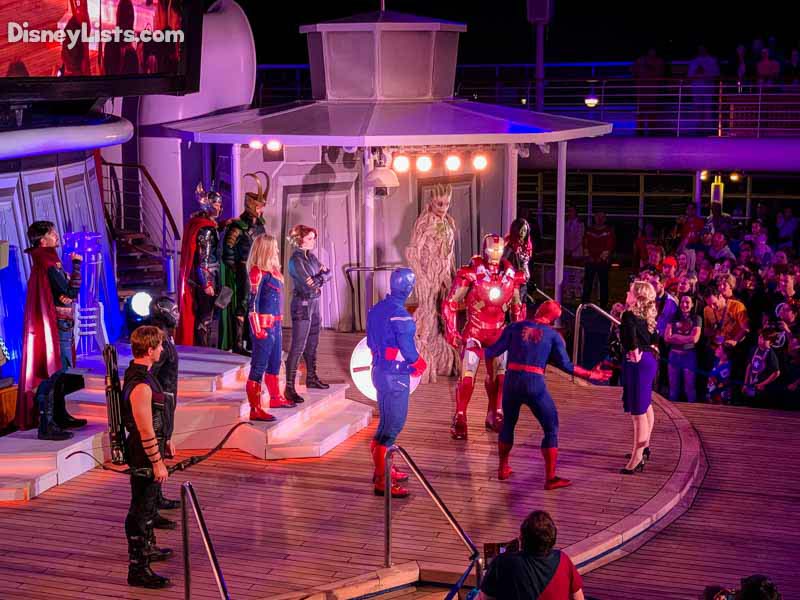 13 – Ravagers Night Club
At the end of the evening, there was special entertainment just for adults. We headed down to Fathoms nightclub, now a Ravager hideout, where we enjoyed an adult-exclusive experience inspired by the Guardians of the Galaxy. We were treated to some dancers who had terrific moves. Then, Ravagers (who don't dance, by the way), roamed the dance floor screaming, "Ravagers don't dance," and expressed their displeasure whenever they were asked to dance by their host. They also praised those of us who chose not to dance! Star-Lord joined in on the fun dancing along, and Gamora just glared at everyone, which is what she does and was perfect doing it! The music, of course, was the perfect mixtape soundtrack of 70's & 80's hits. The Disney entertainers were again perfect in their performances. It was a marvelous ending to a Marvel Day at Sea!
You can read more about our Marvel Day at Sea on the Disney Magic by clicking the links below.
Read about Day 1 on our Disney Cruise-Marvel Day at Sea on Disney Magic
Read about Day 2 on our Disney Cruise-Marvel Day at Sea on Disney Magic
Read about Day 3 on our Disney Cruise-Marvel Day at Sea on Disney Magic
Read about Day 5 on our Disney Cruise-Marvel Day at Sea on Disney Magic
Read about Day 6 on our Disney Cruise-Marvel Day at Sea on Disney Magic
14 – Thinking About a Cruise?
Thinking about booking a Disney Cruise? We highly recommend booking with an Authorized Disney Vacation Planner to ensure you are well taken care of and get all the discounts available to you. For more details and help booking your vacation, call (407) 442-0227. You can also get a no-obligation, FREE vacation quote by clicking here. Their services are free to you, and they can answer any questions you may have.
Editor's Note: The Disney Company provided us a complimentary Disney Magic Cruise and special media-specific events during the cruise. However, as always, the thoughts and opinions contained in this article are entirely our own.
For a no obligation, FREE Quote on a Disney vacation package, please contact our travel partner Magical Vacation Planner at 407-442-0227 (407-442-0215 for Spanish). You can also request a FREE quote online by Clicking HERE.