Dining
Top 8 Counter Service Ice Cream Spots in Walt Disney World
Face it, if you are visiting Walt Disney World, it is usually warm enough that you'll want to cool off with a delicious ice cream treat. Thankfully, there are no shortages of fantastic ice cream treats at Disney. And you don't even need a reservation! Here are the top eight quick-service ice cream spots and treats at Walt Disney World.
8 – I.C. Expeditions, Blizzard Beach
Best Treat: Sand Pail (Chocolate and Vanilla Soft-serve Ice Cream, Waffle Pieces, Sprinkles, Cookie Pieces, Hot Fudge, Caramel Sauce, Whipped Cream and a Cherry)
True story. On a hot summer day, my kids and I waited patiently in a twenty-minute line to get ice cream from I.C. Expeditions. After finally receiving our ice cream cones, we walked back to our chairs. Unfortunately, as we walked, a bug decided to drop into my daughter's ice cream. She, of course, was disappointed because she didn't want to eat ice cream that had been tainted by a bug. At that very moment, a Disney Cast Member observed the bug-ridden ice cream. He said to wait there, and he would take care of it. I was very surprised because it never occurred to me that Disney should replace the ice cream cone. He surprised me, even more, when he returned with the Sand Pail full of delicious ice cream, which was double the cost of the cone. We all thanked him for his generosity, and four of us devoured the Sand Pail. Another reason we love Disney!
7 – Plaza Ice Cream Parlor, Main Street, U.S.A., Magic Kingdom
Best Treat: The Plaza Ice Cream Sundae
Ideally located on Main Street, U.S.A, the Plaza Ice Cream Parlor is a great spot to pick up a treat while you are waiting for a parade or the fireworks to begin. Thankfully, they've also added a classic to their menu, the Plaza Ice Cream Sundae. There's nothing like having a classic ice cream sundae on Main Street USA! Other treats include a traditional main street float and, of course, a simple ice cream cone.
6 – Sunshine Tree Terrace, Adventureland, Magic Kingdom
Best Treat: Citrus Swirl (Frozen Orange Juice and Vanilla Soft-serve)
Not a fan of the traditional pineapple Dole Whip? Then head on over to Sunshine Tree Terrace for some delicious orange-flavored treats! You can't go wrong when ordering a delicious treat off the menu, whether it's the famous Citrus Swirl, a Dole Whip Orange cup, or a tasty ice cream float. This place is Orange Bird-approved!
5 – L'Artisan des Glaces Sorbet and Ice Cream Shop, World Showcase-France, Epcot
Best Treat: Croque Glace (Your choice of ice cream in a warm brioche with chocolate or raspberry sauce)
This ice cream parlor is tucked away toward the back of the France pavilion in Epcot. It is a relatively recent addition (replacing the bakery, which moved to larger quarters) to the park. High marks here for being unique. They offer a variety of flavors beyond the big three along with some ice cream specialties such as the Croque Glace. This is the best-looking ice cream sandwich I've ever seen. With your choice of 16 flavors of ice cream and chocolate or raspberry sauce, it's likely to be the best tasting as well.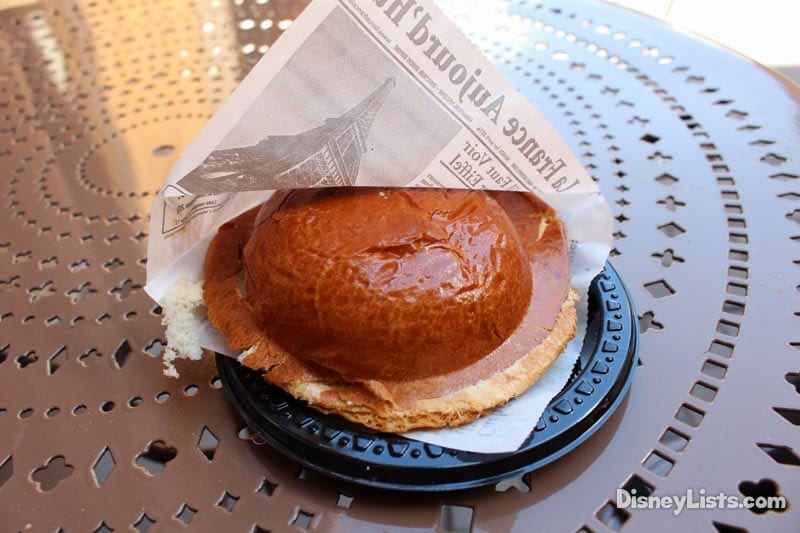 4 – Aloha Isle, Adventureland, Magic Kingdom
Best Treat: Dole Whip (Dole® Pineapple Juice with Pineapple Dole® Whip)
Dole Whip is so famous it has its own merchandise. This iconic treat is delicious! My favorite is when it has vanilla ice cream swirled in. The combination of tangy and sweet is perfect for a hot day! This restaurant can get really busy with an extra-long line during the hot summer months. Use the Mobile Ordering feature on the My Disney Experience App and save yourself a lot of time!
Tip: you can purchase Dole Whip at many other locations. Click here to find out where.
3 – Beaches & Cream Soda Shop, Beach Club Resort
Best Treat: The Kitchen Sink-Serves 4 (Scoops of Vanilla, Chocolate, Strawberry, Coffee, and Mint Chocolate Chip smothered in every topping)
Beaches & Cream Soda Shop is definitely worth a short detour from Epcot. Just off the pool at the Beach Club Resort, it's an easy walk from the International Gateway entrance off of World Showcase. While table service is available (think 50's diner), there is also a quick-service ice cream counter. Beaches and Cream restaurant is famous for "The Kitchen Sink," featuring multiple scoops of Vanilla, Chocolate, Strawberry, Coffee, and Mint Chocolate Chip ice cream smothered in every topping they have and serves at least four. While this is only available inside in the table service area, they have a smaller version of it on the counter service side.
2 – Ghirardelli Soda Fountain & Chocolate Shop, Disney Springs
Best Treat: Warm Brownie Sundae…and everything else!
Any serious ice cream lover must stop at Ghirardelli Soda Fountain and Chocolate Shop at Disney Springs. There are a lot of choices, and the atmosphere is reminiscent of an old-time soda fountain. The staff behind the counter makes it a fun experience as well. On our last trip, one of the cast members scooped and tossed it to his partner, who caught the scoops in the cups. It was impressive (until one scoop got away from them and landed somewhere back in the kitchen). Most importantly, the ice cream is flat-out great.
Tip: If you're a serious chocolate lover, and I mean seriously, you need to try hot drinking chocolate. This isn't hot chocolate. It's literally a shot of thick, rich chocolate. A little goes a long way, so it's best to share.

1 – Salt & Straw, Disney Springs
Best Treat: Be sure to try the seasonal flavors since they are offered on a limited basis!
Salt & Straw, the newest ice cream shop to Walt Disney World, is a fantastic option and went straight to number one. This ice cream shop is known for its unique flavors, which include seasonal flavors (around five options) and classic flavors (up to twelve options). The shop encourages everyone to try every flavor, so you can taste any flavor before you decide which one to get. The shop also has some great options for Vegans, which makes them even more popular. Not only are there a lot of fantastic flavor options, but the ice cream is just fantastic. You don't want to miss out on trying this ice cream the next time you're at Disney Springs!
For a no obligation, FREE Quote on a Disney vacation package, please contact our travel partner Magical Vacation Planner at 407-442-0227 (407-442-0215 for Spanish). You can also request a FREE quote online by Clicking HERE.