It seems hard to believe we're well over halfway through 2019. It's even harder to believe it's time to start making plans for the holidays, but it is! That's why holiday-related stories dominated Disney World news this week. From new details on the holiday parties, a sneak peek at new holiday offerings, to a special Christmas travel package, there was a lot to cover. Oh, and don't forget about New Year celebrations. There are lots of details out on that as well.
However, the holiday season wasn't the only thing to talk about. There are some very special limited-time experiences coming to an end. Check this list and make sure you don't miss anything. Some new Passholder perks were announced. Disney's commitment to conservation was on full display with the Protect the Pride campaign and a special sea turtle event at Vero Beach. All this and more in this week's news roundup below.
1 – Last Chance to Experience Limited-Time Offerings
Last November, Mickey and Minnie Mouse celebrated their 90thbirthdays, and Walt Disney World has been celebrating ever since. Many limited-time offerings as part of the celebrations are coming to an end in September. We're happy to report that some offerings will stick around. Click here to see what's leaving and what's staying!
2 – Even More Details Released About Holiday Parties at Magic Kingdom in 2019
We love the holiday parties that Disney offers. It allows guests to fully emerge in the spirit of Halloween or Christmas! There has already been some exciting news about these holiday parties, but this week Disney released even more details about new experiences coming this year! Click here to learn more!
3 – Christmas in July Looks Ahead to the 2019 Holiday Season at Walt Disney World
Speaking of the holidays, this week we celebrated Christmas in July and got a chance to check out all of the amazing things coming to Walt Disney World during the 2019 holiday season. Click here to read about the top 14 offerings we're most excited for this holiday season!
Click here to get a look at some of the new holiday merchandise coming out later this year.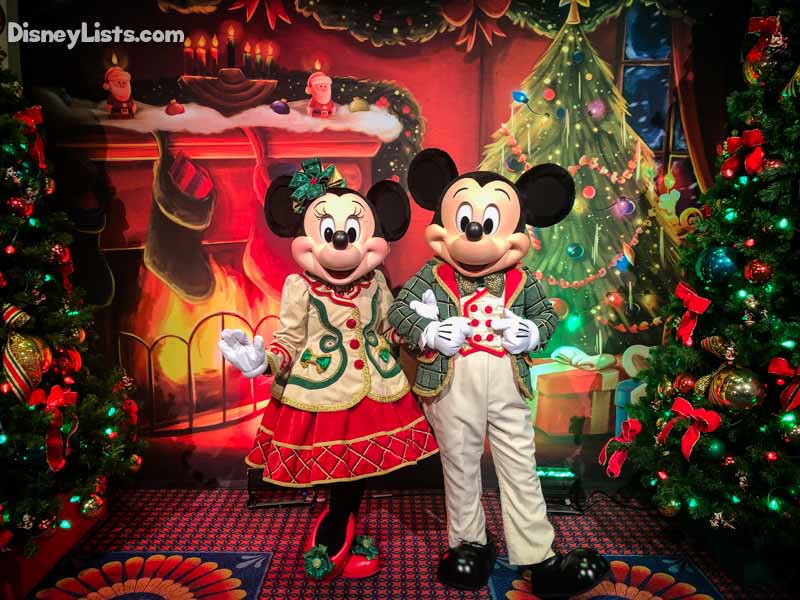 4 – 'Tis the Season to Book The Ultimate Holiday Getaway to Walt Disney World Resort
Need holiday plans? Look no further! This year Disney is offering the ultimate holiday package for guests! Cast Member Thomas Smith has all the details below:
Walt Disney World Resort is the ultimate Christmas destination. This year, get swept up in the holiday spirit – complete with yuletide sweets and Florida "snow"! The Ultimate Disney Christmas Package* is available to book starting today for a stay from Dec. 21-26, when you book through Oct. 26.
Enjoy the most wonderful time of the year at the Most Magical Place on Earth with new festive entertainment and holiday décor at Disney's Animal Kingdom Theme Park, the all-new "Minnie's Wonderful Christmastime Fireworks" at Magic Kingdom Park, the Epcot Festival of the Holidays – Presented by AdventHealth, Sunset Seasons Greetings and "Jingle Bell, Jingle BAM!" at Disney's Hollywood Studios, and much more.
Experience all of this seasonal fun with the Ultimate Disney Christmas Package, which includes a five-night stay at a select Walt Disney World Resort hotel (Dec. 21-26), four-day theme park tickets with Park Hopper option and exclusive holiday experiences across Walt Disney World Resort.
Itinerary highlights include:
Saturday, Dec. 21 – Enjoy exclusive nighttime access to select attractions at Disney's Animal Kingdom,  including Avatar Flight of Passage, Na' vi River Journey and Expedition Everest, plus an exclusive showing of the new "Rivers of Light: We Are One" spectacle.
Sunday, Dec. 22 – Join in the merriment at Mickey's Very Merry Christmas Party at Magic Kingdom, with tickets to the event included as part of this package. This special event transforms Magic Kingdom into a winter wonderland complete with special entertainment, sweet treats and a magical "snowfall" on Main Street, U.S.A.
Monday, Dec. 23 or Tuesday, Dec. 24 (one night per reservation) – Take in the new limited-time "Epcot Forever" nighttime spectacular show at an exclusive reserved viewing area. You'll also receive a digital $50 Epcot Theme Park Dine Promo Card** for each guest ages 3 and older, eligible for use at select Epcot food and beverage locations.
Wednesday, Dec. 25 – Happy Holidays! The Ultimate Disney Christmas gift will be delivered to your resort room!
Beyond the theme parks, you can wrap up holiday shopping with special discounts at participating Disney Springs locations.
For more details and help booking your vacation, call our travel partners Magical Vacation Planners at (407) 442-0227. You can also get a no obligation, FREE vacation quote by clicking here.  Their services are free to you and they can answer any questions you may have.
5 – Plan Now to Celebrate New Year's Eve with Amazing Events at Walt Disney World
There are only five months until we get ready to ring in the new year! Walt Disney World is a great place to celebrate, and Disney has some fantastic events to choose from. Since these events sell-out, you'll want to plan now before it's too late. Click here for more information.
6 – Exciting V.I.PASSHOLDER Perks Added at Epcot
Being a passholder has its perks, and we love all of them. We are excited to hear that Disney is adding some brand new passholder perks at Epcot, including discounts and special treats! Disney Cast Member Jennifer Fickley-Baker has all the details below:
Are you a Walt Disney World Annual Passholder? Then you won't want to miss out on these new "V.I.PASSHOLDER Perks" that can help you make the most of summer visits to Epcot.
Reserved Seating for an Out-of-this-World Concert Series – Passholders can enjoy reserved seating on a first-come, first-served basis for concerts taking place July 29-August 18 at America Gardens Theatre. Simply enter on the left side of the theatre (that's the Japan side!) and show your valid annual pass and photo ID for access to the Annual Passholder section.
Receive a 10% Discount at Fife & Drum and Block & Hans – Passholders will receive a 10% discount on non-discounted food and beverage items, including alcohol, at these locations from July 29-August 18. Passholders must present their valid annual pass and photo ID to receive discount. Must use non-cash payment methods including credit and debit cards and gift cards.
Try A "Secret" Sunshine Seasons Treat – Head to Sunshine Seasons inside The Land pavilion and ask for the Annual Passholder Secret Treat (it's so secret, we can't even show a photo of it here!). This secret menu item will be available for purchase from July 29-August 28 while supplies last.
Get a Complimentary Sweet Treat at Coral Reef Restaurant – In addition to receiving a 10% discount at this dining location, Annual Passholders who dine at Coral Reef and purchase an adult entree from July 29-August 28 will receive an exclusive, complimentary dessert: prosecco ice-cream with berries, whipped cream, raspberry powder, and fresh mint. (Limit: one complimentary dessert per adult entrée per passholder. A 10% discount applies to the non-discounted price of food and non-alcoholic beverages (excluding applicable tax and gratuity) during all available meal periods and is valid for the Passholder and up to three (3) guests). Passholders must present their valid annual pass and photo ID to receive dessert and discount.
Special Disney PhotoPass Opportunity – Visit Disney PhotoPass photographers at the bridge in the Italy pavilion for pics with some Passholder-exclusive props July 29-August 28.
7 – More Ways to 'Protect the Pride' this Summer with 'The Lion King'
Late last week, we enjoyed a special day at Disney's Animal Kingdom where we learned all about the 'Protect the Pride' campaign going on now. The Walt Disney Company has launched a global campaign to raise awareness of the crisis facing lions and support the Lion Recovery Fund and its partners in their efforts to advance conservation across Africa. Their goal is doubling the number of lions in the wild by 2050. Click here to read more about how you can participate and learn about some exciting 'The Lion King' inspired activities going on now at Disney's Animal Kingdom.
8 – 12thAnnual Tour de Turtles at Disney's Vero Beach Resort
On Saturday, July 27, at Disney's Vero Beach Resort, researchers from the Sea Turtle Conservancy (STC) and Disney's Animals, Science and Environment (ASE) team released two loggerhead sea turtles as part of the 12th annual Tour de Turtles "migration marathon." Tour de Turtles is a fun, educational journey that follows the migration of sea turtles from their nesting beaches to their feeding ground. We were able to watch these magnificent creatures begin their remarkable journey. Look for our full report this week.
Click here for our Instagram Story of the event with photos and video!
9 – 20thAnniversary Rock' n' Roller Coaster Starring Aerosmith Merchandise
On July 29, Rock' n' Roller Coaster Starring Aerosmith celebrates its 20thAnniversary! In celebration, Disney is releasing some anniversary merchandise. Disney Cast Member Thomas Smith has all the details.
Rock' N' Roller Coaster Starring Aerosmith has launched guests through the streets of Los Angeles on super-stretch limos for a "record"-setting 20 years at Disney's Hollywood Studios. This first-of-its-kind indoor coaster, which accelerates guests from 0-60 mph in 2.8 seconds lets guests rock out to Aerosmith tunes in an unforgettable way.
We're happy to share the first look at exclusive attraction anniversary merchandise that guests can snap up!
First up, the assortment includes a rock star tank and tee with graphics inspired by the attraction.
Aside from VIP attire, guests can also purchase a collection of dated guitar picks that compliment every rock star's look, and a limited edition commemorative pin.
Anniversary merchandise will be available while supplies last at Rock around the Shop and Once Upon a Time at Disney's Hollywood Studios.
For a no obligation, FREE Quote on a Disney vacation package, please contact our travel partner Magical Vacation Planner at 407-442-0227 (407-442-0215 for Spanish). You can also request a FREE quote online by Clicking HERE.