Wow! This is the biggest weekly News Roundup we've ever put together. This past weekend D23, the largest Disney fan gathering and expo in the world, took place in Anaheim, California. While the expo features an incredible assortment of exhibits, panel discussions and a whole lot more, it's the place the Disney company makes its biggest announcements. We were expecting a barrage of Disney news and we weren't disappointed. We finally got details on the massive overhaul and new theming at Epcot. We learned of the expansion of one of our favorite country pavilions along with the surprise announcement of a terrific new attraction featuring one of Disney's most beloved movies of all time. We got opening dates galore on new country films, new shows, new attractions. All this and we haven't even talked about news beyond Epcot.
Broad details were released for the fully immersive Star Wars Hotel. Speaking of Star Wars, Galaxy's Edge opens this week and we'll be there to cover the grand opening. A brand-new collaboration between Disney Animation and Cirque du Soleil was unveiled. Big news out from Disney Cruise Line and an intriguing partnership between Disney and Target was announced. All this and about a dozen more things below.
1 – Historic Transformation of Epcot Underway at Walt Disney World
So much is happening at Epcot it's hard to know where to start. More details were announced about the transformation of Epcot including the announcement of three new "neighborhoods," a new Mary Poppins attraction in the UK Pavilion, opening dates to the previously announced films in France, Canada, and China and a whole lot more.
Click here for all the details on the announcements made at D23 2019 Expo about the Epcot transformation. 
2 – Star Wars: Galaxy's Edge Opening Thursday, August 29
We are gearing up for the opening of the highly anticipated Star Wars: Galaxy's Edge. The largest and most technologically advanced single-themed land expansion ever in a Disney park opened at Disneyland Park in California on May 31, 2019 and is about to open here at Walt Disney World. We can't wait to be transported to a galaxy far, far away in Star Wars: Galaxy's Edge, on a journey to Batuu, the newest location in a story that began in 1977 with the first Star Wars film.
We'll be checking out Battu during the media preview event, Tuesday, August 27-Wednesday, August 28. For live coverage, be sure to follow us on Instagram where we'll be posting photos and video all day long. We'll also be covering the Grand Opening Ceremony at 10:00 am on Wednesday morning. On Thursday, August 29, we'll be back for opening day and will be visiting Oga's Cantina in the evening. So, be on the lookout for that coverage as well. After the opening day events, we'll be putting together a series of articles for you so you can plan the perfect vacation to Batuu!
Click here to follow us on Instagram to catch our full coverage of the media preview event, the Grand Opening Ceremony, and opening day coverage.
3 – Epcot International Food & Wine Festival Begins Thursday, August 29
The opening of Star Wars: Galaxy's Edge isn't the only opening taking place on August 29. Over at Epcot, the widely popular Epcot International Food and Wine Festival is also opening that day. Last week we enjoyed a preview of the Epcot Food and Wine Festival. There is so much to experience this year! See the link below for more details.
Click here for our 2019 Epcot Food and Wine Preview to see what's not to be missed this year!
We'll be at the Food and Wine Festival on opening day! Be sure to follow us on Instagram where you'll find photos and video in our Story that day! We also take photos of the menu boards so you can plan your trip around the world! Prices and snack credits change slightly every year, so keep an eye out for those posting!
4 – Disney Announces New Disney/Cirque du Soleil Show Celebrating Walt Disney Animation Studios
A first-of-its-kind show will celebrate the magic of Walt Disney Animation Studios in a touching story brought to life by Cirque du Soleil, Walt Disney Imagineering, and legendary Disney animators. It will combine Disney storytelling and heart with Cirque du Soleil's signature artistry. Previews will begin March 20, 2020, leading up to the world premiere on April 17. Tickets are now on sale. See the link below for more details.
Click here for more information about this exciting new show.
5 – More Dates Added to Late Fall and Early Winter Disney After Hours Events
Disney After Hours is a special ticketed event that takes place after park hours. It's a great way to experience the parks with low wait times and complimentary novelty items and drinks. New dates for late fall and early winter have been added to Magic Kingdom Park and Disney's Animal Kingdom. No new dates have been added to Disney's Hollywood Studios, likely because of Star Wars: Galaxy's Edge.
Click here for more information, including new dates at each park.
6 – Disney Reveals Broad Details and Name of Fully Immersive Star Wars Hotel Experience
We now know what to call the Star Wars themed hotel that is currently under construction near Galaxy's Edge. Star Wars: Galactic Starcruiser will invite guests aboard the Halcyon, a starcruiser known throughout the galaxy for its impeccable service and exotic destinations. Onboard, they will stay in well-appointed cabins, experience onboard dining, make a planet-side excursion to Black Spire Outpost on Batuu, and much more.
Click here for more details about this two-night vacation option coming soon.
7 – Moana, Tron Lightcyle Run, and More
The Tron roller coaster that is currently under construction in Tomorrowland also had its official name announced. Based on the Tron Lightcycle Power Run in Shanghai Disneyland Park, the Magic Kingdom version has a slightly different name, dropping the "power," from the name.
Earlier in the D23 Expo, exciting news was announced about the new Journey of Water, inspired by "Moana" at Epcot will be the first attraction inspired by the hit Walt Disney Animation Studios film. This lush exploration trail will invite guests to meet and play with magical, living water. This attraction will be in the new "World Nature" neighborhood in Epcot.
Much like the models of Toy Story Land and Star Wars: Galaxy's Edge, Disney will open an exhibit which will allow guests to visualize the exciting plans for Epcot when doors open October 1, 2019. Walt Disney Imagineering presents the Epcot Experience will feature engaging and interactive exhibits that showcase the relentless innovation, energy, and excitement driving the park's future.
Finally, the new logo for Epcot was released. The logo has also been updated to reflect the new direction of the park. The new logo is reminiscent of the original logo in design and feel.
Click here for more details on these announcements.
8 – Disney Cruise Line Announces New Private Island, Name of 5thShip
At the D23 Expo 2019, with a little help from Tinker Bell, Disney fans were the first to hear that Disney Wish will be the name of the fifth Disney Cruise Line ship. The Disney Wish is scheduled for delivery in late 2021 and is expected to set sail beginning in January 2022. Also at the D23 Expo, Disney revealed new information and two early conceptual artist renderings for its second island destination in The Bahamas, which is located on the breathtaking island of Eleuthera at a place called Lighthouse Point.
Click here for more details on the Disney Wish and Lighthouse Point.
9 – Disney Teases Details of 50th Anniversary of Walt Disney World Resort
Anniversaries are serious fun at Disney parks – and the 50th Anniversary of Walt Disney World Resort will be one of the biggest ever. For the first time, the celebration will extend beyond Magic Kingdom to each of the resort's four theme parks with highly anticipated attraction openings and new entertainment, food and beverage, merchandise, and more. We can't wait to learn more about this amazing celebration.
10 – D23 Features First Look at Disney Park's First Ride-through Attraction Featuring Mickey Mouse and Minnie Mouse
Attendees of D23 got a first look inside Mickey & Minnie's Runaway Railway, coming to Disney's Hollywood Studios at Walt Disney World Resort in 2020 and Disneyland in 2022. Chapek also revealed a first look at the new area of Mickey's Toontown at Disneyland that will be home to this exciting attraction, which will take guests on a journey inside the wacky and unpredictable world of Disney Channel's Emmy® Award-winning "Mickey Mouse" cartoon shorts.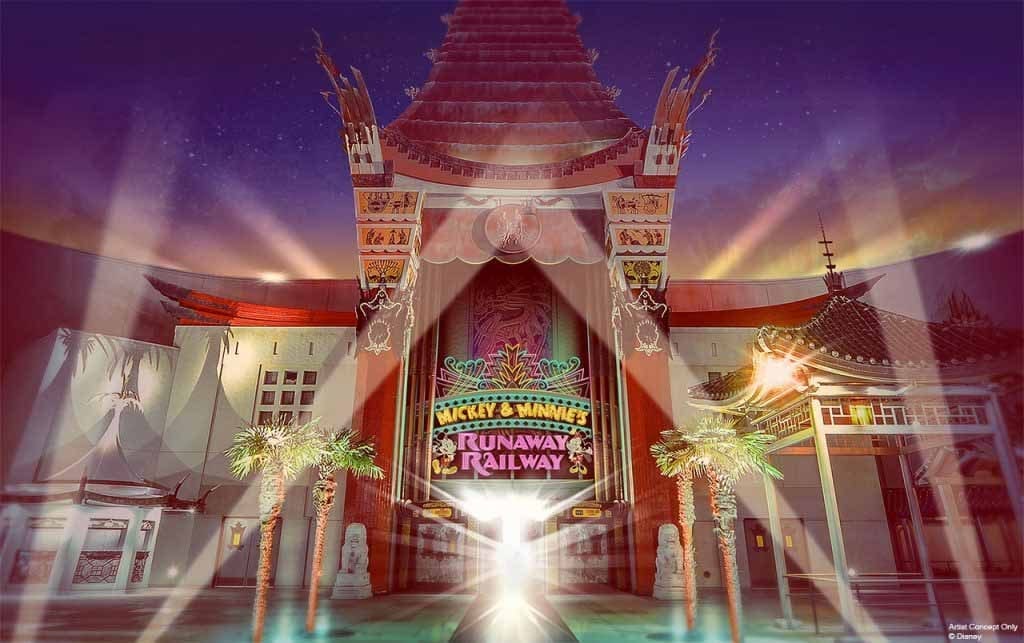 11 – Disney Announces Disney Genie – Next Generation of Vacation Planning Technology
Planned to debut in late 2020, Disney Genie is a revolutionary new digital offering that will enhance the way guests plan for and experience a trip to Walt Disney World Resort. Disney Genie will make planning easier and more fun by providing guests customized itineraries geared to princesses, thrill-seekers, foodies, families, and more. Guests will even be able to tell Disney Genie what they want to experience, and it will quickly evaluate millions of options to present them with an optimal day. 
Click here for more information about Disney Genie.
12 – Concept Art of the new Reflections: A Disney Lakeside Resort Revealed
Bob Chapek also shared more details about the previously announced Reflections: A Disney Lakeside Lodge, a unique hotel and proposed Disney Vacation Club resort drawing inspiration from the wonders of nature and artistry of Walt Disney. This resort is currently under construction between Disney's Wilderness Lodge and Disney's Fort Wilderness Campground and Resort. Check out the new concept art below.
13 – 'The Eternals' – Jack Kirby's Cosmic Series Experience Now Open at Walt Disney Presents in Disney's Hollywood Studios
With a new movie in the works, Disney is beginning to introduce guests of Disney's Hollywood Studios to another side of the Marvel Universe, 'The Eternals.' Here are all the details from Disney Cast Member Thomas Smith.
For a limited time, Walt Disney Presents at Disney's Hollywood Studios is celebrating "The Eternals" and Jack Kirby, the creator of the popular comic book series.
Guests visiting "The Eternals" – Jack Kirby's Cosmic Series can catch a glimpse of the original print issue #1 comic book that started it all.  Unique photos and artifacts inspired by Jack's process will be on display.  And, this cosmic experience also includes a photo wall where you can pose with a few of the many characters from 'The Eternals' comic series.
Every year comic book fans around the globe honor the late Disney Legend, Jack "King" Kirby on his birthday, August 28.  What a great way to celebrate this year!  Drop by the Walt Disney Presents attraction in Animation Courtyard at Disney's Hollywood Studios now open and let us know what you think of "The Eternals" – Jack Kirby's Cosmic Series.
14 – Target Teams Up with Disney to Introduce New Generation of Disney Stores
At the D23 Expo 2019, the audience was the first to hear how Target and Disney will come together with a creative retail collaboration that encompasses experiential retail and merchandising – including the launch of 25 Disney stores within select Target stores nationwide on October 4, with 40 additional locations opening by October 2020. The "shop-in-shop" will feature an enhanced Disney assortment of more than 450 items, including more than 100 products that were previously only available at Disney retail locations.
15 – The Ripken Experience at Walt Disney World Resort Begins in 2020
A baseball legend is lending his name to a new baseball tournament coming to ESPN Wide World of Sports Complex next year. Disney Cast Member Reggie Roberts shares more below.
Cal Ripken Jr., one of the most accomplished professional baseball players ever to put on a uniform, is coming to Walt Disney World Resort and he is bringing his successful youth baseball academy with him.
That means young baseball players (ages 6-18) can come to ESPN Wide World of Sports Complex next year to compete in high-level youth baseball tournaments.
In addition to being on their field of dreams at Disney, these young players will get a chance to have a whole lot of fun. For instance, the players will be treated to a dazzling opening ceremony and have free time in the parks to experience new and popular attractions, such as Star Wars: Galaxy's Edge, which opens August 29.
Ripken played 21 seasons for the Baltimore Orioles and was a 19-time All-Star shortstop.  He earned the nickname "The Iron Man" after setting the professional baseball record for most consecutive games played (2,632).
And if you know of a youth baseball team that might be interested in being part of the Ripken Baseball Experience at Walt Disney World Resort, please visit ripkenbaseball.com/walt-disney-world.
For a no obligation, FREE Quote on a Disney vacation package, please contact our travel partner Magical Vacation Planner at 407-442-0227 (407-442-0215 for Spanish). You can also request a FREE quote online by Clicking HERE.