Things are really starting to pick up at Disney World and beyond. The big news of the week was the opening of reservations for the 50th Anniversary and 2021 holiday season and the extension of the park reservation system. We also got a bunch of dining news with restaurant re-openings and some changed menus. Speaking of dining, Disney has announced the end date for the Taste of Epcot International Food & Wine Festival as well as some big Character Dining news. Disney Cruise Line released their 2022 itineraries, and annual passholders have some cool new shopping to be excited about. Several updates and additions to the refurbishment schedule are available, and do not miss the recipe just release for the Impossible Sliders which are a highlight of the Food & Wine Festival. All this and more below in this week's news roundup.
1 – Walt Disney World Reservations and Vacation Packages for Travel Dates in Late 2021 Now Available
Disney World vacation packages and ticket-only purchases for late fall at the Walt Disney World Resort are now available to book. This includes dates for the Disney World 50th Anniversary as well as the 2021 holiday season.
Walt Disney World vacation packages, and ticket-only purchases, for arrivals September 27 through December 31, 2021, at the Walt Disney World Resort are now available to book. Previously, you could only book through September 26!
Next fall will be an exciting time to visit Walt Disney World because the resort will celebrate its 50th Anniversary on October 1, 2021. While we're not exactly sure what the celebrations will look like, it still will be a fantastic time to visit. If you want to visit during the anniversary, we highly recommend you book right now.
As Disney is still in a phased reopening, there are some Disney Resort hotels that are not, as of this time, open or scheduled for reopening in 2021. Disney will continue to evaluate the situation and reopen more hotels when the environment and demand is right to do so.
We highly recommend booking with an Authorized Disney Vacation Planner to ensure you are well taken care of and get all the discounts available to you. Future discounts and the Disney Dining Plan may be announced at a later date, and if you book with a travel agent, they will be able to apply these offers to your reservation. This frees you up from spending hours on the phone with Disney trying to get the deals.
For more details and help booking your vacation, call our travel partners Magical Vacation Planners at (407) 442-0227. You can also get a no-obligation, FREE vacation quote by clicking here. Their services are free to you, and they can answer any questions you may have.
2 – End Date Announced for 2020 Taste of EPCOT International Food & Wine Festival
A new version of the popular EPCOT International Food & Wine Festival debuted July 15, 2020, with the phased reopening of EPCOT. Though it may be slightly different from festivals past, the Taste of EPCOT International Food & Wine Festival marks the park's 25thconsecutive year hosting this popular event, which also will be the longest festival in Walt Disney World Resort history. The festival will end on Sunday, November 22, 2020. Previously an end date was not announced. This will give Disney one week to prepare for the Festival of the Holidays, which kicks off on November 27, 2020.
3 – Characters Return to Chef Mickey's with New Menu in December
Right now, there are only three modified character dining experiences at Walt Disney World: Garden Grill, Topolino's Terrace's Breakfast a la Art, and Minnie's Seasonal Dine at Hollywood & Vine. That will change in December with the return of characters to Chef Mickeys. The restaurant will also receive new menu items since the buffet is not operating. Check out the link below for all the details.
Click here to learn about updates at Chef Mickey's.
4 – Disney Park Pass Reservation System Extended to Mid-January 2022
Booking a room and ticket package does not guarantee a theme park reservation, and you will need to make your park reservations for dates in 2021. You will be able to view park reservation availability by clicking here before purchasing theme park tickets or booking a package. Previously available through September 26, 2021, the Disney Park Pass reservation dates were extended to January 14, 2022. The system manages park attendance and does not allow for park hopping. While we hope that the system will not be needed or utilized in late 2021, we highly recommend that you make your park pass reservations as soon as you book your 2021 trip just in case. You will need valid admission to make the park reservation, so consider adding tickets to your Walt Disney World vacation package. If you want to be in Magic Kingdom on the 50th Anniversary on October 1, 2021, we highly recommend making that reservation as soon as possible. The demand to be in the park that day will be very high, and we expect it to fill up much earlier than other dates, perhaps even months in advance.
Click here to learn how to make Disney Park Pass reservations.
5 – One Restaurant Reopening at Disney's Hollywood Studios and Two Restaurant Menu Changes
ABC Commissary recently reopened at Disney's Hollywood Studios offering guests another (much needed) dining option at the park. The restaurant also has new menu items. Hollywood & Vine also received an updated menu. Learn more at the link below.
Click here to learn about restaurant updates at Disney's Hollywood Studios.
6 – 2022 Disney Cruise Line Itineraries Announced
We can't wait to get back to cruising and now we can make some plans for 2022. This week Disney released the ports and itineraries for 2022. Get out the calendars and start planning! Learn more at the link below.
Click here for information on the 2022 Disney Cruise Line Itineraries.
7 – Disney's Winter Summerland Miniature Golf to Reopen Soon
Calling all mini-golf fans! Disney has announced the reopening date for Disney's Winter Summerland Miniature Golf, while Disney's Fantasia Gardens Miniature Golf will take a break and come back in January. Here are all the details from Disney Cast Member Jacqueline Logan:
With the fall and winter seasons approaching in Florida, Disney's Winter Summerland Miniature Golf will reopen to guests beginning November 6 at Walt Disney World Resort.
Winter Summerland Miniature Golf offers two uniquely themed 18-hole courses, each with their own distinct musical soundtrack. As the name suggests, the first course draws inspiration from the winter season, including snow castles and ice hockey rinks. The second course represents all things summer. Guests navigate surfboards, sand sculptures, and even a melted snowman.
As Disney's Winter Summerland Miniature Golf reopens next month, Disney's Fantasia Gardens Miniature Golf will close for the season on November 5 and reopen on January 31, 2021.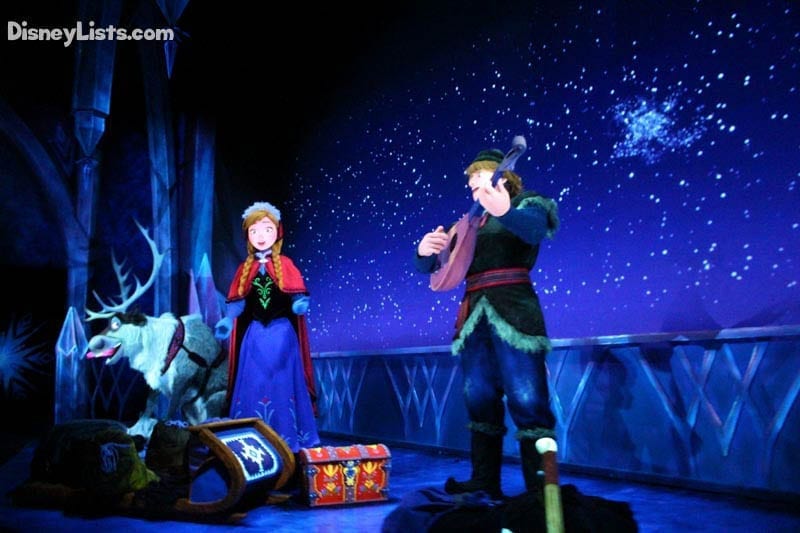 8 – Frozen Ever After to Close for Short Refurbishment
A planned refurbishment for Frozen Ever After at EPCOT is scheduled to take place November 2-6, 2020. Guests looking for "Frozen" fun during this time may catch the royal sisters during one of their surprise-and-delight trips around the World Showcase promenade in the "Frozen" cavalcade.
9 – Tomorrowland Transit Authority PeopleMover Refurbishment Extended
The Tomorrowland Transit Authority PeopleMover has been closed since the first week of March for refurbishment and has not reopened since then. The reopening date has been pushed back many times since then and has again been pushed back to December 26, 2020.
10 – Big Blue Pool at Disney's Art of Animation Resort Closing for Refurbishment
The Big Blue Pool at Disney's Art of Animation Resort will be closed for refurbishment from January 11, 2021, through early April 2021. While this work takes place, other exhilarating pool and recreation offerings will remain open for your enjoyment, including Flippin' Fins Pool, Cozy Cone Pool, and the Schoolyard Sprayground.
During this time, it is possible that Guests may see or hear construction, but noise should not be heard from Guest rooms between dusk and 9:00 AM.
11 – New Annual Passholder Pop-Up Merchandise Location Opens at EPCOT
This past week we got a look at the all-new annual passholder pop-up merchandise location at EPCOT. The store offers exclusive merchandise for annual passholders along with some steep discounts. Learn more at the link below.
Click here to learn about the new annual passholder pop-up merchandise location at EPCOT.
12 – Enjoy the Impossible Burger Slider at Home with Recipe from Disney Parks
Disney Parks has shared another recipe for us to try at home! Here are all the details from Disney Cast Member Karen McClintock:
If you haven't visited Taste of EPCOT International Food & Wine Festival yet, or if you need to go back for seconds (or thirds!) you have just over a month to sip and savor. The festival will close on Nov. 22 to make way for Taste of EPCOT International Festival of the Holidays presented by AdventHealth, which begins Nov. 27.
I asked our Festival chefs to share one of my favorite plant-based recipes – the Impossible™ Burger Slider with Wasabi Cream and Spicy Asian Slaw. This slider, with its perfect spicy kick, is a popular festival offering as well as an easy (and delicious!) recipe to make at home. Check out the how-to video that accompanies this recipe.
Impossible™ Burger Slider with Wasabi Cream and Spicy Asian Slaw  Makes 6 Sliders
Click here for a print-at-home version of this recipe.
SLAW DRESSING
1/4 cup sambal
1 1/2 tablespoons low sodium soy sauce
1/4 cup granulated sugar
1 teaspoon fresh minced ginger
1/2 teaspoon minced garlic
1 teaspoons sesame oil
2 tablespoons fresh lime juice
SWEET AND SPICY SLAW
1 cup shredded green cabbage
1/2 cup shredded carrot
1/2 poblano pepper, thinly sliced
1/2 cup shredded green papaya
2 tablespoons chopped cilantro
Reserved slaw dressing
Salt and pepper, to taste
WASABI AÏOLI
1 tablespoon water
1 tablespoon wasabi powder
1/2 cup plant-based mayonnaise
1/2 teaspoon coarse salt
IMPOSSIBLE™ PATTIES
18 ounces Impossible™ Burger
2 teaspoons coarse salt
1/2 teaspoon freshly ground black pepper
3 tablespoons sambal
1 tablespoon canola oil
SLIDERS
6 slider rolls with sesame seeds
1 cup baby arugula
FOR SLAW DRESSING:
Place sambal, soy sauce, sugar, ginger, garlic, and sesame oil in small saucepan. Heat over medium-high heat until boiling and stir until sugar is fully dissolved. Remove from heat and cool to room temperature.
Stir in lime juice and refrigerate until ready to serve.
FOR SWEET AND SPICY SLAW:
Combine cabbage, carrot, sliced pepper, green papaya, and cilantro in large bowl.
Add cooled slaw dressing. Season with salt and pepper, to taste.
FOR WASABI AÏOLI:
Mix water and wasabi powder in medium to form a paste.
Whisk in plant-based mayonnaise and salt until combined.
Refrigerate until ready to serve.
FOR IMPOSSIBLE™ PATTIES:
Combine Impossible™ Burger, salt, pepper, and sambal in large mixing bowl. Divide into six 3-ounce patties and shape to size of slider buns.
Heat canola oil in large skillet over medium heat for 5 minutes. Place patties in pan and cook for 3 minutes on each side, until 155°F.
Keep warm.
TO SERVE:
Drizzle Wasabi Aïoli on the bottom half of each sesame bun and top with a few leaves of baby arugula. Top with Impossible™ patty and Sweet and Spicy Slaw before adding the top of each bun.
Cook's Notes: Impossible™ is available online or at your local grocery store. Impossible™ cooks and tastes like beef made from cows – but is made sustainably, from plants.
Always use caution when handling sharp objects and hot contents. Please supervise children who are helping or nearby. This recipe has been converted from a larger quantity in the restaurant kitchens. The flavor profile may vary from the restaurant's version.
13 – New Walt Disney World License Plate Celebrates 50th Anniversary and Can Help a Child's Wish Come True
Florida residents will have the opportunity to get a new license plate that celebrates the resort's 50th anniversary. Disney Cast Member Tajiana Ancora-Brown shares more below.
We are sharing some exciting news for Florida-registered car owners – there's now a way to be part of history and to help grant wishes for children who need them most. For the first time ever, a specialty Walt Disney World Resort license plate is available for purchase in honor of our 50th anniversary. Proceeds of the license plate will go to Make-A-Wish of Central and Northern Florida.
Disney has a longstanding relationship with Make-A-Wish, dating back to 1980, and since then, more than 140,000 Disney-inspired wishes have been granted, with more than 8,000 taking place each year at Walt Disney World Resort.
While the design of this specialty plate will be revealed at a later date, interested car owners can purchase a presale voucher now for $25 plus applicable state administration fees through local County Tax Collector's offices and license plate agencies (DMVs) across the State of Florida.
We are busy planning our 50th anniversary celebration and will share more details in the months to come. To learn more about purchasing a pre-sale voucher for your license plate, visit flhsmv.gov.
14 – Walt Disney World Resort Donates Schools Supplies for Teachers
Walt Disney World often helps the surrounding community with donations and support. Recently the company donated school supplies for teachers. Here are all the details from Disney Cast Member Tajian Ancora-Brown:
Adapting to new ways of learning is something that's been top of mind for teachers and students this fall, and with 16,000 Central Florida students resuming face-to-face learning this week, we wanted to lend a hand in a way that mattered most to the teachers who would welcome these students back to their classrooms.
Walt Disney World and A Gift For Teaching—a Central Florida nonprofit that provides free resources and materials to public schools—have been working together for the past two decades to help make a difference in local schools. This work took on even more importance this summer when the nonprofit needed to temporarily close its supply warehouse to visiting teachers and launch a new curbside supply pickup service, all while sourcing items not typically found on supply lists like lanyards for holding face masks and individual water bottles to replace communal drinking fountains. Thanks to the help of our merchandise teams, Walt Disney World donated thousands of lanyards, nearly 5,000 reusable shopping bags to support the new curbside pickup model and various merchandise items to spread a little magic in local classrooms.
"The feedback from teachers has been incredible," said Jane Thompson, president at A Gift For Teaching. "They've been so thankful for us recognizing there was going to be a need and figuring out how we could help fill that need for them. That's been very gratifying for us."
The Walt Disney World Ambassadors visited A Gift For Teaching to see the new curbside pickup in action and how local teachers are still getting the many resources they need, but in a whole new way.
Beyond supporting schools through A Gift For Teaching, Walt Disney World also recently donated more than 100,000 reusable bags, thousands of water bottles and lanyards, along with other back-to-school essentials like backpacks and incentive items to Central Florida schools and organizations. We're thankful for everything teachers and staff do for students in our community and hope these items help position them to have a fantastic school year.
"One of the things that we're so grateful for at this time is partnerships like we have with Disney," Thompson added. "Disney as a partner has been there to serve and deliver and support our organization and our mission of ensuring that every student has every supply that they need."
For a no obligation, FREE Quote on a Disney vacation package, please contact our travel partner Magical Vacation Planner at 407-442-0227 (407-442-0215 for Spanish). You can also request a FREE quote online by Clicking HERE.