During the phased reopening of Walt Disney World, many restaurants have been modified and offer a different experience. One of those resturants is Chef Mickey's. The restaurant has been open but offering a modified menu with no characters. We're happy to report that our favorite pals will be returning this December along with some new menu items. Catch all the details below.
Here are all the details from Disney Cast Member Karen McClintock:
Mickey Mouse and his best pals are returning to breakfast at Chef Mickey's restaurant in Disney's Contemporary Resort on December 16, bringing some new items to the menu inspired by their favorite dishes.
Along with traditional breakfast favorites, you will be able to try the new Mickey's "Celebration" Pancake, featuring whipped cream, celebration sprinkles, shimmering pixie dust, and more.
For something a bit more savory, we're adding a new "Loaded" Potato-Cheese Casserole topped with smoked bacon crumbles and chives.
Last but not least, Goofy's Banana Bread French Toast will combine unique flavors of banana bread baked in zesty orange-scented French toast batter, topped with Espresso-mascarpone cream, toasted bananas, and chocolate crumbles.
If you can't decide on which new item to try, you'll be able to taste all three as part of an all-you-care-to-eat family-style feast with other traditional breakfast favorites.
When Mickey and friends return, the experience may look a little different than the last time you visited, but you can still expect to smile, wave, and make unforgettable memories with some of your favorite characters as they parade through the restaurant in their chef's best.
Reservations for Chef Mickey's character breakfast will open on October 17, based on availability. In addition, Disney Resort hotel guests can make reservations up to 60 days in advance plus the length of their stay (up to 10 days). For more information, please click here.
RELATED ARTICLE: 18 Important Details You Need to Know About the Disney World Phased Reopening
by Chad and Cindy Nykamp
Walt Disney World theme parks reopened in July after being closed for nearly four months and some restaurants and resorts have yet to reopen. Aspects of a Disney theme park day have been re-examined in light of the new global environment, with new policies following guidance from health experts and government agencies. In addition to limits on attendance and controlled guest density, new procedures are in place for park entry, attractions, dining, retail, transportation, and more, with the well-being of guests and Disney cast members at the forefront of planning. Even with all these changes, the fundamentals of a Disney theme park experience remain the same. The magic is there, and it still can be a very enjoyable experience. Here is everything you need to know about visiting Walt Disney World during the phased reopening.
1 – Resort Openings & Policies
Not all resorts have reopened and the reopening of the resorts is spaced out. There is a lot of information you'll need to review before your visit to Disney resorts. The Walt Disney World resorts will also undergo a phased reopening. Click here for a complete guide on everything you need to know about your visit to the resorts, including which resorts are reopening and when.
2 – Disney Park Pass Reservation System
To promote physical distancing, capacity is limited at Walt Disney World theme parks. During the phased reopening, guests with a ticket or Annual Pass must use the new Disney Park Pass system to make a reservation in advance for each park entry.
Once guests log in to their My Disney Experience accounts on Disneyworld.com and link their tickets, they have access to a calendar of available reservation dates for each theme park; multi-day tickets require a park reservation for each day of their tickets. Families and friends can link their tickets together and look to arrange theme park entries at the same time. Park reservations are limited in number and subject to availability.
Click here for our guide to making park reservations – how to use your MyDisney Account during the phased reopening of Disney World.
3 – Health and Safety Procedures
As guests and Disney cast members work together to promote the health and safety of everyone, the theme parks will feature new protocols during this phased reopening.
"Our deliberate and phased approach at Walt Disney World Resort emphasizes multiple layers of health and safety measures," said Dr. Pamela Hymel, chief medical officer, Disney Parks, Experiences and Products. "We're taking a multi-pronged approach to our reopening, after considering the guidance of various governmental authorities and health agencies, and recommendations from our team of health and safety experts. We're also actively working with industry groups and research universities to discuss best practices."
Cast members have gone through extensive new training to prepare for the theme parks' reopening in this new environment. Cast members in the Incredi-Crew will wear brightly colored, easily identifiable attire and walk through the parks to explain the new procedures and answer any guest questions while encouraging everyone to follow these new health and safety measures.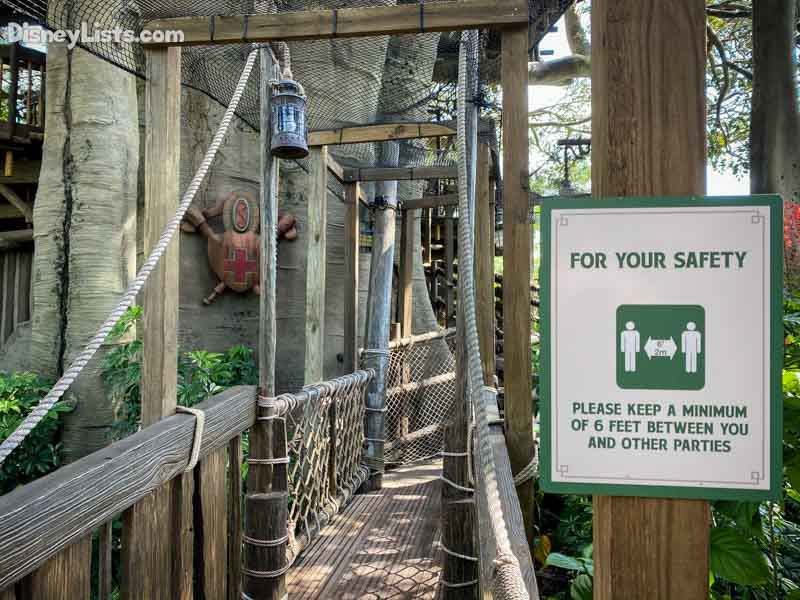 4 – You'll Need Face Coverings for the Entire Walt Disney World Property
All guests 2 years of age and older, along with cast members, are required to wear an appropriate face covering while visiting the theme parks and Disney Springs. They must be worn over the nose and mouth at all times, except when eating and drinking while dining. Disney has recently updated to policy to exclude neck gaiters and scarfs.
Here is the policy as stated on the Walt Disney World Website:
Face coverings are required for all Guests (ages 2 and up) and Cast Members. Please bring your own face coverings and wear them at all times, except when dining or swimming. You may remove your face covering while actively eating or drinking, but you should be stationary and maintain appropriate physical distancing.
All face coverings (whether disposable or reusable) must:
Be made with at least 2 layers of breathable material
Fully cover the nose and mouth and secure under the chin
Fit snugly but comfortably against the side of the face
Be secured with ties or ear loops and allow the Guest to remain hands-free
At this time, based on guidance from health authorities, neck gaiters, open-chin triangle bandanas and face coverings containing valves, mesh material or holes of any kind are not acceptable face coverings.
Costume masks are also not considered appropriate and are prohibited from being worn, in alignment with our existing rules.
The use of face coverings is not a substitute for physical distancing.
5 – Transportation
Capacity and guest density is limited for complimentary Walt Disney World guest transportation, and guests are required to wear appropriate face coverings at all times during their journey. Buses and Monorails have implemented a combination of physical distancing and physical barriers to provide separation between guest parties. Party groups will be required to maintain physical distancing while aboard Disney watercraft. Disney Skyliner loads one party per gondola. For those arriving in their own vehicles, auto plazas offer cashless payment. Finally, the parking lot trams will not be available at this time.
Click here to see photos of the safety precautions on Disney buses.
6 – Temperature Screenings
All guests are required to undergo temperature screenings prior to entering a theme park and Disney Springs. Based on guidance from the Centers for Disease Control and Prevention, anyone displaying a temperature of 100.4 degrees Fahrenheit or higher will be directed to an additional location for rescreening and assistance. Those who again measure 100.4 degrees Fahrenheit or higher will not be allowed entry, nor will those in their party.
7 – Physical Distancing and Capacity Measures
To maintain appropriate physical distancing, a limited number of guests are able to visit each theme park each day. The limits are also in place for indoor locations within the parks, such as retail shops and dining locations. Ground markings help promote proper physical distancing throughout the parks, including attraction queues. Physical barriers are in place in select locations where maintaining a proper physical distance from others may be difficult.
Click here to see photos of the physical distancing and safety measures in place throughout Magic Kingdom.
8 – Cleanliness
High-traffic areas receive increased cleaning. Guests are encouraged to frequently use hand-washing stations and hand sanitizer available in the theme parks.
9 – Cashless Transactions
Guests are encouraged to use cashless options whenever possible, including MagicBands, debit cards, credit cards, Disney gift cards and mobile payment methods.
10 – Dining
New measures promoting health and well-being are being implemented at Walt Disney World theme park restaurants during their phased reopening. These include enhanced cleaning procedures in seating, dining, and common areas, as well as changes to self-serve options. In addition, mobile technology via the My Disney Experience app is being used in convenient ways to minimize contact, such as Mobile Order at select quick-service theme park locations and Mobile Dine Check-in at select theme park table-service locations, as well as reduced- contact menus at select theme park restaurants. All Guests may now make dining reservations up to 60 days in advance.
11 – Expect Reduced Park Hours
The park operating hours have been reduced from normal operating hours. Magic Kingdom and Disney's Hollywood Studios are open for nine hours, while EPCOT and Disney's Animal Kingdom are open for eight hours. Each park has different operating hours. Always check the My Disney Experience app or the Walt Disney World calendar on the website for up to date hours.
12 – No FastPass+ & No Extra Magic Hours
As a result of the COVID-19 impact, the FastPass+ service is suspended for the time being as Disney plans to use additional queue space to manage capacity at the attractions and maintain physical distancing. Also, please note, Extra Magic Hours are temporarily suspended. We're happy to report that we didn't miss FastPass+ at all. The crowds are low enough, the system really isn't needed.
13 – Attractions, Entertainment, and Characters in the Park
We now know which attractions are open, the available entertainment, and what we can expect with the characters when the theme parks reopen. Get more details at the link below.
Click here for details on the character interactions you'll find in the parks.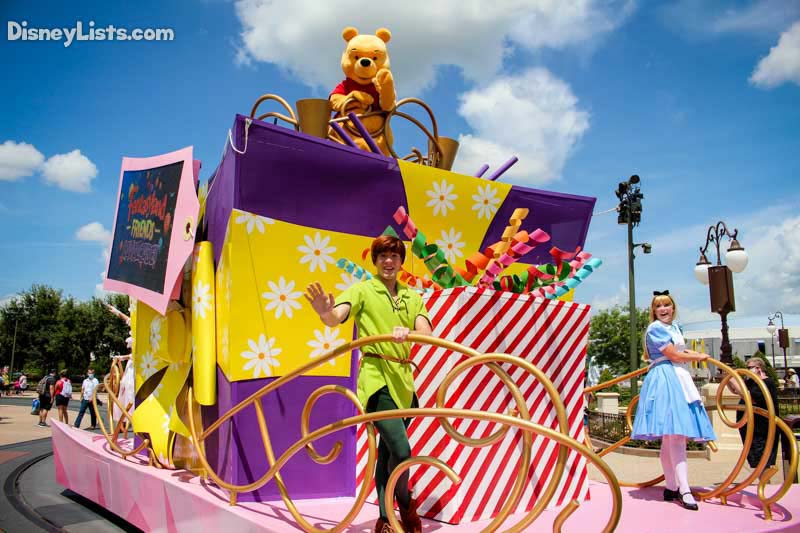 14 – Visiting the Parks
We know that visiting the parks right now is different, but it is still magical. We recently visited all four parks. Check out the links below to learn what you need to know about visiting each of the parks during the phased reopening.
Magic Kingdom
Click here for our guide to visiting Magic Kingdom during the phased reopening.
Click here to view our Instagram Story from our visit to Magic Kingdom with tons of photos and video from the day! 
Disney's Animal Kingdom
Click here for what you need to know about visiting Disney's Animal Kingdom during the phased reopening.
Click here to view our Instagram Story from our visit to Animal Kingdom with tons of photos and video from the day! 
EPCOT
Click here to view our Instagram Story from our visit to EPCOT with tons of photos and video from the day! 
Click here for our guide to visiting EPCOT during the phased reopening.
Disney's Hollywood Studios
Click here to view our Instagram Story from our visit to Disney's Hollywood Studios with tons of photos and video from the day! 
Coming soon – our guide to visiting Disney's Hollywood Studios during the phased reopening.
15 – What to Expect During the Fall and Holiday Season in 2020
While visiting Walt Disney World during the phased reopening is different, Disney is working to keep the magic alive. For safety reasons, certain fall and holiday events have been cancelled. It was announced early on that the Mickey's Not So Scary Halloween Party is cancelled. However, Disney is still celebrating with fun fall decor, food, and characters in Halloween outfits at Magic Kingdom. Click here to learn more about fall fun coming to the resort. More recently, we received news that Mickey's Very Merry Christmas Party and the Candlelight Processional at EPCOT have also been cancelled. Finally, the Dream Lights will not be put up this year. Click here to read the announcement along with details on the new ways we can experience holiday magic at Walt Disney World.
16 – Enchanting Extras–Events, Tours, Recreation, and Other Experiences Update
There are a lot of extra activities such as special events, tours, recreation, and more, like spa services, that will be impacted during the phased reopening. Click here for what you need to know about events, tours, recreation, and other experiences during the phased reopening.
17 – Annual Passholders
If you are a Disney annual passholder you'll want to be aware that visiting Walt Disney World will not be as easy as it used to be. Keep in mind in mind, when the parks reopen, park capacity will be significantly limited—and may continue to be for a period of time, based on guidance from health experts to promote physical distancing. During this time, an annual pass will not guarantee park entry and annual passholders will be required to make an advance reservation to enter a park via the new Disney Park Pass system.
Here are details you need to know from the Walt Disney World website:
During the limited capacity period, it may be difficult for Annual Passholders to get park reservations to visit on certain dates.
Some pass benefits and features will not be available during periods of limited capacity. Also, park experiences and offerings will be modified and subject to limited availability or even closure.
UPDATED – Annual Passholders staying at select Disney Resort or other select hotels with valid theme park admission are eligible to make theme park reservations for each day of their stay(s), and now in addition, all Annual Passholders are eligible to make theme park reservations for up to 3 days at a time on a rolling basis. Once you use a theme park reservation, you can make another reservation for a future date.
All reservations are subject to availability and applicable pass blockout dates. Guests should ensure their pass type is valid for park entry prior to making a park reservation. To enter one of the parks, each Passholder is required to have a theme park reservation in addition to a valid annual pass.
If you have any questions, please contact V.I.PASSHOLDER Support at (407) 939-7277. Options to manage your annual pass continue to be available during the closure period.
18 – You'll Need the My Disney Experience App
We always encourage guests to have the latest version of the My Disney Experience app for the Walt Disney World vacations. This app will be even more important during the phased reopening. You'll want the app for online check-in at Disney Resorts so you can skip the Front Desk, for Mobile Order Service for dining, and for scannable codes at select restaurants to access the digital menu. If you do not have a credit card linked to your Magic Band, you will also want to consider Apple Pay or Google Pay for contactless payments. You'll want to have that set up before your visit.
For a no obligation, FREE Quote on a Disney vacation package, please contact our travel partner Magical Vacation Planner at 407-442-0227 (407-442-0215 for Spanish). You can also request a FREE quote online by Clicking HERE.