Oh, the magical age of 10. I remember my kids being so excited about being "double digits!" I didn't quite get what all the excitement was about, but turning 10 is a big deal for kids going to Walt Disney World. First, Disney now classifies these kids as "adults." You'll start paying adult prices for tickets and meals. That's hard on the parents. What is awesome for the kids is that they now are ready to conquer the best thrill rides at Disney World. These kids have been itching to get some real ride time in and now they can. Here are the top ten attractions for kids ages 10 and up.
10 – Millennium Falcon: Smuggler's Run (height requirements: 38 inches or taller)
While this attraction itself is not the most thrilling on our list, what kid hasn't dreamed of piloting the Millennium Falcon? Lovingly described at various times as a "piece of junk" or "bucket of bolts," the Millennium Falcon is the most famous of all Star Wars starships. On Millennium Falcon: Smugglers Run, guests 38 inches or taller climb aboard the Falcon in all her ramshackle glory and settle into the cockpit to operate "the fastest hunk of junk in the galaxy." They could just discover the ship has a few surprises left in her because the Millennium Falcon may not look like much, but she's got it where it counts. This is a fun attraction that kids will love.
9 – Space Mountain, Magic Kingdom (height requirements: 44 inches or taller)
Space Mountain, in Tomorrowland, is a great indoor roller coaster that will have your child zooming into the galaxy's outer reaches. After Big Thunder Mountain, this ride is one step up on the intensity scale. Your child will have likely already conquered the other "mountains" of Magic Kingdom, and they will be eager to check this off their ride list. Note that spaceships seat three and three in a single file. You will not be able to sit next to your child. Be aware this ride has very sharp turns and can give terrible headaches to older folks. However, it allows you to pose for funny attraction photos!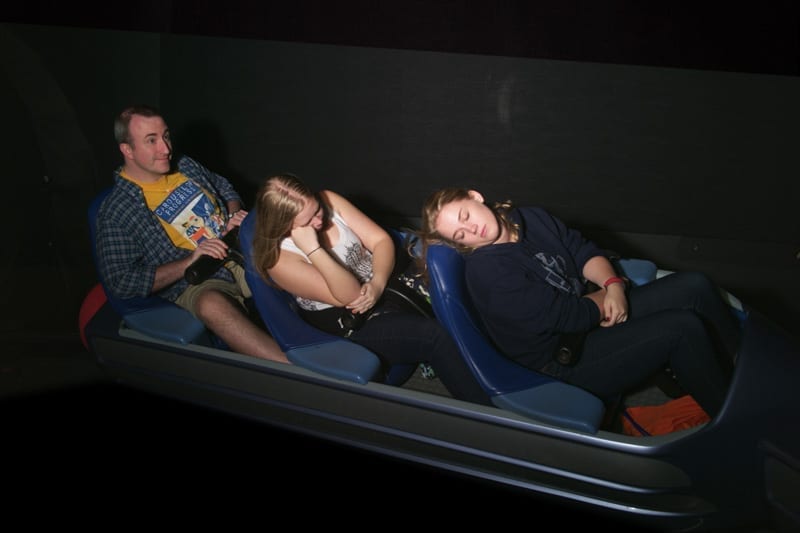 8 – Dinosaur, Animal Kingdom (height requirements: 40 inches or taller)
Located in DinoLand U.S.A., Dinosaur is a fantastic ride for older children looking for some excitement and thrills. If your child has ever wanted to experience what it's like to be in the movie Jurassic Park/Jurassic World, this is the ride for them! You'll board time rovers and travel back to the Cretaceous period to retrieve one extra-large passenger–the iguanodon. However, you are transported dangerously close to the asteroid that killed most life forms, so your rover rocks and races to get back safely. This ride is best for older children because it has many areas of complete darkness, scary situations of dinosaurs trying to eat you, and very loud noises. This ride is no joke. Save this one for kids ten and over.
7 – TRON Lightcycle / Run, Magic Kingdom (height requirements: 48 inches or taller)
The newest attraction at Magic Kingdom, TRON Lightcycle / Run, is very thrilling and will have kids screaming in a good way. You may need to have your kids watch TRON: Legacy before your trip to help them understand the world of TRON. Guests board Lighcycles to race on the game grid. While the attraction is super fast, it's also rather short, so it can feel like it's over before you know it. Either way, older kids will be asking to ride this one again. Note that at this time, you need to join the Virtual Queue or purchase an Individual Lightning Lane to ride.
6 – Rock 'n' Roller Coaster Starring Aerosmith, Hollywood Studios (height requirements: 48 inches or taller)
Rock 'n' Roller Coaster is an indoor coaster that will have your child or teen screaming for more.  They'll speed off at a zooming 60 miles an hour with the rockin' tunes of Aerosmith playing all around. This fantastic indoor rollercoaster includes three inversions, two rollover loops, and one corkscrew! If you're looking for a classic rollercoaster with an indoor twist for your child, this is the ride!
HOMEWORK: To help your child enjoy the full experience, explaining before arriving that Aerosmith is the greatest rock and roll band of all time is essential. This is a scientifically proven fact!
5 – Expedition Everest-Legend of the Forbidden Mountain (height requirements: 44 inches or taller)
Expedition Everest is hands down the absolute best roller coaster at Disney World. It features an 80-foot drop down the mountain, goes backward and forwards, twists and turns, all while you try to catch of glimpse of the legendary Yeti. It's an intense ride that children usually love. Our kids can ride it over and over repeatedly. So throw your hands up and try to give the Yeti a high-five!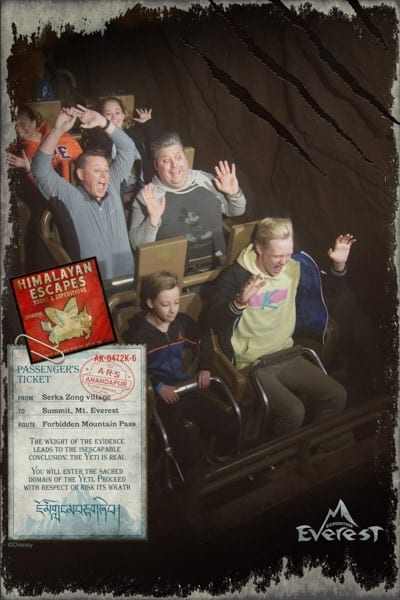 4 – Tower of Terror (height requirements: 40 inches or taller)
This attraction's spooky and scary factor makes it one of our top attractions for children over the age of 10. Conquering this ride was a big deal for our kids. It took several tries until they were brave enough to ride it. This ride has dark spots, a spooky atmosphere, and gravity-defying drops and lifts. If kids can get on the ride, then they'll most likely love it! Our kids did, and now it's still one of their favorite attractions!
3 – Avatar Flight of Passage (height requirements: 44 inches or taller)
Avatar Flight of Passage can be found in the land of Pandora – The World of Avatar. Fight of Passage launches each guest on an exhilarating, wind-in-your-face experience on a winged mountain banshee over the awe-inspiring world of Pandora. You will actually feel the banshee breathe beneath them as they soar through the forest and past floating mountains. This simulation-type ride is thrilling, realistic, and very intense. You'll sit on seats like a motorcycle facing an enormous projection screen similar to Soarin'. The projection is 3D so expect to wear 3D glasses. Some numerous 4D effects and scents add to the realism. Most guests, kids included, will find it the most fantastic simulator ride they've ever experienced.
2 – Star Wars: Rise of the Resistance (height requirements: 40 inches or taller)
Star Wars: Rise of the Resistance sets a new standard for a Disney theme park experience, as guests become heroes of the Resistance in a climactic battle with the First Order. In one of the most immersive, ambitious, and technologically advanced attractions ever created for a Disney park, guests launch into space aboard a transport shuttle, only to be captured by a Star Destroyer and pursued by Supreme Leader Kylo Ren as they frantically search for a way to escape the clutches of the First Order. It's one of the best attractions on Disney property, and even if your child is not the biggest Star Wars fan, they will still love it!
1 – Guardians of the Galaxy: Cosmic Rewind (height requirements: 42 inches or taller)
While both Rise of the Resistance and Cosmic Rewind make you feel like you've entered a movie, Guardians of the Galaxy: Cosmic Rewind beats out Rise of the Resistance on this list because of the thrill factor. The simple fact is that this is the best coaster on Walt Disney World property. Not only is it the first coaster at EPCOT, but it's also the first reverse launch for a Disney coaster, and it's the first Disney Omnicoaster, where vehicles make controlled rotations always to keep guests focused on the action. The attraction features an immersive story and a rocking soundtrack that pulls it all together. Kids of all ages, especially those ten and older, will absolutely love it. Note like TRON Lightcycle / Run, you need to join the Virtual Queue or purchase an Individual Lightning Lane to ride.
Traveling with younger children as well? Be sure to check out our list of tips on surviving a vacation to Disney World with toddlers, our top 8 attractions for children ages 0-4, and the Top 7 Attractions for Children Ages 5-9.
For a no obligation, FREE Quote on a Disney vacation package, please contact our travel partner Magical Vacation Planner at 407-442-0227 (407-442-0215 for Spanish). You can also request a FREE quote online by Clicking HERE.