As we head into the fall season, we've all be wondering what will happen at Walt Disney World since Mickey's Not So Scary Halloween Party has been cancelled. Would the decorations go up? Will the special treats come out? Can we please have something "normal"?! We're so happy to report that Walt Disney World will be serving up some fall holiday fun not only at Magic Kingdom but at the other theme parks as well. Catch all the details below.
Magic Kingdom Park is dressing for fall – and looking forward to everyone else joining in the fun! From September 15 to October 31, 2020, guests of all ages can for the first time wear their Halloween costumes during regular operating hours as the iconic theme park at Walt Disney World Resort celebrates the spooky season.*
Here are some other ways guests can experience fall and Halloween from Sept. 15 to Oct. 31 at Magic Kingdom:
As they walk down Main Street, U.S.A., guests will see glowing pumpkin wreaths that inspire the Halloween spirit.
A Halloween-themed cavalcade will travel down Main Street, U.S.A. featuring Mickey Mouse, Minnie Mouse, Pluto and pals dressed in Halloween costumes. Guests may also spot Chip 'n' Dale in costume in Frontierland, and other Disney characters dressed for Halloween riding the horse-drawn trolley along Main Street, U.S.A.
Festive Halloween-themed merchandise will be available in select locations around the park. Featured items include a new spirit jersey, Loungefly backpack and candy-swirl Minnie Mouse headband, along with a selection of apparel inspired by Disney Villains and more.
The park will celebrate the season with special food and drinks, including the famous pumpkin-spiced waffle sundae.
Themed photo opportunities from Disney PhotoPass will be available at select locations throughout the park.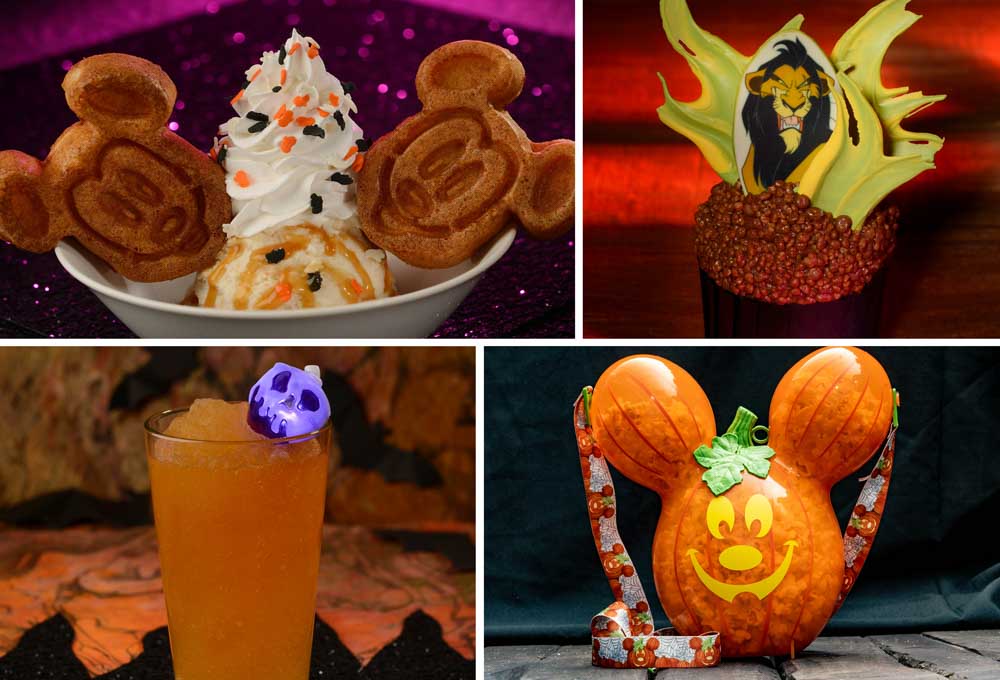 Each of the Walt Disney World theme parks will welcome fall with popular specialty treats, such as Halloween cupcakes at EPCOT and Disney's Animal Kingdom, along with frozen apple cider at Disney's Hollywood Studios.
Click here to for the 2020 Foodie Guide to Fall Treats – Parks Edition!
As temperatures cool in Central Florida, fall is a spectacular time to visit the parks:
The Taste of EPCOT International Food & Wine Festival offers more than 20 global marketplaces featuring culinary delights to sip and savor.
At Disney's Hollywood Studios, guests can travel to a galaxy far, far away in Star Wars: Galaxy's Edge, enter the cartoon world of Mickey & Minnie's Runaway Railway, or play with their favorite toys in Toy Story Land.
Guests visiting Disney's Animal Kingdom can explore Pandora – The World of Avatar, venture to the "top of the world" aboard Expedition Everest – Legend of the Forbidden Mountain, or have a wild adventure on Kilimanjaro Safaris.
More details about fall activities at Walt Disney World will be announced soon.
*All guests must wear an appropriate face covering while visiting the park. Guests younger than 14 years of age are permitted to wear a costume mask in addition to their approved face covering. For more information on approved face coverings at Walt Disney World Resort, visit Disneyworld.com/updates.
RELATED ARTICLE: 5 Reasons Fall is the Best Time to Visit Disney World
by Cindy E. Nykamp
One question we get often is "When is the best time to visit Walt Disney World?" It is literally the Most Magical Place on Earth, so I don't think there is a wrong time. However, there are good times to visit and great times to visit. The best of the great times is without question the fall. I could easily list a couple of dozen reasons this is true, but here are the top five.
5 – The Weather (October and November)
Those of us who live in central Florida have come to love the month of October. It is usually around the second or third week of October that Orlando ceases being hotter than the surface of the sun. The "humidity bubble" that covers Orlando during June-September, magically disappears and we actually begin to cool off with little or no humidity. It's a welcome relief from oppressive summer weather. For those who are traveling from the north, you may think our upper 70s/low 80s is a bit warm, but your kids will love that they can swim outside in Disney pools in November! Fall is a great time to visit Disney World, because you'll find comfortable temperatures in the afternoon, cools temps in the mornings and evenings, and you can enjoy being outside all day without being miserable!
4 – Lighter Crowds in September, November, Early December
Along with better weather, the fall is a great time to visit if you want to experience lighter crowds. Now "lighter" is a bit relative. I do believe the days of walking on every single ride all day is over. You'll still find waits. It will be busy, but it should not be crazy busy. Disney has done a great job of getting people to visit in the fall with resort discounts, free dining plans, and awesome special events (See how I slipped a couple of extra reasons to visit in fall in there 🙂 ).
However, if you come in early September, especially after Labor Day, mid-November, and early December, you may experience lighter crowds than other times of the year. Again, it will still be "busy," the lines will just be shorter. For example, we recently saw a 20-minute wait for the Mine Train in Magic Kingdom; substantially lower than the 90-120 minutes that is normal during peak season.
Notice I did not include the month of October. You may find a few days here and there that are lighter, but overall October is a busy time.
Editor's Note: During the phased reopening of Walt Disney World, capacity limits are in place to keep the crowds low to promote physical distancing.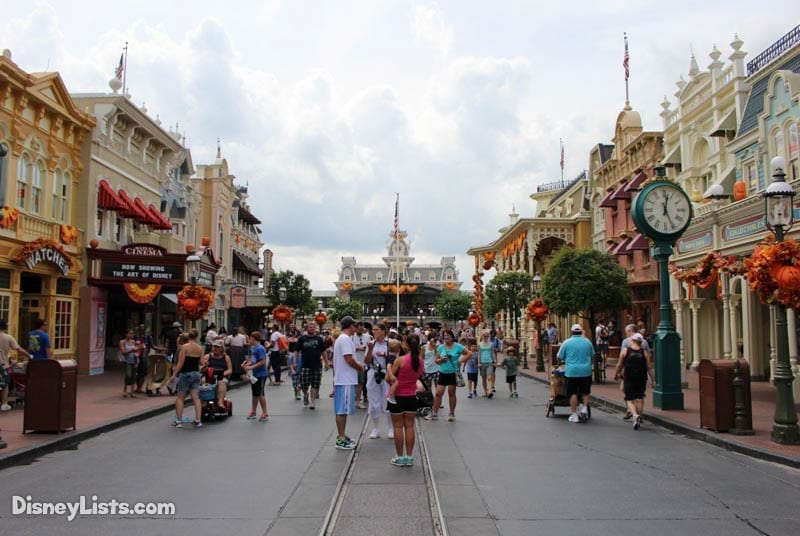 3 – Celebrate Christmas Early in November at Mickey's Very Merry Christmas Party
Early in November, Magic Kingdom transforms shedding its Halloween decorations and magically, becomes a Christmas wonderland. If you visit the first week of November, you'll start the week with Halloween decorations and end it with Christmas. If you like celebrating Christmas early, then you'll love Mickey's Very Merry Christmas Party. This special event party is a fun time which includes a special holiday parade, fireworks and stage show. It certainly will get you in the holiday spirit!
2 – Mickey's Not So Scary Halloween Party
Starting in September and running through Halloween, Mickey's Not So Scary Halloween Party will be your absolute favorite special event! Read all you need to know about the party here. Also, don't miss our 13 Tips for Mickey's Not So Scary Halloween Party!
Editor's Note: During the phased reopening of Walt Disney World, Mickey's Not So Scary Halloween Party has been canceled. 
1 – Food & Wine Festival
The hands-down number one reason to visit in the fall is the Epcot's International Food & Wine Festival. The Food and Wine Festival brings out over 30 global marketplaces where you can taste the best food and drink from around the world. Also, popular is the Eat to the Beat concert series, which brings in favorite artists from past glory to entice you to dance the night away. These shows run every evening throughout the festival. There are also many excellent seminars and special tasting events in addition to the kiosk around World Showcase. You'll want to spend a lot of time in Epcot exploring and tasting your way around the world during your fall visit! Read our 9 Strategies for the Food & Wine Festival to get the best experience!
Editor's Note: During the phased reopening of Walt Disney World, a modified Taste of Epcot International Food and Wine Festival is running. 
For a no obligation, FREE Quote on a Disney vacation package, please contact our travel partner Magical Vacation Planner at 407-442-0227 (407-442-0215 for Spanish). You can also request a FREE quote online by Clicking HERE.