Hello, Hollywood! If Disney's Hollywood Studios hasn't been one of your favorite parks in the past, chances are you're rethinking that decision! With a great mix of classics and newbies throughout the park, there is no shortage of attractions and entertainment to explore. Just check out these ten reasons we love Disney's Hollywood Studios.
10 – The Disney Skyliner
Not only can you access Disney's Hollywood Studios by bus, boat, and even walking from certain Disney resorts, but you can now take a ride on the Disney Skyliner to access Hollywood Studios! This newest form of transportation is available from Disney's Pop Century Resort, Art of Animation Resort, Riviera Resort, Caribbean Beach Resort, and Epcot. Take a ride in this gondola-style transportation for beautiful views of the Walt Disney World property. This is the perfect way to cruise on into Hollywood Studios for a memorable day!
9 – The Boulevards
Step foot into Hollywood Studios, and you'll find the "Golden Age" of Hollywood all around! Two Boulevards stand out – both exuding authentic Hollywood charm. The first is Hollywood Boulevard, which is the "main street" of Hollywood Studios. When entering the park, everyone must walk down Hollywood Boulevard to access the rest of the park. You'll see the street is lined with tall palm trees, shops, and has a focal point of the Chinese Theater, and Mickey and Minnie's Runaway Railway at the end. Make a right off Hollywood Boulevard where you'll find Sunset Boulevard. More palms and shops play into that Hollywood, California feel. At the end of Sunset Boulevard is the jaw-dropping Hollywood Tower Hotel (aka the Tower of Terror attraction). While you stroll these boulevards, listen for the Hollywood music and be on the lookout as a few Citizens of Hollywood may make an appearance.
8 – One Amazing Nighttime Spectacular
Hollywood Studios has one incredible nighttime spectacular. Fantasmic! is a 30-minute show that features Mickey Mouse and all things good battling against evil Villains. More than 50 live performers, water canvases, pyrotechnics, superb sets, and more make Fantasmic! a must-do at Disney's Hollywood Studios.
7 – Unique Character Meet & Greets
You can find Mickey and Minnie at any of Disney's parks – but Disney's Hollywood Studios is the only place you'll find Mickey as Sorcerer Mickey and Minnie all dolled up in her red carpet finest! If this cute couple isn't enough, you can meet other unique characters that you won't find at the other parks, including Olaf, Darth Vader, Chewbacca, BB-8, Fancy Nancy, Doc McStuffins, and more.
6 – Incredible Themed Dining
There is no doubt Hollywood Studios has some of the best-themed dining. If you're looking for a table service experience, check out Sci-Fi Dine-In Theater Restaurant, where you'll find yourself in a 50's style drive-in theater. You can't go wrong with the great food here while watching a few classic clips on the big screen. You'll also find 50's Prime Time Restaurant at Hollywood Studios, where Mama's cooking is what's in the kitchen, and Dad's liquor cabinet is open for business. Just be sure to keep your elbows off the table and mind your manners! Finally, Andy's backyard now has a fantastic new table service restaurant for all of those hungry toys at Roundup Rodeo BBQ.
Looking for an excellent themed lounge? You'll want to check out Oga's Cantina in Galaxy's Edge as this one perfectly matches the Star Wars film in the atmosphere and out-of-this-world drinks. With a great mix of table-service restaurants, quick-service restaurants, lounges, and kiosks, you won't have trouble finding brilliant bites and theming at Hollywood Studios.
5 – Impressive Shows
If you're into theatre – look no further! Be sure to schedule a time to catch a couple of Disney's top live-action shows, including Beauty and the Beast – Live on Stage and Indiana Jones Stunt Spectacular. Both of these shows fill the stage with experiences that will have you filled with all sorts of emotions, from tears for the Beast to holding on to your seat with explosions from Indiana Jones. Even though both shows are well over 25 years+ of production, they are still as popular as ever. Be sure to get in line early to snag a seat.
4 – Best Thrill Rides
If we hear any complaints about Disney, it's typically from someone seeking that ultimate thrill ride. Well, Hollywood Studios is the park for you! This park is known for two outstanding thrill rides, including Rock' n' Roller Coaster Starring Aerosmith and Twilight Zone Tower of Terror. Rock' n' Roller Coaster is an indoor coaster with top speeds and flips, all while hustling through the streets of Las Vegas to blasting Aerosmith music. Tower of Terror takes you on a haunted ride in an elevator where you've dropped over and over again. Both thrill rides will leave you thankful to have your feet back on the ground!
3 – Toy Story Land
You've got a friend in me! Toy Story Land invites guests to step foot into Andy's backyard and hang out with all of Andy's toys, including Woody, Buzz, Jessie, Slinky Dog, and those cute Green Aliens. The most popular attraction in this land is Slinky Dog Dash – a smooth, family-friendly coaster with aerial views. Hold on as Slinky takes you on a fun ride through the land! Next up is Alien Swirling Saucers, which features the Green Aliens driving you through a few spins and turns that will have you saying "Ooohh!" all the way. Toy Story Mania!, an oldie but goodie, is now part of Toy Story Land and has guests competing for top scores as your shoot bullseyes on an incredibly fun 4-D ride. As we mentioned above, you'll also want to check out the new Roundup Rodeo BBQ! This not-to-be-missed land is the most colorful and family-fun-filled land in Hollywood Studios.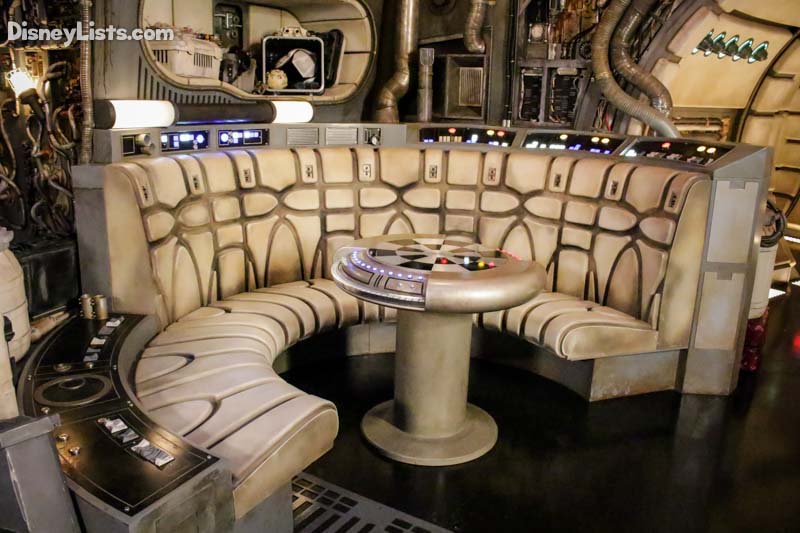 2 – Star Wars: Galaxy's Edge
The force is strong with this land! The newest land at Hollywood Studios is Star Wars: Galaxy's Edge, where you've arrived at the Planet known as Batuu. If you're not a Star Wars fan, please don't assume this land isn't for you. The land is massive and has impressive theming and experiences around every corner. The top attraction you need to experience is Star Wars: Rise of the Resistance, which puts you in the middle of a climactic battle between the First Order and the Resistance, including a face-off with Kylo Ren. The journey takes guests aboard a full-size transport shuttle and then into a nearby Star Destroyer on a thrilling adventure that blurs the lines between fantasy and reality. The other attraction here is the Millennium Falcon: Smuggler's Run, where you'll have a chance to be a pilot, gunner, or engineer. Each job has a role in flying the Millennium Falcon. The details in this ride will make you feel like you really are on the "fastest hunk of junk in the galaxy"! While in Galaxy's Edge, be sure to build a lightsaber at Savi's Workshop and/or a droid at the Droid Depot. You can shop the Black Spire Outpost and sip on Blue or Green Milk from the Milk Stand. It's easy to find Batuu bites and beverages available at multiple eateries throughout the land. This immersive land is an easy addition to the reasons why we love Hollywood Studios!
1 – Mickey and Minnie's Runaway Railway
Mickey & Minnie's Runaway Railway invites you to begin your adventure together at the heart of Disney's Hollywood Studios. You're ushered inside the theater for the premiere of a new "Mickey Mouse" cartoon short, "Perfect Picnic," written by Walt Disney Imagineering and produced by Disney Television Animation. Mickey & Minnie's Runaway Railway has been a total hit with guests and blends classic Disney attraction design with cutting-edge technology to turn a two-dimensional cartoon world into a rich, vibrant environment. It's the perfect addition to the Chinese Theater and to Disney's Hollywood Studios! You don't want to miss this one!
For a no obligation, FREE Quote on a Disney vacation package, please contact our travel partner Magical Vacation Planner at 407-442-0227 (407-442-0215 for Spanish). You can also request a FREE quote online by Clicking HERE.