Give "Alexa" a break, put "Siri" down and let's chat Disney fan to Disney fan! You've got Epcot questions? We'll do our best to give you the answers! Check out our top ten questions and answers for none other than our favorite Walt Disney World park – Epcot.
10 – What are the "Must-Do's"?
We count "must-do's" as experiences that would be unfortunate to leave the park without enjoying. They make up what we feel Epcot is all about and for sure need to be on your must-do list! Of course, with any must-do list, we encourage you to do your research and see what appeals most to you and your traveling party. Here are our top Epcot must-do's:
Save the Galaxy: Don't miss Guardians of the Galaxy: Cosmic Rewind, EPCOT's newest attraction that has guests raving. This thrilling coaster features a reverse launch and new technology that Imagineers have dubbed the Omni-coaster, keeping guests focused on the action.
Stroll the World Showcase: Hands down THE best part of visiting Epcot, in our opinion. There are eleven different Pavilions (aka Countries) to experience around a beautiful lagoon.
Scurry around with Remy: While in World Showcase, be sure to ride the newest attraction in EPCOT, Remy's Ratatouille Adventure. Guests scurry around with Remy as they get chased through a restaurant. It's a lot of fun for the whole family.
Take a flight on Soarin' Around the World: Experience a hang-gliding feeling above beautiful scenes from around the world.
Make them test a car in Test Track: This attraction allows guests to not only put their engineering skills to the test but also have a seat for one thrilling ride as your car design competes against others.
Hear Voices of Liberty: Located in the American Adventure Pavilion of the World Showcase, Voices of Liberty is an acapella group that gives our goosebumps goosebumps with their outstanding sound and patriotic notes.
Travel through Spaceship Earth: Take a slow-moving ride through the iconic Spaceship Earth (aka the huge, white golf ball). People know its Epcot with one glimpse at this masterpiece, so what better must-do than to experience being inside it.
9 – How do I access the Lightning Lane at attractions at EPCOT?
If you plan to use the new paid Lightning Lane service at EPCOT, understand and be prepared so you know how and what attractions you want to book for the day. There are two Lightning Lane paid options that include different attractions. First, you can purchase Disney Genie+ for the day of your visit. This costs anywhere from $15-$35 per day, per person. With Genie+, you can access the Lightning Lane at nine attractions at EPCOT. Much like the original FastPass system, you can only book one Lightning Lane attraction at a time. At 7 am on the day of your visit within the My Disney Experience App, you'll book your first return window at one of the attractions below. After that, you can make one selection at a time based on availability. Also, note that you can only use the Lightning Lane for each attraction on the list one time. You will not be allowed to book another return window for an attraction you've already used for Lightning Lane that day. See the list below for the nine Genie+ attractions at EPCOT.
Disney Genie+ Attractions:
Disney and Pixar Short Film Festival

Frozen Ever After

Journey Into Imagination with Figment

Living with the Land

Mission Space – Green and Orange

Remy's Ratatouille Adventure

Soarin' Around the World

Spaceship Earth

Test Track

The Seas with Nemo & Friends

Turtle Talk with Crush
A second option for purchasing Lightning Lane is the a la carte method. The two attractions below are NOT included with your Genie+ purchase and must be purchased separately. Lightning Lane selections for the top-tier individual attractions will also be made on the same day of your visit and can be made across multiple theme parks (great for those who have the Park Hopper Option). Access to purchase Lightning Lane for the individual top-tier attractions will be available to all guests when the park that attraction opens. Guests staying on Disney World property will receive the benefit of early access to top-tier reservations and can make their purchases at 7:00 am on the day of their visit. Prices will vary by date, attraction, and park.
Individual A la Carte Lightning Lane Attractions:
Guardians of the Galaxy: Cosmic Rewind
Keep in mind that you do not have to purchase either of these options to enjoy these attractions. The standby queue is available for all but Guardians of the Galaxy: Cosmic Rewind, which still offers a (free) virtual queue.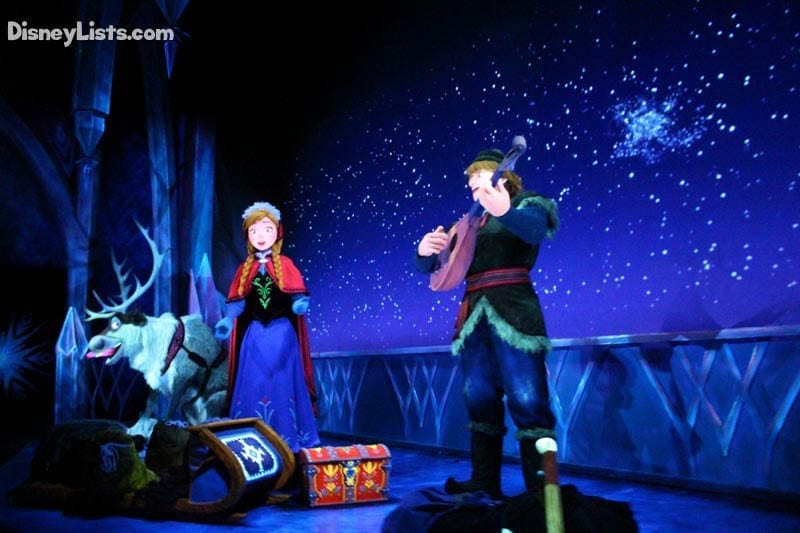 8 – What's the best place to eat?
Tough choice! Wow, the food at Epcot is outstanding! It's our favorite theme park for food simply because the variety is spectacular. As you stroll around the World Showcase, you can taste just about any cuisine you desire! Our favorites include the new Shiki-Sai: Sushi Izakaya in the Japan pavilion, Biergarten Restaurant in Germany, Via Napoli Ristorante e Pizzeria in Italy, and Les Halles Boulangerie-Patisserie in France. Outside of the World Showcase, we enjoy Garden Grill Restaurant, which rotates above the Living with the Land attraction. Finally, if you can snag a reservation to the new Space 220, you won't regret it! In other words, you can't go wrong!
7 – What is there for my kids at Epcot?
First things first, Epcot is not Magic Kingdom. At Magic Kingdom, your children will be bouncing from one attraction to the next with no end in sight. But don't count out Epcot! A few highlights our kids love at Epcot include Frozen Ever After, Beauty and the Beast Sing-Along, The Seas with Nemo and Friends, Turtle Talk with Crush, Living with the Land, Journey into Imagination with Figment, and Spaceship Earth. The kids will love exploring the World Showcase with Kidcot, collecting stamps and info cards from each pavilion. Kids also love the scavenger hunts offered regularly and those special to the Epcot festivals. Characters are abundant, and there is entertainment galore! Want a Disney parent tip? If this is your first time to Disney and you're planning on doing all four parks…do Epcot first. Your kids will LOVE it as they don't have Magic Kingdom to compare it to just yet!
6 – What characters are at Epcot?
If you're looking for characters – Epcot is the place to be! You'll find your classic favorites: Mickey, Minnie, Goofy, Pluto, and Daisy. But you'll also find Donald Duck in his Mexican sombrero, Anna and Elsa offering warm hugs in Norway, Mulan dropping by in China, Snow White by the wishing well in Germany, Jasmine in the Morocco marketplace, and Belle and Aurora greeting friends in France. Mary Poppins is practically perfect in every way in the United Kingdom…and so much more. Newer characters like Joy from Inside Out are also popular in Epcot. And if you're looking for character dining experiences, you can find several Princesses at Akershus Royal Banquet Hall and Chip, Dale, Mickey, and Pluto in Garden Grill Restaurant.
5 – Can you explain the Epcot Festivals?
The festivals at Epcot are amazing! There are four festivals – each with a different twist. The festivals are included with your Epcot admission, but you can expect to pay extra if you plan to join in any of the extra seminars or purchase specialty food and beverages.
Festival of the Arts: This festival takes place in mid-January through late February. It's a great time to visit Epcot as there are typically lower crowd levels. It's a celebration of "art, entertainment, and food"!
Flower & Garden Festival: Our favorite festival is from early March through early July. Spring weather in Orlando is wonderful as Epcot pops with colorful flowers and stunning topiaries. Come celebrate "gardens, fresh flavors, and rockin' entertainment."
International Food & Wine Festival: Taking place from mid-July through late November, this festival is the most popular Epcot festival. People come out in droves to celebrate international food and beverages to strolll around the World Showcase.
Festival of the Holidays: Held late November through December, this is a festive time and a perfect holiday tradition. International holiday treats, beverages, storytelling, and more!
4 – When is the best time to visit?
Such a common question! Of course, our answer is any time at Epcot is a good time! With that being said, if you're looking to enjoy Epcot without the crowds, you'll want to schedule visits for the "lull" times in Epcot, usually when no festival occurs. You'll find holidays and weekends during the festivals to be the busiest.
3 – What's recently closed?
Saying goodbye is difficult! Epcot is revamping much of Future World and beyond. With the new, sometimes the old has to clear out. If you haven't been to Epcot in the past few years, a few of the most impactful closures have included:
Maelstrom closed in 2014 (replaced by Frozen Ever After in 2016)
Ellen's Energy Adventure in 2017 (replaced by Guardians of the Galaxy: Cosmic Rewind)
Circle of Life: An Environmental Fable (replaced by Awesome Planet)
Fountain of Nations
Fountain View – Starbucks (new location available)
Electric Umbrella (replaced by Connections Cafe)
Club Cool (has reopened in a new location)
Liberty Inn (replaced by Regal Eagle Smokehouse: Craft Drafts & Barbecue)
Colortopia
Character Spot (new location to open in the future)
Mouse Gear (new flagship store now open)
IllumiNations: Reflections of Earth
2 – What's NEW?
We thought you'd never ask! We're incredibly excited about all the "newness" on the way into Epcot.  Epcot now has four "neighborhoods" instead of just Future World and World Showcase. These four neighborhoods will include World Celebration, World Nature, World Discovery, and World Showcase. Each neighborhood will be themed with immersive attractions, entertainment, and experiences to engage Epcot goers. A few of the new or coming soon highlights in Epcot include:
Takumi-Tei Restaurant: A signature dining experience in the Japan Pavilion.
Shiki-Sai: Sushi Izakaya: Enjoy the ambiance of scenes from Japan's seasons and festivals while enjoying a fantastic array of Japanese foods.
Three New Films: Beauty and the Beast Sing-Along in France, Canada Far and Wide, and Awesome Planet in the Land Pavilion.

Space 220 Restaurant

: New "out of this world" restaurant that has us dining in "space"!

Remy's Ratatouille Adventure

– a new family-friends attraction in France.

La Crêperie de Paris

: Right along with the Remy above, we're also getting a new restaurant in the France Pavilion.

Guardians of the Galaxy: Cosmic Rewind

rollercoaster is a must-do!
There's so much more coming, like Dreamer's Point, Journey of Water Inspired by Moana, and more!
Click here for what you need to know about the new Epcot!
1 – Is it even worth going to Epcot between now and the future?
Ok, let's get things straight! Yes, there are closures and construction walls currently at Epcot. And yes, this will continue through the end of 2023. BUT – to answer the question if it's worth going to Epcot right now… that's one big YES! Epcot is still flourishing with activity, entertainment, and excitement! The new experiences, coupled with the classics, are keeping Epcot a full day of family fun. That "Epcot feel" is still alive and well! To us, the re-imagining and construction walls are simply like seeing the presents wrapped under the tree in anticipation of the day you can open and enjoy them!
For a no obligation, FREE Quote on a Disney vacation package, please contact our travel partner Magical Vacation Planner at 407-442-0227 (407-442-0215 for Spanish). You can also request a FREE quote online by Clicking HERE.