One day at Epcot just isn't enough! Time flies by with a day trip, and before we know it, the day is coming to a close, and there is more park to do. That's why our vote is to spend at least two days at Epcot, if at all possible. Why do you ask? Check out these 5 reasons why we feel you need to spend two days at Epcot!
Editor's Note: We understand that with the phased reopening of Walt Disney World, some of the advice in this article may not apply if you visit while park hours are reduced, capacity limits and physical distancing are in place, and some of our favorite experiences—fireworks, parades, and character greetings—are temporarily suspended. (You can read everything you need to know about the phased reopening by clicking here). We will continue to share articles that give guidance on a "normal" vacation to Walt Disney World, along with any special changes or instructions you may need to be aware of during the phased reopening to provide the best tips we can regardless of when you are visiting. ~ Chad & Cindy
1 – FastPass+ the Best Attractions
Editor's Note: During the phased reopening of Walt Disney World, FastPass+ is temporarily suspended.
The best way to enjoy an attraction at Disney is to skip the long lines and go right for a FastPass+. As you begin planning your day at Epcot, you'll notice Epcot is on a tiered FastPass+ system. There are Tier One and Tier Two attractions. Guests are allowed to select 1 Tier One FastPass+ and 2 Tier Two FastPass+. The tricky part is that the Tier One category of attractions are really the best attractions – such as the Frozen Ever After, the new Soarin' Around the World, and the popular Test Track. The easy way to enjoy these attractions would be to spend one day with a FastPass+ selection for Frozen Ever After for example, and the second day with a Soarin' FastPass+ selection – or vice versa. Chances are you'll be able to arrive at park opening and head towards Test Track with a short wait time while enjoying the newer attractions with a FastPass+. Going two days to Epcot just helps alleviate the wait times and spreads out the excitement!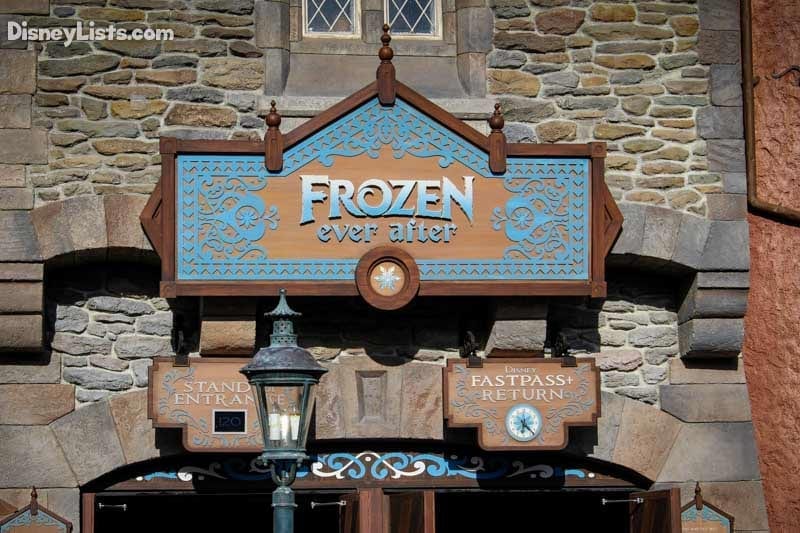 2 – Multiple Dining Reservations
Epcot is known for having some of the most spectacular restaurants on Disney property. This makes it rather hard to decide which restaurant to dine at. With two days at Epcot, you'll have the opportunity to taste multiple cuisines! Taste your way around the World Showcase or select the top restaurants to dine at such as Akershus Royal Banquet Hall, Biergarten, Coral Reef, or Le Cellier Steakhouse, among many. Save the appetite and treat yourself to two days of excellent food.
3 – So Much to Explore
When looking at a park map, Epcot is (currently) divided into two sections, which tend to almost feel like two parks! Future World holds incredible attractions, fun characters, and some excellent Disney gift shops. World Showcase is more of a unique experience as guests explore 11 pavilions themed after different countries. It really is like traveling the world with one loop! Explore the architecture and atmospheres of Mexico, Norway, China, Germany, Italy, America, Japan, Morocco, France, the United Kingdom, and Canada. Unique shopping at each of the country's gift shops is a must but does take time. Plus, each country has history and facts about the country that are worth the stop to learn more about the different areas around the world. With two days at Epcot, you wouldn't have to hurry and rush through to get it all in.
Editor's Note: Even with the construction and future changes coming to the park there is still so much to do in Future World. Spaceship Earth refurbishment has been postponed indefinitely, and The Land, The Seas with Nemo & Friends, the Imagination! pavilion, Test Track, and Mission: Space are all open and operating. With three new films and the expanded France pavilion opening soon, you'll still want two days to fully enjoy Epcot! Click here to learn more about what's coming to Epcot.
4 – Catch the Entertainment
Editor's Note: During the phased reopening of Walt Disney World, character greetings are temporarily suspended. You'll see characters come through each park in short parades. Click here for more information on how to see characters during the phased reopening.
Located mostly around the World Showcase, and in some areas throughout Future World, an Epcot must-do is stopping to watch the different entertainers out in the streets. Showcasing their talents from acrobats to juggling to music, the entertainers at Epcot are outstanding! It is tricky to try to catch all the performers as they each hold various performance times. Several Princesses and other characters make appearances throughout the park as well. Take a moment to cheer on the street performers, get an autograph from your favorite Princess, and worry about hurrying off to another part of the park on day two at Epcot.
5 – Rest Your Legs
All this talk about going here and there – we know those legs and feet might be aching! With two days in the plans, Epcot is much more enjoyable when able to stop and admire the atmosphere while resting. Epcot is a lot of walking, and we know that tired, hot feeling starts to sink in about midday if not before. We recommend picking one day to arrive when the park first opens and then another day to come a little later. On that late arrival day, be sure to stay through Epcot Forever, the nighttime fireworks/laser show. The bottom line, two days will simply make the process of squeezing in ALL Epcot has to offer a much easier task.
However, many days you decide to spend at Walt Disney World's Epcot, we are sure you will have a fantastic time!
For a no obligation, FREE Quote on a Disney vacation package, please contact our travel partner Magical Vacation Planner at 407-442-0227 (407-442-0215 for Spanish). You can also request a FREE quote online by Clicking HERE.