Disney Cruise Line
TRAVEL LOG: Day 3 – Part 2 of our Pixar Day at Sea Cruise on the Disney Fantasy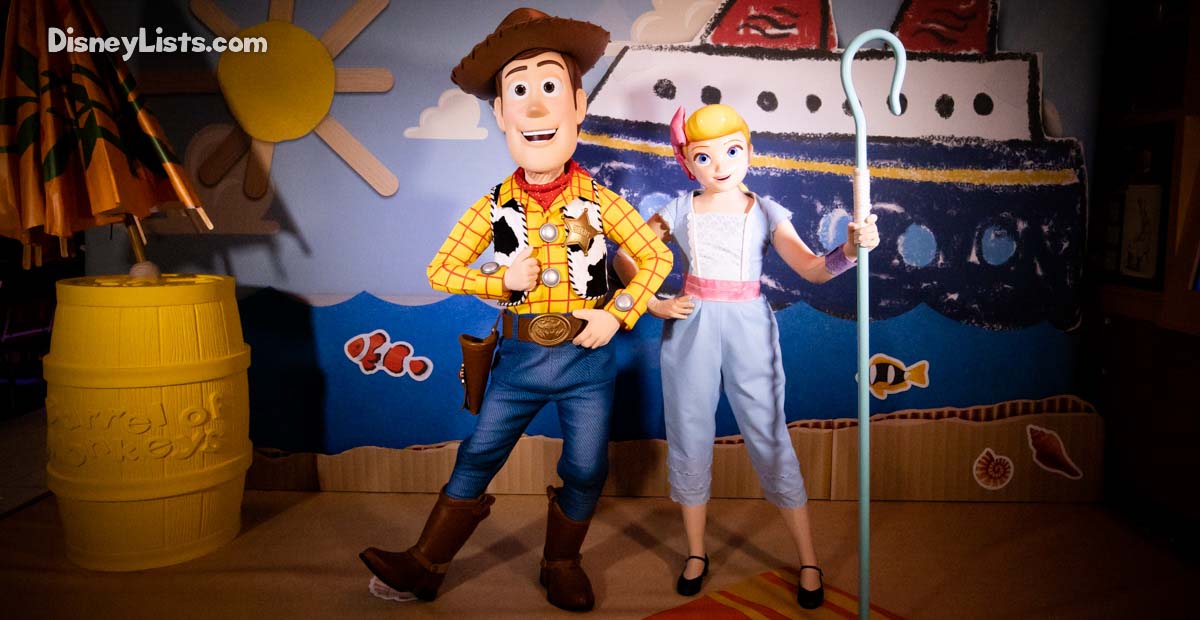 Day three of our cruise on the Disney Fantasy was our Pixar Day at Sea. This was our second themed cruise (we've enjoyed Marvel Day at Sea), and we really enjoyed the day. We covered the Pixar offerings that are available all week long in Part 1. This article will look at the offerings that occurred on the actual Pixar Day at Sea. Learn more about Pixar Day at Sea-Part 2 below.
1 – Pixar Film Festival
Disney Cruise Line offers movie theaters on all of its ships. On the Disney Fantasy, during Pixar Day at Sea, Pixar Films are playing throughout the day. Most of the films haven't been in the theater for years, so it's a nice option to see these films on the big screen once again.
2 – Exclusive Character Meet and Greets
If you love meeting the characters, you'll love Pixar Day at Sea. While you can visit some of these characters at Walt Disney World, many of them are rare, and you can only greet them here. We loved the wide range of characters that we could meet today.
Here are some of the Pixar pals you'll be able to greet during the cruise and how you can expect to find them:
Reservation Required:
Woody, Bo Peep, Buzz Lightyear, and Jessie from "Toy Story."
Edna Mode and Mrs. Incredible and Mr. Incredible and Frozone from "The Incredibles."
There are three different types of greetings. First, the Toy Story friends and Incredible characters required reservations. These reservations could be made thirty days in advance of the sail date. Also, you can only choose one reserved greeting. Like the Hey Howdy Breakfast, we found these character reservations to be full when we checked the app prior to sailing, but noticed, however, that additional meet and greets for the Incredibles were added to other days of the sailing (with no reservation required) so that more guests could meet them. If you can't get a reservation for either reserved character experience, do talk to Guest Relations once aboard the ship. The Fantasy crew we spoke with told us they would do everything possible to accommodate guests who wish to meet the characters.
Tip: You'll either meet Woody and Bo Peep or Buzz Lightyear and Jessie when meeting Toy Story friends.  Also, Edna Mode and Mrs. Incredible greet together, and Frozone and Mr. Incredible will be together. You'll have no way of knowing who you will get. 
Standard Meet and Greet in Fixed Location:
Mike and Sulley from "Monsters, Inc."
Joy and Sadness from "Inside Out"
Miguel from "Coco"
Remy from "Ratouille"
The second type of greeting is the typical greeting, where the character has a published greeting time and you line up. The location and time of the greetings is in the Disney Cruise Line Navigator App. You'll want to check greeting times in advance and have a plan so you can meet as many characters as possible. Many characters greet guests multiple times a day. During our cruise, the characters were very popular. We waited 40 minutes to see Joy and Sadness, 45 minutes for Mike Wazowski, and about 10 minutes for Miguel. We never got a chance to see Sulley (but we can greet him at Disney's Hollywood Studios). The line for Remy got up to two hours long! That wait time was not surprising since you can't normally greet Remy anywhere else. And finally, even though we had a reservation to meet Enda Mode and Mrs. Incredible, we still waited over thirty minutes.
Tip: Cast Members will close lines for certain characters, so be sure to line up early. If two characters are alternating greeting in one location, ask the Cast Member who you will be greeting when you get in line. For example, Mike and Sulley shared the same greeting location. When we got in line to meet Mike, Sulley was actually the one greeting guests. But when we got close, Sulley left, and Mike took his place.
Characters Wandering with no Fixed Location:
Dug and Russell from "Up"
Green Army Men from "Toy Story"
We also saw Dug and Russell roaming Deck 4 separately at different times. This was not published in the app. We got lucky and saw them both. They will stop for a quick photo for these roaming greetings, but they will try to keep on the move to see as many guests as possible. We also saw the Green Army Men marching on Deck 12!
Finally, in the evening, Mickey and Minnie were out together in brand-new Pixar-inspired outfits. The evening was the only time to see them in these exclusive outfits! It was great!
3 – Themed Activities for the Whole Family
Throughout Pixar Day at Sea, there are activities for the entire family to enjoy. You can take part in as many or as few activities as you'd like. Here are some of the activities you can do.
Meet the Storytellers – each cruise will include a chance to meet a Pixar storyteller. For our cruise, Bob Peterson spoke on his experiences at Pixar. Other cruises will have other Pixar storytellers.
Throughout the day, guests can learn to draw their favorite Pixar characters, such as Merida.
Children can test their memory skills with "Dory's Memory Game."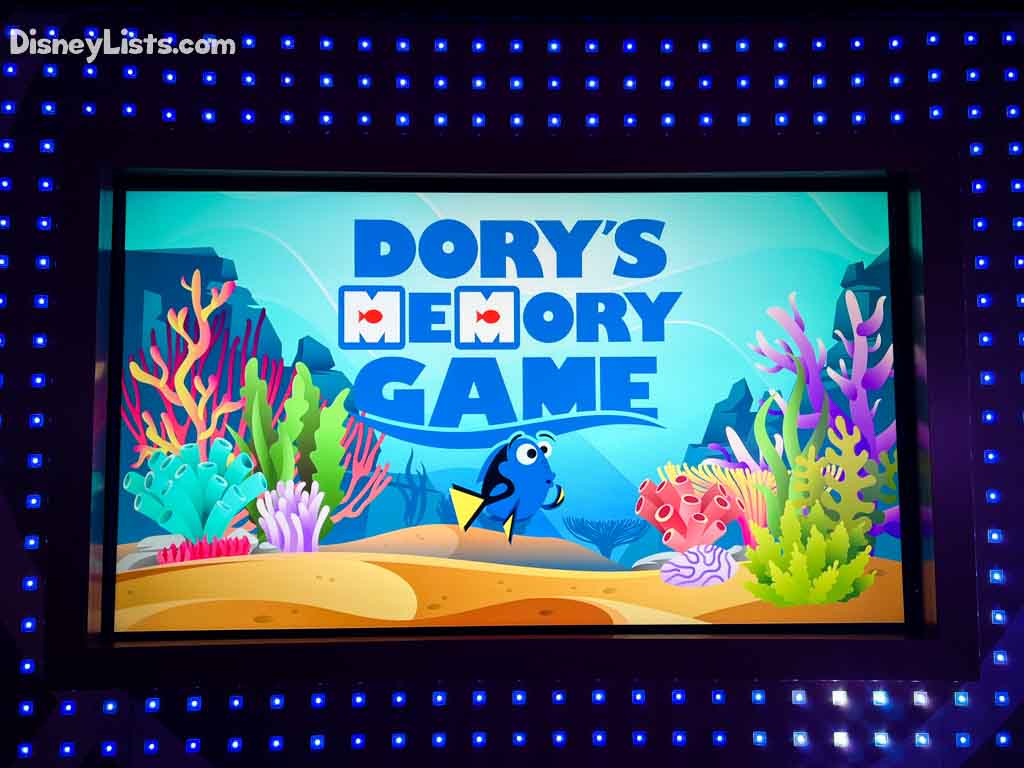 Enjoy the "Inside Out" Game Show
Join the Green Army Patrol during "Sarge Says"
Learn how to make Remy's favorite dish at "Anyone Can Cook"
Joke around during "Monsters, Inc." Open Mike Nite.
Finally, in the Kids' Clubs, children will enjoy themed activities such as making music with Miguel ("Coco"), chilling out with Ian ("Onward"), and building their very own Forky ("Toy Story 4").
Another activity offered on Pixar Day at Sea is "Crush's Totally Awesome Pool Party," led by Crush himself. This party featured poolside games for children. During our cruise, the pool party was offered on Day 6, but during future cruises, it will be offered on Pixar Day at Sea.
Finally, you'll want to listen for special ship-wide announcements from your favorite characters, such as Dug, Dory, Edna Mode, and Roz. These are quite funny and add to the day's fun atmosphere.
4 – Pixar Inspired Dinner
Families will enjoy a Pixar-themed dinner with dishes inspired by the Pixar Animation Studios' California locale. The dinner takes place in your scheduled rotational dining location. That night for us was at Enchanted Garden, though the menu was the Pixar dinner. Overall, the meal was a nice addition to the day, and the desserts were delicious. It was another way that the creators of Pixar Day at Sea made the day special. View the menu and some of the items in the gallery below. Click on any image to enlarge it.
5 – Pixar Pals Celebration
My favorite part of Pixar Day at Sea was the Pixar Pals Celebration. This high-energy and interactive deck party was just so much fun. You couldn't help smiling all the way through. The show is a way to see the Pixar Pals dance and interact with the crowd. The choreography and songs were perfect. You don't want to miss this show!
Tip: The show starts at 7:30 pm, which puts you right in between the two dinner times of 5:45 pm and 8:15 pm. We had the early dinner, so we told our servers that we needed to be out by 7:00 pm to get a good spot for the show. They happily obliged, and we finished our meal in time to get nearly front-row seats! We highly recommend getting there early!
We posted a few short clips of some of our favorite parts of the show in the Instagram post below. Click and swipe through to enjoy parts of the show!
6 – An Incredible Deck Party: Celebrate the Supers
The evening ended with an incredible deck party that ended with a fireworks finale! So, on a Pixar Day at Sea cruise, you'll get two nights of fireworks! This show was fun and really focused on the challenges of raising a baby with all the superpowers known to man.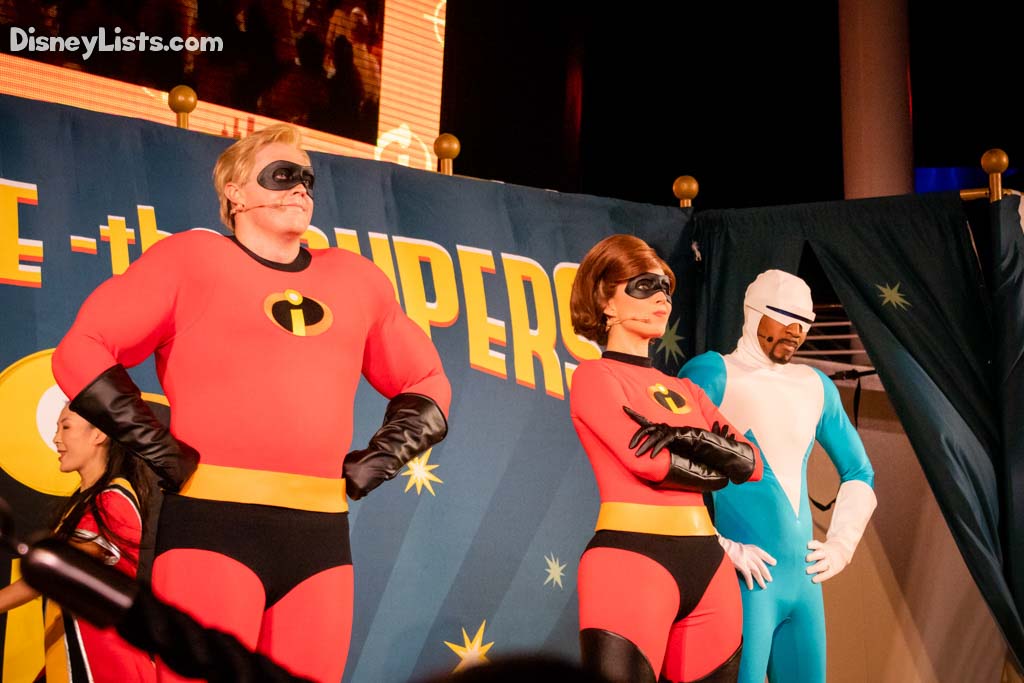 You see, the Incredibles are guests of honor on deck, and they receive a "smooth sailing award" for a spectacular day at sea. However, they soon realize that Jack-Jack is loose on the ship, causing havoc. Chaos ensues as everyone tries to return Jack-Jack to safety. The whole Incredible family is involved, along with Frozone and Edna Mode. We won't spoil the ending, but make sure you are on the lookout for Jack-Jack on deck! The firework finale is awesome, and it's always amazing to see fireworks at sea!
This show was developed exclusively for Pixar Day at Sea. It's also the first time the Incredibles have been seen as "face characters." It took some adjusting to see these characters as face characters, but ultimately, we think they did a good job bringing them to life. Mrs. Incredibles and Edna Mode were standouts for us.
Tip: Stick around after the fireworks for an Incredible Dance Party where you can dance on deck with the Supers!
7 – Pixar Day at Sea
We can't say enough good things about Pixar Day at Sea. We loved the day, had tons to do, saw so many characters, and really enjoyed not one but two deck parties. The day had a lot of energy and fun and was pretty magical overall. There is always room to improve, though, and we'd love to see Disney help guests spend less time in line waiting for characters. Offering the Pixar meet and greets over the entire week and not just on one day would certainly help with that. We loved that we saw Disney add more character greetings on other days due to the demand, but unless you checked the app, you might not know that was added.
Pixar Day at Sea is included on nine select Disney Fantasy cruises from January through March 2023. Departing from Port Canaveral, Florida, the Disney Fantasy will sail to several guest-favorite destinations in the eastern and western Caribbean. Eastern Caribbean itineraries feature stops in ports such as Tortola, St. Thomas, and San Juan, Puerto Rico, while western Caribbean sailings visit Cozumel, Mexico; Grand Cayman; and Falmouth, Jamaica. Every cruise includes a visit to Disney's private island oasis, Castaway Cay. For more details and help booking your vacation, call our travel partners, Magical Vacation Planners, at (407) 442-0227. You can also get a no-obligation, FREE vacation quote by clicking here.  Their services are free to you, and they can answer any questions you may have.
Learn more about Pixar Day at Sea on the Disney Fantasy
Read about our voyage to hear more about the experience, learn tips and tricks for cruising, and read our reviews of all the unique offerings.
Articles with Cruising Tips and Tricks 
Learn more about the Disney Cruise line and our Pixar Day at Sea Cruise on the Disney Fantasy!
TRAVEL LOG: Getting Ready to Sail on Our Pixar Day at Sea Cruise on the Disney Fantasy!
TRAVEL LOG: Day 1 of Our Pixar Day at Sea Cruise on the Disney Fantasy – Arrival Day
TRAVEL LOG: Day 2 Our Pixar Day at Sea Cruise on the Disney Fantasy – Sea Day
Click here for a full review of the Hey Howdy Breakfast with Woody and Friends to learn more and get tips and tricks for the best dining experience.
TRAVEL LOG: Day 3-Part 1 of Our Pixar Day at Sea Cruise on the Disney Fantasy – Pixar Day at Sea
TRAVEL LOG: Day 3-Part 2 Our Pixar Day at Sea Cruise on the Disney Fantasy – Pixar Day at Sea
TRAVEL LOG: Day 4 of Our Pixar Day at Sea Cruise on the Disney Fantasy – Tortola, BVI and Pirate Night
TRAVEL LOG: Day 5 of Our Pixar Day at Sea Cruise on the Disney Fantasy – San Juan, Puerto Rico
TRAVEL LOG: Day 6 of Our Pixar Day at Sea Cruise on the Disney Fantasy – Sea Day
Days 7-8 are coming soon!
Instagram Story with Photos and Video of our Cruise
Day 1 – Instagram Story Highlight – Arrival Day
Day 2 – Instagram Story Highlight – Sea Day
Day 3 – Instagram Story Highlight – Pixar Day at Sea
Day 4 – Instagram Story Highlight – Tortola, British Virgin Islands, and Pirate Night
Day 5 – Instagram Story Highlight – San Juan, Puerto Rico
Day 6 – Instagram Story Highlight – Sea Day
Day 7 – Instagram Story Highlight – Castaway Cay
For a no obligation, FREE Quote on a Disney vacation package, please contact our travel partner Magical Vacation Planner at 407-442-0227 (407-442-0215 for Spanish). You can also request a FREE quote online by Clicking HERE.
Editor's Note: Disney Cruise Line provided a complimentary Pixar Day at Sea Cruise with special media-specific events and tours during the cruise. However, as always, the thoughts and opinions about Disney Cruise Line in this article are entirely our own.