Our fifth day on the Disney Fantasy brought us to San Juan, Puerto Rico, our second port of call. Our family visited San Juan just last year, and we fell in love with the town. So, I was really excited to explore the town with my sisters. After an excursion in the morning, we needed some relaxation time. Since we didn't have any kids with us on this cruise, we spent a lot of time in the adult-only areas of the ship. I'll cover some of the fantastic options adults have to enjoy while away from the kids. Learn more below.
1 – Breakfast on Disney Cruise Line
Most mornings during the cruise, we found ourselves dining at Cabanas on Deck 11. As we mentioned in our Day 1 article, Cabanas is a buffet-style restaurant that gives guests a variety of food and beverage stations. While guests can also choose to dine at one of the table-service restaurants for breakfast, we found that we wanted to be able to have a faster dining experience. On this day, we had an excursion to get to, so eating at Cabanas is a great choice for those who want to dine at a faster pace. For breakfast, Cabanas features a lot of different varieties of breakfast foods, including made-to-order omelets. But one thing we love (and got every single time) is the Mickey Waffles! They are just as delicious as they are at Walt Disney World. Cabanas also feature Joffrey's Coffee, Twinning's Tea, several juices, and Coke products. I love how Disney Cruise Line offers top-name brands such as Joffrey's Coffee and Twinning's Tea. These are just two examples of the excellent offerings on the ships.
2 – New & Old San Juan City Tour
We had a morning excursion booked to explore San Juan. The New and Old San Juan City Tour allowed us to see some great sights in Old San Juan, such as Paseo De La Princesa, Castillo San Cristobal part of San Juan National Historic Park, and a few spots in New San Juan, which was great to see since I had never been to that part of San Juan. Excursions are a great way to get around town and see things with a group easily. However, in some port towns, you might prefer to explore on your own. The Old San Juan area near the port is a town where you can easily walk on your own, and you may prefer to set your own pace. The highlight of the tour was visiting Castillo San Cristobal. This location is included in San Juan National Historic Park and is run by the National Park Service. My sisters and I love visiting National Park sites and hope to visit most of them, so it was great for my sister to cross this one off the list. We also got our NPS passport stamps for our books! After the tour, we walked around the town a bit and then headed back to the ship!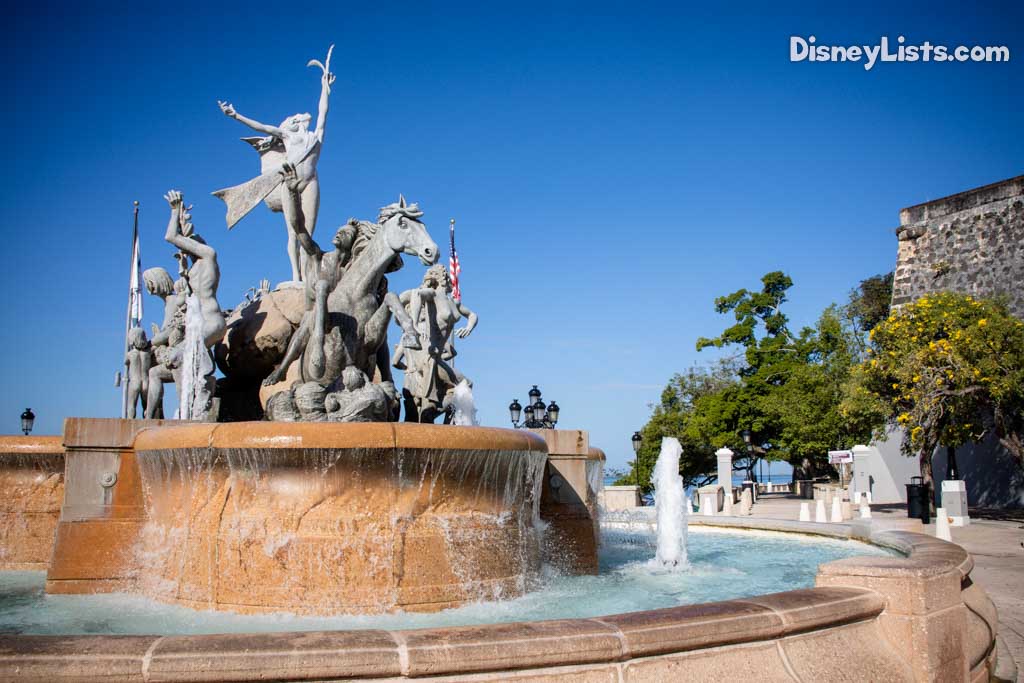 3 – Relaxation and Down Time
It was Day 5, and we'd enjoyed so much so far on the cruise, including two excursions. We could tell we needed an afternoon to relax and get some rest. Thankfully there are plenty of options on the Disney Fantasy to do just that. I will focus on adults' great options for relaxation during their cruise.
4 – Afternoon Relaxation at Quiet Cove Pool
One location we found ourselves heading to the most is the Quiet Cove Pool on Deck 11. Quiet Cove Pool, a multi-level pool with varying depths from a six-inch deep sunbathing pool to a four-foot plunge pool, features the ultimate "watering hole": Cove Bar is a part of the pool. The pool offers some great views of the ocean as well. There are a variety of chairs for guests to sit in and relax in a quieter atmosphere.
Also located in the adults-only area on Deck 11 is Cove Café. With a warm, comfortable design, Cove Café is a peaceful retreat where adults can sit back, breathe in the aroma of freshly brewed java, sip a gourmet coffee, read a magazine or book, watch the national news or use a WiFi-enabled device to surf the Internet. While the drinks at this location are an extra fee, the café also offers delicious croissants and pastries during the day that you can get for no extra charge. I'll admit that the croissants were absolutely delicious, and I may have had one every day! It was nice to have a snack option within the Quiet Cove area, though the Eye Scream Ice Cream is not far, making it a perfect location for us!
5 – Senses
If you're looking for the ultimate relaxation location, then you'll want to check out Senses Spa & Salon. At Senses, adults ages 18 and older can indulge in spa treatments, massages, manicures, pedicures, and a rainforest-themed aromatherapy steam room and sauna. Senses Spa & Salon provides tranquility, pampering, and relaxation in an ocean-view environment that spans two decks and more than 16,000 square feet.
Here are some of the offerings:
17 private treatment rooms – offering a menu of luxurious spa treatments and services such as massages, body wraps and facials.
Rainforest – offering the benefits of steam, heat and hydrotherapy combined with the power of aromatherapy to relax the mind and body. Specialized areas include a steam bath, steam room, tiled sauna and aromatic showers evoking everything from a waterfall to tropical rain to a refreshing mist. Guests can relish Rainforest's calming ocean views while reclining in heated mosaic tile relaxation chairs, or lounge outside in a whirlpool hot tub on the private teak deck.
Two lavish couple's spa villas – for the ultimate indulgence, the villas feature an indoor spa treatment suite connected to a private outdoor verandah with personal whirlpool hot tub, shower and a plush, double lounge chair.
Ocean-view gym – a nearly 2,500-square-foot gym with state-of-the-art exercise equipment and complimentary group classes such as yoga, Pilates, aerobics, stretching and spinning.
The Rainforest Room can be booked on the day you'd like to visit, while other spa treatments, such as massages, should be booked before your cruise or when you get on the ship. Reservations for treatments may be limited and will sell out, so the sooner you book, the better.
6 – Dinner at Animator's Palate with 'Animation Magic'
After we enjoyed a relaxing afternoon, we had our second dinner at Animator's Palate. Again, this restaurant brings the magic of Disney animation into the dining room with wall-to-wall whimsy inspired by classic animators' studios. We enjoyed interacting with Crush during our first meal in Animator's Palate. On this night, though, we enjoyed "Animator's Magic."
Once we were seated at our tables, we found paper, and we were invited to draw a character of our own using a template on the placemat. Then, just before dinner, house lights dim, and a sprinkling of pixie dust illuminates the room.
On several large monitors around the room, Mickey Mouse appears, places the Sorcerer's hat upon his head, and begins the show. He invites guests to sit back, relax and enjoy a taste of animation as a montage of memorable food-themed moments from Disney and Disney•Pixar films is shown, set to the tune "Be Our Guest." After the number is complete, guests' drawings are whisked off to Mickey Mouse, who is conjuring a magical final act.
After dinner, Mickey returns for the exciting finale. With a musical crescendo, he works his magic and conjures the guests' drawings—now fully animated and brought to life—into the onscreen action.
A parade starts as Mickey leads the guests' drawings in a march across the screens around the dining room. The animation becomes more elaborate as the drawings step into scenes from beloved Disney movies, skipping and dancing side-by-side with characters such as Mickey Mouse, Jiminy Cricket, Cinderella, and Snow White.
At the conclusion of the show, Mickey returns to say "so long" while credits roll on screen showing each guest's name listed as a guest animator. To commemorate the experience, guests' drawings are returned to them … with an added touch: a golden seal proclaiming them an Official Disney Animator.
It was my first time enjoying "Animator's Magic," and it was a lot of fun! The experience certainly added a magical element to the atmosphere. Many children were excited when they saw their drawings on the screen. It's a really great experience that you don't want to miss!
7 – Nightlight Options for Adults
I mentioned a few options of places to relax during the day, but Disney Fantasy also offers nighttime entertainment is just for adults. Europa features bars and lounges, and space for grownups. Each venue presents a unique design, look, feel, sounds, and menu options. All venues are interconnected and convey a sense of discovery as guests move throughout the areas. Europa is located on Deck 4 aft, are open exclusively to guests aged 18 and older.
Europa venues include:
La Piazza – lounge inspired by stylish Italian plazas, complete with a bar inspired by a carousel, Venetian masks and a classic Vespa
Skyline – a chic, metropolitan "sky bar" with changing views of stunning European skylines
O'Gills Pub – a rollicking Irish bar with modern-day twists
Ooh La La – an elegant room inspired by a French boudoir
The Tube – a vibrant metropolitan club reminiscent of swinging London
Learn more about Pixar Day at Sea on the Disney Fantasy
Read about our voyage to hear more about the experience, learn tips and tricks for cruising, and read our reviews of all the unique offerings.
Articles with Cruising Tips and Tricks 
Learn more about the Disney Cruise line and our Pixar Day at Sea Cruise on the Disney Fantasy!
TRAVEL LOG: Getting Ready to Sail on Our Pixar Day at Sea Cruise on the Disney Fantasy!
TRAVEL LOG: Day 1 of Our Pixar Day at Sea Cruise on the Disney Fantasy – Arrival Day
TRAVEL LOG: Day 2 Our Pixar Day at Sea Cruise on the Disney Fantasy – Sea Day
Click here for a full review of the Hey Howdy Breakfast with Woody and Friends to learn more and get tips and tricks for the best dining experience.
TRAVEL LOG: Day 3-Part 1 of Our Pixar Day at Sea Cruise on the Disney Fantasy – Pixar Day at Sea
TRAVEL LOG: Day 3-Part 2 Our Pixar Day at Sea Cruise on the Disney Fantasy – Pixar Day at Sea
TRAVEL LOG: Day 4 of Our Pixar Day at Sea Cruise on the Disney Fantasy – Tortola, BVI and Pirate Night
TRAVEL LOG: Day 5 of Our Pixar Day at Sea Cruise on the Disney Fantasy – San Juan, Puerto Rico
TRAVEL LOG: Day 6 of Our Pixar Day at Sea Cruise on the Disney Fantasy – Sea Day
TRAVEL LOG: Day 7-Part 1 of Our Pixar Day at Sea Cruise on the Disney Fantasy – Castaway Cay
TRAVEL LOG: Day 7-Part 2 of Our Pixar Day at Sea Cruise on the Disney Fantasy – Final Evening on the Ship
TRAVEL LOG: Day 8 of Our Pixar Day at Sea Cruise on the Disney Fantasy – Debarkation Day
Instagram Story with Photos and Video of our Cruise
Day 1 – Instagram Story Highlight – Arrival Day
Day 2 – Instagram Story Highlight – Sea Day
Day 3 – Instagram Story Highlight – Pixar Day at Sea
Day 4 – Instagram Story Highlight – Tortola, British Virgin Islands, and Pirate Night
Day 5 – Instagram Story Highlight – San Juan, Puerto Rico
Day 6 – Instagram Story Highlight – Sea Day
Day 7 – Instagram Story Highlight – Castaway Cay
For a no obligation, FREE Quote on a Disney vacation package, please contact our travel partner Magical Vacation Planner at 407-442-0227 (407-442-0215 for Spanish). You can also request a FREE quote online by Clicking HERE.
Editor's Note: Disney Cruise Line provided a complimentary Pixar Day at Sea Cruise with special media-specific events and tours during the cruise. However, as always, the thoughts and opinions about Disney Cruise Line in this article are entirely our own.