We're setting sail on another Disney Cruise Line vacation, and we couldn't be more excited. We are on the debut sailing of the all-new Pixar Day at Sea on the Disney Fantasy. The first day of any cruise is a bit chaotic, and our day was no different. We left our Walt Disney World resort in the morning and made our way to Port Canaveral for a fun, and perfect start to what we're sure will be an amazing week on a beautiful Disney Cruise Line ship. Learn more about our first day on the Pixar Day at Sea below.
Follow us on Instagram for more Pixar Day at Sea cruise coverage!
1 – Where the Boat Leaves From 
You'll first drop your luggage at the curb when you arrive at the port. This way, you can go through security without wrestling with a lot of luggage. Be sure that the luggage tags Disney provided are on your bags. If you forgot your cruise luggage tags, there will be some you can ask for at the curb. As we noted in our Getting Ready to Sail article, you may want to have a carry-on bag for valuables, medicine, swimsuits, and a change of clothes. Many people also carry a small bag or backpack. You'll need something to carry your travel documents and identification, so make sure you don't pack those in your luggage!
You'll head into the main building once you drop off your luggage. Keep your party together, and have those cruise documents handy and ready to go. Any bags you keep with you will be scanned, and you'll go through a security checkpoint. You'll have your documentation checked a few times, so keep those items close by.
After you've gone through security and check-in, you'll arrive at the waiting area. If you arrive before your arrival time, you'll be asked to wait before you board the ship. There are plenty of seats for those waiting.
Shortly after we arrived, we were able to board the ship! Be ready for a lovely moment of Disney magic. As your family boards, your name will be announced, and the crew will cheer you aboard. It makes you feel exceptional and is a great way to start the cruise!
2 – Smile and Take It All In
Much like that feeling when you see Cinderella Castle for the first time, there's nothing quite like stepping onto a Disney Cruise ship. So, after you've entered and you're still feeling magical because of the crew cheering you as you enter, stop a moment and enjoy the atrium. Before you worry about what to do next, gather your party together and just take in that you're finally there! It's also a great time for the first cruise selfie! That's exactly what my sisters and I did once we got into the Atrium. We waved at characters and took a selfie. We made it, and take time to savor those first Disney Cruise moments no matter how many times you've cruised before!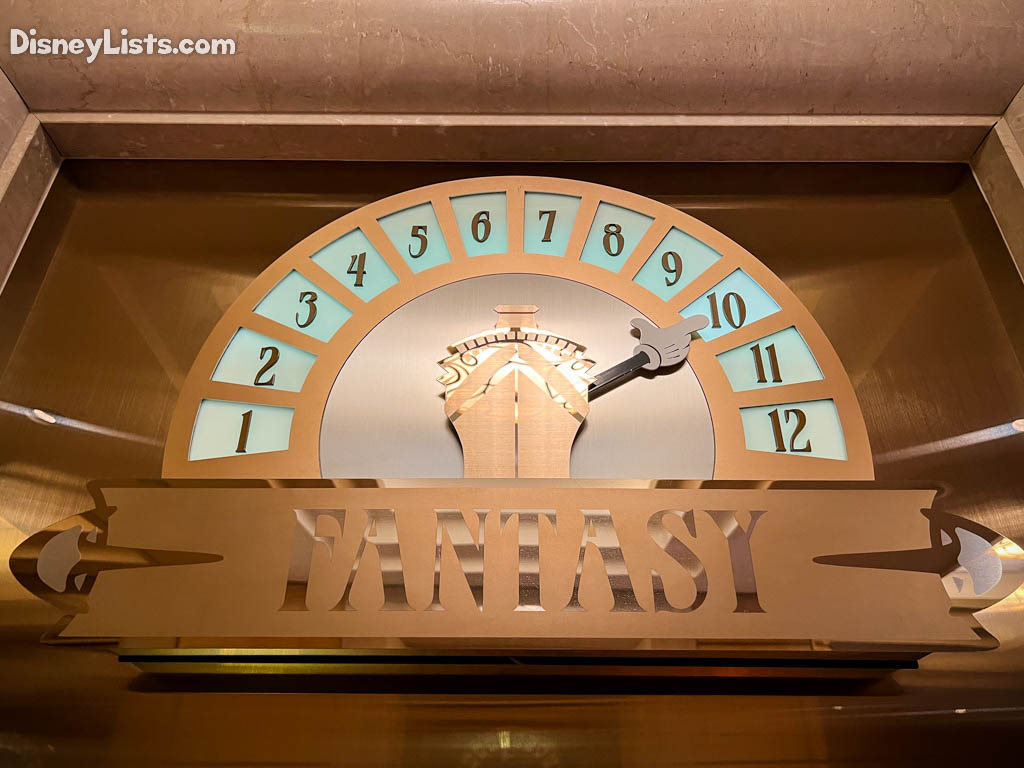 3 – Prepare Your Electronics for Your Cruise
After you've taken a moment, you'll want to put any electronics in airplane mode. Phones, watches, iPads or tablets, anything with a cellular signal—now put them in airplane mode before you forget. Trust us. Once you start exploring and later at the sail away party, you don't want to worry about your electronics. After putting them in airplane mode, go ahead and connect to the ship's WIFI, open up that Disney Cruise Navigator App, and view the itinerary for the day. The app is full of great information, so take some time to look through it at the beginning of your cruise. If this is your first time sailing on the ship, the app also includes maps, which will help you find your first destination. For us, that first destination was a place to eat lunch!
4 – Lunch Options
Depending on when you get on the ship, you may not be able to enter your stateroom right away. Generally, you'll be able to get into your stateroom around 1:30 pm. Since we got on the ship around noon, we decided to get lunch first. Typically, on embarkation day, the earlier you lunch, the less crowded it will be. There are two lunch options on Disney Cruise Line: a quick meal at Cabanas (or Marceline Market on the Disney Wish) or a longer meal at a table service restaurant. In our case, we had the option to eat at Animator's Palate. Since we had two first-time cruisers, we opted to enjoy a slower-paced, less hectic lunch at Animator's Palate. The meal was great and a perfect way to kick off the cruise.
Animator's Palate aboard the Disney Fantasy (and Disney Dream) is a re-imagined version of the signature Disney Cruise Line restaurant that brings the magic of Disney animation into the dining room with wall-to-wall whimsy inspired by classic animator's studios. Design highlights include pillars throughout the restaurant fashioned like huge pencils and brushes, character sketches, maquettes (three-dimensional character models), film strips and other tools of the animation trade. Scenes and characters from popular Disney and Disney•Pixar films adorn the walls.
Cabanas food court is a free-flow casual dining restaurant featuring a variety of food and beverage stations. Inspired by California beaches and boardwalks with uniquely Disney touches, Cabanas offers indoor and outdoor dining on Deck 11 aft. Ocean views are all around. Guests can partake in an eclectic array of cuisine served from sixteen specialized food stations, each providing delicious offerings. We'll have more to say about Cabanas later this week.
5 – Enjoying Your Stateroom
Typically, around 1:30 pm, guests are allowed into the staterooms. We often go to our rooms as soon as we are able because it's a great time to see where you'll be staying and you'll be able to drop off any carry-on luggage. Any luggage you dropped off at arrival is brought to just outside your room sometime in the afternoon.
6 – Afternoon Exploring
Many guests take the first afternoon to explore the ship, visit an Open House at one of the Kid's Clubs, enjoy the pool, or head straight to the Aqua Duck. There is so much to do on a Disney Cruise Line ship, and you'll never be bored. We enjoyed a short tour of the ship and then attended our Mandatory Safety Drill. We were then ready to sail away!
7 – Sail Away Party
Sailing away from the dock is a big deal on the Disney Fantasy. You won't want to miss the fun Sail Away Part on the Pool Deck. This energetic show welcomes guests aboard with Mickey Mouse, Minnie Mouse, and the Disney gang. The show is a celebration of the fun aboard a Disney cruise, and you don't want to miss it. It's also the first time guests will hear the iconic Disney Cruise Line ship blast! We enjoyed it so much! We've got a few clips in our Instagram Story highlight of the day, click here to see more!
8 – Dinner at Animator's Palate 
While on a Disney Cruise, you'll enjoy rotational dining, which means that you'll be able to enjoy different restaurants throughout your cruise. The great thing is your wait staff goes with you. For our first night, we enjoyed dinner at Animator's Palate.
During our dinner tonight, we enjoyed some "Undersea Magic." After diners are seated, the restaurant goes through a transformation: Guests are magically transported to a shimmering undersea world where views of a coral reef environment are all around them, setting the stage for a visit from Crush, the sea turtle from the Disney•Pixar film "Finding Nemo." Enter Crush, a most-excellent ambassador of the oceans and seas. The animated character swims from window to window, "working the room," engaging guests in real-time conversation about his life and world. I had a very fun experience with Crush when I suddenly realized he was talking with me! Watch the fun exchange below:
Dinner was excellent and everything we've come to expect from Animator's Palate.
9 – Shopping!
After dinner, we enjoyed checking out the Disney Cruise Line merchandise, especially the Pixar Day at Sea items! The stores were packed, and many items sold out on the first night. Most items on a Disney Cruise Line ship are exclusive, and we recommend purchasing an item right away if you think you'd like it. Cast Members reminded us many times that we could always return an item before the end of a cruise if we changed our minds. Since an item may or may not get back in stock, purchase the item while you can!
It was a great first day, and we had so many great moments to kick off our cruise! We later unpacked and then went to bed since we had an early breakfast the next day!
Click here to watch our Instagram Story Highlight with photos and video from Day 1 of our Pixar Day at Sea Cruise!
Learn more about Pixar Day at Sea on the Disney Fantasy
Read about our voyage to hear more about the experience, learn tips and tricks for cruising, and read our reviews of all the unique offerings.
Articles with Cruising Tips and Tricks 
Learn more about the Disney Cruise line and our Pixar Day at Sea Cruise on the Disney Fantasy!
TRAVEL LOG: Getting Ready to Sail on Our Pixar Day at Sea Cruise on the Disney Fantasy!
TRAVEL LOG: Day 1 of Our Pixar Day at Sea Cruise on the Disney Fantasy – Arrival Day
TRAVEL LOG: Day 2 Our Pixar Day at Sea Cruise on the Disney Fantasy – Sea Day
Click here for a full review of the Hey Howdy Breakfast with Woody and Friends to learn more and get tips and tricks for the best dining experience.
TRAVEL LOG: Day 3-Part 1 of Our Pixar Day at Sea Cruise on the Disney Fantasy – Pixar Day at Sea
TRAVEL LOG: Day 3-Part 2 Our Pixar Day at Sea Cruise on the Disney Fantasy – Pixar Day at Sea
TRAVEL LOG: Day 4 of Our Pixar Day at Sea Cruise on the Disney Fantasy – Tortola, BVI and Pirate Night
TRAVEL LOG: Day 5 of Our Pixar Day at Sea Cruise on the Disney Fantasy – San Juan, Puerto Rico
TRAVEL LOG: Day 6 of Our Pixar Day at Sea Cruise on the Disney Fantasy – Sea Day
Days 7-8 are coming soon!
Instagram Story with Photos and Video of our Cruise
Day 1 – Instagram Story Highlight – Arrival Day
Day 2 – Instagram Story Highlight – Sea Day
Day 3 – Instagram Story Highlight – Pixar Day at Sea
Day 4 – Instagram Story Highlight – Tortola, British Virgin Islands, and Pirate Night
Day 5 – Instagram Story Highlight – San Juan, Puerto Rico
Day 6 – Instagram Story Highlight – Sea Day
Day 7 – Instagram Story Highlight – Castaway Cay
For a no obligation, FREE Quote on a Disney vacation package, please contact our travel partner Magical Vacation Planner at 407-442-0227 (407-442-0215 for Spanish). You can also request a FREE quote online by Clicking HERE.
Editor's Note: Disney Cruise Line provided us with a complimentary Pixar Day at Sea Cruise with special media-specific events and tours during the cruise. However, as always, the thoughts and opinions about Disney Cruise Line contained in this article are entirely our own.